Shallow - (against zone defenses)
Summary
This is a really simple but effective play that I like to use at the end of the quarter or end of game. It's works against all zones but it's particularly effective against the 2-3 zone.
Personnel
You'll want Player 1 to be your best 3 point shooter and Player 5 to be your best post scorer.
Instructions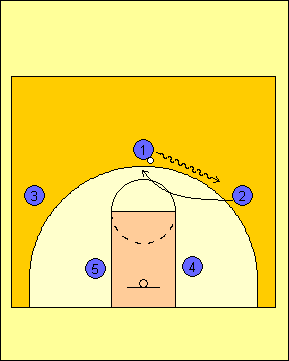 Player 1 dribbles towards Player 2 to fill his spot.


As Player 1 dribbles, Player 2 makes a shallow cut to the top of the key.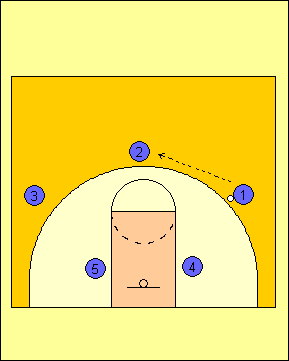 Player 1 then reverses the ball by making a pass to Player 2.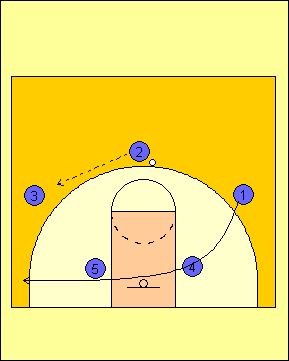 Player 1 makes a wide cut towards the basket and then makes his way to the far corner.


Player 2 should immediately pass the ball to player 3.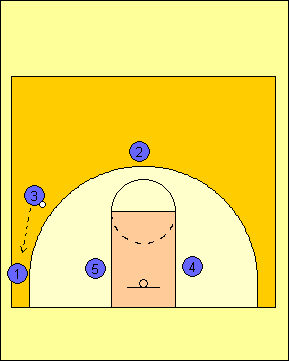 Player 3 passes to Player 1 in the corner.


Player 1 then has the option to shoot the open three point shot, or look for Player 5 posting and sealing his man on the low block.

You'll find that both players are almost always open for good shots.
Related Pages and Helpful Resources
Dynamic Zone Offense Plays Against Any Zone Defense
Zone Out of Bounds (Inbounds) Plays
Basketball Plays and The Art of Running Set Plays and Scoring More Points
Quick Hitter Play Against the 1-3-1 Zone
Recommended Products:
Beating the Zone - 75 Set Plays to Score Against Zone Defense
In this eBook, you will find 75 zone plays that you can use against any zone defense. It includes 2-3 zone plays, 3-2 zone plays, 1-3-1 zone plays, baseline out of bounds plays, and multi-purpose zone plays. You will also learn how to exploit the weaknesses of zone defenses, learn new ideas for running zone plays, and much more ... (more info)
Comments
Most Likes First
Oldest First
Newest First
---
jorge says:
12/6/2013 at 11:18:11 AM


I prefer, penetrate and touch, and a flash cut by 5 or 4 at the final line, ...

Like
---
Rolando P. Cimafranca says:
12/9/2012 at 3:10:10 AM


This play is simple but effective to apply with my tea,

Like
---
Ken says:
6/2/2012 at 2:46:02 PM


Coach -

Sometimes you do things to set the D up, kind of like, its not how you start but how you finish?

David -

Don't know how old you are, but whats not to love? I'm glad you love it....I hope you have fun playing for many years.

. I coached for many years and while I am retired, I still love this game.

Like
---
david says:
6/2/2012 at 2:12:35 PM


i love this game


Like
---
Coach Bigio says:
3/20/2012 at 10:20:54 AM


I don't like it very much, for the first three passages three players aren't involved in the game.

Like
---
Diddly says:
3/8/2012 at 6:17:42 AM


All the comments regarding movement of the 4&5 in this play have validity in getting those bigs open by overloading the zone, however it is important to think about rebounding when running plays. If the final shot look is for the 1 to shoot a three point shot, you NEED 4 on the weak side. The last thing you need is four players on the strong side with the point being safety and then shoot a deep corner three. On the miss, most likely rebounded weak side will allow the defense to transition for an easy lay-up.
Also, this is only the last option in the offense. Use basic motion too. If 1 passes to 4 instead of the reversal, he still has the same cut off the post. Or the first reversal pass to 2 may have a drive into the lane and dish to bigs, etc.
If you want bigs to move in this alignment, try 5 high post, 4 very low (back board level). Then when the pass goes from 2-3, have 5 dive to post up low and 4 lift to the elbow. 4 will be open behind the zone (along with 5 posting etc), but also 4 can watch the ball on 1's shot and get into a good rebounding position behind the zone. I hope this helps

Like
---
Jeff Haefner says:
1/31/2012 at 1:55:00 PM


Yep, that was a mistake. We fixed the error. Thanks for pointing it out!

Like
---
Coach J says:
1/30/2012 at 5:53:28 PM


This play indicates "Personnel - You'll want Player 2 to be your best 3 point shooter ...." yet is designed to give player 1 the 3-point shot. Is that a typo?

Like
---
Emily Drenth says:
12/4/2010 at 11:27:32 PM


I like it especially since being a 1 myself I get to take the shot

Like
---
Wesley Napier says:
12/27/2009 at 7:10:44 PM


The five and four men are really decoys. but when the ball gets to the corner the five man cant get open so the four man steps across the defender and seals there for a skip pass. I play high school ball and thats what we do so just putting suggestions in the pot.

Like
---
Show More
Phil says:
10/30/2009 at 3:09:14 PM


Having the 4-man flash ball side is a nice twist once they take away the 5-man option. Spacing and always being a threat helps keep the zone honest. Thanks for all the information!

Like
---
Stan says:
10/15/2009 at 5:55:15 AM


why the play should start with the player at the top but not at the left?

Like
---
keith nance says:
8/31/2009 at 11:03:01 AM


Used this play last year with great effectiveness. It doesn't hurt to have a post player in the 8th great at 5'10" either

Like
---
dave cameron says:
12/30/2008 at 11:43:19 AM


5 should pin down on the outside zone defender as 1 cuts through to the corner. It will more easily free 1 for the three. If the defender fights over the pick, 1 can dump down to 5 who should then be moving tward the basket. 4 should be flashing across the lane to occupy their middle defender. This will open 5 up for that dump pass. This is a nice play with a lot of good options.

Like
---
Terry Duke says:
9/28/2008 at 10:55:51 PM


that all sounds good,

I would also look at 4 flashing to high post for a hi-low option or have 5 drop into short corner.

Terry Duke
Oregonfireballs@yahoo.com

Like
---
emad mourad says:
5/10/2008 at 4:02:03 AM


first of all thanks . secd. at least one of them should do flash cut to high post . but thank u for reply me

Like
---
Joe Haefner says:
5/8/2008 at 1:48:43 PM


Hi Emad,

AFter the pass is made to the corner, their job is to find an open spot in the zone for a pass.

Joe Haefner
www.breakthroughbasketball.com


Like
---
EMAD MOURAD says:
5/8/2008 at 12:36:10 PM


what is the work of player 5 and 4 in this plays

Like
---
coach samir says:
10/5/2007 at 1:42:36 AM


Very good one . . i like balanced plans . . Thank you . .

Like
---
clyde taylor says:
9/19/2007 at 12:47:54 PM


these plays should be very to my players as they are coming off a championship season.
thanks

Like
---
nicandro says:
9/18/2007 at 3:11:31 AM


thanks! your play are very effective

Like
---