High-Post Exchange With Pick-N-Roll Action
Summary: This play that Brazil ran against the United States in Chicago (August 2014) has their two "Big" men in the high-post and exchanging with each other.
After a few exchanges, one of the "Bigs" plays a two-man game with your point guard, which should result in an easy bucket.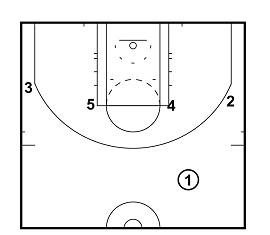 Step 1
Player 1 is the point guard and he needs to possess good handles.
Player 2 and 3 are the wings and are on opposite sides of the floor. Both should be able to shoot the ball well.
Player 4 and 5 are the "Bigs". Each player sets up on one side of the elbow. Both should have the ability to move without the ball, screen, and possess decent athleticism.
Player 2 and Player 3 as well as Player 4 and Player 5 are interchangeable since they basically have the same roles.
Step 2
Player 4 sets a cross screen for Player 5, who goes over top of the screen so he is around the three point line. Player 5's back is to the basket.
Player 1 must keep his dribble alive or it could kill the timing and continuity of the play.
Player 2 cuts from his right wing position to the baseline and Player 3 does the same from the left wing.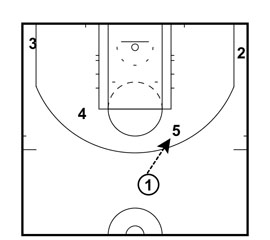 Step 3
Player 1 passes the ball to Player 5 near the top of the circle.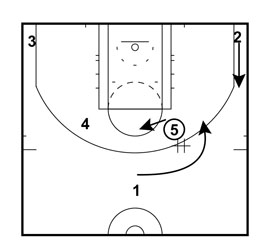 Step 4
Player 1 cuts behind Player 5 to take a handoff from him.
Immediately after handing the ball to Player 1, Player 5 cuts toward Player 4.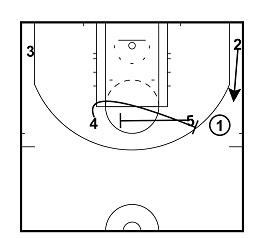 Step 5
Player 5 sets a cross screen for Player 4, who cuts across court to set a ball screen for Player 1.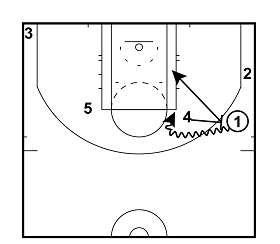 Step 6
Player 1 and Player 4 play a two-man game where Player 1 hits Player 4 rolling off the screen.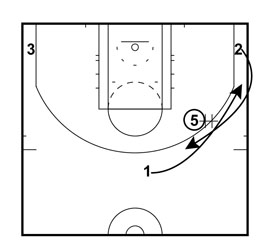 Wrinkle #1
If Player 5 is unable to hand the ball off to Player 1. Player 1 will cut down towards the baseline and Player 2 will cut up towards the ball and take the hand off.
Essentially, Player 1 and Player 2 switch places.
Other comments
If Player 2 defender trails him as he is taking the handoff from Player 5, Player 2 has the option of attacking the basket. Player 5 would then roll to the basket.
Related Products & Articles
Billiter Rocket Offense with Ball Screens

Basketball Pick and Roll Drills

Basketball Pick and Roll Plays

How To Use And Set A Pick In Basketball

Basketball Pick and Roll Offense
What do you think? Let us know by leaving your comments, suggestions, and questions...