NCAA Championship-Winning System Shared Publicly for the First Time...
Learn the "Unscoutable" Continuity Offense That Puts Even the
Best Defensive Teams on Their Heels
...Adaptable to all teams regardless of size, shooting or talent-level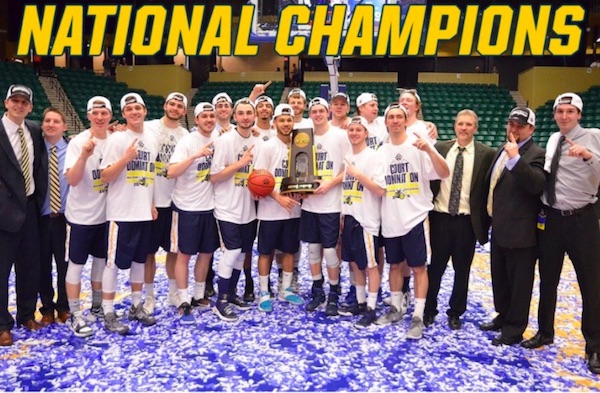 Dear Coach,
If you're looking for a virtually unscoutable offense that will twist opposing defenses into a pretzel of mistakes and miscommunication...
Then the one-of-a-kind offense I'm about to share will give you an instant edge...

Confusing opposing defenses and coaches with unpredictable actions
Exploiting the weakest defenders on the court
Getting guards attacking downhill (often against bigger, slower defenders)
Creating mismatches and easy scoring opportunities
Increasing your shot quality and FG % - even against top defenses
Even better, it doesn't rely solely on elite shooting or playmaking...
So you can quickly become a feared offense even if you're short on talent or feel outmatched by your competition.


This NCAA Championship-winning offense has never been shared publicly - until now...
For the last 18 years, this unique offensive system has been kept under wraps for one obvious reason...
To maintain the competitive edge for its creator.
Coach Tom Billeter is a Lute Olson protégé and 35-year coaching veteran, having spent time at Arizona University, St. John's and Texas A&M...
Along with 2 years at the high school level, Coach Billeter has been Head Coach at Augustana University since 2003, piling up major success along the way...

2016 National Championship (D-II)
2016 NCAA Coach of the Year (D-II)
Back-to-back NSIC Conference Championships (2015 and 2016)
Multiple 30-win seasons (combined 65-5 record)
But as he heads into the latter phases of his career, he's ready to finally spill the beans on the system that's driven his remarkable success for the last 18 years...


Hi I'm Coach Billeter!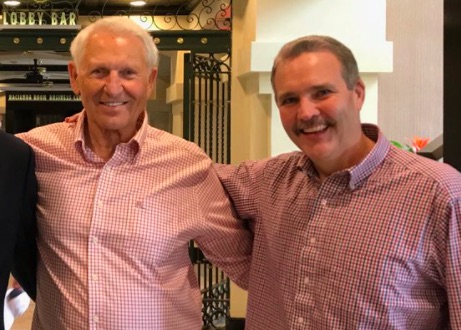 Having coached under the legendary Lute Olson (Arizona) and Fran Fraschilla (St. John's) with players including Steve Kerr, Sean Elliot and Ron Artest...
I've had the privilege of seeing greatness firsthand over the last 35 years of my coaching career.
And I say with certainty that the "Rocket Offense" I'm about to share has the "IT" factor that can take your team to the next level...
Leaving opposing coaches grasping at straws as they realize...
No Matter How They Defend, Opponents Are At a Disadvantage...


Who Is This For?
You're looking to create more easy opportunities for your guards to get downhill and attack the basket
Your team gets held back by low-quality offensive possessions where the ball never gets into the teeth of the defense
Your current offensive sets are too predictable and easy for opposing coaches to scout
You need to level the playing field against top competition that's more talented or more athletic than you
You want the ability to target opponents' weakest defenders within the flow of your offense
You want a more balanced offense that involves all 5 players on each possession
You want a system that works year after year - regardless of changes in personnel


Born From the "Melting Pot"
The Rocket Offense was really born back in the late-90s when I was an assistant at St. John's and Texas A&M.
While I was recruiting overseas in Europe, I started noticing new aspects of spacing and ball screens that we never see in the States.
I'd come home from these trips and look for ways to combine Motion Offense principles with what I was learning overseas
When I took the Head Coaching job at Augustana University in 2003, my staff and I spent many hours "in the lab" perfecting it for our program.
Since that time, it's given us an incredible advantage - regardless of our ever-evolving personnel...
And, to my surprise, it's also given us quite a recruiting advantage over the year - as players love playing within this system.
So without further ado, let's dig in...


Breaking Down the Rocket Offense...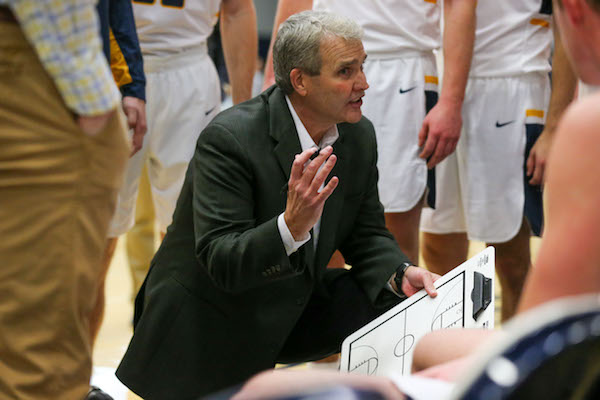 At its core, the Rocket Offense is a continuity ball screen offense.
Here's why it's different than any ball screen offense you or I have encountered...
We use 8 different screens and multiple screening actions...
With each designed to exploit various ball screen coverages you might see.
Trapping or Icing screens?
Take the screener's defender out of the play with the "Ghost" action.
Going over or under?
The "Twist" gets them hung up no matter which direction the on-ball defender chooses.
Showing hard?
Use the "Power" screen action to create an easy 4-on-3 scoring opportunity almost on-command


Here's One of My Favorites - the Waggle (AKA the "Switch Killer")
"Coach Billeter's Rocket Offense keeps teams guessing and on their heels defensively. I like the fact that it is an attacking/aggressive offense. Screening actions can be very unpredictable. No matter what the defense does, there is an option to make sure the defense is wrong."

- Larry C., Benton High School


Advantages of a Ball Screen Offense
Generates opportunities for guards to get downhill and create havoc
Creates constant mismatches throughout the game
Gets the defense out of position and opens up gaps
Allows you to specifically target weak defenders
Creates 4-on-3 opportunities that often lead to open shots or layups


3 Things Most Ball Screen Offenses Get Wrong...
If you've been coaching for a while, you're likely aware of the three key weaknesses in most ball screen offenses...
1. Using the same type of ball screen action every time.
If your sets are predictable, you'll never surprise the defense or create disadvantages.
Yet so many ball screen-heavy teams repeat the same action over and over again...
Making them shockingly easy to scout, anticipate and shut down.
2. Relying on the first screen for a scoring opportunity.
This puts WAY too much pressure on the first screen...
Your lead guard needs to make a play every time down court.
And unless you have a Chris Paul-type of playmaker, that is not a recipe for success.
3. Not involving all 5 players.
This means a lot of ball-watching on the weak side...which lets poor defenders off the hook and makes it easier to scout and defend.
The Rocket Offense gets all 5 players involved...
And turns each possession into an unpredictable chess match your
opponent simply can't win.
Using "Compounding Pressure" to Unravel Opposing Defenses...
Rather than trying to force the action on the first screen, the Rocket Offense depends on "Compounding Pressure' to create high-quality shots on most possessions.
Here's how it works...

You'll run 3 to 5 screening actions per possession (depending on whether you use a shot clock)
Each screen action builds on the previous action
With each action, the defenses gets more out of position and mismatches are also created
Your scoring opportunities and shot quality improve as each possession unfolds
"Most offenses that have ball screens do not get the entire team involved, they look to score after 1 or 2 screening actions.
This offense is designed to break a defense down with multiple screening actions."
Each Possession Spins Out of Control For the Defense As You're...
Forcing defenders outside of their comfort zone (i.e. guards in the post, bigs on the perimeter)
Forcing the poorest defenders into the heart of the action
Forcing switches and creating mismatches
Running unpredictable sets that make all 5 offensive players a threat
Why You Don't Need Elite Playmakers...
With this "Compounding Pressure" strategy, your guards aren't worried about beating their defenders one-on-one off the dribble and creating instant offense.
Of course you do want them in attack mode to put pressure on the defense...
But this strategy levels the playing field if your guards are not super fast or athletic.
The initial screen action is simply the first Domino in a set of actions that put the defense in Catch-22s they can't escape from.
So even if your lead guard is slow for a perimeter player...
He'll almost certainly feast on mismatches when opponents' bigs get switched onto him.


"I love the fact that the Rocket Offense is adaptable to different personnel. I can use it with teams that have good guard play or good post play."

- Tom H., Marion Middle School
Worried About Your Bigs (Or Don't Have Any True Big Men)?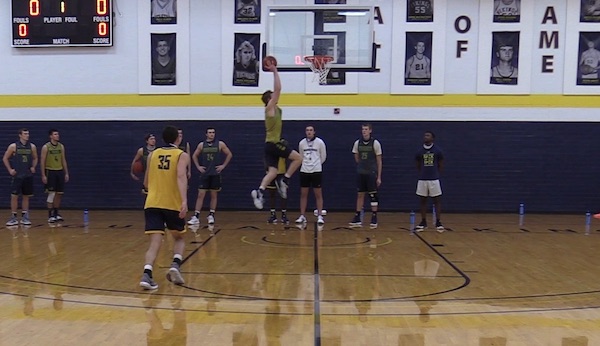 Coaches often shy away from screen-heavy offenses because of concerns about their bigs...

Can they shoot from the perimeter?
Can they catch on the move and finish?
Are they big enough to be considered bigs?
Once again, I designed the Rocket Offense to mold to any type of personnel.
There are plenty of perimeter options if you have an undersized team...

Rolling to range and forcing opposing bigs to leave the paint and close out
Creating driving lanes and scoring opportunities.
Or if your bigs are more comfortable near the basket...
They'll be rolling to the paint or short corner and exploiting opportunities to step in and seal in the lane or work the high-low post action.


The Key To Our Championship DNA?
Of course, you don't have back-to-back 30-win seasons and win a National Championship solely because of offense.
Yes, the Rocket Offense was one of our main catalysts...
But the ripple effects of Rocket showed up in so many other areas that fed into our success.
These same things can push your team to higher levels across the board...
Dictating opponent's rotations - since coaches are often forced to sit an offensive threat who you target on defense
Turning our program into a top recruiting destination - with a player-friendly offensive system
Getting higher defensive engagement - a natural by-product of an offense where everyone's touching the ball
Shutting down opposing teams' ball screen action - since we practice daily against the best ball screen offense out there (our own 😊)
Leveling the playing field against top competition - because we're no longer relying on supreme talent or athleticism
Follow My Blueprint...
The fact is, any team can put this Rocket Offense to use to score more points and create havoc for opposing defenses...
But it starts with YOU deciding to put the effort in on winning the Coaching Chess Match...
You've seen the big picture of how and why the Rocket Offense works so flawlessly...
But implementing this with your team and punishing opponents with your execution is going to require more specialized knowledge...
Understanding each of the screens - how to coach them and get players dialed in on the technique
How to help players read the game situation to decide on the actions they'll run
Shortcuts to getting players up to speed
Variations to maintain your competitive edge and keep the defense guessing
So if you want to install an unscoutable offense that gives opposing teams fits...
Then I'm very pleased to invite you to join me in the Rocket Offense System...
Introducing…
The Rocket Offense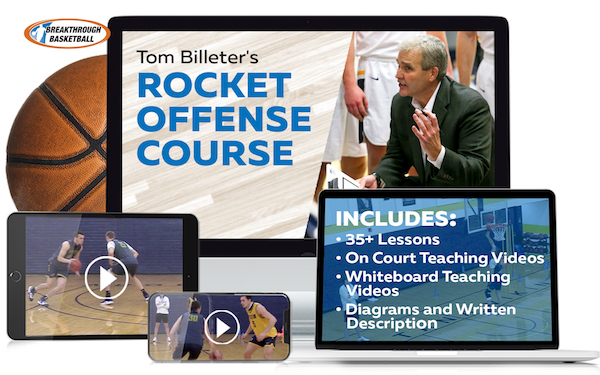 The Rocket Offense System is a virtually unscoutable ball screen continuity offense that uses multiple screening actions to get high-quality shots - regardless of the coverage you're facing.
The complete system includes:
Detailed breakdown of the 8 ball screen actions used in the Rocket Offense - along with coaching cues
Step-by-step teaching progressions to build Rocket Offense into your system
On-court video, white board sessions and diagrams and descriptions of each detail for a 360 degree understanding
The variety of screens and actions in the Rocket Offense means you'll quickly exploit ANY ball screen coverage thrown your way.
And by learning this one-of-a-kind offense directly from the creator, you'll understand the finer points of the system that give you an even greater competitive edge...

Manufacturing quality possessions even on bad shooting nights
Leading opposing coaches on a wild goose chase trying to figure our your sets
Frustrating opposing players who feel out of position and one step behind every time down the court
This offense has never been seen before outside of our small group of opponents which means you can...


Start next season with a truly innovative offense that plays to your team's strengths.
"I love the fact that the Rocket Offense is adaptable to different personnel. I can use it with teams that have good guard play or good post play. Coach Billeter's breakdown drills make it easy to teach the key screening actions of the offense. As a middle school coach, having a simplified version of the Rocket Offense included is very beneficial and gives me an easy starting point to implement this offense. I especially liked the course set up of the Rocket Offense. Interweaving Coach BIlleter's whiteboard lessons with his videos from the gym as well as the detailed diagrams that come with the course made it easy to follow and understand!"
- Scott S., Oak Ridge Middle School
"The design of the course made it easy to follow and learn. Coach Billeter's Rocket Offense gives me multiple ball screening options to use with my team. The offense is not too difficult for my team to use. I can make it as simple or complex as I wish by adding more or less of the screening actions. Scoring opportunities are created by breaking down the defense over the course of several screens, not simply scoring off of one screening action. Looking forward to incorporating this into our team. The offense gets EVERYONE involved as well, which is important, especially at our level. Great offense for both your guards and your post."
- Tom H., Marion Middle School
"The Rocket Offense is a very dynamic offense that creates multiple scoring opportunities for the entire team. The movement on the court is with purpose, there is no wasted movement by the players, which I like.
Excited to implement screening actions like the Waggle ball screen which is very unique and opponents will not be familiar with. We are always looking for new, innovative, and effective offenses that teams have won with, like the Rocket Offense. Enjoyed Coach Billeter's teaching style as well."
- Chris D., Cedar Falls High School
"Coach Billeter's Rocket Offense keeps teams guessing and on their heels defensively. I like the fact that it is an attacking/aggressive offense. Screening actions can be very unpredictable. No matter what the defense does, there is an option to make sure the defense is wrong. Coach Billeter spells out what ball screen actions are most effective for varying defensive strategies.
Coach Billeter does a great job of teaching the offense by building it from 2 vs 0 to 5 vs 5. Most offenses that have ball screens do not get the entire team involved, they look to score after 1 or 2 screening actions. This offense is designed to break a defense down with multiple screening actions. The throwback action in the Rocket Offense is a great way of getting touches to the bigs and taking advantage of teams that switch screens."
- Larry C., Benton High School


Here's What We'll Cover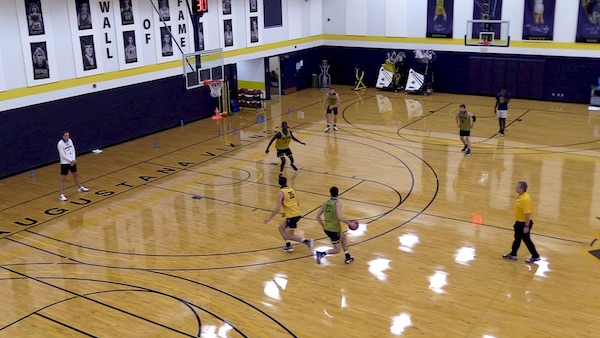 Rocket Offense Ball Screen Actions
Learn each of the 8 screening actions - when to use them, how to use them and how to execute at a high level
The variety of screening actions is one of the main things that sets this offense apart
We'll focus on technique, communication, and reading the defense for each screen type
Introduction to Rocket Offense
Learn the big picture flow for the Rocket Offense and how the various screen types and actions work with each other
Get the top teaching points to use as your "North Star" when implementing with your team
See the most common player mistakes within this offense - with corresponding coaching cues
Building Your Rocket Offense
Watch Coach Billeter implement with his Augustana University team (on-court video, whiteboard video and diagrams included)
Use small-sided games to help players develop footwork, rhythm and technique
Add defense and work up to live speed
Includes breakdowns for 2v0, 2v2, 3v0, 3v3, 5v0 and 5v5
Transition Offense Into Rocket
Take advantage of teams with weaknesses defending in transition
Create easy scoring opportunities before the defense can get set
Flow right into your half-court Rocket Offense
Learn the key transition screening actions that wreak havoc on the defense
Variations and Quick Hitters
Use these variations throughout the game to knock the defense further off balance
Generate easy baskets when you catch the defense going through the motions
"Mouse in the house" actions to force smaller defenders into the post
Attacking a Trapping Defense
Master your spacing and positioning against trapping defenses
Teach players the angles and movements for creating passing lanes and scoring opportunities
Instill the proper mentality in players when facing trapping defenses
Rocket Offense Simplified for Beginners
Start running a simplified Rocket Offense so players can begin mastering the techniques and flow
Focuses on the 2 most fundamental screening actions (with instructions on incorporating the other 6 actions over time)
Designed for rapid implementation with younger or inexperienced players
Extras
Breakdown shooting drills for posts and bigs to practice game-like shots with the screening actions in the offense
Rules for Your Rocket Offense for fast implementation and crisp execution (super specific so you know exactly what do to at all times and against all coverages)
Tips for getting kids in the gym to work on their game
What's the Investment?
Think through a few games this past season where you simply couldn't put points on the board - and ended up losing as a result...
How did those losses change the trajectory of your season?
What would it be worth to have a system that can replace those L's with W's?
Getting better tournament seeding
Boosting team morale
Building more buzz around your team
Creating more opportunities for your players to be scouted and move to the next level
This offense is my life's work...
And given the fact that it played a huge role in winning a National Championship and NCAA Coach of the Year award...
There's no doubt it's worth $200 or more in any serious coach's library.
But it's more important to me to share something special with coaches like you rather than trying to squeeze every penny out of the purchase price.
So instead of paying $200...
You can get Lifetime Access to the entire system today for just $79.
Just click the "Join Now" button below to get Instant Access now!


Click the "Join Now" button below to get Instant Lifetime Access to the Rocket Offense for just $79.
Click the "JOIN NOW" button to claim your immediate access to the Rocket Offense.


Try It Before You Decide!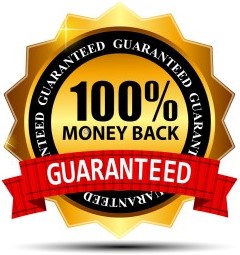 There's zero doubt in my mind that opposing coaches are going to lose sleep trying to prepare for your Rocket Offense...
And that even the most seasoned defensive coaches will find themselves in a Catch-22 where they're at a disadvantage no matter how they play you...
But to give you the utmost confidence in your investment today, we're also extending an unconditional 60-Day Money Back Guarantee on this program.
If you don't feel like this will launch your team into higher scoring and better offense, just send us a quick email and we will gladly refund your entire purchase price...
No questions asked!


Click the "Join Now" button below to get Instant Lifetime Access to the Rocket Offense Training
Click the "JOIN NOW" Button to get instant access to the Rocket Offense Training


Once you click the "Join Now" button, you'll be taken to the "My Cart" page to review your order.
From there, simply click "Proceed to Checkout" and you'll be taken to our Secure Payment page.
Just enter your contact and billing information to complete your purchase, and we'll email you all access instructions within a few minutes so you can dig into the trainings!


The Smartest Coaches Know...
The smartest coaches know that winning games - and championships - often starts with a coach's strategy and preparation.
Your offensive system can be the difference between winning your conference or struggling through an under .500 season...
It can be the talent equalizer that lets your team make noise even if you're undersized or short on talent or athleticism...
And it can create a mental "intimidation factor" that throws opposing coaches off of their game and causes them to question their own defensive prowess as one adjustment after another fails to slow down your scoring.
With the Rocket Offense System, my staff and I have already done the trial-and-error for you over the last 18 years.
We've already proven that it's a one-of-a-kind system that molds to all types of personnel strengths.
Now all you need to do is follow the step-by-step game plan and start enjoying the same competitive edge that can take your team to the next level.
It all starts here, right now.
So click the "Join Now" button below to grab your copy of the Rocket Offense System.
Click the "JOIN NOW" Button to get instant access to the Rocket Offense Training


To your unstoppable offense!
Coach Tom Billeter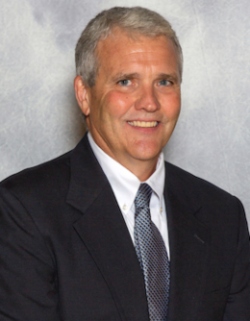 Frequently Asked Questions
How is Rocket Offense different from other ball screen offenses?
The Rocket Offense is much more dynamic and unpredictable than typical ball screen offenses. Here are some of the reasons why:

It uses 8 different types of ball screens to keep opponents guessing every possession
It doesn't rely on elite playmaking or amazing post play (because it uses the "Compounding Pressure" approach)
It involves all 5 players in the action - instead of the ball getting stuck on one side of the floor
There is no single coverage that can shut down all your scoring opportunities with the Rocket Offense
No matter how the defense plays you, they are at a disadvantage
How quickly can I get my players up to speed on the Rocket Offense?
You can realistically have your team running the Rocket Offense in ~ 2 weeks or about 4-6 practices.
We've included an entire module on "Simplified Rocket Offense for Inexperienced Teams" to speed up this process.
By following this plan, you'll start with 2 key screening actions and then have the opportunity to add more as your players get comfortable.
What if I'm already happy with my current offense?
You can definitely choose screening actions "a la carte" from the Rocket Offense that you think mesh with your current system.
Just by understanding and using the various screening types in Rocket, you'll see immediate improvement in the quality of any offense you're currently running.
What ages is this appropriate for?
We recommend this program for the following age levels:

Advanced middle school (12 and up)
High school
College
Professional
Is there a money-back guarantee?
Yes! You're protected by our 60-day no-questions-asked refund policy. So get your copy today and take the next 60 days to go through everything.
If you don't think this system will be an asset to you and your team for years to come, just send us an email and we'll process your refund that same day!


Click Here To Enroll Now and Get Immediate Access