Zone Defense Rebounding Drill - Rebound By Numbers
This is one of the best zone defense rebounding drills that you can use. It is from the Xavier basketball newsletter.
If you play a zone defense, players usually have to react and block out players coming from all sorts of different angles. This drill forces you to adapt to this scenario and become much better at rebounding the basketball. Even if you don't play zone defense, this is still a great rebounding drill to incorporate into your practices.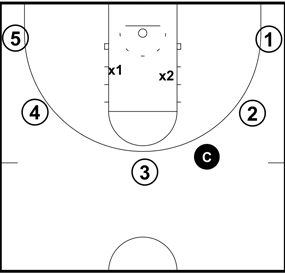 The offensive players are designated numbers and spread around the arc. The two defenders are located near the basket.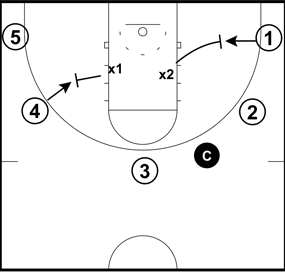 As the coach shoots, the coach will also shout out two numbers. In this case, the coach said 1 and 4. The defenders meet the offensive player and block them out, then crash the boards.
You can rotate the defensive group every 1 to 2 minutes based on your preference.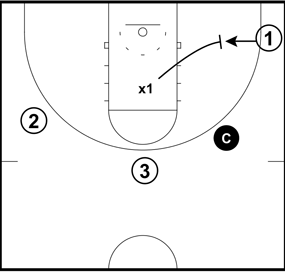 If you have fewer players, you can also run the drill with 3 or 4 players. This is what the drill would look like with 4 players.
Related Pages and Helpful Resources:

Thoughts on Rebounding in the Zone
Zone Defense Concepts & Tips
2-3 Zone Defense Basic Rotations
1-3-1 "Lob Pass" Zone Defense


Recommended DVDs:


Al Marshall's Aggressive 2-3 Zone Defense - The Defense Your Opponents Will Hate!
In this DVD set, Coach Marshall reveals all the secrets to his unique 2-3 zone defense. You learn all the drills, slides, tactics, concepts, adjustments, and everything you need to implement the defense yourself. Unlike most DVDs which glaze over the surface, it includes everything you need to implement this defense with your team. It's almost 2 hours long and neatly organized... (more info)
What do you think? Let us know by leaving your comments, suggestions, and questions...