Site Search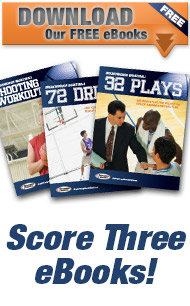 Q & A Forum
Experienced coaches are ready to answer your basketball questions! Visit our forum
Taps Drill
Double your rebounds per game by practicing this drill. Not to mention, the coach will love it when you're getting the team more possessions with your rebounding.
Drill Purpose:
This drill improves ball control and rebounding around the hoop. You also improve your jumping.
Instructions
Throw the ball up against the backboard. As the ball comes off the backboard, jump and tip the ball with a designated hand. Continuously do this for a set amount of taps (let's say 10). On the final tap, try to score the ball.


Switch to the opposite hand and do it again.


Use both hands at the same time to do the drill.



What do you think? Let us know by leaving your comments, suggestions, and questions...
Comments
Most Likes First
Oldest First
Newest First
---
Nicklaus says:
6/14/2009 at 4:09:26 PM


this drill really works and makes my fotting better and i learn to balance more ...

Like
---
Marc says:
8/2/2009 at 9:28:55 AM


How can i make this drill appropriate for female players who do not have the same athleticism as male players?

Like
---
Jeff says:
8/3/2009 at 8:35:08 AM


Marc - Female players can do the drill the same way as males, they just won't be jumping quite as high. This drill is all about timing and coordination with left/right hands. Jumping high is not a requirement. Give it a shot. If it's difficult at first, that's good. They will learn and improve.

Like
---
Matt says:
11/13/2009 at 8:37:10 AM


Question, when you say tap you mean just tip into the air or our they supposed to tap it back up to the backboard? I have 5th grade girls and anything I can do to help them rebound would be helpful.

Matt

Like
---
Jeff Haefner says:
11/13/2009 at 8:40:32 PM


Matt - They are supposed to tap is against the backboard. However 5th graders won't be big enough to do that well. You can have them tap the ball against a spot on the wall instead. Good luck.

Like
---
Robert says:
12/17/2009 at 11:10:20 AM


What is a good drill for a 4th grade boy
to practice to improve rebounding skills?

Like
---
Joe Haefner says:
1/7/2010 at 11:05:17 AM


Hi Robert,

Here is a good drill: http://www.breakthroughbasketball.com/drills/reactionrebounding.html

You can find more youth drills in this youth coaching section: http://www.breakthroughbasketball.com/coaching/youthbasketball.html


Like
---
Jalen Hall says:
9/18/2010 at 12:20:47 AM


Hi,
I am just going into highschool and I want to be able to rebound better. I am only five foot three and and very skinny. What drills and techniques will be helpful when rebounding against bigger people?

Like
---
Jeff Haefner says:
9/18/2010 at 10:37:41 AM


Jalen - 90% of rebounding is mental. Some of the important keys include anticipation (always assume its a miss), knowing where the ball will go, and aggression. Here are a few articles about rebounding:
http://www.breakthroughbasketball.com/fundamentals/rebounding.html
http://www.breakthroughbasketball.com/blog/index.php/3-simple-steps-to-improve-your-rebounding/

If you want a thorough explanation of how to become a great rebounder you can consider this ebook:
http://www.breakthroughbasketball.com/pr/rebounding.html

Like
---
Dewi McNamara says:
10/19/2010 at 5:28:35 PM


yeah, instead with 2 hands for dribbling, i like 1 hand only. is that good with one hand only? btw having my gala day t'day so nervous.....

Like
---
Joe Haefner says:
10/20/2010 at 10:09:06 AM


Dewi, use 1 hand, alternate hands, and use both hands. As a rebounder, it's good to be effective at all of them.

Like
---
Drew says:
10/27/2010 at 11:04:01 AM


I''m a six foot tenth grader in high school yet, I can''''t touch the rim is there any other drills you could show me to help with this problem? I would love to make it onto the varsity team this year and anything could help!

Like
---
luke says:
10/27/2010 at 11:09:52 AM


You need some hops drew!

Like
---
luke says:
10/27/2010 at 11:15:04 AM


Drew all you need to do is work on your calf muscle you can do a simple exercise like a the toe rasier and play basketball alot. who knows you might even touch the rim and grab it.

Like
---
brett says:
12/8/2010 at 6:34:12 PM


Will this drill work for 11 and 12 year olds?

Like
---
Joe Haefner says:
12/10/2010 at 9:29:50 AM


Brett, you could modify it and have them do it against a wall.

Like
---
alexandria dabney says:
1/3/2011 at 1:51:04 PM


I am a junior in highscshool. I play basketball in Garfield Heights,Ohio for the Lady Dawgs.
This drill has helped me to gain more rebounds each game I play. I do this drill before every game and it really helps me. Before this drill I hardly jumped, but know I am jumping higher than most of the girls in my confrence. Thanks for posting this.

Like
---
Jason Fleegle says:
11/27/2011 at 10:48:29 AM


We like to do all contact rebounding drills with football pads...

Like
---
R TARUN says:
6/16/2012 at 12:13:46 AM


VERY SIMPLE DRILL DUDE!!!!!!!!!!!!!!!!!!!!!!!!



Like
---
Sheryl Edgar says:
1/10/2013 at 11:38:25 AM


I coach a 10-12 year old girls team. We started doing this drill every practice for about 10 minutes starting two months ago, and my players' rebounding has significantly improved! Female players are not always taught to jump and to time their jumps. We did this drill against the wall instead of the basket for a long time until the girls got to where they could time their jump and catch/release the ball while in the air (key is not to throw ball up too high to start). All of them could not even time their jump to just catch the ball in the air at the top of their jump when we started. Now every player can do many "timed jump/releases" of the ball in a row against the wall. This is a great drill and is one every coach should have the players do for a period of time every practice. Every player on my team, even my point guards, are getting so many more rebounds every game...plus it is a great conditioning/strength building drill.

Like
---
Tim F says:
4/20/2013 at 9:58:06 AM


Have been doing this drill with my daughters as part of their daily workout. Especially good for the taller players that need help on foot work and coordination......

Like
---