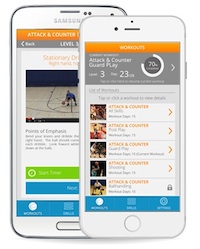 See All Reviews
Write a Review
Attack & Counter Workouts 1 Year Subscription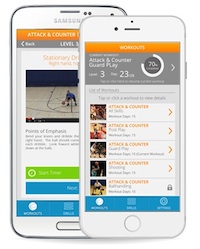 $99.00
In Stock
60 Day Money-Back Guarantee
1 Year Membership. Includes all of Don Kelbick's Attack & Counter Workouts. Over 100 days of programmed learning. More than 250 drills and 300 variations. Detailed instructions, emphasis points, and streaming video for every drill.
You will be emailed access instructions and passwords upon order confirmation.
Attack & Counter Basketball Workouts - Developed by NBA Skills Coach Don Kelbick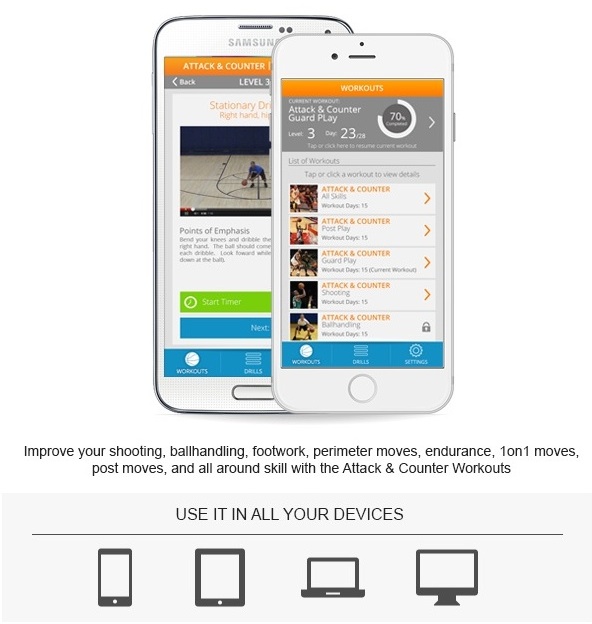 Who Are The Workouts Designed For?
The workouts are designed for players in college, high school, and middle school (ages 12 and up).
There are 4 levels to choose from.
The workouts are designed for all positions - point guards, shooting guards, and post players.
All the workouts can be done by yourself or with a partner.
Take The Workouts With You
You can view the basketball workouts on any smartphone, tablet, or computer with internet access.
This allows you to take your smartphone or tablet to the gym and view the workouts and videos right on the court...
The app shows you exactly what to do - taking you through each day, each drill, and each step.
It's almost like having an NBA skill coach in the gym with you (almost).
You simply open the app, choose your workout, and it leads you through the workout step-by-step.
You can also track your progress, shooting percentage, and more...
What You Get with Attack & Counter Workouts
Component #1 - All Around Skills Workouts (80 Days)
This is the primary workout for players. It includes 4 levels of logical and progressive workouts based on "programmed learning".
Each "level" includes 20-day workouts, telling you exactly what to do on each day. This makes for a grand total of 80 days of progressive basketball workouts (if you workout every single day).
You can choose how often you workout each week (ex: once a week, 3 times a week, daily). The harder you work, the better you'll get.
The "All Around Skill Workouts" will improve your ballhandling, shooting, finishing, footwork, 1on1 moves, and more. And they apply to all positions -- guard, perimeter, and post players.
Component #2 - Shooting Intensive Workouts (8 Supplemental Workouts)
These are specialty workouts with an added emphasis on shooting - giving you more shooting reps and higher intensity. The workouts will also improve ballhandling, footwork, and conditioning.
The shooting workouts are in no particular order. There are 8 shooting intensive workouts.
Component #3 - Post Play Workouts (60 Days)
This is a workout designed specifically for post players. Most players should use the "general skills workout", which is the primary Attack & Counter workout. It will help players in all positions (including the post) and develop well-rounded players.
However, if you are looking for a workout that is specific for post players, then you should follow this workout. It focuses on specific aspects of post play with your back to the basket. There are 4 levels and each level includes 15 day workouts.
Component #4 - Workout Builder (Build Unlimited Custom Workouts)
This feature allows you to build your own custom workouts using the drills included in the program. You can customize the workouts based on your preferences and needs.
You choose your favorite drills and/or building blocks, save your workout, and access it any time.
Component #5 - Over 250 Skill Building Drills (With Video Demonstrations) and 300 Variations
You get over 250 skill building drills in the app. By tapping the "Drills" button at the bottom of the app, you can search, sort, and preview drills to find what you are looking for.
The app includes advanced filtering capabilities so you can sort by category (shooting, ballhandling, etc), difficulty level, and by name.
Each drill includes instructions, points of emphasis, and video demonstration.
Screen Shots and Key Features
Choose Your Workout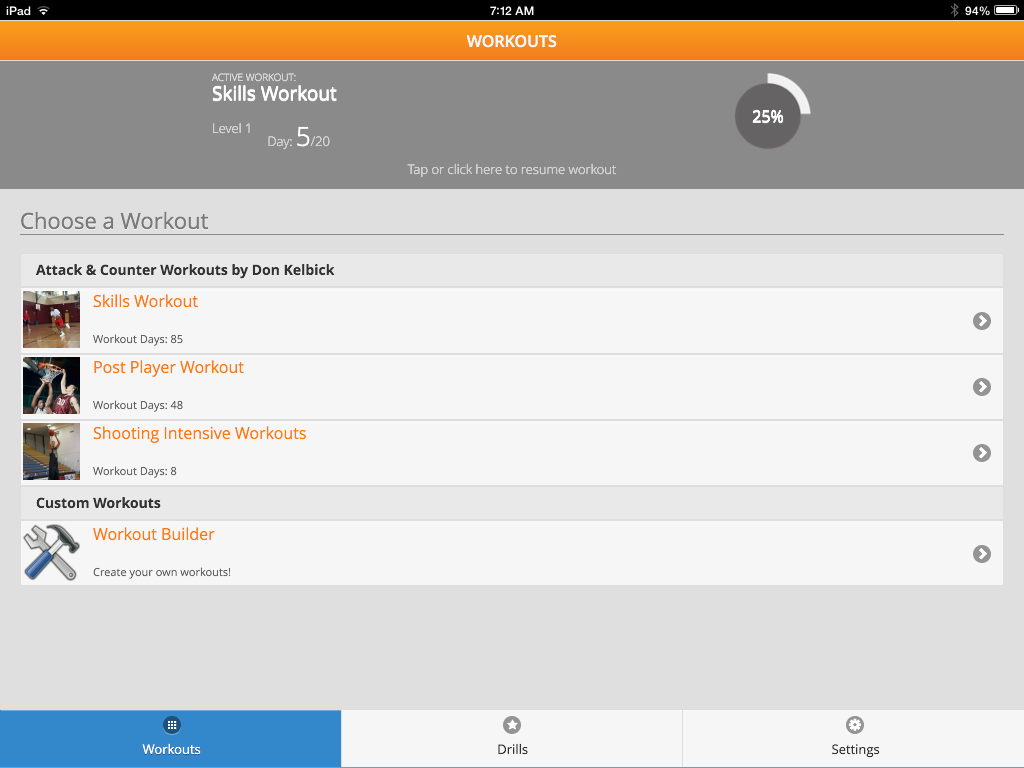 View Workouts, Track Your Progress and View Results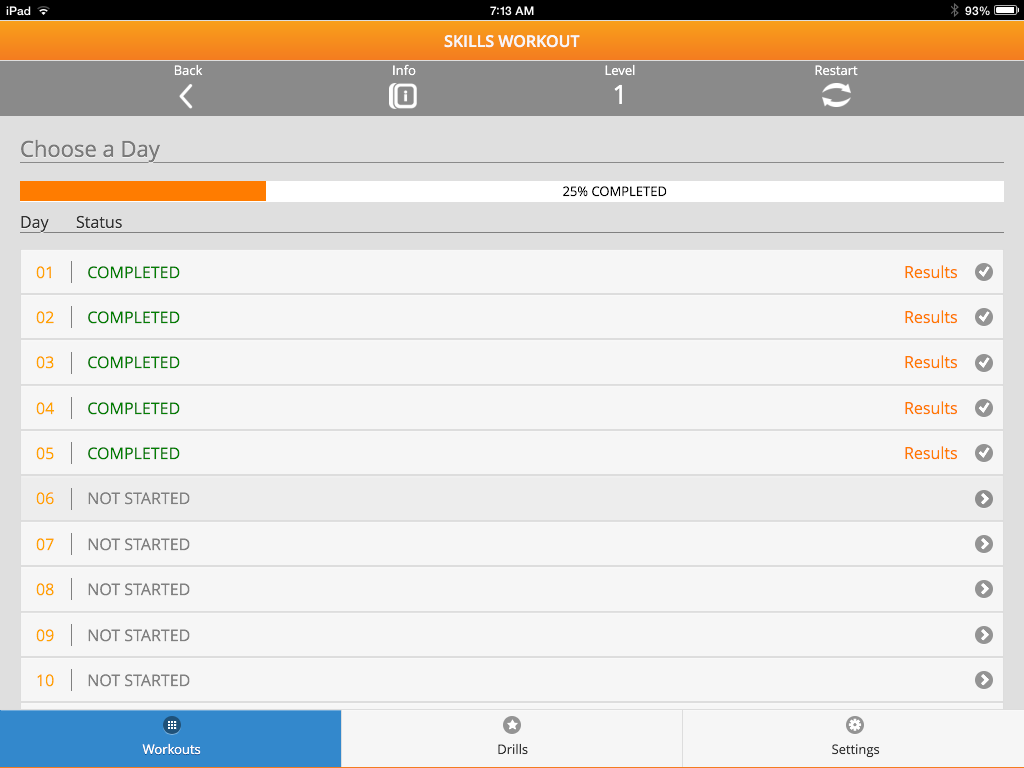 Watch Video Demonstrations and View Instructions for Each Drill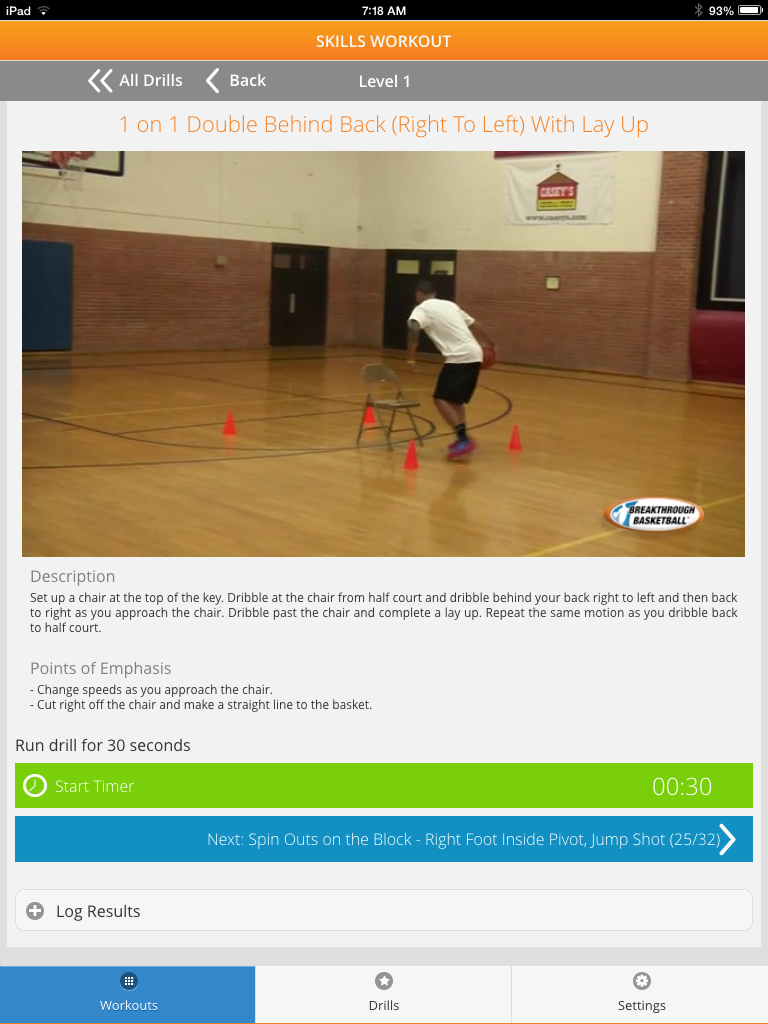 Search / Sort Through Hundreds of Drills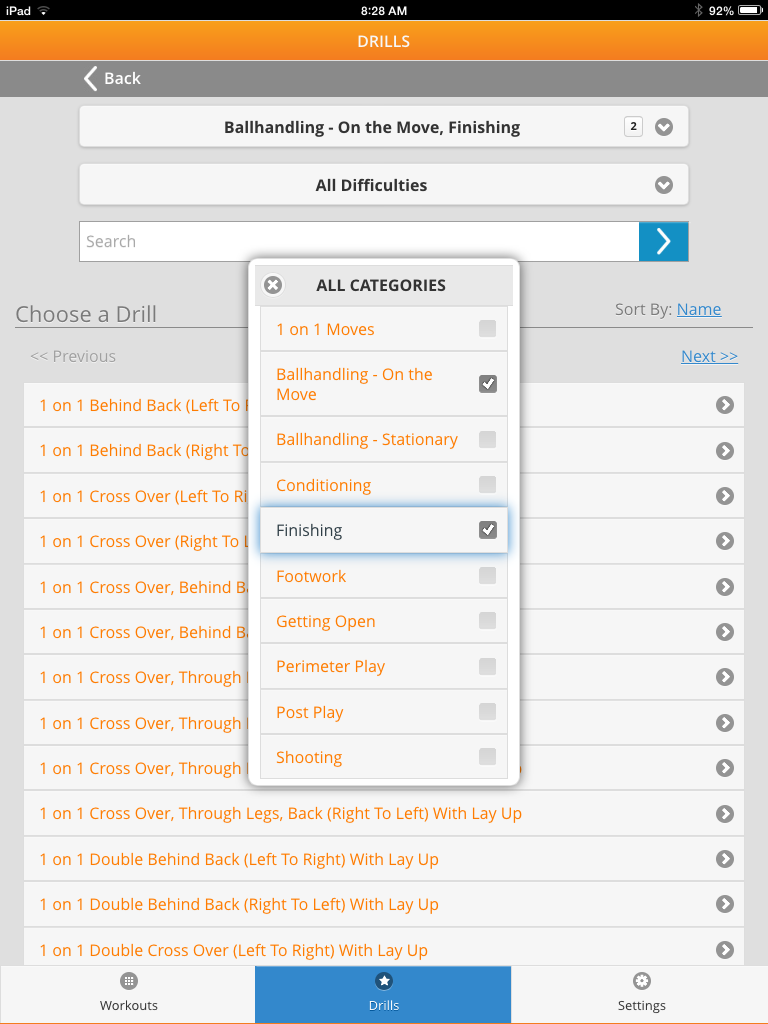 Testimonials From the Pros
"I have worked with Don Kelbick since I entered the NBA. His unique and innovative approach to basketball skills training has had a significant impact on my career."

- Raja Bell, Retired NBA Shooting Guard
"Don Kelbick's training is creative and very effective. As a basketball skills trainer, he is one of the best."

- Irving Rowland, Player Development Assistant Coach, Phoenix Suns
More Professionals Don Kelbick Trained
A few other pros that have been trained by Don Kelbick include:
Joe Johnson
Bruce Bowen
Tim Hardaway
Omri Casspi
Raja Bell
Rasual Butler
Carlos Arroyo
Guillermo Diaz
Stefanie Yderstrom
Rob Hite
Anthony King
JJ Barea
About Coach Don Kelbick
Some of Don Kelbick's credentials include:
Has provided individual training for more than 14 different NBA players, 50 European and professional players, and hundreds of college basketball players.


Over 35 years of basketball coaching experience at the high school, Division I college, and professional levels.


Served 14 years as a head coach and 10 years as Division I assistant including stops at Hofstra University, Marist College, Keene State College, and Florida International University.


Developed dozens of basketball DVDs and books.


In addition to coaching, has scouted for NBA teams, including the Knicks and the Hawks, and served as general manager in the USBL.


Traveled to over 20 different countries training players and teaching basketball.


Conducted over 1000 basketball clinics and camps training players of all age levels.
Don Kelbick is a long time contributor to Breakthrough Basketball developing dozens of articles, products, and providing ongoing consultation for the site. He also runs the Attack and Counter Skill Development Camps which are offered nationwide.
App Requirements
The app requires Internet access (Wi-Fi and cellular connections are supported).
The app will run on any smartphone, tablet, or computer with a connection to the Internet.
This includes mobiles devices like the iTouch, iPad, android devices, windows phones, and more.
60 Day Money Back Guarantee
Just like any reputable bookstore or retail business, we have a 100% money back guarantee too.
If for any reason, your purchase is not what you expected, just send us a message and we'll give you a full refund. No questions asked.
"Get Access Now"
If you'd like to order by telephone, call us at 1-866-846-7892 (toll free).
If you have any questions, don't hesitate to contact us.
Customer Reviews
Average Rating
4.5
Based on 19 reviews
Review This Product
Rate and review this product to let others know about your experience.
WRITE A REVIEW

The exercises are very comprehensive, I have only been through a few workouts and already feel great.
This review is helpful

(
0 people
found this review helpful)

I have enrolled my son in a number of camps and sessions with individual trainers and I have found this program to be very compatible. In fact, in some ways this program has some advantages over traditional camps. The workouts are very well structured, the videos are clear and help to demonstrate what's required. The app helps to lay out a "day" system to assist with the roll out of the workouts and it even keeps stats on your progress. Very well developed. My only feedback is that it would be nice to have this all in a mobile phone app and not just web based.
This review is helpful

(
1 person
found this review helpful)

I absolutely love this product! It's definitely been a game-changer for me helping my daughter's workout. I've been using this app for for 4 years and their growth as players has been tremendous. if you're looking to get into a regular routine and get your kids on a progression program. Tired of looking for YouTube videos for workout, making it up as you go. I highly recommended this.... thanks Breakthrough Basketball.
This review is helpful

(
0 people
found this review helpful)

I'm a coach and a parent, so far this has been exactly what I was looking for. An easy to follow guided workout that we can use to supplement training during the off season. I'm fortunate in that it is my daughter that is the one pushing for extra training and this fits the bill perfectly. She is going into the seventh grade and she was worn out after the first workout.
It's also great to have a well organized plan coming from a voice other than my own.
Good stuff.
This review is helpful

(
0 people
found this review helpful)

Don's attack and counter program is very good just as he says the same things happen over and over again just in different situations. This product is beneficial to anyone who takes it seriously and put it to use I've worked with Don Kelbick on numerous occasions and I always learn something.
This review is helpful

(
0 people
found this review helpful)

I like the app. It is easy to use. I also use the add on to allow access for some of my players.

One thing I would like to see added is on the custom workouts. I would like to be able to add a few of my own drills. We have some "program" drills that would be nice to add.
This review is helpful

(
0 people
found this review helpful)

I have been coaching since 93 and this is the best tool for any individual that wants to become the best basketball player that they can be. I just wish there was a team discount or something to help offset the cost.
This review is helpful

(
1 person
found this review helpful)

My players and daughters use this. Would highly recommend for any age level.
This review is helpful

(
0 people
found this review helpful)

The app. is excellent. I'm excited to introduce it to other coaches, and the players I have been working with.
This review is helpful

(
0 people
found this review helpful)

I purchase and don't know how to receive it so I am unable to rate it yet
This review is helpful

(
1 person
found this review helpful)

The app is wonderful when you have internet connection. The problem that I'm having is when I go in the gym(s) I don't have strong enough reception so I get no video streaming. While using at home or an outdoor court it works fine. Inside a gym it's been useless.
This review is helpful

(
3 people
found this review helpful)

Love the app. Are you planning on introducing an iPhone or Android app. The need for data access is the only thing that would hold this app back. I asked about an iOS app a while back and I think this and your website would do well in the app store.
This review is helpful

(
1 person
found this review helpful)

My son loves it. He's 11 and likes the way it gives him detailed drills to work on instead of just "shooting" around.
This review is helpful

(
0 people
found this review helpful)

The workout app is fantastic! I am using it to train my 12 year old daughter who wants to make her 7th grade team.

My favorite feature is tracking her progression. I also like that you can see the drill in action.

All in all, I love the app!
This review is helpful

(
0 people
found this review helpful)

I really like it. I was a bit hesitant to plunk down all the money at once for the subscription because I was had a monthly subscription for something similar, but I like your product a lot better. I have two daughters one who is 10 and the other who is 13 and a 7th grader. I coached both of them but have now "retired". I do, however, enjoy practicing with both of them at the local high school. However, I wanted drills that would impact their games. If we were going to spend the time out there I wanted to do it right and didn't feel I had the skill set. So here's the breakdown of what I like and what I think can be improved.

I love the skill levels. My younger is working on 1 and the elder on 2.

It takes us about two times at the park to finish one workout. As sometimes we break it up.

It's very thorough in my opinion working both sides and all the variety of moves (between legs, crossover, behind the back, etc.)

I don't have to work to hard to convince my daughter that this is what we should be spending time on since it's not from dad.

Easy to take phone out to court and watch the next drill.

Great that it shoots from two angles. The floor angle is very clear and easy to follow.

I like points of emphasis.

There are lots and lots of options.

I've seen improvement in her game. At 7th grade she is playing with a developmental team composed mostly of 9th and 10th graders. At first she got almost no playing time but has consistently been earning time as her skills have improved. She has attributed some of her growth to the site so it gives me more credibility when working with a middle schooler without having to have an extensive basketball background.

I would love to add-on something that would really help with defense. Maybe add on programs could be developed in their area for a reasonable price for current subscribers.

Overall, I'm very satisfied and excited to continue working out with the girls over the summer without the need for a fancy gym and too many private coaches.
This review is helpful

(
5 people
found this review helpful)

The workout app has been great. My 11 year old son has been using it - some under my direction and some on his own. It is one of the best basketball development tools I've seen. It really helps him focus his practice time on the court more efficiently and he likes doing it a lot. He works really hard, but he enjoys it. I have gone through the Attack/Counter videos with him and have previously directed him with workouts based on the Attack/Counter videos and they are extremely good, but this allows him to do it when I don't have the time to organize and direct his workouts. As far as basketball skill development goes, this app and the Attack/Counter videos are the best thing outside a personal skills trainer (and frankly better than a lot of trainers). Don's philosophy on skill development is straight forward and exceptional.
This review is helpful

(
3 people
found this review helpful)

This workout app is great. Im a former player and now I coach youth basketball and this app is perfect for skill development. My players have progressed leaps and bounds in a very short period of times thanks to the professional workouts that are provided in this app. I look foward to see what other products will be coming out in the future.
This review is helpful

(
3 people
found this review helpful)

Sweeeeeet !
This review is helpful

(
1 person
found this review helpful)

Excellent
This review is helpful

(
0 people
found this review helpful)