Site Search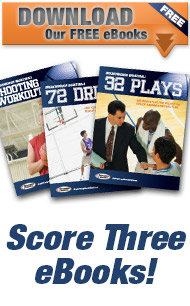 Free Newsletter
Get our free monthly newsletter with new drills, plays, scoring tips & coaching strategies... Signup for our newsletter
Q & A Forum
Experienced coaches are ready to answer your basketball questions! Visit our forum


Subscribe for FREE and Get 3 eBooks…
Just for subscribing to our free newsletter you'll get these 3 eBooks for free…
72 Basketball Drills & Coaching Tips – 136 page eBook.
21 Basketball Tips & Tricks for Players – 20 page eBook.
32 Winning Basketball Plays – 96 page eBook.
Plus you'll get ALL updates to this website delivered to your inbox for free. Over 100,000 other coaches, players, & parents have already subscribed.
We will never send you spam or share your email address, guaranteed!
Close
Coaching Basketball - Developing
Teamwork & Chemistry
Here are some articles on developing teamwork & chemistry...
Two Easy Teambuilding Activities to Develop Team Chemistry
Creating Team Unity With Coach K
Drastically Improve Teamwork & Unselfishness With This Stat (Not An Assist)
Importance of Communication With Your Coach & How It Helped the Villanova Wildcats Reach the Final Four
How To Improve Team Bonding and Teach Life Lessons
Chemistry - Fostering Teamwork
Developing a Team Covenant
Teamwork On Offense
5 Proven Ways to Build and Maintain Team Chemistry Over The Course Of A Season