Basketball Practice Fatigue in January - How to Ignite Energy and Focus
Having coached at almost every level for the past 26 years, there is one thing that I have found to be true every season:
January is a LONG month.
Most coaches are aware that mental fatigue in games is a real thing. As coaches, we know how to take advantage of this mental fatigue in games. Systems like Coach Beucler's 2-2-1 Press specifically thrive on mentally breaking teams down over the course of a game.
As the season progresses however, how do we keep our own team mentally sharp in practice???


How To Prevent Mental Fatigue In Practice
Sometimes as coaches, we forget that practice fatigue throughout the long basketball season is very real as well.
Depending on when your season started, players have been practicing 2+ months and the season is another 2+ months from being over. Kids begin to get mentally fatigued. They've done the same drills over and over, the newness is long gone and if you don't make adjustments as a coach, the players will lose their enthusiasm and excitement in practice.
So what can you do as a coach???


Whether it's an album, 8 Track, CD, or radio...crank up the tunes!
Ok, if you're like me, you probably grew up without having music at your practice....but think back.....wouldn't you have ENJOYED some tunes as you were stretching or warming up at the beginning of practice.


4 Reasons To Play Music At Practice
Players Like Music- Coaches are always looking for ways to make practices more enjoyable. Playing some music at the beginning of practice or at the end of practice is something players will tell you they would enjoy and appreciate.
Gamelike- We are always trying to make our drills as gamelike as possible. The more gamelike we make our drills and practices, the more they will carry over to the actual game. Well, most levels of basketball play music for pregame warm-ups. This is the time we want players to be most focused and ready to go. If we are doing this for players before games, why not do it before practice. It should help players with their mental state and help them carry over what they do in practice to the game.
Science- There is research out there showing that music actually can improve an athlete's focus. Along with this, studies have shown an increase in an athlete's physical abilities when listening to music.
Building Relationships- Many coaches use the warm-up time to walk around the gym and talk to players individually. Sometimes we have tough conversations with players during this time. Music playing throughout this can help make for an easier conversation and less tension. Also, the music doesn't have to be just music the kids choose....feel free to put your favorite Johnny Cash or Billy Joel song on as well. The kids will laugh (or cry) but it allows them a glimpse into your world and helps build relationships that go beyond basketball with your players.
Music doesn't have to be just at the beginning of practice. You could use it at the end as players do a cool down stretch. You can also play some music after practice. Kids love to stick around and get in extra shooting on their own -why not make it more enjoyable for them with music....you'll be surprised at how many more players want to get extra shots up with music playing!


30 & 1/2 - A Fun Drill To Finish Practice
Here is a fun drill players of any age love- I have used it from 4th grade to college.....and at every level, KIDS LOVE IT!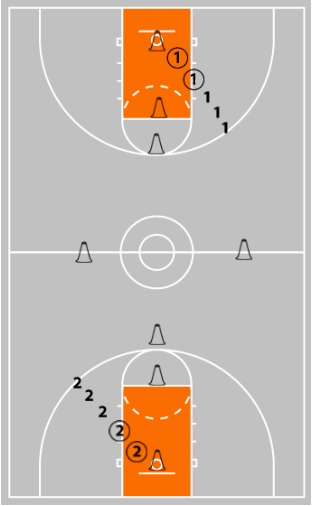 Divide your team in 1/2.....be creative in how you do this. Maybe one time you put the oldest kids on one team and youngest on the other, maybe you divide them based on shoe color....it doesn't matter, just make it random!
Each team has 2 basketballs on their end.
Each team needs to make 10 shots from three spots: lay up, free throw line, 3 point line.
Players rebound their own shots and pass them to the next person in line. Teams count out their makes.
As soon as a team has made 10 shots from the three spots they move back to the 1/2 court line where they need to make 1 shot from 1/2 court to win!
You'll be amazed at how much excitement the kids have doing this drill and the pandemonium when one of them hits the 1/2 court shot! What a great way to end a practice!
Tip: For Younger Kids Move Them In
I have done this with 4th grade teams. I use layups, shots from the block, free throw line jumpers and the finale is a 3 pointer to win- the same excitement when they win!
You don't have to do this drill every night, some seasons we do this a handful of times. Other seasons we have closed practice the night before each game with this.
Also a nice twist is to hand out a prize to the person that hits the 1/2 court shot. It doesn't have to be anything big, maybe it is a gatorade or maybe it is a camp basketball shirt from 2006...either way, just a fun drill to end practice and keep away mental fatigue through the long winter months.


Players Want To Learn - Progress Through Skills and Add New Drills
Keep in mind, your best practices as a coach are when you are challenging your players. They want to improve on skills that will carry over to any level they play at.
So whether they are working on becoming a 3 dimensional scorer or the elite skills involved in the attack and counter system, keep the drills fresh as the season gets longer.
You can even add new drills that work on the same skills. While your objective is the same, the newness of the drill sparks motivation.
What do you think? Let us know by leaving your comments, suggestions, and questions...
Comments
Most Likes First
Oldest First
Newest First
---
Michael McPeek says:
1/10/2020 at 12:05:34 PM


Another practice-ending drill kids like is Jail Break. You divide your team in half and put one-half the players on one side of the court in a line starting outside the 3-point line at the free throw line extended, or just above, and the other half positioned similarly on the other side of the court. The first player in each line has a ball. On the whistle or command, the players drive inside the three point area to the elbow and shoot a jumper. If one makes it and the other doesn't, the player who missed goes to "jail" on the baseline on their side of the court. If they both miss, each player has to retrieve their own shot, dribble to the opposite end of the court, and make a layup before the other player. Whoever makes the layup first puts the other player in jail. Then it's the turn of the next two players now at the front of the starting line. At any time during the game, a player can get all his teammates out of jail by taking and making a 3 point shot from the wing before his opponent makes a 3 or an elbow jumper.

Like
2 people liked this.
---
John Baumann says:
1/10/2020 at 10:33:08 AM


Awesome ideas. Thanks

Like
---