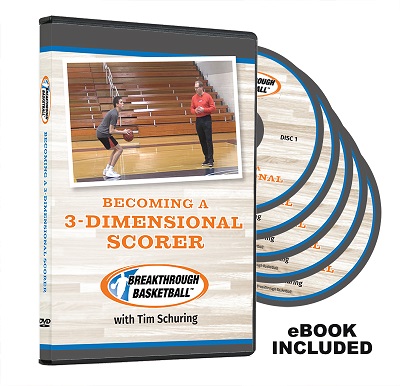 See All Reviews
Write a Review
Becoming a 3-Dimensional Scorer with Tim Schuring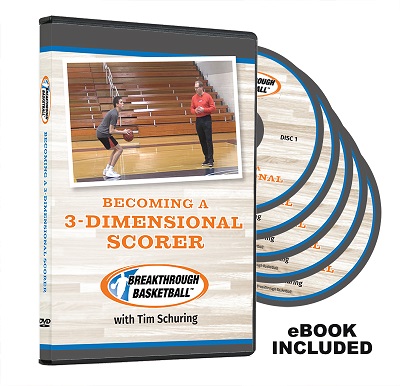 $99.00
In Stock
60 Day Money-Back Guarantee
A "good" basketball player can score in one way. A "great" basketball player can score in two different ways. "Elite" players can score in three different ways.

This DVD and eBook set will give you the blue print for how you can make yourself an elite player by learning how to become a 3-dimentional player in the gym or on your own.

Contents: 5 DVDs (5.5 hours) and 2 eBooks (81 pages)
You will be emailed access instructions and passwords upon order confirmation.
PRODUCT OVERVIEW
WHAT'S INCLUDED
AGES & SKILL LEVELS
ABOUT TIM SCHURING
In this DVD set, you'll get...
5 DVDs containing more than 5 hours of content featuring 37 moves & combos and 26 drills.
Step by step teaching progression.
A complimentary eBook with all of the steps, drills, and key teaching points documented for you in 57 pages, 45 diagrams and 16 chapters.
A BONUS video with 24 additional skill development drills.
A BONUS eBook to help you put the 3-dimensional player information into practice with 9 different workouts, ranging from basic to advanced.
In addition to receiving the DVDs, you get instant access to the eBooks and streaming videos!
What is a 3-dimensional player?
A 3-dimensional player is one that, regardless of size and natural talent, has the ability to do three things:
Knock-down shots from the perimeter
Attack off the dribble and finish with both hands
Score from mid-range
Why is being a 3-dimensional player important?
You are hard to guard - If you can shoot from the perimeter, attack the rim and hit the pull up jump shot, imagine how hard it will be for your defender to stop you
You are efficient - You will be quick without wasted movement & no matter where you catch the ball, you are a threat to score
You create more space - Help side defense won't be as effective on the attack and your teammates will benefit from better spacing
Defenses can't take away everything!
If you master all 3 dimensions… you become unstoppable and can score against any defense or situation…
If the defender extends on your jumper, you drive to the basket. If they take away your drive, you shoot the outside shot. If they take away your outside shot and bring help defenders, you have the midrange game. You can score no matter what the defense tries to take away!
How your game changes when you become a 3-dimensional player?
Earn more playing time
See your shooting percentage skyrocket
Score more points
Feel more in control during games
Make better decisions on the floor
Create more opportunities for your teammates
Chapter 1: Introduction
Learn why 3-dimensional scorers are nearly unstoppable. Then learn how to lay the groundwork by beginning with the Four Phases of Development:
Foundation – The essential skills every player needs!
Dimension 1 - Becoming a knock-down outside shooter
Dimension 2 - Attacking off the bounce and finishing at the rim
Dimension 3 - Midrange game, pull-up jumper
Chapter 2: Establishing a Foundation
Every good 3-dimensional player has an outstanding foundation. This chapter teaches things a player must have in place for their game and their skillset to be effective.
A few areas covered include:
Basketball position – Critical tips for a better athletic stance to improve balance, quickness, first step speed, and the ability to change directions.
5 keys for effective ball handling
Important footwork for stopping to reduce turnovers and develop a quick release and better balance on your shot.
Triple threat footwork after the catch use to beat your defenders.
How to change speeds and directions more effectively to create separation from the defense.
And more
Chapter 3: Drills to Build Your Foundation
This chapter shows you five drills to build your foundational skills taught in the previous chapter –ball handling, starting and stopping, changing speeds and footwork.
Chapter 4: Jump Shot Fundamentals
Dimension 1 is Shooting Off the Catch. Here Coach Schuring covers the five basic parts of being a knockdown shooter.
You'll learn:
How to develop effective footwork
How to improve balance (statistically proven to increase shooting percentages)
The importance of "framing" your follow through
Proper shooting technique
How to develop a quicker release
How to improve shooting rhythm and why it's foundational tenant of great shooting
Chapter 5: Shooting Drills Off the Catch
Coach Schuring takes you through his seven favorite shooting drills improve your shooting form and your shooting off the catch.
Chapter 6: Finishing Moves
There are 14 finishing moves with two advanced combo moves. These finishing moves are organized by beginner, intermediate, and advanced. Coach Schuring tells you how to develop finishing moves in a step by step progression. This helps you progress no matter what stage of development you're in.
Chapter 7: Finishing Drills
Take what you learned in chapter 6 and apply them with drills that will help you develop your finishing skills. All you need is a cone, a chair and the desire to get better!
Chapter 8: Moves Off the Move
We refer to getting to the rim off the dribble as "moves off the move". You might also call them dribble moves. Once again, Coach Schuring shows you vital progressions from basic to intermediate to advanced.
You will learn:
9 moves off the move (dribble moves)
Additional advanced combo moves
4 keys to beat defenders off the bounce
How to change of speed and direction to beat your defender off the dribble
How to lengthen your stride and get to the basket quicker
Chapter 9: Moves Off the Move: Drills
Next, you learn the drills you need to develop your dribbling moves and beat defenders off the bounce!
Chapter 10: Moves Off the Catch
The last part of dimension 2 is moves off the catch.
How do you score when you have received a pass from a teammate? The days are over when you are just going to be able to catch it, put it on the floor and go straight to the rim. You must have other skill sets to attack the rim and score.
You will learn:
11 moves to help you score off the catch
4 keys for better moves off the catch
The proper footwork and angles to utilize step back jumpers and score more points
And more
Chapter 11: Moves Off the Catch: Drills
This chapter features three drills that will improve your moves off the catch, while at the same time work on your conditioning.
Chapter 12: Shooting Off the Dribble
Dimension 3 is the mid-range game. In this chapter you'll learn:
3 keys to shooting off the dribble
How to improve mid-range shooting percentage
Proper shooting mechanics for shooting off the dribble to develop more consistency
How to utilize the 1-2 step and air-square footwork
Chapter 13: Shooting Off the Dribble: Drills
Coach Schuring takes you through the essential drills that he uses to develop better shooters off the dribble..
Chapter 14: Designing Your 3 Dimensional Workout
This chapter shows you the to develop your own 3-D workout! It shows you how to develop basic, intermediate, and advanced workouts.
You will learn:
5 guidelines for developing an effective workout
Proper workout progressions
3 tips for skill mastery
The number of days to spend on each workout, the length of time for the workout, and how much time to spend on each skill!
How to develop skills efficiently
Chapter 15: Frequently Asked Questions
Next, you learn answers to some of the most frequently asked questions. Here are a few:
Does coach Schuring prefer the 1-2 Step or an Air Square?
How do you avoid traveling violations when using advanced moves?
How long does it take to master a new move?
How do you incorporate passing into a workout?
How do you know when to try a new skill in a game?
And more
Chapter 16: Closing Thoughts
Coach Schuring gives you some final thoughts on how you can take everything you've learned to become an elite score.
Recommended Age & Skill Levels
We recommend this product for all age levels -- from 3rd grade to college. Coach Schuring has used this information with great success at the college level. Later, he adjusted teaching for the youth level and has utilized it with 3rd through 12th grade teams.
Coach Schuring teaches how to focus on the skill, not the drill, so that no matter if you are a beginner or an advanced player there is something from which you can benefit. The information is for individual workouts or can be easily adapted for team practices.
Coaches, players, parents, or anyone wanting to learn about fundamental skills and player development will benefit from the material in this product.
Tim Schuring's coaching credentials include:
Owner/Director of TNT5 Basketball Development & Iowa Prep.
Assistant coach for Luther College men's basketball.
Over 25 years as Head and Assistant Coach at high school and collegiate levels.

Eight seasons Asst. Men's Basketball Coach at Luther College.
Three seasons as Head Coach at Saint Mary College (KS).
Four seasons as Head Coach at Dakota State University (SD).

2001 NAIA National Tournament Appearance (Sweet 16).
2001 Kansas Collegiate Athletic Conference Coach of The Yr. 7 seasons as a head high school coach in Iowa and Illinois.
1990 Iowa State High School Tourney appearance.
1990 IBCA District Coach of The Year.
2012 Inductee into Saint Mary College Athletics Hall of Fame.
Testimonials
"I have been around some of the best teachers in the country and Coach Schuring is one of the best. If you want your players to get a great skill development work-out with conditioning, I would highly recommend Coach Schuring."
- Coach Don Showalter, Head Coach of USA Basketball 16U Boys, Head Boys Basketball at Iowa City High
"Skill training with Tim Schuring and TNT5 has been a key component to our player development from ages 10-18! Tim has the background, patience and teaching ability to adjust to each player's varying skill level and make impactful individual improvements."
- Wade Grinde, Head Boys Basketball Coach, Spring Grove HS (MN)
"Coach Schuring has been coaching and improving basketball player for 30 years. My son has been fortunate to instructed by Coach Schuring and without doubt, his skills have improved through this personal instruction. Any family who want their son's or daughter's skills to improve would be wise to invest their time with Coach Schuring and TNT5."
- Alan Magnani, Former Head Mens Basketball Coach , Jamestown College (ND)
Customer Reviews
Most Helpful First
Newest First
---

Todd Rosenthal from New york, NY says:


3/10/2019

at 10:13:44 AM


Certainly there are plenty of bits and pieces to take away from this, and I very much appreciate anyone who can break down footwork and teach the details. We do need to START with the kind of drills in this DVD set. However, I don't see how you can make a video about being a good 1v1 player without a single drill that includes defense. Reading the defense is not independent of the skill, it's a core element of the skill. Even after you establish the ability to use a skill in, say, a 1-second advantage drill with defense you still have a ways to go before they can use it in a 5v5 game situation, so we are REALLY far away from game application here. I don't mean to be overly critical, but at this point in the evolution of teaching the game, we need more ideas about how to scaffold ball skills across that chasm from dry drills to the game.

This review is helpful
1 person found this review helpful.
---

Fran says:


3/11/2019

at 2:11:36 PM


Really solid product Breakthrough! Become a 3D player by Ed S. is top notch instructions .I particularly love the drills incorporating the multi-level skills. i.e. Flower drills and double flower. This video help by daughter solidify and enhance her skills in 3D. Not to brag, but now she is the best player in her team and working her way to strive to be the best in the province/state! My only suggestion are;
1. in the skills demonstration, i would like to see a side/lateral angle of the player facing the rim and going to the hoop as i get to see the reference line in the 3 pt line, elbows and FT line.
2. some slow motion would enhance visual learning as well.

By the way, I am a Coach and a Dad!

Fran

This review is helpful
1 person found this review helpful.
---

Tyler Savoy from Warren, MI says:


4/4/2019

at 11:24:01 PM


One of the most in-depth player development dvds out there. He starts with the fundamentals and builds upon them throughout the dvd. A lot of nuggets in there for novice coaches all the way to exp. coaches

This review is helpful
---