How I Created Unselfish Passing Machines With My Youth Team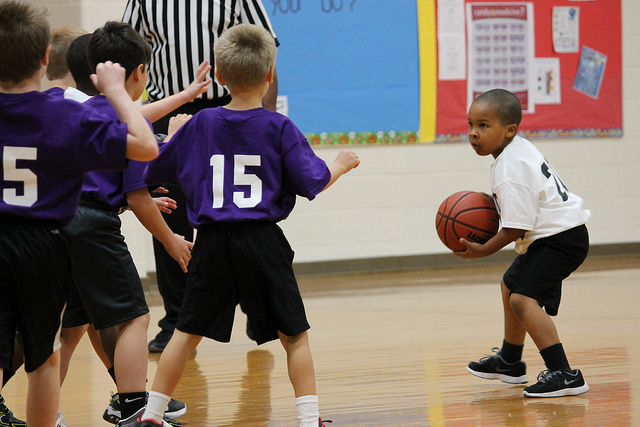 Photo from Marietta PIO (Modified Image)
In the summer of 2009, I was asked to help coach some games for a 3rd grade boys' team. We didn't have any practices. It was just a fun way for the boys to gain experience.
I immediately noticed one terrible habit. There was practically no passing and teamwork. A few players dominated the ball.
And the players would always ask how many points they scored during and after the game.
Surprise. Surprise. Right? Anybody who has coached youth basketball knows this is no surprise.
Well, I knew we had to change this right away. So I started tracking a new passing statistic.
However, I knew I had to track something a little different than the typical assist or the Gretzky (Hockey assist) that I had tracked with high schools teams. I didn't think there'd be enough assists and Gretzkys due to the low scoring nature of 3rd grade basketball.
So I only tracked one stat during the games... The number of "good passes" made by each player.
During the first game, there was some interest. A few boys would come over and ask how many good passes there were. At the time, I thought, "Is this hopeless?"
3 More Things I Did To Get My Players Crazy About Passing
So I thought… Well, I need to turn this into a big deal. So I did three things.
Every time a player came out, I highlighted how many good passes they had so far.

I tried to compliment as many good passes as possible during the game. "Great pass, Jaden." And I made a big deal out of the really good passes.

After the game, I never talked about the outcome of the game. I just talked about how many good passes there were.
By the third game, there was a monumental shift. More and more players wanted to know how many "good passes" they made.
And by the last few games, players would sprint over to me to check on their good passes. That's all they cared about.
It actually started to work too well. A few players even passed up open shots to get a good pass.
So I had to create a new rule… If you don't take an open shot or scoring opportunity, you sit on the bench.
I didn't even have to do that once because they quickly got the point.
The experiment worked out great and I know I'll continue to use it.
I hope that you can use it to help your team's passing as well.
Here are some more youth passing resources that you might find helpful.
Passing and Decision Making Drill - No Dribble 3 on 2 (Continuous)
2 Competitive Drills To Improve Passing For Youth Basketball Teams
A Little Known Secret to Improve Team Passing and Dramatically Reduce Turnovers
10 Creative Passing & Footwork Drills You Can Do On Your Own - NO Partner Needed
Basketball Passing Fundamentals, Drills, & Tips
Steve Nash Passing Series Drill with Bob Bigelow
6 Tips to Improve Passing and Reduce Turnovers
Do you have any questions or suggestions for this article? Let us know by leaving your comments...
Comments
Most Likes First
Oldest First
Newest First
---
James says:
12/19/2016 at 6:48:37 PM


I did something similar with good results. My own kid turned into a good passer. I still keep stats of his games but I emphasize assists, rebounds, turnovers, and +/- while on the court (so all five get credit for any scores and debited for any scores allowed).

Like
---