Site Search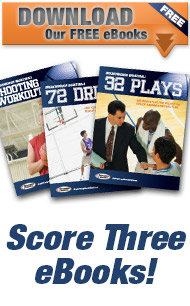 Free Newsletter
Get our free monthly newsletter with new drills, plays, scoring tips & coaching strategies... Signup for our newsletter
Q & A Forum
Experienced coaches are ready to answer your basketball questions! Visit our forum


Subscribe for FREE and Get 3 eBooks…
Just for subscribing to our free newsletter you'll get these 3 eBooks for free…
72 Basketball Drills & Coaching Tips – 136 page eBook.
21 Basketball Tips & Tricks for Players – 20 page eBook.
32 Winning Basketball Plays – 96 page eBook.
Plus you'll get ALL updates to this website delivered to your inbox for free. Over 100,000 other coaches, players, & parents have already subscribed.
We will never send you spam or share your email address, guaranteed!
Close
The Myth of the Triple Threat
- By Joe Haefner


If you'd like to learn more about these skill development drills and concepts, take a look at:
Don Kelbick's Attack & Counter Skill Development System
What do you think? Let us know by leaving your comments, suggestions, and questions...


jssocials alternate:



Comments
Most Likes First
Oldest First
Newest First
---
Taylor says:
10/18/2018 at 9:07:43 AM


That quote from 2:08-2:38 is perfect. Thanks for sharing, going to share this with the team.

Like
---