Site Search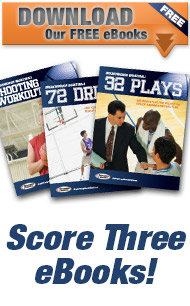 Q & A Forum
Experienced coaches are ready to answer your basketball questions! Visit our forum
A Lay Up Tip That Every Youth & NBA Player Needs
- By Joe Haefner


When you implement this lay up tip, you will have more opportunities to finish near the basket. That means more points for you. And when the defense starts to swarm you, you can rack up assists by passing to open teammates.
HOWEVER, it's likely you're NOT executing this finishing move properly yet. And you're missing out on plenty of chances to score more points. If I'm guessing, 90% or more of youth and high school players make this mistake.
That's why you need to watch the video below. It can change your game.
If you study NBA players, most of the great finishers do this quite well.
Check out this video clip from Jim Huber's Next Level Finishing Moves.
As Jim Huber states in the video, when shooting a lay up, you tend to sweep the ball to the inside. This exposes the ball to the defender.
Every smart defender locks in on that inside hip and swipes at the ball. This happens at every level of basketball.
So when the defender is on your inside hip, you want to "rip the ball to the ear".
This prevents the defender from stealing the ball. This also gets you more shot attempts which equals more points.
When practicing the move, you eventually want to progress out to the 3-point line. Your goal is to get to the basket in one dribble. That way, you get to the rim quicker.
For the purpose of this video clip, some of the teaching progressions were removed. They are found in the Next Level Finishing Moves video.
What do you think? Let us know by leaving your comments, suggestions, and questions...

Comments
Most Likes First
Oldest First
Newest First
---
Ali Calloway says:
7/20/2017 at 11:12:15 AM


Love this "tip". Thank you! I will teach this in my next practice!

Like
---
ted sapperstein says:
7/21/2017 at 12:26:29 PM


I am a collegiate coach. To me, any coach teaching layup shooting and not talking about hip rotation is remiss. The hip rotation guarantees that the ball will be carried on your outside hip and shoulder. You cant even execute a running pivot with the ball on the inside hip. The opivot makes you way more exposive and puts your inside hip and should right in a recovering defenders chest.

Like
1 reply
---
Joe Haefner says:
7/21/2017 at 9:41:44 PM


Interesting, Ted. Do you have any videos that explain these or demonstrate concepts?

Like
---
---
ted sapperstein says:
7/21/2017 at 12:54:33 PM


That was "inside hip and shoulder". Also the ball should come up through your waist and outside hip and shoulder--ripping to the ear makes the shot almost a driving hook and decreases your pct--ripping to the ear also has your body energy directed to turning away from the basket--not into it

Like
1 person liked this.
---
tt says:
7/21/2017 at 7:56:45 PM


Great instructional video but the big kid jumps off the wrong foot from both sides of the rim!!

Like
1 reply
---
Joe Haefner says:
7/21/2017 at 9:40:06 PM


Due to the situations that occur in the game, we teach our players jump off either foot and finish with either hand from all different angles.

So you''ll have...
Right foot - right hand
Right foot - left hand
Left foot - right hand
Left foot - left hand

By jumping off either foot, it allows you get to the rim quicker to beat the defense. By finishing with either hand, it allows you to pick a hand to finish protect the ball from a shot blocker.

Like
---
---
Jim says:
7/21/2017 at 8:50:46 PM


If you watch the great finishers at the highest level they can finish off either foot inside or outside foot and off both feet to finish through contact. Some people call the outside foot a wrong foot. There is no such thing as a wrong foot. It should be called goofy foot. That is the problem with coaches after they teach young kids the basics on how to plant their inside foot and drive their outside knee toward the basket. Coaches need to get more progressive and understand the great finishers are crafty at the rim. They are able to go off of either foot at any time on either side of the basket. They become unpredictable and ambidextrous with hands and feet at the rim. My past coaches never taught me these concepts. They continued to make it the same basic inside foot foot and outside knee drive up. They did finally teach an idea of a reverse finish. It is key to teach kids the skill sets to have the tools in their toolbox to finish at a high percentage vs high level competition.

Like
1 reply
---
Joe Haefner says:
7/21/2017 at 9:41:09 PM


Precisely, Jim. The other Jim (Huber) covers similar concepts in the DVD as well.

You better be able to jump off either foot and finish with either hand from all different angles.

Like
---
---
Sunshine says:
7/24/2017 at 10:16:03 AM


This is a great tip, basic basketball 101 that kids should be learning in 1st, 2nd, 3rd grades. Having coached youth for many many years I've observed a couple things regarding layups. Those who can dribble in with head and eyes up, make more layups. Those who dribble with head and eyes down, miss a lot of layups. They lose where they are in space in relation to the basket when they get there, then just chuck it up. Big and tall kids that can do under-handed layups with a short, soft kiss off the glass, make more layups. Short kids that do a "high five" layups higher off the glass, miss more layups.

Like
---