Next Level Finishing Moves
Win More Games by Teaching Your Players 20 Elite Level Finishing Moves - Quickly & Easily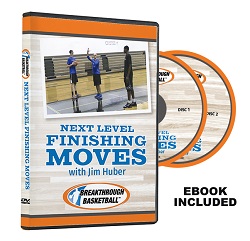 Coach - Do you have any of these 5 problems?

Do your players lack the knowledge, skill, and confidence to recognize opportunities to score at the rim and take advantage of them?


When your players do attack the basket are they too predictable, too easy to defend, and miss too many shots?


Do referees fail to call fouls because your players don't know how to make contact while staying balanced when they finish?


Have you had players suffer season destroying injuries caused by weak, off-balance finishes?


Do you feel frustrated that no matter how much time you spend on a topic not enough seems to stick with some players - especially when they get in games?


The Next Level Finishing Moves training program is an easy step by step system for players to learn and apply elite level finishing moves to score more points, foul out the best defenders, and win more games.

The program consists of two videos and a 54 page manual that makes teaching 20 elite level finishing moves easier for you.
The 20 simple and fun drills will ensure your players memorize correct techniques, rep the moves, and use them in games to score more points and win more games.
We offer a 60 Day 100% Money Back Guarantee that you and your team can win more games this season by using these moves and training techniques.
Get Instant Access to Next Level Finishing Moves for Just $69
How do you know the system works?
20 Finishing Moves Created & Used by Elite Players
First, most of these 20 finishing moves are used by NBA and top college players. They put unique twists on the moves which make some of them almost unstoppable and ruthlessly effective. We discovered them by watching 100s of hours of game video.
Training System Built by NBA & Top College Player Development Coach
Second, Jim Huber designed this system based on 1000s of hours of work with dozens of NBA and top NCAA basketball players. The system is focused on "knowing when and how to use the moves in games to score more points and get defenders in foul trouble." NBA players don't waste time on training that doesn't work.
20 Easy, Fun, & Game Scenario Drills Used to Train 60,000 Players
Third, these moves and drills - and even the words used in the videos - have been tested, tweaked, and used to teach over 60,000 players attending Breakthrough Basketball camps and training programs.
These elite level finishing moves work.
Here is what some coaches and players who've attended the sessions and/or had early access to the videos have said.
More Points, More Steals
"Several of our players are making 2-4 more layups and getting 1-3 more steals per game because they use this move and know how to defend other players who do not."
- Sam Ingersoll
Winning More Games
"Our players are now winning close games that we used to lose by using these moves to score and draw fouls in the final minutes."
- Jay Malloy
Easy to Teach & Learn
"A 7th grade girl with the top AAU team in our state made 4 buckets by using this college level move. Her team beat our team by 8 points."
- Sean McCullough
Every year, dozens of observing coaches and parents come up to us after camps and say something like, "I wish I had known how to teach these moves this way years ago. My players would have had a lot more fun and my career would have been much better."
This system will help your players score more points and get more playing time.
This system will help you win more games and improve your coaching career.
It's that simple.
Coach -
This next section will give you more information about the Elite Level Finishing Moves videos and training system.
If you are in a hurry, just get the videos by clicking above.
If you want more information, keep reading...
Here's the Complete Breakdown:
Chapter 1: Introduction
This is the big picture. Similar to when you teach players moves and plays, you too need the Big Picture of how this system works to use it effectively. It's quick and easy but necessary.
You'll also get to meet the lead instructor, Jim Huber, who is one of the top youth basketball curriculum developers in the USA.
Jim has personally coached NBA players as well as elite college prospects who have attended the nation's top college basketball programs including Michigan State, Duke, and Kentucky.

Coached and operated the Mokan Basketball program that has sent 42 players to the college level including 22 who played at Division I colleges.

Jim's teams have won 45 championships, 13 runner up finishes and 26 Final Four Finishes at regional and national tournaments since 2004.

Jim's curriculum has been used to train thousands of players on his teams and at camps.
Chapter 2: Finishing Moves - 20 of Them with Twists
In this second chapter, you will learn how to teach all 20 elite finishing moves. Here are summaries of each move and what players, parents and coaches say about them. Comments are from people who have either been provided video review copies or seen them taught at one of our camps.
Move #1. Rip To The Ear
An almost un-blockable layup technique that is very different than the layup technique used by average players.
"Several of our players are making 2-4 more layups and getting 1-3 more steals per game because they use this move and know how to defend other players who do not."
Move #2. Scoring Off Two
One foot finishes used by non-elite players often result in them missing shots and getting injured from getting knocked into the wall or stands. Weak finishes result in less fouls called by officials.
"Our players finally understand why and how to finish strong which boils down to 'score more, get on the line, and don't get blocked or injured.'"
Move #3. Same Foot - Same Hand
This is the move that leaves even elite defenders who are ready to block shots into the stands wondering what just happened. The craftiness of this move is NBA-worthy.
"I had never thought about how when my players drive, defenders time their shot blocks to their footwork. It's counter-intuitive, but my best players figured out quickly that this could make them a half-second faster."
Move #4. Inside Hand Finish
The inside hand finish can let you shoot quicker, shoot more accurately, and protect the ball from help side defenders.
"We've always taught our youngest players to lay-up the ball with their outside hand. Coach Huber makes a really good argument that players should learn how to finish with their inside hand when they need to protect the ball from defenders on the outside."
Move #5. Opposite Side of the Rim
This is how you get around a wall of defenders on one side of the rim or lane in order to attack the defense's weakest side.
"When I started combining this attack with inside hand and same foot/same hand finishes, I started scoring when defenders thought I was definitely going to kick the ball back outside."
Move #6. High Off the Glass
Making a swish and finger rolling a layup may look good. Banking off the backboard square is what youth players are taught. But, elite players against tall and strong defenders must learn to bank the ball high and soft off the glass to increase accuracy and avoid blocks. Coach K at Duke says, "Bank it, dunk it or transfer." Developing a high touch shot may be the difference between you playing rec ball instead of at college.
"Our smaller players especially like this move because it helps them score against bigger defenders. It's really great to have someone focus on this and explain it in a way they understand."
Move #7. Stretch Finish
The stretch finish is the key to getting separation from aggressive defenders by making players more unpredictable through changing the takeoff point, timing and release point.
"My players all wish they were taller so I asked them if they could, 'grow 5 to 10 inches in an hour,' and then showed them by using this move. Combined with longer steps in the lane this gets them to the hoop a lot faster too."
Move #8. Veer
The veer ensures that faster and taller defenders can't get to the ball and often fouls them out. This move works in the lane and is a great way to create better angles on baseline drives.
"Every player on our team who does this when attacking the basket gets on the line 1-2 more times a game. This is often the difference between winning and losing."
Move #9. Football
When you drive against elite defenders with quick hands, you may not be able to get to the rim unless you can protect the ball. This move comes from straight out of the NFL running back playbook that places a premium on ball security.
"The football move I learned at camp is a great way to protect the ball when attacking more than one defender in the lane, and just looks really cool."
Move #10. The Rondo
This brilliant inside hand fake followed by a pivot into a second move makes the biggest, most aggressive defenders look like 7 year olds. It's the kind of offensive move that results in scores and pumps the bench and audience up which can change momentum of games.
"I save teaching the Rondo for when my kids get bored with reps of easier moves. They love it because it looks so cool."
Move #11. Reverse
This is the move that everyone knows about, but it is only easy and effective if the footwork and momentum are correct.
"Jim Huber does a great job of teaching players how to do reverses correctly."
Move #12. Half-Reverse
Does a reverse layup or finish force you to use your weak hand? The half-reverse allows you to use your dominant hand to make the shot easier while still using your body and rim to protect the ball from the best defenders.
"Our players had never considered doing this much less identifying it as a move that pros do. Labeling it, describing it, and then teaching it in stages has helped them remember it and do it in games."
Move #13. Pro Hop
Dwayne Wade is the best at doing this move to get to a specific spot while avoiding the charge.
"Ripping the ball over the top of the defender is a great way to avoid the charge call and blocks."
Move #14. Eurostep
The Eurostep is well known and taught to avoid the charge. The little known "invasion step" taught in this video is used by top scorers to blow by even the tallest and quickest defenders while drawing fouls.
"I've seen Russell Westbrook do this but set it up with a pass fake to move the helpside defender. It's pretty unstoppable when done with these variations."
Move #15. Jump Hook
This shot is one of the most difficult but more important shots for every elite shooter. It is the great equalizer that negates height advantages even when a player is well guarded from the inside - but is difficult to do well..
"Jim Huber's step by step instruction really makes teaching and learning this much easier. Our players now get how important it is and are motivated to practice it."
Move #16. The Floater
The floater is another effective and unpredictable equalizer. Tony Parker took 6 years to develop his, but the videos can teach players step by step how to learn the two keys to develop two accurate floaters.
"Players on our team chuck these up all the time. The video is a really great way for them to learn what to do and practice it."
Move #17. Double Clutch
The double clutch is a strong finish designed to increase shot accuracy while drawing the foul.
"Several of our players have started to use these effectively in AAU tournaments. Before this training method, they didn't understand why it is an important shot."
Move #18. Straight Line Reverse
The straight line reverse avoids the largest aggressive defenders with a great fake followed by hanging in the air and finishing on the opposite side of the rim as the defender goes flying by.
"Only my best players can do this move and it really gives others something to shoot for."
Move #19. Spin Move
This high level move relies on ball security and contact timing with a long drop step to the basket while properly pulling the ball with the same hand.
"Our guards finally learned how to do a spin move correctly in the open court and are really excited that it is now leading into a shot finish."
Move #20. The Runner
The Runner is a regular shot but with one hand off one foot to get over a shot blocker popularized by Dirk Nowitzki and Steve Nash. The video will show you exactly how to teach it so your players can make the shot without running over the defender.
"I've seen a 7th grade girl make 4 of these in a game with devastating effectiveness. Her team beat our team by 8 points."
Chapter 3: 1v0 Finishing Drills
These are simple drills that give players a lot of reps but also a lot of creativity in choosing which finishing moves are the best ones for them to perfect.
Finishing Drills include: Finishing off the Catch - Triple Threat Finishes - Finishing in Transition - Cone Finishing Drills - Go Get It!
Chapter 4: Adding Offensive Actions: Flex Cuts
This chapter demonstrates how to isolate a specific action in your offense to create useful drills to practice finishing moves. The video shows how a Flex Cut can be utilized to work on finishing moves as they would occur in a game. The key to players using the moves in games is to train in the most common situations they experience within your offense.
Flex Cut Finishes include: Pogo - 2 Foot Stop - Jump Hook - High Hands (Kawai Leonard) - Rondo Trailing Defender - Inside Defender - Second Step Finishing
"I loved this section because it put everything our players learned into live action. It taught the when and how to use these in games. We could see their level of skill going up immediately."
Chapter 5: Competitive Drills
As you probably already know, competitive 1v1 drills are probably the best way for kids to focus on doing moves correctly while recognizing what the defense is doing during game like pressure. These drills have been used with thousands of players at Breakthrough Basketball camps and can immediately improve players' confidence and skill levels.
Competitive Drills include: 1v1 Weak Side Finishing Drill - 1v1 In Tight Finishing Drill - 1v1 Half Court Break - Half Court Break Off the Press - Beilein Drill - 2v1 Beilein Drill - Ball on the Back - Pro Agility Drill - 1v1 Probe Finishing Drill - Flex Drill - Foster Drill
Chapter 6: Frequently Asked Questions
This chapter provides answers to a few of the most frequently asked questions.

Why do you emphasize developing different options when attacking the rim?
Why do you emphasize finishing off two feet?
Why should players use their strong hand to finish?
Why should players master three moves?
Why do you use training wheel progressions?
Chapter 7: Closing Thoughts
You can get immediate results in games because this video series will show you:

What to teach i.e. the 20 elite finishing moves.
How to explain why these finishing moves are so effective.
How to teach the moves with words and phrases players will remember.
How to rep them using 13 drills that are easy to implement and fun to do.
How to apply each move at game speed.
Instant Access
In addition to receiving the videos you get immediate access to the eBooks.
After completing your order, you'll get access to a password protected area where you can watch the videos and download the eBook. The streaming videos require high-speed internet and can be viewed on any computer or tablet connected to the internet.
60 Day Money Back Guarantee
If for any reason, your purchase is not what you expected, just send us a message and we'll give you a full refund. No questions asked.
Get Instant Access to Next Level Finishing Moves for Just $69