1 on 1 Post Moves Drill - Score More Points In The Paint And Improve Your Rebounding
Breakthrough Camps instructor Jim Huber goes through the drill below.
This drill improves your ability to score in the paint, your post moves, and your rebounding.
You also develop first step speed and your ability to change directions explosively.
This is a great drill for all age levels and every position including guards! Many guards struggle defensively in the paint and this is a great way to take advantage of it.
Since you have to make decisions during a game, it's vital to include some drills against defenders to practice this. Almost every offensive play involves a decision against a defender. So you need to work on this!
After you do some 1v0 footwork or post moves drill, this a great time to add it to a practice or workout.
Drill Instructions: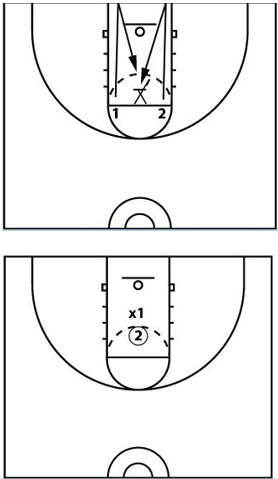 You start with the basketball on the chair in the paint and 2 players standing on the free throw line


Coach says "Go" and the players explode to touch baseline and race to the basketball.

Improves 1st step speed and ability to change directions.


Whichever player gets to the ball first is on offense and immediately tries to score. The second player is on defense.

Improves post moves in the paint.


Live play continues until someone scores.

Improves rebounding skills.


Winner stays and plays the next person in line

Creates fun competition.
Points of Emphasis
Play Low - You want to start low to be in a strong, balanced position. That way, the defender can't easily nudge you out of position. It also puts you in a good position to play through contact.


Chin the Ball & Elbows Wide - You chin the ball and get your elbows wide to protect the ball from the defenders. Chinning the ball also keeps the ball up and away from the perimeter defenders sliding to try to swipe at the ball. If you have the ball too low, it makes easier for these defenders to steal the ball.


Go hard! This is LIVE play. Go hard to simulate game action. That way, you get comfortable playing against competition similar to the game.


Rebound, rebound, rebound! Don't quit on the shot. Just like during the game, you need to attack the boards after each shot. And you can score on the misses. From a defensive standpoint, you also need to try to finish the play with a good box out then secure the rebound.
Breakthrough Basketball Camps
Elite Guard Camps - Learn how to take advantage of weak defenders in the post area! It doesn't matter if you're a guard, wing, or post player, this camp makes you better.
Breakthrough Basketball Camp Schedule - Camps for all age levels and skill levels!
What do you think? Let us know by leaving your comments, suggestions, and questions...
Comments
Most Likes First
Oldest First
Newest First
---
Coach King says:
5/21/2019 at 6:18:45 AM


Good in Kenya.I.like it

Like
---
Coach King says:
5/21/2019 at 6:14:15 AM


I am a Coach in Kenya and has really been happy with your support.These drills are the best and really helped my team.

Like
---
kaydee godson says:
2/19/2018 at 3:43:50 PM


cool... put n d wrk


Like
---
Tom Lazich says:
1/23/2018 at 8:39:18 PM


Would like to get some great box out drills noticing a lot of teams forgot to teach that one fundamental

Like
1 reply
---
Joe Haefner says:
1/23/2018 at 9:03:23 PM


You can find some here:
https://www.breakthroughbasketball.com/drills/basketballdrills.html#reboundingdrills

Here are a couple more:
https://www.breakthroughbasketball.com/playcreator/view.asp?id=153&type=drill

https://www.breakthroughbasketball.com/drills/teach-rebounding-effort-and-importance.html


Like
---
---
Tonia Gear says:
1/23/2018 at 2:59:04 PM


I just want to say thanks to all that you have been doing to help other coaches. I have used quite a lot of your drills and my team has improved tremendously. Presently, we are undefeated with a 6-0 record. I coach the Lady Cougars of Speight Middle School in Wilson, Co. My coaching staff has really enjoyed using your drills. Thanks for all you do!!!

Like
1 reply
---
Joe Haefner says:
1/23/2018 at 3:05:13 PM


Appreciate the appreciation, Tonia. Keep up the good work!

Like
---
---