Site Search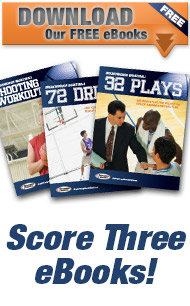 Q & A Forum
Experienced coaches are ready to answer your basketball questions! Visit our forum
How We Use Stats to Help Our Basketball Team
- By Dustin Sullivan
Head Boys Basketball Coach, Van Buren County High School
We've all heard the saying that there are 3 kinds of lies and statistics is the worst of all.
From a basketball coaches standpoint – at least in my estimation – that could not be further from the truth. Statistics, if used correctly, by the coach can be a gold mine. They can help evaluate your players, scout your opponents, and motivate your team. If statistics weren't so valuable, then we wouldn't have seen the rise of sports analytics across our country that has become so dominant in sports culture.
In my particular program statistics are a vital part of our process. I believe stats make me a better coach for many of the same reasons I listed above. I use them to scout opponents and they are particularly helpful in defensive game planning. At the high school level, we do not have access to all of an opponent's statistics, such as shooting percentages, turnovers, and so forth.
What I have found that I can get access to consistently are... points per game and three pointers made per game. I am able to gain these stats from box scores in newspapers and I collect them throughout the season so that I have them for any opponent we play. And while these are two very basic stats, they allow me to know ahead of time who we really have to key on defensively in a game. I am also able to have a good idea of who the best shooters are on an opponent's team.
To track my own team's stats we use Krossover which has become very popular among coaches and we are a big believer in its effectiveness. In the past, I have also used players and managers to track practice stats. Another great thing about Krossover is it gives you shot charts after each game.
These are effective in evaluating your own team's shots both individually and as a team. Any time they can see where shots are coming from and which ones are going in then it is just more tangible proof as to what is working and what isn't.
Shot charts are equally effective in relaying defensive goals when playing an opponent for the 2nd/3rd times during a season. Players can visibly see what the other team is struggling with and what they did effectively and can go into the next contest with a greater understanding of what kind of shots we are trying to force the opponent to take.
Our Two Primary Stats
When evaluating my own team, which I believe is the most helpful use of stats, I focus on 2 primary stats and then also look strongly at 2 more secondary numbers.
My main emphasis is to look at rebounding first and our turnovers second. We believe success in rebounding the basketball is pulling 80% of the defensive rebounds available and 40% of our possible offensive rebounds. When we can accomplish these 2 goals we are almost always guaranteed of getting the win.
When evaluating turnovers we try to keep our miscues to a 20% turnover rate per possessions. We try to explain it to our players by asking how many turnovers are acceptable if we got the ball 5 times. We believe 1 turnover in those 5 possessions is acceptable.
Our Two Secondary Stats
The 2 secondary stats we look at are transition points and shooting percentages.
Our goal is to keep an opponent's transition points at or below 10% of their total points. This stat will work closely with our turnover goals because if we're turning it over a lot then it stands to reason that they're transition points percentage will also be way too high.
For shooting percentages we like our players to shoot 50% from two, 33% from three, and 75% from the foul line. Reaching these goals from the field requires a player to know what shots he is capable of hitting at a high percentage and then taking those shots during the game. Not hitting these goals can many times be a sign of a player taking bad shots.
The reason we focus mainly on these 4 stats is because we believe they most impact the game and also because all 4 are very controllable. We feel that rebounds, turnovers, transition points, and our own shooting percentages are the things we most have control over night in and night out regardless of how we match up with athletically against an opponent.
In the past I have even used an excel chart where I could plug in numbers from the game and show my players what the score would have been had nothing changed but the rebounds, or the turnovers, etc. It even took into account each team's points per possession and factored the numbers accordingly. So, I could pull out the chart and say, "look, if we had pulled this many more defensive rebounds – even if they scored at the same rate and so did we – then the final score would have been this." Even though I did not use this chart this past season it is one of the best tools I've ever used to get my point across to my players in regards to certain stats.
Recently, I saw a quote from Stan Van Gundy which said, "Coaching isn't about what you know or what you can put on paper. It's about what you can get players to do on the floor." To me, this is coaching in a nutshell and statistics play a large role in being able to get your players to do on the floor what the team needs to be successful.
Related Pages & Helpful Resources
Basketball Stats Articles
Using Shot Charts
Basketball Stats & Shot Chart App

Leave your comments, suggestions, and questions below...