Site Search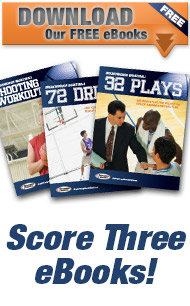 Q & A Forum
Experienced coaches are ready to answer your basketball questions! Visit our forum
Who Beat Coach K to 1,000 Wins & How This Can Help You Win More Games & Reduce Parent Problems
Coach K got his 1,000th win! An amazing feat and he will certainly go down as one of the best coaches ever.
While Coach K is certainly a great coach and there are many things to emulate about the way he conducts himself and interacts with players, it could be a bad idea to emulate his "system".
Why could it be a bad idea to emulate Coach K's system?
Coach K gets the BEST college athletes in the world to play for him.
Most of us don't have Jahlil Okafor (player of the year favorite) or Tyus Jones (#1 point guard recruit) on our team. Most of us are not coaching Future NBA lottery draft picks year in and year out.
So 99.99% of you should emulate somebody else more like YOU when it comes to developing a system for your team.
Who Should You Emulate?
How do you find great coaches?
Basically, you find things don't fit. You find coaches who Malcolm Gladwell famously coined "outliers".
Here are some things that you might look at.
Somebody who wins a lot, even though the athletic program at the school is average or below average.

Somebody who does not have a recruiting advantage like at Duke, UCONN, or even elite private high schools.

Somebody whose geographic location may not be recruiting hot spot like a Florida or California. Maybe it's somewhere up in the mountains with cold weather.

Somebody who suddenly started to win more games. A noticeable difference.

Somebody who has sustained excellence over numerous years.
There are probably even more characteristics that would make it more difficult for a coach/program to have success.
The Guy Who Beat Coach K to 1,000 Wins! May be the Perfect System for You
On February 1st, 2014, Danny Miles of Oregon Tech won his 1,000th game at the collegiate level. He is currently on his 1,016th win and counting.
While anybody familiar with the NAIA basketball scene knows Coach Miles now, it wasn't until about 18 years ago that Coach Miles started to excel.
3 national championships – tied for most all-time at NAIA Division II level (1 second place, 1 third place, 2 additional elite 8 finishes)
Most wins (33) at NAIA Division II tournament
14 trips to national tournament
Won nearly 80% of games over last 18 years (491-144)
He's also well respected in the elite coaching circles.
He has received personal letters from Coach K and Bobby Knight.
He also served as a USA Basketball court coach for the U19 team in 2011 under Syracuse coach Jim Boeheim.
One time a GM for a popular NBA team emailed us asking questions about Danny Miles and his system.
Coach Miles also meets the characteristics described above about coaches you should try to find in order to emulate.
The Oregon Tech athletic program is not elite in every sport. In 2014, baseball had a 11-37 record, men's soccer was 1-17, women's softball was 35-14, women's basketball was 28-6, women's volleyball was 21-14, and women's soccer was 5-10-2.

Some sports were above average, but it certainly doesn't correlate to winning 80% of your games over the last 18 years.

Recruiting disadvantage – Coach Miles only gets 4 scholarships compared to the normal 6 scholarships at his level. Despite this big disadvantage, Coach Miles' system helps him analyze players and pick the very best players for his program.

Geographic location – Cold winters in the Oregon mountains isn't the same as USC or Florida.

Coach Miles had a significant improvement in winning percentage and sustained the excellence - Coach Miles record was very respectable at 513-268 (65% winning percentage). However, when he made 2 major changes, he won 80% of his games over the next 18 years and started winning national championships.
The 2 Major Changes That Coaches Miles Made That Will Help Any Coach Win More Games
Well, here is what Danny told us with 2 major changes he made:
Recruited mostly high-character kids and stopped taking chances on players with poor attitudes and great potential. (This theme has also been mentioned by elite coaches like Self, Coach K, Boeheim, and others.)

Emphasized his Value Point System that promoted team play and playing the right way.
The first one is easy figure out. As a high school coach, maybe you put more of your effort into the kids who are high-character with an average skill set. As a college coach, you recruit mostly high-character kids.
Danny Miles' Value Point System - Win More Games, Improve Team Play, and Reduce Parent Problems
The Value Point System is an analytical tool using a formula that determines a score.
Your playing time is highly related to your Value Point score.
The formula is quite simple, but the thought process behind it is genius.
Points + Rebounds + 2x (Assists) + 2x (Recoveries)
2x (Field Goals Missed) + Free Throws Missed +
2x (Fouls) + 2x (Turnovers)
What does the formula emphasize? Plays that promote good team play and values the things that are important for winning.
Quite simply, it helps you win more games, motivates players to play the right way, and reduces issues with parents!
It promotes...
High percentage shots - If you make a low percentage of your shots, your score will be lower even if you score 25 points.
Passing – Your score increases with assists. Why would you take a bad shot when a good pass will lead to a better score?
Rebounds – More defensive rebounds lead to fewer shots for the opponent. More offensive rebounds lead to more scoring opportunities for you.
Recoveries – Players who make hustle plays with charges, blocks, and steals will be rewarded.
Free Throws – It also rewards players that make their free throws.
Reduces Stupid Plays – It also reduces high risk passes and stupid fouls. Coach Miles doesn't count against the score for what they consider good fouls.
In addition to promoting team play, this system is also great because it rewards players who are not the scorers.
Some of Danny's all-time best VPS scores have been post players who didn't shoot the ball very much.
2-Day Sale on Value Point System Video –
And 5 Exclusive Bonus Offers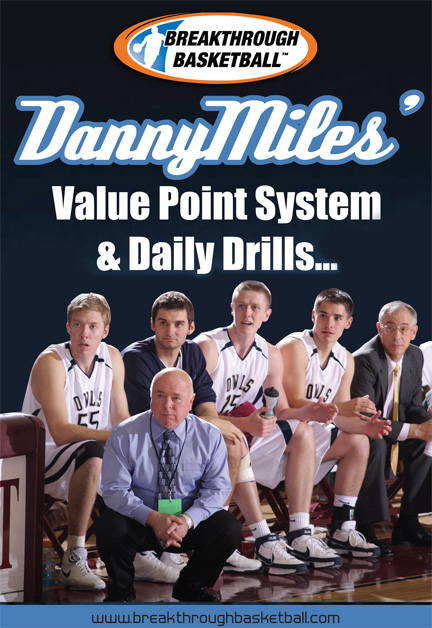 Online Value Point System Video ($40 Value)
42 Minute Online Video Explaining the Entire System and Demonstrating the Drills
6 Favorite Drills Used for 32-50 Minutes in Every Practice
How To Pick Starters
Adjustments for Women
Adjustments for Middle School & High School Teams
Bonus #1 - 49 Page PDF eBook with Diagrams, Formula, and Reference ($20 Value)
As a bonus, we have included a 49 page PDF ebook that includes diagrams of all the drills, explanation of the value point formula, questions and answers, and the process.
You'll find this PDF ebook extremely beneficial to use as a reference. This by no means replaces the video, because you need to see the drills in action and see how Danny implements the system, but you'll find this PDF ebook really handy to use as a reference.
Bonus #2 - 34 Minute Video Clinic On Offense and Fast Break ($30 Value)
How to implement the high-scoring Oregon Tech fast break.
How to lower your teams' turnovers in half court offense (yet still score lots of points).
How to lower your teams' turnovers in fast break transition offense (yet still score lots of points).
Quick-hitter set plays out of transition offense.
How to wear down your opponent.
How to get more rebounds out of transition.
Motion offense breakdown drill to improve movement, footwork, and scoring ability.
Drills to improve your transition offense and score more points.
How to run the lanes properly and maximize scoring opportunities.
Bonus #3 - 60 Minute Audio Interview and Transcript ($15 Value)
In the audio recording you will learn:
Danny Miles' 6 biggest secrets to success and winning over 1,000 games.
How to develop a winning attitude and improve team morale.
How to consistently get MORE POSSESSIONS (SHOTS) than your opponent.
How to maximize your players' performance and get the most from their abilities.
6 little known tips to develop a winning attitude in your program.
How you can relentlessly wear down the opponents & score more points.
Keys to subbing players effectively.
Keys to an effective fastbreak and transition offense.
Keys to the Oregon Tech motion offense.
7 of their keys to great rebounding and how they consistently out-rebound the other team.
6 easy ways to reduce your teams' turnovers.
Common coaching mistakes.
Youth coaching tips.
6 keys to defense and reducing the fouls you commit.
Bonus #4 - PDF / eBook Downloads ($20 Value)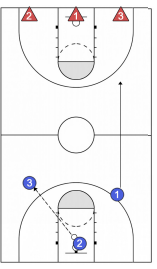 To supplement the audio interview, you'll receive a 25 page PDF transcript of the entire audio interview. You'll also receive a 14 page PDF eBook that was developed from the audio interview. It's a useful guide for reference and to build upon the tips on the audio interview.
Bonus #5 - Diagrams & Video Clips of Drills and Plays ($10 Value)
In the clinic, you'll get diagrams and written instructions for all the drills and plays that Danny covers in the audio and video. These are some of Danny's favorite drills and plays. The videos also allow you to easily navigate to a specific part of the clinic video.
How Much Does it Cost?
The price for the entire package is $49.
60 Day Money Back Guarantee
Just like any reputable bookstore or retail business, we have a 100% money back guarantee too.
If for any reason, your purchase is not what you expected, just
send us a message
and we'll give you a full refund. No questions asked.
"Claim Your Copy Now"
If you'd like to order by telephone, call us at 1-866-846-7892 (toll free).
If you have any questions, don't hesitate to
contact us
.
Sincerely,
Jeff Haefner
Joe Haefner
Breakthrough Basketball, LLC.