Man to Man Play: 5 Out Wide Zinger
This play is designed to get player #5 a pure shot opportunity, however within any play, read the defense and be ready for opportunities.
Instructions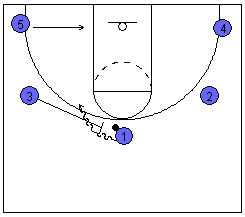 Player 3 sets an inside screen to the left on Defender 1. As player 3 begins to move towards the ball, Player 5 cuts to the basket. If open, Player 1 gives him a high pass. If not, he fakes, uses his teammate's screen and drives all the way to the basket if he can. If not he stops at the elbow. Player 5 then clears out to the other side in case Player 1 comes all the way.
Player 3's screen caused Defender 1 to slide through between Players 3 and 1. All other teammates rotate clockwise.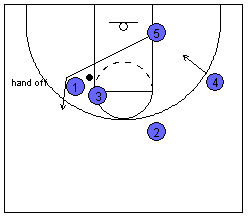 Seeing Player 1 stop at the elbow, Player 5 cuts to the outside of the double screen, takes a handoff from Player 1 and shoots over the double screen, following his shot. Player 4 also goes for the rebound as Player 2 plays safety in case the ball is lost.

What do you think? Let us know by leaving your comments, suggestions, and questions...
Comments
Most Likes First
Oldest First
Newest First
---
Eliezer Sánchez says:
12/27/2012 at 9:00:39 AM


For beginners use motion offence!!!! my humble opinion....


Like
---
Derrick Wilkinson says:
7/26/2011 at 10:55:05 PM


this is a great play i hope to use it in the near future i luv basketball so much i spelt love wrong and i hope i make it one day but great play

Like
---
Jeff says:
10/31/2009 at 10:39:01 AM


Captain - I'm not sure how to answer your question. What age level is this for? What offense do you run? What set do you use?

There are hundreds of plays out there that will get wings open. It depends on your players strengths, situation, and so on. Also, it sounds to me like your offense needs work and there's not necessarily one play that will solve the issues.

Here are plays:
http://www.breakthroughbasketball.com/plays.html

Here are tips on running and choosing plays:
http://www.breakthroughbasketball.com/articles/16-set-play-tips.html

Here are offense tips:
http://www.breakthroughbasketball.com/offenses.html

Like
---
Captain says:
10/29/2009 at 11:03:51 AM


My team is having issues playing on offense and they have been distracted by the defeners so is there a play that i can only use my wings and not my post?????
HELP we have a big game coming up


Captain

Like
---
Mark Smith says:
3/4/2009 at 11:38:36 AM


3rd and 4th graders can execute this in some cases but not in othyers we are the weakest of 5 teams playing we use quick hityters with as much movement away from the ball as possible. We have some aggression issues as far as we arent during games. Right now were seeking just quick hitters utilizing 3 of the 5. I do love your site and reccomend it to othyer coaches when i get a chance. Thanks

Like
---
Joe Haefner says:
1/8/2009 at 11:23:20 AM


It's just a number for a player. Make sure whatever player runs off the screen can make the shot.

Like
---
Beng says:
1/8/2009 at 10:59:13 AM


Hmm. But won't number 5 be a center or something? Usually centers aren't good at shooting 3s.

Like
---
August says:
10/21/2008 at 7:53:02 PM


Whoa this play help my team make it to the championship game!!! Thank you and keep up the good work...




- August

Like
---
billy jeffers says:
1/5/2008 at 10:27:39 PM


that is the best play i have ever tried and it worked. now my b.ball team has won the state champion ship. if it wasn't for that play we would have lost. thank you and keep up the good work

Like
---
maria says:
11/28/2007 at 12:50:04 PM


We start our season on Friday so I'll see if the ideas have helped. Thanks
Maria

Like
---
Show More
Jeff Haefner says:
11/26/2007 at 11:20:04 AM


Maria,

No matter what you do, you'll always have game slippage. But you do want to do your best to minimize that slippage.

This is really a tough question and the answer is probably an entire book. But here are a few ideas to ponder:

- Bench time. Playing time is the ultimate motivator. If you bench players when they don't go hard on defense and don't help, they will quickly develop new habits. If you play the kids that do the little things you want, the others will get the message and do what it takes to get back in the game.

- Overloads. If you really want your help-side defensive players to have one foot in the lane, then in practice require them to be directly on the rim line. In other words, over emphasize in practice so when they get in the game, the slippage will be closer to what you want.

- Too much coaching. Many times coaches make the mistake of trying to do too much. It's impossible to be great at everything, so the best coaches in the world will strategically pick a few things to emphasize and become great at. For example, a local college coach that was very successful only focused on: man-to-man defense, rebounding, and minimizing turnovers. They hardly every shot the ball in practice and they had winning teams every year.

They might not have been good at fast breaks, but they were great at man-to-man defense and out rebounding the other team. They had a horrible zone but that didn't matter. They were great at a few select things.

Perhaps it will help if you focus on fewer things. Coaching is all about what you emphasize. And if you emphasize too many things, your player will be confused and never know what they should do.

I don't know if any of these ideas are the source of your issues, but hopefully this helps a little.

Good luck.

Jeff Haefner
http://www.breakthroughbasketball.com


Like
---
Jeff says:
11/26/2007 at 11:06:07 AM


Coach Jones,

To help your players avoid frustration, I would suggest listening to this interview by Don Kelbick:
http://www.breakthroughbasketball.com/audio/news7kelbick.html

It makes some great points about your players mindset and how to improve them.

Hope this helps.

Jeff

Like
---
coach jones says:
11/24/2007 at 1:38:58 PM


I AGREE WITH ALL THAT IS MENTIONED ABOVE... ESPECIALLY THE COMMENT ABOUT BEING ABLE TO TRANSFER WHAT YOU DO AT PRACTICE INTO THE GAME. MY GIRLS ARE VERY EASILY FRUSTRATED. WHEN THEY MAKE A BAD PASS OR MISS A SHOT THEY IMMEDIATELY GIVE UP.. PLEASE REPLY WITH ANY HELPFUL TIPS.

Like
---
maria says:
11/24/2007 at 12:37:34 PM


I do alot of these drills and my 2biggest problems with the group I have are: Transfering what we do in practice to games. It's unbelievable the amout of layups we give up in a game. And have ZERO patiences on the offensive end. Short of going onto the court, the girls will not wait for a good shot and reverse the ball on a consist basis. Any ideas or suggestions? The help would be great appreciated.

Like
---
Daniel says:
11/23/2007 at 2:36:38 AM


your new set of news letter is good, carry on with your works.

Like
---
Billy Bob Fe Fi fo says:
11/21/2007 at 5:53:29 PM


This is a freakin awesome play!!!

Like
---