Site Search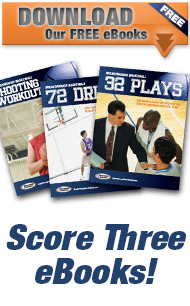 Q & A Forum
Experienced coaches are ready to answer your basketball questions! Visit our forum
How to Score More Points with Set Plays: 16 Tips for Running Effective Basketball Plays
- By Jeff Haefner
Tip #1 - Stress execution
The reason that set plays work so well is that you have the opportunity to practice them ahead of time. However, if you don't stress execution and make sure your players are doing things correctly, then your plays will be lack luster.
You'll need to make sure that your players are setting solid screens, rubbing off screens shoulder to shoulder, setting up their man before the screen, cutting quickly to the basket, and so on.
Tip #2 - Stress concentration
Again, the reason set plays can be effective is because they can be practiced and executed to near perfection. This means your players really need to concentrate to run it correctly. The concentration starts in your practices and continues into games.
Tip #3 - Make sure players know their roles
If the key to a certain play is to have a screener that jab steps to set up their man and set a solid back screen, make sure they know their job. It takes five players all working together to make the play successful.
As always, communicating with your players and letting them know their roles makes you more successful. This gets your players to take ownership, feel more involved, and improve the execution of your plays.
Tip #4 - Timing
Timing is critical in order to run plays effectively. It can also be one of the trickiest things for coaches and players to master.
If your screener leaves too early, then your shooter will be open before the ball gets to them. And by the times the ball arrives, the defense has already recovered and the open shot is gone!
You'll need to constantly monitor and be aware of your timing.
Tip #5 - Practice
The recurring theme to all these tips revolves around practice. Practice is where points are scored. You should continually practice and refine your plays so your players know their roles, fundamentals, and everything so they can run the play in their sleep. Repetition, repetition, repetition!
Tip #6 - Run your plays for the right people
Great coaches get the ball in the hands of the players at the right time so they can succeed. At the end of the game, you might want to get the ball in the hands of your best player. Or perhaps you'll want to position your players on their favorite side of the floor. Bottom line, your plays have to fit your players.
Tip #7 - Maintain good spacing
Plenty of spacing between your players is important because it keeps the defense honest and spread out -- so your offense has more room to cut and drive to the basket.
It's much easier to play good defense against a team that has their players bunched together because there's less ground to cover.
That's why almost all the successful coaches stress good spacing. Not only does it give you more scoring opportunities, but it prevents defenses from easily trapping your team.
Tip #8 - Design your plays to flow into the offense
In a perfect world, all your plays finish in the same formation of your primary offense. This allows you to immediately flow into your offense without hesitating. This means the defense doesn't have a chance to recover and can also reduce your team's turnovers (because they won't have to scramble to reset the offense).
Tip #9 - Put your players in good position to get the rebound
Coaches often overlook offensive rebounding when designing plays and this could increase your scoring significantly. Can you get a second or third shot if a miss occurs? Where are your best rebounders located when the shot is taken?
Make sure to position your players appropriately to set them up for success. If a particular play does not provide you with good rebounding position, you might want to re-evaluate the play.
Tip #10 - Teach players to react to the defense
Even though you want your players to know all the plays, you never want them to become mechanical within the plays. When defenses overplay a pass, the player should recognize this and execute a back-door cut.
Teaching your players how to read the defense and react does take time, but it's time well spent! This pays off late in the season and in the playoffs. Almost all good teams will play this style in the playoffs and into championship games because no coach in his right mind is going to let you get into your set plays.
Why not teach from day one how to make proper cuts and screens based on how the defense is playing? That will make your plays even more difficult to defend.
Tip #11 - Teach the fundamentals
No matter what type of offense or plays you use, you must teach your players the fundamentals.
To get the most from your team, you should teach and emphasize the basics of passing, cutting, screening, setting up the defender, reading the defense, and so on.
This is before you even begin running your plays. They need to know how to dribble and shoot. They need to understand how to do a pivot. They need to understand when to do a back-door cut versus a v-cut. They need to understand when to slip a screen on a screen and roll.
It doesn't matter what level of play you are at, you cannot get away from the basics.
Tip #12 - Have big players screen for smaller guards
If the defense chooses to switch on screens, then this creates mismatches and problems for the defense. You can clear out the lane for your post player or you could clear a wing so your guard can take the bigger, slower post player to the basket. Make sure to try this during scrimmages and practices to make sure your players recognize the switches and mismatches.
Tip #13 - Make sure the help side defense is occupied
Whether you're using one of our plays or designing your own, be sure that the help side of the defense is occupied. What's happening away from the ball? Are your players standing or moving to keep their defenders out of the play?
Some players don't take their part seriously because the ball is away from them. But they need to know their role is just as important, even though they are simply a decoy to keep the defense occupied. As a coach, be sure to keep an eye this.
Tip #14 - Make sure you get the type of shot you want
Your plays should always have a purpose and don't let yourself or your players lose sight. Do you want a lay up out of the inbounds? Do you want to get to the free throw line? Do you want a quick post up?
Sometimes it's really easy for players to force things because they anticipate a certain shot will be open. So be sure your players understand the type of shot you want.
Tip #15 - Run plays from the same initial set
You should use plays that run off your initial offensive sets. For example, if you run a 1-2-2 set, you should use this same set with your plays. It provides simplicity for the players and the defense gets confused more easily.
If the defense knows that you run a certain play out of a certain set, they'll know what to look for. If your plays occur in the same set, they won't know what play comes next.
Tip #16 - Have visual and verbal cues to let your team know which play to run
It's best to have both verbal and visual cues for your players so you can make sure your players get the message. There's nothing worse than having four players run the play to perfection and one guy has no idea what's happening.
Sometimes the crowd is noisy and your players can't hear you. And other times your players have their back to you. So have both types of cues ready for any situation.
Do you have any tips or questions? If you have questions, comments, or more tips, please leave them below...
Comments
---
Loren says:
6/27/2007 at 11:20:11 AM


Great tips, thank you!
---
A.J. Harris says:
6/27/2007 at 6:12:08 PM


THANK YOU VERY MUCH FOR ALL YOU DO AND FOR
THE TIPS,YOU HAVE GIVEN ME!
COACH A.J.
---
Ali says:
6/27/2007 at 11:46:27 PM


Very useful!
---
coach clarke says:
6/28/2007 at 12:35:02 PM


I AM RELLY IMPRESSED WITH YOU MOTIVATIONAL TIPS.
---
Freddy says:
7/3/2007 at 7:35:31 PM


Excelent & Perfect Words
---
muammer says:
7/26/2007 at 3:24:27 PM


stagger screen
---
Hesham says:
8/3/2007 at 8:27:47 AM


Effective Tips
---
Kevin says:
8/5/2007 at 11:15:25 PM


Thanks for the great tips!
---
taharam says:
8/6/2007 at 6:43:42 AM



I like the movement and the simplincity of the offense. Thank you
---
maher matar says:
8/16/2007 at 6:36:38 PM


thanks for everything ,u r giving me a lot of good things.
---
Tholits Nosares says:
8/16/2007 at 10:14:34 PM


EXCELLENT! Great Tips, Thank you!
---
Gil says:
8/19/2007 at 11:01:41 PM


too easy
---
Coach Q says:
8/29/2007 at 1:34:57 PM


Outstanding tips and the best part it's FREE!!!
---
COACH T says:
9/13/2007 at 8:18:53 PM


Thanks for the good advice...
---
Dimitar says:
9/19/2007 at 5:18:03 PM


Great Fundamentals,i had applyed it for 10weeks,now we have a great champinos potentila.It realy wokrs,it takes 'balls' and hard work

Coach Dimitar(Bulgaria)
---
EMMANUEL OKOLO says:
10/30/2007 at 9:00:39 AM


this is good!
---
Coach Miller says:
10/30/2007 at 9:53:47 AM


Thanks Coach,
Great stuff.
You keep it simple and very comprehendable,(which is ideal when dealing with youth-High School level players),they are also easy to reset and are ideal with proper execution.
Last but not least,they fit easly into the budget plan of us high salaried (yeah right, smile) coaches,their free.
Continue the good work,you have our full support whenever needed
---
Coach Gentzkow says:
11/29/2007 at 9:04:01 AM


I am always looking for new plays and practice tips for my squad and younger teams. This is a great site and I appreciate all you do!
---
saroj says:
12/20/2007 at 7:05:20 AM


thanks for sending me this tips

---
Gus says:
1/5/2008 at 12:15:49 AM


Great information, I'm changing a few of my offensive sets, great advice.


---
COACH TONY DEMARE says:
1/19/2008 at 6:24:59 AM


LIKE TO RUN NEW PLAYS
---
Coach George says:
1/27/2008 at 8:30:30 PM


It's great to be able to get some good info. Especially the things we take for granted. Thank God for people like yourself.
---
Nelson says:
1/29/2008 at 12:42:25 PM


GREAT INFORMATION! THE PLAYERS AND I WILL BENEFIT FROM IT. THANK YOU
---
kentai says:
2/7/2008 at 7:40:36 AM


This really works and its very coool.
---
Jeff Smith says:
2/10/2008 at 5:41:24 PM


I am wanting to teach third graders to beat a half court press, can you give me some advice on this and any other tips you may have for teaching third graders to play.
---
Jeff Haefner says:
2/10/2008 at 6:56:43 PM


Jeff,

It is unfortunate that you are forced to play against a press at the third grade level. That's way too early! Young players should be learning fundamentals, not trying to beat a press. My first advice is to find a league that doesn't allow zones or pressing at that age. I would also suggest leagues that use lower baskets (to prevent young players from "chucking" the ball to the hoop and using bad form).

With that said, are you trying to beat man to man half court press or zone press or both? Because your strategy will depend on the type of press you are facing.

Jeff Haefner
---
Rheynel Arce says:
3/1/2008 at 6:05:32 AM


Execellent! This will surely help me to improve my coaching and training programs. Thank you very much.
---
gilbertbadwound says:
3/5/2008 at 2:56:25 PM


I am trying to teach younsters to play a 2-3 zone
---
Joe (Co-Founder of Breakthrough Basketball) says:
3/6/2008 at 2:45:39 PM


You may want to view this article on teaching defense to youngsters / youth players before implementing a zone defense: http://www.breakthroughbasketball.com/defense/age.html

---
Sensbachtal says:
3/17/2008 at 12:03:27 PM


Just wanted to say Hello to everyone.
Much to read and learn here, I'm sure I will enjoy !
---
wandeka arthur says:
6/9/2008 at 2:08:37 PM


these tips are incredibly workin for my youngster team im pleased!
---
Chengax says:
7/18/2008 at 3:27:41 AM


Not a good tip, all my teamates are crocodile playing....
---
Chengax says:
7/18/2008 at 3:28:29 AM


sorry tips

---
Chengax says:
7/18/2008 at 3:29:13 AM


sorry teammates...
---
walid says:
9/30/2008 at 10:41:22 AM


i need nore drills & workouts
---
dhelster says:
10/1/2008 at 5:32:46 PM


This is the only link where everything is for FREE, where others charge an arm and a leg. This only proves that you are very dedicated to your craft - basketball!
---
Ian Royce says:
10/24/2008 at 12:56:10 AM


THANK YOU VERY MUCHFOR THE TIPS
---
Ian Royce says:
10/24/2008 at 12:57:24 AM


JAMES YAP IS MY IDOL
---
Ian Royce says:
10/24/2008 at 12:57:32 AM


JAMES YAP IS MY IDOL................
---
Coach Smith says:
10/24/2008 at 8:50:09 PM


Thanks for the insight
---
john lewis says:
12/4/2008 at 7:29:11 AM


i have discovered after many years of running continuity or patterned style offenses that after the four or five pass or trying to reverse the ball that most offenses break down, the options are many but high schooler just do not see the whole floor. i have now instilled to my players do not panic, if you forget who gets the next pass or if i was to cut or screen again do not panic. i have found that once the team has broken down the continuity of the offense to NOW dribble attack the basket. the theory behind it is most high school basketball player is to focus to where the ball is and how many passes away they are. I discovered once someone dribble attacks almost everyone on defense stops to see who has the ball and where is it. With that in mind the other offensive players then move with the ball in the direction of the basket. to my amazement we get back door cuts, skip passes and short bounce pass to our block players. it is true the dribble stops the defense and they watch the dribbler. if you can instill in your offensive to not watch the dribbler too and use the slow to quick movement of offensive players, mental break down of your offensive patterns still gives you a scoring opportunity. with this memphis style finish to your offense, travels and errant passes will be reduced by not having a confused athlete. you have to do a lot of dribble drills, show how important it is for your player to be in a gap attack position but it works.
---
Nelson says:
1/13/2009 at 5:04:51 AM


It is great to see the good work you're doing. It shows your love and commitment to the game. Keep it up, we need more people like you. I learnt alot. Thanks
---
coach B says:
2/15/2009 at 1:41:51 PM


I need help breaking 1-3-1 zone defense. I coach 7&8 year old girls. Two girls can dribble pretty good.
---
jayvic says:
3/13/2009 at 1:37:58 AM


thank you for the information it helps me a lot as a coach
---
Aries says:
3/22/2009 at 11:46:24 PM


Thank you very much for the tip..i will really help my team perfrom to perfection
---
sarang says:
5/12/2009 at 10:15:00 AM


So it was great,these are details but if you dont consider your set will not run well.I believe that without focus on details you'll miss thaugh games.Thanx.
---
Bernard says:
5/22/2009 at 12:39:21 PM


Great. Thank you so much. Very exciting... I am sure it will be usefull for building our set play.
---
Coach Adilson Quaresma says:
11/21/2009 at 9:24:38 PM


Thank so much! very important to may team in Brazil!
---
Coach Watson says:
1/7/2010 at 11:15:11 AM


These are great coaching tips especially for new coaches. Fundamentals are so key to having success as a team at any level. Coaches you don't want to assume a player at middle school or high school level know basic fundamentals, some do and some don't so make the effort to teach the fundamentals you as a coach will be greatly rewarded with the love for the game, and improvement in that player that will stay with him/her through out their basketball careers.
---
kamal says:
1/7/2010 at 5:43:42 PM


merci pour les conseils.c'est trés important.
---
george says:
4/12/2010 at 10:21:14 AM


there bad tips we followed them several times and lost several times !_!. dont listen to these tips. *__*




thanks, george
---
sarath salgado says:
5/28/2010 at 10:43:52 AM


Really great tips. Many thanks
---
Dumisani says:
7/23/2010 at 2:13:11 AM


I also want to thank you for all the tips you are giving us it it helping us alot since coaching clinics are very rare here we appreciate your effort.
---
aishwarya says:
8/10/2010 at 1:18:21 PM


though my shooting position is good I miss shots due to my strength. how can I increase my stergth in shooting?
---
Nelvin Barttolome says:
8/25/2010 at 8:46:22 PM


very great and usefull. i learned more about your tips.....thnk...nelvin bartolome.. known as nelly bea..
---
Annie says:
9/14/2010 at 8:20:43 AM


This tips r amazing but my coach dont wanna use it!!!he is a meanie!!!>:O hehe.....
---
Annie says:
9/14/2010 at 8:22:17 AM


Im srry coach ur not doing that great but ur good hehe just playing ur greaat at ur job keep up the hard work see ya
---
cynthia says:
11/21/2010 at 12:24:54 AM


how much time in your practice do you dedicate to running your plays as well as shooting.
---
Nate says:
12/3/2010 at 11:18:37 PM


Great advice not
---
Ernest says:
9/1/2011 at 3:27:06 AM


Pls i luv d game very much but i don't know where to learn it in abuja,nigeria.i would appriciate if u tell me where to learn it and some advise before i start learning.thanks
---
benjamin says:
10/20/2011 at 5:35:22 AM


thank you for all the support you send to me.,now i can improved my players through the tips i learned running effective basketball plays.
---
coach dianne lugibihl says:
12/6/2011 at 2:05:41 PM


i just want to thank you for everything you gave me and tought me i am a first time bb coach i was everything but calm if it was'nt for all that i learned here i dont think i could have done this i do know alot about bb i played from fifth grade until i was out of school but i am now 33 years old and you know just as well as me, you tend to forget things and besides i have never been i this side of the court so it dont matter what you know on the court but what you know off the court is the key so i just want to thank you i have had one practice and i had one mom tell me that she was very impressed with me and boy did that make me feel so good and so relaxed and now i am calm thank you so much i will tell other coaches all about you thank you so much ;)
---
Ken Sartini says:
12/6/2011 at 3:22:21 PM


There are a lot of great tips on this link and on this SITE. Jeff and Joe have done a great job with it.....I think that every coach can learn something.. maybe something we forgot or just overlooked.... or just looking at it from another coaches eyes.

Coach Dianne,

Welcome to the greatest gig in the world.... coaching basketball. Relax, keep learning the game and teach your kids fundamentals.... and hopefully you are teaching m2m defense also. I'm not sure what level you are coaching at... but try to keep it simple for that age group. KISS -

The key to being a good coach is to be super organized and prepared. Have good practice plans, go to clinics or talk to some high school or college coaches if you can, they are a great resource.

Good luck and make sure your kids have fun.
---
Joe Smith says:
6/4/2012 at 12:35:20 AM


Great tips!
---
Jimmie(cesar chavez detroit) says:
6/13/2012 at 1:36:18 PM


thanks for the insite
---
Ken says:
6/13/2012 at 1:42:20 PM


Jimmie -

As for this tip - Tip #5 - Practice

The recurring theme to all these tips revolves around practice. Practice is where points are scored. You should continually practice and refine your plays so your players know their roles, fundamentals, and everything so they can run the play in their sleep. Repetition, repetition, repetition!

Here is something I picked up from Kevin O'Neal when he was at Northwestern -
He ran every set he had at the beginning of practice for every player and every option without a defense. I started doing that and found it to be very helpful.


---
baseball coaching videos says:
6/29/2012 at 9:20:35 AM


Encourage other players to play better and celebrate successful plays quickly when possible. Something as simple as good shot or nice grab can lift your teammates to a higher playing level.
---
Coach Dave says:
2/20/2013 at 12:35:10 PM


I don''t see a lot of discussion regarding what players should do when a designed play flops. Do they reset and try to run the exact same play? Do they run a completely different play an an effort to keep the defense off balance? How do you recover from a play gone wrong?
---
Ken Sartini says:
2/20/2013 at 1:26:50 PM


Dave -

I coached boys varsity ball for many years... we ran several sets which had a few options.... IF the last option didn't work we went right into our open post offense.

I think thats the best thing to do, the more you have to re set, the easier it is for the defense to recover.

IF you can get into your main offense after your set it makes it more difficult for the D.
Hope this helps.
---
jhenard says:
8/16/2013 at 2:09:35 AM


its good to tips our coahes in basketball. tnx keep up to good work.
---
shlomo says:
10/26/2013 at 7:12:29 AM


Good
---
Kirk Olsen says:
1/28/2014 at 3:58:28 PM


I am a first year coach teaching 3rd and 4th grade girls. The majority of the girls have never played before. With that said, I struggle with limted practice time, 45 minutes per week, with my approach. They need so much work on dribbling, passing, and shooting. We only get half court to practice. When I concentrate on the fundamentals, I run out of time to work on offense. When I work on the motion offense, I cut down on the time that each girl has a ball in their hands.

Any thoughts on, which way to go with the limited time I have and the skill level of the girls?
---
Ken Sartini says:
1/28/2014 at 6:04:48 PM


I feel your pain here.... 45 minutes is not a lot of time to accomplish much... so use the KISS method.... keep everything simple.

Work a lot on fundamentals, that will help you in the long run. When you run a drill, try to do something that will accomplish more than 1 thing.... passing and catching on the move into layups for example.

Don't worry about winning, keep teaching the fundamentals and make sure that they are having fun....
---