Site Search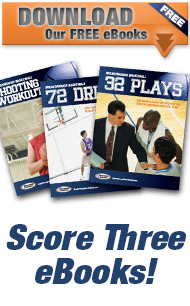 Q & A Forum
Experienced coaches are ready to answer your basketball questions! Visit our forum
Get Insider Tips and Tactics Used By NBA Player Development Coach - Don Kelbick
Summary

This is a recording of an interview and transcript that we conducted with Coach Don Kelbick.

Don has tremendous experience and knowledge about the game. He was a college head coach and a college assistant for 25 years. Currently, he trains numerous NBA players, including Bruce Bowen, Raja Bell, Carlos Arroyo, Guillermo Diaz, Rob Hite, Rasual Butler and others.

Other Resources From Don Kelbick






Don with professional players Rob Hite,
Raja Bell, and Guillermo Diaz

Who should listen to this interview?
Both players and coaches will benefit tremendously by listening to this interview (youth coaches will benefit too). The first half of the recording is primarily focused on "coaching" aspects of basketball. But the second half covers many important tips and tactics that will help players improve their game.
We created a table of contents with the time line below, so you could see which parts would be most interesting to you.
Table of Contents
| | |
| --- | --- |
| Intro | 0.00 |
| How To Teach the Game of Basketball and Common Coaching Mistakes | 1.25 |
| Common Mistake Made By Players & Effects of the NBA | 3.20 |
| Coaching Basketball: Why Stress Retards Growth | 4.30 |
| Common Coaching Mistake & Why They Learn From the Wrong People | 6.10 |
| How Basketball Players Can Learn Skills Faster | 8.10 |
| Coaching: Too Much Control Causes Problems & Running Effective Practices | 8.45 |
| Coaching: How To Effectively Handle Your Players | 12.00 |
| Quantum Physics Analogy: How to Get Better by Reducing Fear of Failure | 19.00 |
| Key to Learning New Basketball Skills and Breaking Bad Habits | 21.40 |
| Another Trick to Break Bad Habits | 26.30 |
| Why Footwork is Arguably One of the Most Important Things to Practice | 29.00 |
| How Bruce Bowen and Raja Bell Were Able To Make It To The NBA | 33.00 |
| How to Stop Post Players from Fading Away | 36.50 |
| Youth Coaching Advice: NBA Coach Stan Van-Gundy's Experiences | 42.10 |
| Mental Basketball Tips to Become A Better Player | 48.10 |
| Mental Shooting Tips: Walking and Shooting Analogy | 55.30 |
| Practice Tip That You Can Do Away From the Gym | 58.10 |
Download and Listen to the Interview
Option #1 - Download the MP3 to Your Computer
By downloading the MP3 file, you can listen to the recording on your computer, in your car, on your Ipod, or anywhere that you can play an MP3.
To download the file, right click
here
and select Save As.
Option #2 - Listen On-Line
To listen to the interview on-line, simply click the Play button...


(Note: To advance the audio, you'll need to hit Play and wait a minute for the file to buffer.)
Option #3 - Download the PDF Transcript and Read the Entire Interview
You can print out and read the entire interview by downloading this PDF transcript. Right click
here
to save the PDF to your computer.
Other Resources From Don Kelbick
eBooks and DVDs by Don Kelbick
Nationwide Basketball camps with Don Kelbick
Once you listen to the interview, be sure to leave your comments and questions about the interview below...
Comments
---
Carsten Steiner says:
10/4/2007 at 5:22:43 AM


Awesome...great insights. Thanks a lot, really appreciate that kind of fund information!
---
Marfan says:
10/4/2007 at 9:39:52 AM


Well,actually I've just download the recording. I'll post a comment as soon as I finished listening to it. Thanks anyway, Guys!
---
kareem moore says:
10/4/2007 at 9:54:50 AM


how do i get my players to see the floor better.
---
Juan Aguilar says:
10/4/2007 at 9:57:41 AM


This is a great interview. I listened to every word that come out of Don Kelbick. Thanks for sending this to me.

Juan Aguilar
---
Ross Jorgusen says:
10/4/2007 at 2:56:47 PM


that was a great interview, i really enjoy it. it was more useful than all the drills and plays because it's about your players, giving them the tools to be successful in the long run. As a coach you can't be there all the time. these are life skills we can teach our players. a coach is a teacher with a gym as their classroom.
---
Willie says:
10/4/2007 at 3:31:15 PM


Very insightful and really cuts into the traditional coaching flaws. THis is a must for youth players and coaches and parents to hear. I'll be taking some these lessons to practice tonight with the 7th grade boys. Thanks
Willie
---
Gary Kraber says:
10/5/2007 at 11:54:05 AM


I like the insight and the reasons behind them.Good interview.
---
Chris Ellersieck says:
10/5/2007 at 9:25:14 PM


This is great! All coaches need to hear this.
---
Don Kelbick says:
10/9/2007 at 9:40:52 AM


Kareem

The answer to your question is simple, you can't get your players to see the floor better.

You see the game the way you do for 3 reasons - 1. You have learned the game over time, 2. Experience, this has taught you what to do with the knowledge you have gained, 3. you are on the outside of the play so you do not have to deal with the stress of having people running around and putting pressure on you.

Inside of those 3 concepts lie your answer.

First, you must understand that there is no substitute for experience and that takes time. Be patient and take your kids through as many situations as possible, as often as possible.

Second, teach. Teach the game, not just plays or skills. Teach them concepts such as spacing and situations. Ask them to study their teammate's abilities and tendencies. They should know that if Billy is a great shooter and he is coming off a screen, they should look to him first, Joey can't catch in a crowd so don't throw him the ball in the lane but Sam has great hands if you throw it to him high. Teach them that on ball reversal, the best scoring opportunities come away from the pass (a pass from the right wing to the top, your best scoring opportunity will come to the left), this way, not only do they beat the defense but they get to scan the entire floor. Teach them that they see the entire floor by looking at the rim. There are so many other things that can't be covered here but are simple and become instinctual is a very short period of time.

I think the third aspect is most the most important of all. If you have done any study in the psychology of learning, you will learn the "stress narrows the perceptual field." The more stress the player is under, the more narrow his field of vision becomes. You must remove stress from the learning process. Instead of pointing out error, give better alternatives. Include them in the process, "What would have been a better pass and why?" Let them correct their own mistakes, give them a few tries before you jump in. Interrupt them on the positive plays and point it out to everyone instead of stopping them on an error and jumping them.

More functionally, be sure that when you teach 1 player, teach them all. If you are teaching your point guard, your posts should be learning as well. They do play together.

Also, work on skills. A player does a better job of seeing the floor when he is not worried about his dribble. He is a better passer if he is not worried about catching.

These are only a few simple things that you might want to consider. Just remember that it will take time. Players are constantly changing and the game is a fluid entity. Give your players the tools to adapt and they will surprise you.

Good Luck. Feel free to contact me if I can help

Don Kelbick
Contributing Editor - Breakthrough Basketball
www.DonKelbickBasketball.com
---
Claude Contatore says:
10/30/2007 at 6:39:48 AM


Outstanding listening for any coach regardless of what age group they coach. Hope to hear more of Don in the future.
---
mojo says:
12/5/2007 at 3:47:48 PM


The natural world teaches us that 'SEEING' goes beyond Don's concept of Stress affecting 'Vision'. Maybe Don will read this and adopt it into his analogies while teaching others.

SPEED, decreases peripheral vision. The turtle has poor eyesight because he travels slow and their is no need for it. The falcon travels at super speeds and has great vision based on his survival instincts and abilities.

Humans can only visualize to a certain speed that is related to the task required. Walking is slow and negotiations are simple. Run on a sidewalk, with others on the same sidewalk, and problems develop because they are traveling faster than their ability to see, and make effective, safe decisions.

The faster they drive the car, the less peripheral skills they have because Humans don't have those adaptive skills, unless practiced like the race car driver.

However, on a basketball court, shooting free throws can be too fast if you don't have the compensatory skills practiced enough to put things into 'slow motion'. Slam dunks are missed because the shooter is out of control by going too fast, not because the rim is moving, even though it may look like it is if traveling outside of your own 'speed zone'.

So, despite the stress levels that affect the player, 'speed too fast for conditions' is as dangerous for basketball players as it is with automobile drivers. I hope this helps in a small way to have all the coaches, 'break- down the fundamentals' to a walking speed before going any faster. Your players ability will be compensatory to the speed at which they learn, irregardless of other the stress factors. Making better decisions based on speed will reduce 'stress' of others.

Merry Christmas, and Good Luck on the hardwoods.
---
Don Kelbick says:
12/5/2007 at 4:44:28 PM


Mojo

I appreciate and agree with your insights. It is important to keep these things in mind as we teach.

As part of the bigger picture, there are things we need to understand about our players. Firstly, every one is different and, as such, process information differently based on our past experience. It is the coach's job to give all his players a common vision to help them process inside a team concept and problem solve together. The result is teamwork.

Secondly, all people process information at different speeds. As coaches, we can affect that by giving players exposure to what they might see on the court whether through drill experience or playing experience. However, we must understand that we have limited effect in this area because 90% of recognition and reaction is innate. However, we must control what we can and that is why we practice.

I also agree that speed limits perceptual field but at different rates for different people and we, as coaches, cannot pigeonhole players based upon what one player can do compared to another (Billy can do it, I don't understand why Johnny can't). It is said that Babe Ruth could read the label on a 78 rpm record (for those of us old enough to remember what that is), Barry Bonds can count the seams on a fast ball coming at 100 mph. It was determined (I don't know how) that great players like Michael Jordan and Magic Johnson see the game in slow motion. When they do things that look to us as split second decisions actually occur in a reasonable amount of time to them. Coaching may be able to bring out that innate ability but we certainly can't develop it.

I agree wholeheartedly with slowing things down when we teach, and gradually build up to game speed. I will take it one step further, when teaching players to compete, remove competition from teaching. This goes back to stress. After teaching the skill or situation, use chairs or cones to give it relevance to the game (as reference points, obstacles, defense, etc.) and only after they are comfortable should you introduce live competition.

We must also understand that the game is a very fluid entity, the same thing never happens twice in the same way. For that reason we must always be teaching and not just criticizing.

I value your insights and hopefully we can continue to learn from one another


Don Kelbick
Contributing Editor - Breakthrough Basketball
www.DonKelbickBasketball.com


---
hany says:
3/3/2008 at 1:48:51 PM


iwant free basketball drills shooting&bassing &ballhanding
---
kevin king says:
3/13/2008 at 2:02:39 PM


THAT WAS SOME OF THE GREATEST ADVICE I''VE EVER RECEIVED AS A HUMAN LET ALONG A BASKETBALL COACH.THANKS ALOT FOR ALL THE WONDERFUL,MORAL AS WELL AS FUNDAMENTAL COACHING TIPS.I WILL BE SURE TO INCORPORATE AS MUCH AS I CAN ABSORB IN MY COACHING TACTICS,ON AND OFF THE COURT.ONCE AGAIN,THANKS DON KELBICK
---
Jasmine says:
4/2/2008 at 2:18:41 PM


Thanks so much...this was some great advice especially being a young coach in high school. This helps so much. I will be definitely incorporating this into practice, games, and my coaching philosophy. Thanks so much.
---
myke says:
10/6/2008 at 12:00:07 AM


Great!!!! Great!!!!
The info was just outstanding why in the wolrd dont our kids, youth, high school,next,next, even pro's learn this I coach and the basic's are so often forgot
I think to many dads and want to be coaches are hurting the start of this game I love.
The world is in trouble now, because they dont love what they do and they just do it for ????? money power and so and so and so.
the game is no played for just the love and fun its become a dream a business so sad.the USA could learn so much if you play sports for the love. FUN and the rest will come.
---
Adriano Go says:
12/6/2008 at 6:29:21 PM


Great insights. Thank you for sharing them with us.
---
William L. Hopkins III says:
12/6/2008 at 10:16:47 PM


I want to thank you for this awesome interview. It reassured my teaching position.
---
Marc Sirkin says:
12/19/2008 at 3:08:56 PM


The audio is brilliant. My favorite part is at around 44:15. Listen and learn.

The satisfaction of kids learning the game vs winning. Something I'm sure we all struggle with - but super important.

thanks for this audio file!
---
rogelio gutierrez says:
12/24/2008 at 7:07:47 PM


thank you very much for your wonderful basketball insights... i learned new approaches on how to handle team practices and how to find ways in handling players with attitude problems...

i have a question... we have very good players here in the Philippines but mostly they become stubborn and abusive whenever they found that their coach is very democratic... I think this is in our culture... Is it okay that sometime I can be autocratic???

GODSPEED!!!
---
John Andrzejek says:
12/24/2008 at 11:24:45 PM


If possible could you reveal what the shooting workout that you did with Raja Bell consists of?

Thank you very much. Very insightful interview as well. Thank you very much for doing it.
---
Joe Haefner says:
12/26/2008 at 12:03:19 PM


Hi Rogelio,

Kids are smart and will take advantage of what they can.

This is what we found to work:

1. Set rules
2. Communicate those rules both verbally and in writing.
3. Have a written schedule
4. Have a written practice plan
5. Follow through with your rules

For more on discipline, visit: http://www.breakthroughbasketball.com/coaching/discipline.html

---
jayvic says:
1/1/2009 at 1:26:54 AM


that was great.
---
jayvic says:
1/1/2009 at 1:37:40 AM


i have question... i and my players are very close, maybe because our age gap is not that far. but sometimes they feel so close. is it ok? I was once a player and sometimes i play with them. Is it also OK? Can you please give me an advice how to handle my players well considering that we are almost at the same age level?

---
joseph says:
1/12/2009 at 10:43:36 PM


Its great help, thanks a lot
---
Terry says:
1/23/2009 at 12:46:27 PM


Wow! what a wonderful interview with Don. Such common sense, something that is missing in our complicated fast moving society. Tonight is our first game, many of our boys have never played organized ball. My main strategy for them has all along been to relieve their stressors, their thoughts of failure. I have tried to think what concerns they have as they enter the court for the first time. Thanks for all your Life stories and how they relate to the athlete. Do keep up the good work, it is greatly appreciated by a coach who strives to TEACH with purpose.
---
big fire prince says:
3/10/2009 at 4:41:03 AM


great,thanks for your sharing of wat you have.god bless u.
---
Tydus says:
3/16/2009 at 12:08:30 AM


hey im 20 yrs old. and cant play ball. am i goin to die if i cant play basketball?
---
Marcel says:
4/28/2010 at 12:06:46 AM


I loved the comment from Coach Don Kelbick that you wont see the effects that a coach has on players for years. I coached my daughter at age 9-12, she is now 18 and graduating. It is so gratifying seeing these young girls now young woman and the fact that I had something to do with their Basketball skills and Knowledge!! I always looked at myself as a teacher of the game and life skills not just a basketball coach. I have enjoyed my time with them and this was a very great interview!!! Thank You Marcel Lynn, MN brought back great memories
---
Myron says:
2/22/2011 at 5:57:24 PM


Love these kinds of interviews. Reinforces many of my own beliefs. Thanks!
---