The Brazil Secondary Break - Use Multiple Back Screens To Get Post and Perimeter Looks
Summary: This is an excellent play to get your "Big" man a scoring opportunity on the move or your best shooter an open perimeter look. It is a relatively simple play that involves ball and player movement.
This was the 2014 USA Senior National team's initial play after winning the jump against Brazil (Exhibition game in Chicago).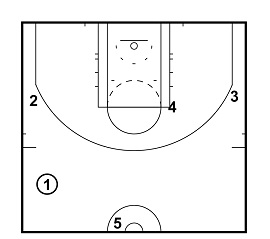 Step 1
Player 5 is a post player and the trailer.
Player 1 dribbles up the left side.
Player 2 is the "shooter" and on the left wing.
Player 3 is a guard/forward on the right wing.
Player 4 is a post player stationed on the right elbow.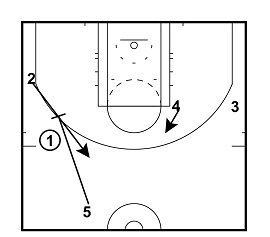 Step 2
Player 5 goes to set a down screen for Player 2, who cuts up to the three-point line.
Player 4 moves towards the top of the arc in order to be in position.
Player 2 and Player 4 are now in position to receive a pass from Player 1 (if need be).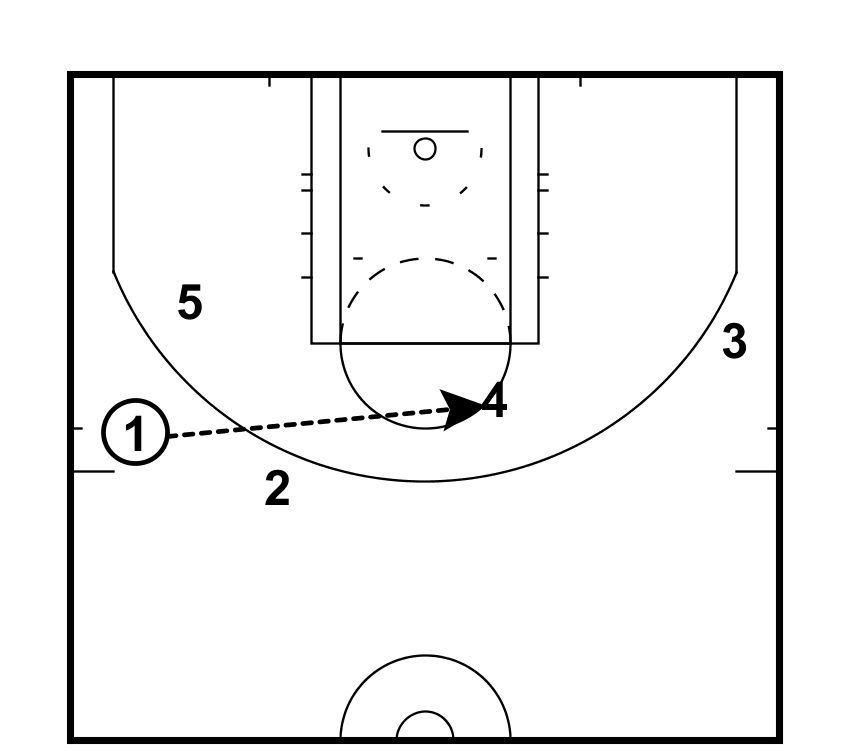 Step 3
Player 1 passes to Player 4 around the top of the circle.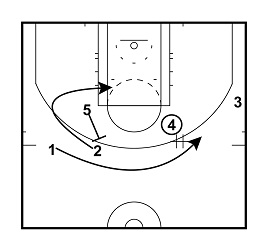 Step 4
Player 1 cuts toward Player 4, who hands the ball off to Player 1.
Player 5 sets a back screen for Player 2. Player 2 makes a "circle cut" towards the basket line at just below the free throw line.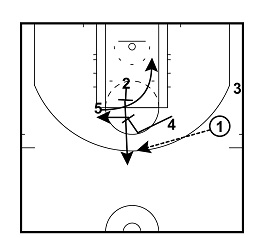 Step 5
Player 2 sets a back screen for Player 5, who cuts to the basket.
Player 4, immediately following Player 2's back screen, sets a screen for Payer 2. He then spaces out a little to give Player 2 some operating room.
Player 1 passes the ball to Player 2 for a three-point shot at the top of the circle.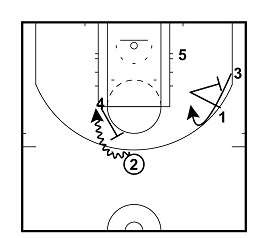 Wrinkle #1
If Player 2 does not have a shot, he has a few options.
If he can take his man off the dribble, he should.
Or
Player 4 can come set a ball screen for Player 2, and play two-man game with him.
Or
Player 2 can pass to Player 3 curling off of Player 1's screen on the right side of the court.
Other comments
The goal of Player 1 is to reverse the ball. So, in step 3 you could have Player 5 set a ball screen for Player 1 and have him dribble across court rather than pass to Player 4.
If Player 4 does not receive a pass from Player 1, he will step back to right elbow area.
Related Pages & Helpful Resources
5 on 3 + 2 - Fast Break Drills
Attack Off of the Foul Shot - Foul Line Fast Break
How To Run The Basketball Fast Break Offense and Transition Offense - Philosophy, Offenses, Drills
Basketball Fast Break & Transition Drills - Full Court Drills
Want to learn how to build your fast break and transition offense step by step?


Don Kelbick's Transition Offense and the Four-Second Fast Break
This DVD shows you how to build your fast break and transition offense step-by-step, so you can easily teach it during practice. It will also show you how to seamlessly transition into your half court offense to keep the defense scrambling. As every great defensive coach will tell you, they play their best defense when they have their 5 players back. This DVD will show you how to take advantage of the defense when they're not set and currently in transition. It also includes many fast break and transition drills that build mentality, aggressiveness, decision-making, and basketball skills. This DVD is 110 minutes long and neatly organized ... (more info)
What do you think? Let us know by leaving your comments, suggestions, and questions...