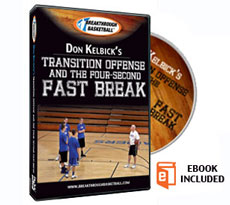 See All Reviews
Write a Review
Transition Offense and the Four-Second Fast Break - Streaming Video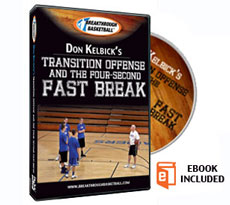 $39.00
In Stock
60 Day Money-Back Guarantee
Online Streaming Video (110 minutes) and 29 page eBook
You will be emailed access instructions and passwords upon order confirmation.
Don Kelbick's Transition Offense and the Four-Second Fast Break - 110 min Video & 29 page eBook
Dear Basketball Coach,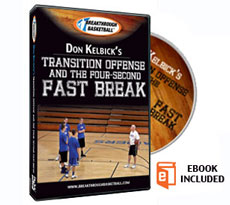 This new video teaches you how to incorporate a high-scoring fast break and transition offense. You will learn how to build your fast break and transition offense step-by-step, so you can easily teach it during practice.
You will learn unique mental aspects on how to attack off of the fast break. Not only are they unique, they are quite simple and easy to learn. Along with teaching how to attack off of the fast break, Don teaches you how to transition seamlessly into your half-court offense so you can keep the defense constantly on their heels.
Why Run a Fast Break?
There are numerous reasons to run a good fast break, and just as important, a seamless transition offense.
Would you rather play a team that walks it up the floor? Or would you rather play a team that runs the floor hard and puts constant pressure on you?
I know I would rather play a team that walks it up the floor and gives our defense a chance to get set.
Not to mention, kids enjoy running. It's a fun style of play. It's fun to coach and it's fun for spectators to watch. It just makes the game exciting!
What type of coach would you want to play for? Would you rather play for a coach that runs a fast break? Or a coach that walks it up the floor?
A few more reasons to run a fast break...
Teams that run are tough to prepare for.
You will wear down other teams.
You will get easy baskets.
You control the tempo of the game and get opponents playing "your way".
You will score more points.
Sure, there are some down sides to fast breaking but they are only minor compared to the potential benefits. I think most coaches would agree that the benefits outweigh the negatives so drastically that it's really hard to believe that not every single team fast breaks to at least some degree!
Why I Personally Switched to Don Kelbick's Transition System
It's Jeff Haefner and I wanted to give my opinion on this transition offense video and system...
Personally, I really like Don Kelbick's transition offense. It's stupid simple, unique, and makes more sense than the other systems I have seen (in my opinion).
In fact, after seeing his transition system, I have changed the way our teams run the floor and adopted his style of transition offense.
I really like how it simplifies the decision making for players. I like how it's an attack mentality that gets you more lay ups, reduces turnovers, gets you to the basket more often, and it puts constant pressure on the offense.
I also feel that I'm a better offensive coach after seeing Don teach this transition. I now have a better understanding of transition offense in general, spacing, and scoring on the run.
I think you'll pick up a few things as well. It's a very thorough video that I think you'll like.
Never Give the Defense Break
In this transition system, you never "reset" and you keep constant pressure on the defense. Don Kelbick says...
"I have seen teams work and work on offense to create an advantage against the defense only to see them lose the advantage they have gained with their fastbreak offense because they did not get their offensive opportunity from their primary options and pulled the ball out to the top to re-set their offense. This gives the defense a chance to re-organize and present a united effort to thwart the offense. Why give them the chance to stop you when you can create better opportunities by flowing into an offense immediately?
The key is the seamless integration for your half court offense with your break offense. If you are able to accomplish that combination, you have a great chance to create situations with your offense that the defense will not be able to react to.
If you speak to any coach who believes in defense as a vehicle to win games, he will tell you that one of the keys to success is getting his defenders an opportunity to play 5 on 5. Defensive coaches will do whatever they can to stay out of transition or disadvantage situations.
The transition game creates a situation where the defense has no chance to get set. The result is a lengthened transition period from offense to defense. The defenders are always chasing the offense in an effort to match up. Breakdowns and mismatches on defense occur and the offense, always in attack mode, is in position to take advantage."
What You'll Get in this Video & eBook Package
The video includes:
Chapter 1 - Introduction, Purpose, and Philosophy
Benefits of the Transition Offense
The purpose of a fast break and transition offense
Aspects of the fast break, transition offense, and the half court offense
Chapter 2 - Half Court Offense: Working Backwards
What the half court offenses will look like
See where players end up at the end of their transition
How to transition into the flex offense
How to transition into the motion offense (4 Out, 1 In and 3 Out, 1 In)
How you can adapt this transition to fit into your own offense (you don't have to use these two offenses)
Chapter 3 - Developing Your Fast Break - Theory, Mentality, and Drills
Objectives of the fast break (1v1, 2v1, 3v1, 3v2, 4v3, etc)
Simple mentality tips that will lead to aggressive players
How to reduce turnovers and indecision on the break
How to handle blocked shots and how they can actually be a good thing
Creating contact - should you focus on this or not
Competitive fast break skill development drills that will maximize repetitions during practice
Single most important aspect of offense
Chapter 4 - Fast Break Lead Up Drills
Learn how to build your fast break step by step from the ground up.
How to rapidly improve decision-making through your fast break drills.
Fast break drills that improve shooting, passing, ball handling, and decision-making.
Tips to improve conditioning through the fast break drills.
Chapter 5 - Aspects of the 5-Man Fast Break
How to run the fast break with 5 players.
Assigning the lanes in the 5-man fast break
6 scoring options out of your 5-man fast break
Chapter 6 - Transition To Half-Court Offense
Learn how to transition from 4 out, 1 in and 3 out, 2 in sets. The flex and motion offense are the sample offenses used in the video. You can use any offense.
Paul Westhead's cycles or rotations
How to keep constant pressure on the defense as you transition into your half court offense.
Chapter 7 - Full Court Fast Break Drills
Drills to improve transition from fast break to half court offense.
Tips on how to recognize which fast break should be open during competitive drills.
Chapter 8 - Closing Thoughts
Why transition offense can keep the defense unorganized for longer periods of time.
Tips on implementing drills during practice.
The importance of teaching good shots, roles, etc.
Bonus Chapter: Question and Answer With Don Kelbick
How to get players to choose fast break options during games.
What to do when you get no scoring opportunity out of the fast break.
When players are not in proper spots, what you should do.
Why you want to get the ball to the corner in 4 seconds and how it affects the defense.
How early should you incorporate fast break and transition in your season.
Overcoming the biggest obstacle in the fast break.
Approx running time is 110 minutes.
29 Page Supplemental eBook
For your convenience, we have diagrammed the options, drills, tips, and drills included in the video. We also documented a step-by-step process for you to implement your fast break and transition offense.
Who Should Consider this Transition Offense video?
This transition offense will work for any team except for beginners. A youth team can use this system but they need to have some experience and have other basics down (like half court offense, man defense, and fundamental skills). But if you think they are ready, anyone can run this system.
It's a flexible system. You can use a numbered break, lane break, or almost any method of running the floor -- as long as you maintain your spacing.
About Don Kelbick
Some of Don Kelbick's credentials include:
Over 35 years of basketball coaching experience at the high school, division I college, and professional levels.


Has provided individual training for more than 14 different NBA players, 50 European and professional players, and hundreds of college basketball players.


Developed dozens of basketball DVDs and books.


Inventor of the highly acclaimed Attack & Counter Skill development system.


Traveled to over 20 different countries training players and teaching basketball.


Conducted over 1000 basketball clinics and camps training players of all age levels.


Don Kelbick is a long time contributor to BreakthroughBasketball.com developing dozens of articles, products, and providing ongoing consultation for the site. He also runs the Attack and Counter Skill Development Camps which are offered nationwide. Don currently lives in Miami Florida training players and running the Drillz N Skillz Basketball Academy.
Instant Access
In addition to receiving the video, you get immediate access to the eBook and streaming video.
After completing your order, you'll get access to a password protected area where you can watch all the videos via online streaming. You can also download the eBook.
The streaming videos requires high speed internet and can be viewed on any computer or tablet connected to the internet.
60 Day Money Back Guarantee
Just like any reputable bookstore or retail business, we have a 100% money back guarantee too.
If for any reason, your purchase is not what you expected, just send us a message and we'll give you a full refund. No questions asked.
"Claim Your Copy Now"
If you'd like to order by telephone, call us at 1-866-846-7892 (toll free).
If you have any questions, don't hesitate to contact us.
Customer Reviews
Most Helpful First
Newest First
---

SK says:


6/28/2012

at 4:35:42 PM


Excellent - simple and to the point.

I have heard coaches talk about implementing their philosophy but this is the first time I have seen anyone actually demonstrate it. This video was as much a "how to teach players" lesson as it was a "how teach players a fast break" lesson.

One thing Coach Kelbick did that was very unique was showing how the transition offense complements the half court offense.

I would really be interested in a motion offense video covering man-2-man and zone concepts by this author.

This review is helpful
1 person found this review helpful.
---

PJ says:


7/8/2012

at 3:32:07 PM


This goes well with my KISS (keep it simple stupid) philosophy for teaching players how to play basketball. I beleive players that "don't think" are best equipped for game time situations...and this dvd shows in a good way to get to that state for a team. I'm excited on seeing how this will be implemented this upcoming season.

This review is helpful
1 person found this review helpful.
---

Mohamed from Genève, None says:


11/3/2014

at 11:19:29 AM


Great dvd, it's really easy to understand and i like the mentality of the coach. I really recommend this dvd.

This review is helpful
1 person found this review helpful.
---

Damian Fantauzzi from Middle Grove, NY says:


7/9/2012

at 4:28:21 AM


Like the drills and concept of keeping it simple and easy for the players to understand. Fits my philosophy because it cuts out a lot of confusion for the kids! Good one!


This review is helpful
---

Dane says:


7/24/2012

at 10:14:36 AM


Great video. Breaks everything down. Very beneficial for our very next practice.

This review is helpful
---

peter from zandvoort, None says:


7/30/2012

at 1:20:12 PM


Great DVD,simple for the players to understand.


This review is helpful
---

Willie Bryant from Palmerston North, None says:


8/2/2012

at 9:14:55 PM


For a visual person like myself this was a great DVD and was easy to put into into practice for me and my team. Thanks very much to all

This review is helpful
---

Coach Bynum from Kingsford Heights, IN says:


3/5/2013

at 6:34:25 PM


Great DVD! Concepts and drills very easy to understand and get across to the players. I recommend purchasing "The Hybrid Flex Offense" by Coach Kelbick.

This review is helpful
---

Bruce Aulabaugh from Maylands, WA says:


9/30/2013

at 7:59:37 AM


Dear BB,
You and Don Kelbick did a fantastic job on this video.
Way to go! Keep up the good work! Can't say enough about the quality of the material and the communication of the concepts.
Five Stars.

This review is helpful
---

cody miller says:


12/13/2013

at 3:17:40 PM


Enjoyed the video! Easy to understand and implement the drills into practice, thanks a bunch!

This review is helpful
---

RR says:


4/4/2014

at 6:59:34 PM


Fantastic DVD - Love Coach Kelbick's teaching style and anecdotes. Really like the buildup process to the full transition as well as the simplification of the decision process for players.

This is my second DVD by Coach Kelbick (I have his Match-up Zone) and both are easy to understand, well explained, demonstrated and executed. Looking forward to more from Coach in the future.



This review is helpful
---

Bradley Stonecypher from Hydaburg, AK says:


11/20/2014

at 4:40:45 PM


Great video, great drills and a great teacher in Coach Kelbick.

I am a little hesitant to teach going into the corner but only because I have had it so ingrained in my head that it should always go middle.

My only question would be, what if you do not have enough players to go 5 on 5 or even 4 on 4. I am looking at having 7 players going out this year, maybe 9 with two 8th graders.

Thanks Coach Kelbick for making us better teachers and better coaches.

This review is helpful
---

Chris Hergenrader says:


11/24/2014

at 7:34:04 PM


Awesome DVD. I went into it expecting some magical break setup that would transform my team via improved X's and O's. What I got was something better. Our break was pretty much what Coach Kelbick does, but the drills he included and the overriding aggressive and attacking mindset to incorporate into our break is what will make our transition game better. Another great DVD from Don Kelbick.

This review is helpful
---

Chris Hergenrader from Grant, MN says:


11/24/2014

at 7:36:22 PM


Wanted to mention that I have every DVD Coach Kelbick has made and they all are some of the top DVDs I have. Great, usable information all the way around.

This review is helpful
---

zip stowe from mt holly, NC says:


4/13/2016

at 11:08:19 PM


Great transition system that I plan to use for my high school team next year. What adjustments would you make when defense attempts to stop outlet pass to point guard? Would you go to opposite wing who would then replace the guard position on the break or wait for the guard to get open and pass him the ball?

This review is helpful
---

Coach Challender from Greenville, NC says:


9/8/2016

at 10:00:55 AM


Good step by step video using a numbered fast break. Coach Kelbick also gives good guidelines on the type of shot you want in different scenarios such as 2 on 1 and 4 on 3 breaks.
I also like the way he transitions into the half court offense. Although he likes and pushes the Flex and Motion offenses, I can also see how the break can transition right into our Princeton offense. The East Carolina University Women's team uses a very similar method that is very successful.
The break and Transition offense works extremely well with Kelbick's Match up zone. This defense keeps players in the general area that leads right into a numbered fast break. I have found Both the Match up, and the Fast Break videos every useful and informative.

This review is helpful
---

Josh says:


9/13/2017

at 10:00:02 AM


For simple and effective transition, purchase this video. All of Don's material is quality.

This review is helpful
---

thomas mathis from san jose, CA says:


4/26/2018

at 2:58:52 AM


Really enjoyed the streaming video Easy to teach and Instructional my only disappoinment was I thought I was receiving a DVD also


This review is helpful
---

Roy Packham from Calle Gerald Brenan 46 , Alhaurin El Grande, Malag, None says:


10/14/2018

at 7:35:47 PM


There were some very useful points made in the video, but overall I thought it was a poor video. It was very difficult to watch the complete video from start to finish, mainly because there was such little action and so much talking. I think there are many better drills to teach and practice transition offense..

This review is helpful
---

Keith henman from Charmouth, None says:


5/10/2019

at 4:56:41 AM


A different perspective on the break. I like it. Kind of a fast break linked with an early offence. I feel you have to adapt this to your team offence which is good. Don't be fooled with all the outside shots the first options are always straight line drives to finish. Tweak the break to flow into your offence and you'll be fine. An added bonus using this break is when you play against retreating zones the low wing players can step into the short corner with ease. High low becomes a great option.

This review is helpful
---

MENZO TUCKER from Ozone Park, NY says:


10/18/2019

at 4:24:07 PM


Great video, I get tired of signing in to stream video.....what happen to the DVD copy...,still waiting . Would give it 5 stars if I had my DVD copy by now.

This review is helpful
---

Gord de Vries says:


3/19/2020

at 11:55:18 AM


Because we live in a rural area our internet service is sometimes weak. During this present pandemic we often have minimal or no service because so many others are increasing use. I have been unable to fully watch the streamed video; it stops frequently and/or is choppy.
I advocate BB continue to offer a computer download service for those of us unable to consistently stream.
Thanks.

** BREAKTHROUGH BASKETBALL REPLY **

Thank you for the feedback! Sorry to hear about the slow internet service.

In this case, you can install our new App (found toward the bottom of the members area). It allows you to "download and save" the video for instances like this on IOS and Android smartphones and tablets. We hope this helps with the problem!

This review is helpful
---

Antonio Barrote from Vila Nova de Gaia, None says:


10/9/2020

at 2:48:18 AM


Great video with simple to follow and complete instructions on how to set a simple, but effective, transition to score fast and easily.

The only downside is not having a download associated with this purchase. This really should be an option.

Other than that, recommended! :)

*** BREAKTHROUGH REPLY ***

Thank you for review. We're glad you found the content helpful!

The Transition Offense product does offer a 29 page eBook to compliment the video. You can find that by logging into the members area and scroll below the video. You should see an "eBook download" link.

You can also "download and save" the video for offline viewing via our Android and Apple Apps if you choose as well.

If you need help with those apps or have any questions, let us know. Happy to help!

This review is helpful
---