Score An Easy Basket With This Baseline Out of Bounds Play from 1-4 Low
This is a very simple play from the 1-4 low set that will get you a wide open look close to the basket.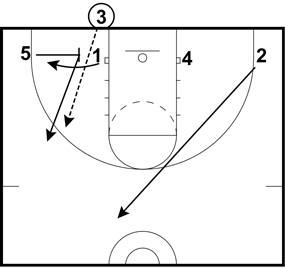 5 screens for 1. 1 cuts to the corner. After the screen, 5 pops out to the wing.
3 can pass to 1 for the corner shot. If 1 is not open, 3 passes to 5 on the wing.
If the inbounder has trouble getting the ball inbounds, 2 cuts to the side of the ball towards half court as a safety valve.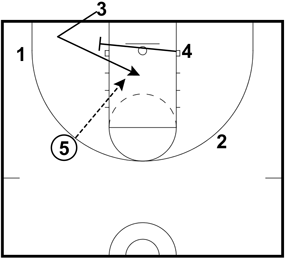 If 5 receives the inbounds pass, 4 sets a screen for 3. 3 fakes towards the corner to set up the defender and cuts to the basket looking for the pass from 5.
4 opens up to the ball after the screen looking for the ball.
If you liked this play and want to learn more scoring opportunities check out our NEW eBook featuring
60 Baseline Out of Bounds (BLOB) Scoring Plays
. The eBook is logically organized and packed with a variety of plays -- so that no matter what type of team you have, it will give you new and better ways to score off inbounds plays...
Additional Related Pages & Helpful Resources
75 Set Plays to Score Against Zone Defense
Baseline Out of Bounds Play - Wide Open Spaces
Foul Shot Tip-In Plays
What do you think? Let us know by leaving your comments, suggestions, and questions...