Breakthrough Basketball Newsletter:
Maverick's SECRET to Top Gun Basketball
September 30th 2022


Today, I'm sharing some advice that was inspired by the new Top Gun movie- Maverick!

It goes against the mindset of conventional wisdom when it comes to teaching mentality on offense.

Using this with my players has led to a better shooting percentage, better decision-making, and more confidence and assertiveness!

I hope it can make a significant impact on your program like it has for many others... (Note: Read the 2nd section to learn more about other coaches' successes using it as well.)

Enjoy!


Top Gun and Maverick's Mentality Secret
I was watching the hit movie Top Gun: Maverick and couldn't help but notice that Tom Cruise's character touched on something for fighter pilot training that parallels training players for better basketball.

I'll get to that important detail in just a moment.

First, let me share a little background about the movie.

And don't worry! I won't be revealing too much so there's no need for a spoiler alert in case you haven't seen it.

If you saw the original Top Gun movie, you may recall a character named Goose who was Maverick's best friend and co-pilot.

Well, during the new Maverick movie, Tom Cruise's character gets to train a new fighter pilot who happens to be...you guessed it...Goose's son who goes by "Rooster."

Talk about a way to thicken the plot!

Anyways, Maverick notices that Rooster has an issue with his piloting style. He keeps hesitating in the air. And Maverick knows that a little bit of hesitation when it comes to a dog fight in the air can cost a pilot his life.

As a result, there's one line that Maverick keeps repeating throughout the movie...

"Just do! Don't think."

And that line caused me to think about how Coach Don Kelbick constantly tells players not to hesitate in his Attack & Counter skill development training...

When you catch the ball, "Attack immediately! Do what you do best."

He goes on to say, "Don't worry about reading the defense. If you want to read something, go to the library."

In other words...

"Just do! Don't think."

This is the mindset that he continuously preaches and it's something that people kind of looked at in a weird way initially. I know that I did nearly 15 years ago when he first taught it to me.

But here's the reality...

The slightest hesitation works in the defense's favor because it allows defenders to get set. Now you can't do what you're good at offensively.

Want to see Don's advice in action?

Watch the video "Don't Read The Defense... Do This Instead" and read the article below.

You can learn more about common objections and other questions about this teaching method, which include...


Do you still practice both hands and feet equally?
Reaction from an Olympic coach
How to skip the "long and tedious" process of teaching reading the defense
Do your players attack blindly and recklessly with this new method?
Click here to watch the video and read more
.
"Thanks For A Terrific Coaching Resource!" - The Attack & Counter Skill Development System
Since you may have watched the video with Don's advice, I figured it only makes sense to share one of the glowing reviews about his training system...
"Great material! I've always had many of the beliefs presented by Coach Kelbick but his system has simplified it and given me many drills & games to incorporate with my team. Already this Spring since using many of the drills of the 'Attack & Counter System' with some of my players, I'm seeing improvements. More importantly, the kids feel the improvements and are gaining more confidence! Thanks for a terrific coaching resource!"
- Kirk
While this is just one coach's feedback, you can read more than
50+ reviews at the bottom of this page
from other coaches raving about this training system!
"Everything I Expected And More!" - Blending The Best of Motion Offense and Dribble Drive!
We received another glowing review on The Hybrid Attack Offense...

It combines the best elements of offense and motion drive and is a great system for coaches at the middle school, high school, and college levels...
"This was everything I expected and more! I purchased the transition video and enjoyed it so much, I had to order the Hybrid Attack. Presented very clearly and all the bases were covered! I was close to firming up my attacks and this tied it all together for me! This is for ALL levels, with a clear explanation and plan for youth teams! If you want to improve as a coach, either or both of coach Schultz's videos are for you! 5 stars!"
- John W., Sunlake, AZ
Ready to take your offensive attacks to the next level?
Click
here
.
Coach Kyle Taylor Ranked #1 in Final JUCO Regular Season Rankings
We caught wind that Coach Kyle Taylor had 31 wins and 1 loss at Salt Lake Community College during the 2021-2022 basketball season.

That amazing record earned him a #1 JUCO regular season rating.

Congrats on the excellent season Coach Taylor!

Coach Taylor is also a Breakthrough Camps Instructor and we're proud that he shares his knowledge with our campers.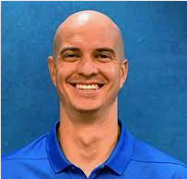 All the Best,

Joe Haefner
Breakthrough Basketball