Is Your Hand Placement Making You Miss More Shots?
If you have poor hand placement on your shooting hand when shooting the ball, it can cause you to miss more shots in every direction - long, short, left, and right.
If you eliminate your misses to the left and right, you will make more shots.
And you can do this by fixing poor hand placement.
So What Is The Ideal Hand Placement?
There are typically two ways that most shooting experts will teach. With both methods, you want your hand behind and under the ball.
1) You place the index finger in the middle of the basketball.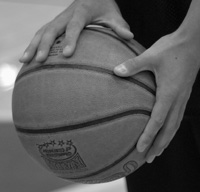 2) You split the middle of the basketball with the index finger and the middle finger. (Diagram to right)
Every individual's body will have slight differences when it comes to bone structure, muscles, tendons, etc.
We've seen the best shooters in the world use both methods, so we think the individual should choose the one they are most comfortable with. As long as your index finger is near the middle of the ball, you should be okay.
How To Quickly & Easily Tell If Your Hand Placement Is Correct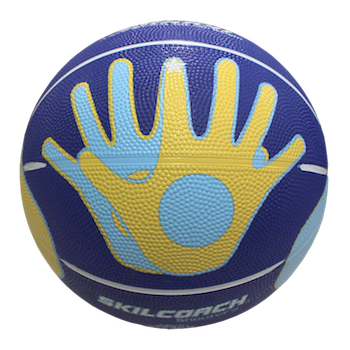 A way that you can quickly reference proper hand placement without a coach is using the Baden Shooting Ball.
It's easy to tell if your shooting hand & guide hand is in the proper position on every shot. While it doesn't have to be exactly the same as the hand print on the ball, it will give you a great guideline on where to place your hands.
Also, it allows you to get more reps up in a short amount of time because you don't have to spend time looking for the air-hole on every shot.
Here are the recommended sizes for the Baden Shooting Basketball:
Size 5 - 27.5"
Boys and girls ages 9-11 years old. This is the standard youth basketball you find in most stores.
Size 6 - 28.5"
Boys ages 12-14. Girls and women ages 12 and up. This is the official size for women's high school, college, and pro basketball.
Related Products & Helpful Resources
Basketball Shooting Camps
Basketball Shooting Workouts
Shooting Technique - Instructional DVD
What do you think? Let us know by leaving your comments, suggestions, and questions...
Comments
Most Likes First
Oldest First
Newest First
---
... says:
10/6/2020 at 8:01:55 AM


They said get the 28.5 inch ball if you're 14, but my hands were too big and awkward to shoot with the ball. I'm 6 foot idk if that makes a difference or if it's my hands

Like
---
Umar Babu says:
7/20/2015 at 4:40:02 PM


I really liked the leacture please keep it up , but pleases I need some one to help me and exploit my talent

Like
---
Umar Babu says:
7/20/2015 at 4:37:12 PM


Am in Western Uganda is there any way how you help me out because basketball is my best game , man Ireally love it please help me I havent come across people to let my talent explored .thx

Like
1 reply
---
Dave Sawyer says:
2/6/2021 at 7:56:25 PM


Bob Huggins, coach at WVU can help you. Like him on Facebook and then talk with him. He will help you with your game.

Like
---
---