Teaching Footwork to Beginners - The Pivot Foot Drill
As a Basketball Coach, I have encountered a couple of basketball leagues that teach differently and have different rules. One particular drill that fascinated me and I haven't seen it before is called Pivot foot drill. I saw this drill and I had to try it myself and teach it to my basketball kids. It works well with 4 to 5 kids at a time. As the coach, you must demand attention from the kids to focus on what the coach is saying.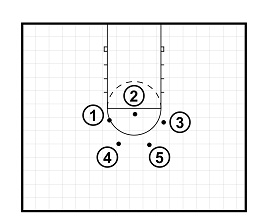 First step is for the kids to be in a circle -- each player has a ball and shoulder width apart in order to have space for the drill to work properly.
The second step is once the coach blows the whistle the kids grab the ball from the floor, elbows out and hold the ball tight in a defensive stance. Then the coach goes around to test if the kids are holding the ball tight by hitting the ball, if is loose they have to start all over again.
Third step is the coach blows the whistle for the second time and the kids use their right pivot foot to turn. The coach continues to blow the whistle until the kids have returned to their original starting position.
It's a fun drill to teach kids about using both left and right pivot -- and also teaching them about focus and concentration.
This is the easiest drill to teach young kids about pivot foot and the purpose of the drill. Young kids are not aware what the term pivot foot is and it can be difficult to teach and for them to understand, however, with this simple drill anyone can learn and have fun at the same time.
Once players get the hang of pivoting correctly with their left and right foot on command, you can progress to more challenging drills like the jump stop drill, chair pivots, and split post pivots.
Related Resources
Youth Basketball DVDs - Learn The Proper Skills, Drills, Progressions, & Coaching Style To Use With Youth Players
Youth Basketball Camps - Developing The Complete Player
Coaching Youth Basketball - Drills, Offense, Practice Plans, Philosophy, etc.
What do you think? Let us know by leaving your comments, suggestions, and questions...
Comments
Most Likes First
Oldest First
Newest First
---
Phillip says:
2/26/2015 at 9:39:46 PM


surely the ball is picked up and help in an "OFFENSIVE" stance ie triple threat or ready.?

If you teach turning to left ie forward pivot, the right foot is the stepping foot, not the pivot foot.

The drill is quite a good one as can teach 90 deg pivot (looking at Left players Back), 180 deg Looking outside circle (backs to centre of circle) etc.
I think the Third step needs rewording.

Like
---