Rebounding Drill: Reaction Rebounding
Drill Purpose (All Ages)
This rebounding drill has an interesting twist that nicely simulates game situations. This drill will help your players find the opponent and get them blocked out!
Instructions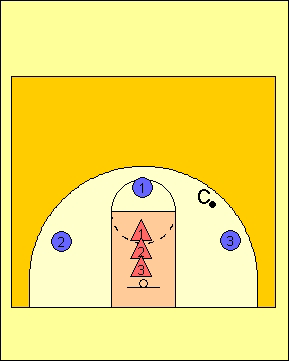 Position three offensive players as shown in the diagram.


Position three defensive players in the lane. Assign numbers to each defensive player.


A coach should have the ball somewhere on the court.


The coach passes the ball to one of the perimeter players and calls out a number (1, 2, or 3).


The player in the lane, that had their number called, goes to close out/block out the shooter. The other 2 players have to identify who they block out. This forces the other two to quickly react and get to one of the other perimeter players. They should then get the ball and secure the rebound.

It takes a couple of times for the kids to get it. But once they do, you'll find they learn to communicate, identify, and quickly scramble to get everyone blocked out. This is a good simulation of what happens in a game.

I'm sure you'll find that this twist really helps your players learn how to find their opponent and consistently put a body on them.


Repeat the drill as necessary and give everyone a chance to rebound several times.


Points of Emphasis
Continually tell your players...
Put a body on someone and block them out!
Make sure you communicate and get everyone blocked out.
Stay low when blocking out.
Use proper form when blocking out -- find your defender then back pivot into them.
Always keep your elbows out after securing the rebound. Make a good outlet pass to the coach.
Motivation / Teaching Tips
Tip #1
- You can make the drill competitive by tracking the number of rebounds the offense and defense gets. Award the winner or make the losing team run.
Related Articles and Products
Basketball Rebounding Tips & Drills eBook
More Rebounding Drills
Don Kelbick's Rebounding Tips, Strategy, and Fundamentals
Do you have any suggestions or questions for this drill? Let us know by leaving your comments...
Comments
Most Likes First
Oldest First
Newest First
---
Coach Ruscheinsky says:
8/11/2016 at 10:02:06 PM


Nice drill. I will use it when I start coaching this season. I am new to coaching this year.

Like
---
Coach Kip says:
3/11/2013 at 8:33:36 PM


Sounds like a great drill. After the coach passes to one of the perimeter players, that player shoots the ball, right? I'll use it at our next practice. Tired of my boys outrebounded most games.

Like
---
Paul says:
2/14/2011 at 9:49:20 AM


Just to make sure I understand, only the defensive players are numbered in this drill, right? The defensive player whose number is called would go to the offensive player with the ball, and the other two defensive players communicate to determine who boxes out each of the other two, correct?

Like
---
Maurice Mitchell says:
1/15/2011 at 12:05:26 PM


This is a good drill, like it alot, will help out time to box out.

Like
---
Aly James says:
12/8/2010 at 8:44:53 AM


I coach a middle school girls basketball team. On average, we're about 5'2 as a team. We had a scrimmage that we were outrebounded and I was desperate for drills that were fun and instructional.

I found this drill and was hesitant to use it. At our next practice, I explained it to my girls, and the first few times they were a bit confused. After a while, they really got the hang of it.

What I found worked best (for us) was the three rebounders in the lane were 'defense' while the three around the perimeter were 'offense.' If defense ALL boxed out and got the rebound, then they moved to offense. If defense did not box out but got the rebound, they ran a lap. If the offense got the rebound, defense ran a lap and new defense came on.

I had a few times were the offense got the ball like, five times in a row. By then, the defense kept running around the gym, and would have to immediately come on the floor.

I thought this drill was great for many reasons. The first being rebounding and communication. My girls talked more during this drill (for 20-30 mins) than in an entire scrimmage. The girls LOVED this drill and found it fun. The fact that they enjoyed it was a positive, and by the end of the drill time I saw my girls doing many good things.

A few words of caution. I moved my girls in closer to simulate game-like shots. We also had a few encounters such as bonked heads, banged knees, and A LOT of falling. Nothing serious, but just be aware.

I would encourage ALL to try this drill, especially with younger kids.

I STRONGLY STRONGLY recommend this drill! Good luck!

Like
---
Coach Chris says:
10/24/2010 at 8:09:09 PM


I love this drill. When the players get use to it, you can have the defenders close their eyes and have the offence running around the 3-point line. Defenders open their eyes as the shot is called so they HAVE to locate the player before turning to the basket.
ENJOY

Like
---
Coachalexhogsett says:
1/22/2010 at 12:03:53 PM


I''m going to use this drill at our next practice. My team not only needs to improve on rebounding, but also getting back in transition so if the offensive guys don''t get the rebound on this drill, it''s coming back the other way down their throats. Gives you a little more incentive to get the defensive rebound as we coaches know everyone loves to play offense.

Like
1 person liked this.
---
dd says:
12/26/2009 at 7:42:28 PM


shshshhshs


Like
---
babyg says:
1/20/2009 at 9:50:13 PM


great drill i will give it a try for myself

Like
---
Coach Speedy says:
1/12/2009 at 5:42:10 PM


I"ve been looking for a good rebounding drill. I"m definite going to use it at my next practice.

Like
---
Show More
vickie says:
1/11/2009 at 10:20:11 PM


I like the idea that this drills forces the remaining defenders to communicate and be accountable to getting to their person! thanks for sharing will use it tomorrow in practice. :-)

Like
---
Coach Campbell says:
11/21/2008 at 9:51:35 AM


Great drill! I have been looking for a really good drill to get them scrambling. We are going to try it today. Thanks!

Like
---
Coach Galloway says:
10/24/2008 at 10:23:16 AM


Great drill!

Like
---
Joe Haefner says:
7/22/2008 at 1:27:10 PM


You can do the drill however you would like.

Like
---
CRH says:
7/21/2008 at 10:04:32 PM


Nice drill, does it stay live if the offense gets the rebound?

Like
---
Dani says:
1/10/2008 at 12:39:05 PM


Sounds like a great drill! Will definitely use it at tonight's practice. Thanks so much!!

Like
---
John says:
2/20/2007 at 2:13:13 PM


Great drill! Ialready tried it and the girls loved it!

Like
---
colin says:
2/15/2007 at 11:45:05 AM


Sounds good will give it a go.

Like
---
coach lease says:
2/15/2007 at 10:11:15 AM


great drill - I used this with no out of bounds and the offense went back up when they got a board - that way the defense had to work on secondary block-out after an O board. Awesome drill!

Like
---
colin says:
2/15/2007 at 12:51:11 AM


great rebounding/ boxing drill.will certainly incorporate it into our team's practice.thanks

Like
---
Danny Sturgill Jr says:
2/14/2007 at 5:26:20 PM


Great box out drill, I will use it at tonights practice.

Like
---
Taps says:
2/14/2007 at 1:20:04 PM


This is a very good drill and I'll teach my team going on tour to durban next month. Thanks!!!!

Like
---
coach isaac says:
2/14/2007 at 12:38:45 PM


this is a good one. i will use it at next practice thank you.

Like
---
Monika says:
2/14/2007 at 5:33:01 AM


Thank you for excellent drills.I'll use this at next practice.

Like
---
Kingsley says:
2/13/2007 at 12:29:47 PM


Wow! great idea for boxout drill.


Like
---
Judy says:
2/13/2007 at 10:55:10 AM


This is great. will use this w/my travel team

Like
---
Charles E. Long says:
2/13/2007 at 10:07:15 AM


EXCELLENT DRILL WILL USE THIS ALONG WITH OTHER DRILLS FROM YOU

Like
---