The No Paint Defensive Drill
This defensive drill is superb at instilling a team defensive mentality of keeping the basketball out of the paint. If you believe that penetration via the dribble or the pass is one of the deadliest offensive weapons, this drill is a must!
This is an incredibly effective all around defensive drill.
Instructions: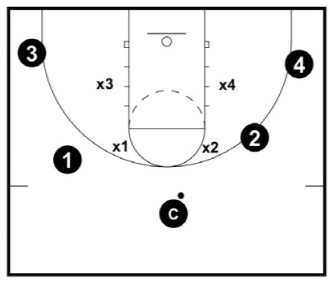 You have four offense and four defenders matched up. A coach or manager starts thedrill with a pass from the top.
The object of the game is to keep the ball from penetrating the paint (lane).
You can also put tape on the floor to extend the lane.
Offense gets a point for penetrating the paint on the dribble drive or pass.
Additionally, the offense can score another point by taking a three point shot that hits the rim. This forces defenders to maintain intense ball pressure.
You can change possession when a point is scored (in the paint), turnovers, and defensive rebounds. It's just a like a regular half court game, except the only way to score a point is to get into the paint.
The first team to 3 wins. Playing to a low number (like 3) makes it really competitive and keeps the intensity at the level you want.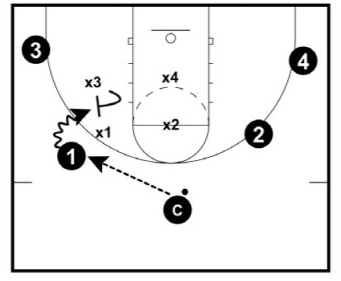 Progression: Excessive Fouling
The next progression in the drill is to begin awarding points if you are seeing excessive fouling and hand checking to stop the penetration.
You want to make them stop the ball with their feet moving, not their hands reaching.
You want your players playing hard on defense but playing smart. Fouling and putting people on the free throw line is unacceptable. It's not playing smart.
Man To Man Defense Video Resource:
We hope that you found this video clip and article helpful. Coach Jim Huber has developed some of the best defenses in the country.
In 2013, the only season he coached in the Nike EYBL (Elite Youth Basketball League), he led the league in defensive points per game.
The EYBL features many future NBA players and almost all the players in the league are Division 1 college prospects.
Not only are these techniques great for high school and college coaches, Jim Huber has coached at every level from 3rd grade to college.
Because of this unique experience, Jim gives invaluable tips specific to youth coaches and high school coaches throughout the video.
This is one of our highest rated products!
Many experienced coaches claim this is one of the best defensive videos on the market. You can see the feedback at the bottom of the product page.
If you would like to learn how to develop a great man to man defense and the step by step process, check out:
The Ultimate Resource for Man to Man Defense with Jim Huber
What do you think? Let us know by leaving your comments, suggestions, and questions...
Comments
Most Likes First
Oldest First
Newest First
---
Tyler Prall says:
4/12/2021 at 12:43:01 PM


can offense cut into the lane after pass?


Like
---
Cade says:
10/23/2020 at 1:09:49 PM


Hey Coach,

Was your defense using the packline strategy?

Like
1 reply
---
Jeff Haefner says:
10/27/2020 at 10:52:30 AM


The defense uses some of the concepts from the packline, but no it's not the packline defense.

Like
---
---