Competitive Finishing Basketball Drill Versus Weakside Help
When using competitive drills, you should try to simulate game situations. This drill is great for improving your finishing skills around the
goal
because every shot is contested and it simulates the weakside help sliding over to stop the ball.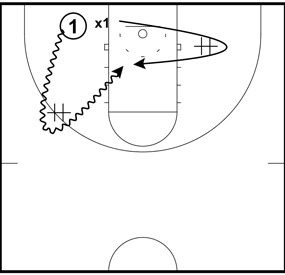 Both players start on the baseline. When the offensive player starts to move, the defensive player starts.

The offensive player dribbles as fast as possible around the chair on the wing, then drives to the basket to score. The defensive player sprints around the chair on the baseline, then tries to prevent the offense from scoring.

You can adjust the distance of the chairs to simulate different situations. For example, you might move the defensive chair closer to the basket so the players have to learn how to finish when the defensive player is already in a good defensive position. Or you could move the defensive chair out further to simulate the weakside help being on the move as the offensive player reaches the goal.
Points of Emphasis
Attack rim
- If the defensive player is still recovering, go straight to the rim. The defensive player will either have to stop and allow you to shoot the lay up or foul you.
Use side step or floater
- If the defense is stationary or a threat to block your shot legally, you can utilize a side-step, floater, or runner to finish.
Be creative
- Experiment and use different moves to help you finish.
Related Pages and Helpful Resources:

30 Competitive Game-Like Skill Building Drills
Improve Your Ability To Finish At The Rim With The Corner Finishing Drill
How To Make Basic Lay Ups and Finish At The Goal
5 Pro Finishing Moves for Guards - Lay Ups






What do you think? Let us know by leaving your comments, suggestions, and questions...
Comments
Most Likes First
Oldest First
Newest First
---
Justin Quarles says:
8/21/2012 at 9:20:21 AM


Coach these look like great drills i can't wait to drill them again is their video for these drills as well and are you coming out with more drills to help with player development

Like
---
tegen says:
5/8/2012 at 1:20:50 AM


i thing it will helpful for a team that demandes creative players!

Like
---
patrick moody says:
4/3/2012 at 5:24:16 PM


I purchased a video and it had a bunch of great drills for beginners. My 3rd grade girls really enjoyed and gained from the drills.

Like
---
Rob Neish says:
3/23/2012 at 1:54:54 PM


I tried this drill last night. The girls (age 12-13) were smiling and having a great time. Even better, they started taking it to the rim instead of trying to avoid contact with the defender. I really like this drill. It is simple yet effective, and brings out the competitive nature of young athletes.

Thank-you!

Like
---
zeko says:
3/21/2012 at 1:13:07 PM


Nice drill,kepp on going.

Like
---
Coach LeVale says:
3/21/2012 at 12:42:17 PM


Great information and drill. I really do appreciate all that you do for player development. This helps our tremendously. Please continue with these types of great drills. You are the best! Thanks again!

Like
---
Coach Kip says:
3/21/2012 at 11:42:49 AM


For the offensive player, should they keep the amount of dribbles to a minimum? You want the offense player to finish at the rim if the defense has not recovered. If the defense has recovered, the offensive shouldn't spend a lot of time dribbling. The offensive player needs to force the defender to make the play and not bail out the defensive by giving up the dribble. Great drill!!! I'll try it tonight.

Like
---
Joe Haefner says:
3/21/2012 at 10:56:25 AM


Thank you for the kind words! We're glad that we can help.

Like
---
thank you for all the drills and suggestions keep them coming. i want tocontine to get them says:
3/21/2012 at 8:49:11 AM


i love your newsletter. look forward to the drills and suggestions keep them going and coming to me thanks

Like
---