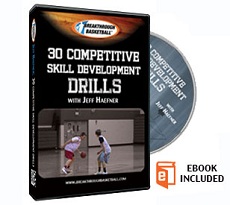 See All Reviews
Write a Review
30 Competitive Skill Building Drills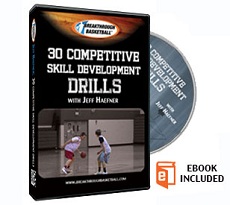 $39.00
In Stock
60 Day Money-Back Guarantee
110 minute DVD and 46 page eBook
You will be emailed access instructions and passwords upon order confirmation.
30 Competitive Game-Like Skill Development Drills - DVD & eBook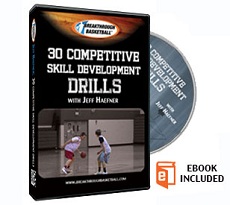 Dear Basketball Coach,
In this DVD you get over 30 competitive skill development drills that you can use in your team practice, off season workouts, camps, and clinics.
We believe that COMPETITIVE and GAME-LIKE drills are essential for player development. And they are essential drills that have really help us develop players.
The keywords are "gamelike" and "competitive". Many of the drills are 1on1 in nature, breaking down common situations that happen in a game.
What You'll Get in this DVD & eBook Package
The DVD includes:
Chapter 1 - Introduction
5 Essential Components of Player Development
How to Use the Drills
Who Should Use the Drills
Chapter 2 - Competitive Ballhandling Drills
This chapter includes 12 multi-purpose drills that have an emphasis on ballhandling. The drills will improve ball security, reduce turnovers, develop toughness, improve conditioning, and improve a player's ability to handle the ball under pressure. The drills are very game-like in nature, fun, competitive, and effective.
Chapter 3 - Competitive Finishing Drills
This chapter includes 12 drills with an emphasis on finishing near the basket. The drills will help players finish a higher percentage of lay ups, finish off the dribble, finish through contact, and become better scorers. The drills also serve other purposes and help players improve ballhandling, agility, ball screens, toughness, and conditioning.
Chapter 4 - Competitive Post & Perimeter Drills
This chapter includes 7 multi-purpose drills that have an emphasis on footwork, post moves, and perimeter moves. The drills will help improve footwork, ability to score in the post, and score from the perimeter. The drills also serve other purposes and will help players improve shooting, ballhandling, agility and conditioning.
Chapter 5 - Closing Thoughts
Building Your Practice Plans
Summary
Next Steps
Approx running time is 110 minutes.
46 Page Supplemental eBook
For your convenience, we have written step-by-step instructions and diagrammed all the drills included in the DVD. You can access the PDF eBook from your computer's DVD-ROM drive.
How the Drills Will Help You and Your Team
The drills will help you...
Cut down on MISSED Lay Ups
Reduce Turnovers
Handle intense pressure during games
Improve Ballhandling
Finish in the lane
Improve agility, quickness and endurance
Improve confidence
Develop better post players and inside scoring
Improve perimeter moves and footwork
Score more points and win more games
Why You Should Utilize Small-Sided Competitive Game-like Drills
There are FIVE main reasons why this type of drill is so important...
Reason #1 - Players can't hide in the drills
One thing you'll notice as you're watching this DVD is that players can't hide in the drills. They're forced to adapt and get better. In 5on5, 4on4, or even 3on3, it's easy for a player to hide. They can simply avoid the ball and avoid scenarios they're not comfortable with.
If you require all your players to run these drills, everyone will improve. There's no way to hide. When you put players in challenging drills, they are forced to get out of their comfort zone and will improve very quickly!
Reason #2 - You should "train the way you play"
Most coaches and skill development trainers agree that you should "train the way you play." This is one of the things we like most about the drills -- they're simulating what actually happens in a game versus something like dribbling through cones or shooting in lay up lines with no pressure. As you watch the drills, you'll notice they are very game-like and as a result they develop skills that translate extremely well into 5on5 games.
Reason #3 - The drills are fun!
Players really enjoy these drills. And as a result they work hard, show enthusiasm, they look forward to practice, and the entire team just has a better overall attitude for improvement.
Reason #4 - Multi-purpose drills that are efficient
These drills are very efficient. Almost all of the drills serve multiple purposes and allow you to get more done in less time. You'll even see some drills that allow you to work on ball handling, defense, conditioning, agility, and finishing lay ups all at the same time.
Reason #5 - Players get more touches
Finally, these drills give players more touches on the ball. In traditional 5on5, 4on4, and 3on3 games... players only get to touch the ball so many times. We believe from an offensive skill stand point, you want players to have a ball in their hands as often as possible. By utilizing these small-sided competitive drills, players get more reps, more touches, and as a result they get better faster.
We have found that the traditional drills will only take you so far. Once you reach a certain point you need to add competitive game-like drills that propel your players to the next level.
We personally run at least one of these drills in every single one of our practices and have found that they have helped us take the next level and dramatically speed up the development of our players.
Disclaimer -- These are Not for Complete Beginners
The drills on the DVD are versatile and effective drills for ALL levels -- youth, middle school, high school, and college. However, they are NOT for complete beginners.
For example, if you have players that struggle dribbling with their left hand in a zig zag type of drill or have players that can't make layups in standard lay up lines, you'll first want to get them capable of finishing in a non-competitive drill. Once players can handle those things, then you can add the competitive aspects and you'll find that these are going to translate extremely well into your games.
Watch This Preview and Sample Video from the DVD
Instant Access
In addition to receiving the DVD, you get immediate access to the eBook and streaming video.
After completing your order, you'll get access to a password protected area where you can watch the videos and download the eBook. The streaming videos require high-speed internet and can be viewed on any computer or tablet connected to the internet.
60 Day Money Back Guarantee
Just like any reputable bookstore or retail business, we have a 100% money back guarantee too.
If for any reason, your purchase is not what you expected, just send us a message and we'll give you a full refund. No questions asked.
"Claim Your Copy Now"
If you'd like to order by telephone, call us at 1-866-846-7892 (toll free).
If you have any questions, don't hesitate to contact us.
Customer Reviews
Most Helpful First
Newest First
---

Ralph Bonner says:


10/30/2012

at 5:40:38 PM


Coaches: I strongly recommend you look at buying the Competitive Skill DVD.
We all like to think our offenses provide great opportunities for easy buckets. We drill and drill in practice till things look good. And when the game is played, we scratch our heads at the number of missed lay ups. The chief reason is that during the game, our cutters are being challenged in ways that it's difficult to replicate in practice.
This DVD will teach you drills to get a high number of finishing reps around the basket in a very short period of time, allowing you plenty of time to work on other skills.
There are only two great plays in this world; Phantom of the Opera, and put the ball in the hoop. Check this video out, and get more of the latter.


This review is helpful
1 person found this review helpful.
---

philip Whitmore from Templeogue, None says:


10/31/2012

at 3:54:07 AM


A good offensive drill has to include a defensive stratigery to make it realistic so when it happens in a game suitation a player is well used to every possible variation of the defense. These drills have all of this and you can build on these basic drills by adding in your own variations to blend to your team or to coach for a particular problem or situation. Running the drills on their own was slow especially when you have a squad of 16 all waiting on their turn, so I set up different stations around the court with different variations of the drill to keep them moving and keep their minds active.

This review is helpful
1 person found this review helpful.
---

Coach B. from West Des Moines, IA says:


1/7/2013

at 10:41:02 AM


Excellent video and excellent drills. This video was very helpful at showing drills to improve finishing at the rim under pressure. The one on one drills were superb. Great tool for any coach to have.

This review is helpful
1 person found this review helpful.
---

Coach TC from Nittedal, None says:


1/23/2013

at 9:32:45 AM


I've received this DVD three weeks ago and started implementing some of drills right away (mixed team, age 11-13).

One valuable aspect of the competitive drills is that they already prove to be a great tool for assessing my players' fundamentals. In practice, we go back and forth, drilling fundamentals (such as footwork, dribling etc) first and then applying them in game-like situations, using the competitive drills from the DVD.

Here, we get a clear picture of where each player needs to improve and can go back to drilling fundamentals in a more focused manner.

I definitely recommend the DVD to all youth coaches who need to fill up their toolbox.

This review is helpful
1 person found this review helpful.
---

Troy Culley from Brixham, Devon says:


4/6/2013

at 5:29:51 AM


2 things:

First I was quoted a delivery of 10-20 days as im based in the United Kingdom, it arrived in 3 - fantastic service!!

Second this is a fantastic resource with a wide range of drills and a resource that any Coach will be able to find something of use in.

Very happy with the product and would recommend highly!

This review is helpful
1 person found this review helpful.
---

IVAN says:


10/31/2012

at 7:08:18 AM


This is a great DVD. The focus on playing under pressure is very interesting and useful.

This review is helpful
---

Wayne Swiger from Fairmont, WV says:


10/31/2012

at 7:26:10 AM


This is one of my best purchases that I have made in the last two years of coaching. I have implemented this into my practice the last week before our exibition game and I am impressed with how quickly the kids picked up on the training for these drills. Thanks Breakthrough Basketball for delivering an excellent training drills to help improve our ball handling, footwork, ect.

This review is helpful
---

brian from Ogden, UT says:


10/31/2012

at 10:24:30 AM


The first part of dvd was good, showing competitive ball handling drills (ch 2), and the next section was decent until it didn't have on the dvd what it said would be on it according to the index. In the index, it said there would be a drill for the reverse pivot sweep, and the drop step, but those were not on dvd. This was disappointing, as the drop step is a decent move, and I was looking for a drill or two to use.

This review is helpful
---

john from fordland, MO says:


10/31/2012

at 11:37:42 AM


jeff
this vidio is better than great,it not only
refreshed an old coaches memory but has really
helped my current team with some new drills
that they really enjoy.
thanks
john

This review is helpful
---

Brad from Sugar City, ID says:


10/31/2012

at 5:38:36 PM


Very valuable. I will fill up many practices with these useful drills. I have no doubt my players will quickly improve their game performance by doing the drills provided on the DVD.

This review is helpful
---

Tyson says:


11/1/2012

at 2:33:08 AM


Good paced DVD . I was very interested in the
competitive drills when I purchased this DVD and I was not dissapointed . The game like drills are very easy to teach and as the DVD says, the players have nowhere to Hide

This review is helpful
---

Rich Skaggs from Decatur, IN says:


11/1/2012

at 8:08:35 AM


Good drills on this DVD are very games specific. You are able to get a lot of reps and work your offense and defense simultaneously, all under game conditions. I was able to tailor the drills to wear most of the shots come in my offense, which was very helpful to my seventh and eighth grade players this product is very helpful and has some very good ideas on how to get things accomplished.

This review is helpful
---

Chris Page from LUFKIN, TX says:


11/1/2012

at 12:23:46 PM


Awesome DVD! It makes you open your mind to other drills that you may have forgotten. My athletes are getting better already and I hope to incorporate more of the drills into my practices as the season goes on. Thanks Jeff!

This review is helpful
---

Dennis from Dandenong from Berwick, None says:


11/1/2012

at 10:15:56 PM


This DVD shows a variety of competitive drills that are easy to set up, and modify. Have already used the Side Step with Partner with U12 Girls, with immediate benefit in executing protected dribble - which, when done without defence is hard for kids to see the point.

I can highly recommend the DVD and the values that will accrue.

This review is helpful
---

Derrick Pringle from Tumwater, WA says:


11/2/2012

at 11:14:30 AM


As a trainer and coach this drill are very help! The kids love them and always want to do more and more... Thank you for this exciting training aid. Awesome keep them coming.

This review is helpful
---

rap from chicago, IL says:


11/2/2012

at 1:43:30 PM


it is very important for Coaches who wants to improve the skill level of the kids they work with to have this kind of information and add it to their tool box. For me this DVD has expand my knowledge base and have set my heart on fire, can wait to share with some of the kids I train. Thank you.

This review is helpful
---

Josh from Hendersonville, TN says:


1/15/2013

at 7:28:56 AM


Good drills but not ideal for my inner city middle school team.

This review is helpful
---

Coach Brain from Kansas City says:


1/15/2013

at 11:02:40 AM


Great "game like" drills for any team. I use these for both a lower level school youth team I coach and a high level AAU team. They are ideal for getting those "tryout/practice players" to perform better in game situations. It doesn't happen overnight though...so pick a few and stick with them. Thanks Jeff as always.

This review is helpful
---

T. Rodriguez from Boston, MA says:


1/15/2013

at 1:37:05 PM


I encourage you to purchase this video, I have found it to be useful and beneficial to the youth on the team. Good skill & team development tool.

This review is helpful
---

j from Ljubljana, None says:


1/15/2013

at 5:09:28 PM


very nice drills that are very usefull in gamelike situations.

This review is helpful
---

Greg Robillard from Owatonna, MN says:


1/15/2013

at 9:48:09 PM


Coaches,
Excellent way to put players into controlled game like situations. Coaches of younger players will need to watch overly aggressive players and these drills provide ways of doing this to provide competitions in a controlled safe environment. I modify these drills to support offensive and defensive situations I am trying to enforce almost every practice.

This review is helpful
---

Coach Calabrese Chicago/Elgin Illinois from ELGIN, IL says:


1/17/2013

at 11:15:49 AM


Coaches, if you are teaching basketball. Please buy this CD. These drills are going to show you how to tech your players how to handle ball under pressure from a defense player. How to finish at the basket under pressure and how to create space!!!! Most points are scored in the paint with 5-8th grades. They need to know how to finish at the basket under pressure.

Middle school coaches Don"t Play Zones!!!

God Bless



This review is helpful
---

Kevin from Vancouver, BC says:


1/27/2013

at 2:46:24 PM


I've found this DVD - and all the other Breakthrough resources I am currently using - have allowed me to change my coaching focus in ways that are far more productive. The organization of the Breakthrough resources also lends itself to approaching practices on a thematic basis (e.g., defence, shooting, ball handling, etc.) and makes it possible to select drills and coaching points that overlap effectively.

This review is helpful
---

Carolyn Neumann from Milwaukee, WI says:


2/6/2013

at 5:36:37 PM


I haven't made it through every drill yet, but I really like what I've seen so far. The competitive ball handling and finishing drills are especially good for my middle school girls...who don't always deal with physical contact very well. The drills help them to practice situations that they will see in the game and teach them to be strong with the ball. I'm always looking for drills to help my girls advance to the next level. Thanks for the great ideas!

This review is helpful
---

Kids MVP Basketball says:


4/3/2013

at 8:37:56 AM


These COMPETITIVE drills are GREAT !

Traditional drills provide traditional results.

Would definitely recommend this DVD for any coach

or team that wants a competitive edge.



This review is helpful
---

Chris Rinewalt from Sachse, TX says:


1/31/2014

at 2:15:44 PM


I have recently used the drills in each of my last 3 practices for my 3rd & 4th grade girls team. They really enjoy them so it is engaging, but it is also good for getting used to making good offensive moves quickly to the basket with some contact.
It even gets the parents off their cell phones & actually watch their child practice. I look good too implementing new & different drills every practice.
Thanks!

This review is helpful
---

Paul from Pasadena, CA says:


1/31/2014

at 4:36:18 PM


I learned a lot from watching this video. The emphasis on working with defensive pressure is so important for developing excellent basketball skills. The fact that these drills resemble game situations is a boon for players. It's also fun for the players.

This review is helpful
---

Chris from Liverpool, NY says:


2/1/2014

at 7:28:05 PM


Coaches: A solid DVD that gives good ideas and drills that can be used in practices and offseason workouts. The info in the DVD will be a big part of our programs off season workout program.

This review is helpful
---

gary frank from Tampa, FL says:


8/29/2014

at 10:54:12 AM


Have only watched first 15 drills or so and really glad I purchased. I coach 9-10 and 11-12 year-olds and think the dribbling drills are excellent. Very excited to run these drills in next practice. One of hte best DVDs that I have watched.

This review is helpful
---

Brian Mason from Maple Grove, MN says:


2/5/2015

at 9:37:50 AM


I have watched the entire video and I am using many of the drills with 12 and 13 year old Boys travel team I coach. My boys love the competitive nature of the drills and in the process don't even realize how they are getting better. Any coach looking to increase player development can't go wrong with this product.

This review is helpful
---

Coach V from Westport, CT says:


3/31/2015

at 3:44:02 PM


I was very excited about dvd so as soon as I got it I took time to look through the entire thing. It has great ideas/drills but I can't say there's 30. It seems like a few great ideas with many variations. Unfortunately I will have to give this dvd a thumbs down-ish

This review is helpful
---

Mike from Marquette, KS says:


3/6/2016

at 10:22:02 AM


I like the drills and progressions shown on this video. It gives a variety of drills for guards and post but players have to have a certain skill level to implement the drills fully. The ideas behind the drills and the comments to make the drills successful are very helpful.

This review is helpful
---

Bob Wallace from Wentzville, MO says:


3/7/2016

at 10:29:37 AM


I thought this particular instructional video was very helpful, the breaking down and the explanation of every drill was great i thought. Great video for coaches who are still learning the coaching aspects of basketball plus great for coaches who knows basketball always good to learn something new.

This review is helpful
---

David Heidrich from Brisbane, QLD says:


3/9/2016

at 3:00:57 AM


When I receive the product I have paid for I will be quite happy to review it

This review is helpful
---

alon noy from jerusalem, None says:


7/20/2016

at 5:06:12 AM


this is the best. im using every single practice.


This review is helpful
---

Larry Ellis from Rogers, AR says:


3/29/2017

at 11:09:50 PM


Would have been better with defense

This review is helpful
---

Pete says:


12/23/2018

at 7:35:57 PM


I was looking for something to keep our drills fresh. This is exactly what I needed to see. There are several game like competitive 1on1 drills,which I feel relate to many game like situations. Each drill is easily adaptable to any offense. Get in competitive 1on1 game like situations from any spot on the floor (perimeter, post, mid-post, free throw line,etc).

This review is helpful
---

John H. from Hatfield, MA says:


12/5/2019

at 8:00:44 AM


This i sawesome stuff. I've coached many levels of basketball (preschool through JV high school) and the breakthrough resources are the best. The ebook is excellent with many, many drills to use in all facets of basketball teaching. The DVD is great too as it delves into making practice competitive and learning how to protect the ball and create players who aren't afraid on the court. Currently I'm coaching my daughter's 3/4 team and there are many drills in here I can use even at that level. I may need to modify them a little bit but the dvd is instructive and very useful! Worth the money spent as it will be a resource I can use for many years to come as my kids get older and I coach them.

This review is helpful
---