4 Spot Fastbreak Shooting Drill
Drill Purpose:
This drill is great to work on shooting off the fast break. You can do it by yourself or with a partner. We also show you how to work ball handling into this drill, so you can manage your time better.
Instructions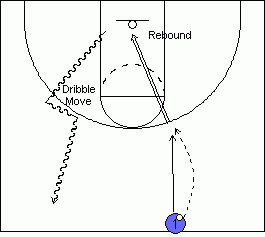 Start at half court with a ball.


Spin the ball towards the 3-point line area. Spin the ball high enough to get there in one bounce.


Run under the ball and step-into a jump shot.


Get your own rebound. If you miss, score a lay up.


When dribbling the ball back to half-court, perform a dribble move at the 3-point line. That way, you can work on ball-handling at the same time.
Once, you get back to half court, do the same thing again.


If working with a partner, you can have the partner position himself a little above the 3-point line and make passes to you as you start running from half-court.


Pick 4 spots on the floor and take a few shots from each spot.
** If you would like more shooting drills and shooting workouts, check out our
Attack & Counter Workout App
developed by NBA skills trainer Don Kelbick.

What do you think? Let us know by leaving your comments, suggestions, and questions...
Comments
Most Likes First
Oldest First
Newest First
---
Coach Mike says:
10/29/2018 at 11:04:59 AM


Hi,

I am coaching middle school basketball with kids who have a limited skill set.

Our biggest issue is creating/taking/making shots against the many zone defenses we see.

Are there a few easy drills we can work on so that we aren't stagnant when we are up against these zones?

Thanks!

Like
---
Allen says:
9/27/2016 at 6:55:39 AM


Amazing

Like
---
John E. says:
12/21/2012 at 5:58:55 PM


As a player I love these drills and just wanted to thank you for doing this. It has helped me greatly and I''''m sure it helped others too.

Like
---
Ken says:
7/27/2012 at 7:17:28 PM


Harold...

This drill teaches the players to be able to spot up for a 3 off the break.

You can always add something to this to suit your needs. I used one simple one and just added different things to promote good ball handling and passing skills along with the shooting. JMO

Like
---
Harold says:
7/27/2012 at 2:18:49 PM


Huh? This is awesome? How is this a fast break drill? Weak.

Like
---
R TARUN says:
6/16/2012 at 12:05:05 AM


awesome drills dude


Like
---
Rob says:
5/31/2012 at 1:01:18 AM


awsome drill all your drills I''m geting are so helpfull I''m new at the coatching seen so with out your drills I would have been lost thanks alot

Like
---
hustle kid says:
2/15/2012 at 8:32:54 AM


I like this drill because it improved my 3-points scoring abilities,so keep up the good work.heads up.


Like
---
Falcon says:
11/27/2011 at 11:29:55 PM


this is great!!


Like
---
dr.wisam says:
10/8/2011 at 7:52:40 AM


good exercise

Like
---
Show More
rohan says:
7/12/2011 at 12:34:09 PM


heyyy this site is great i read the fundamental.... any body can teach basketball from this....


Like
---
Making the Cut says:
1/3/2011 at 8:12:09 PM


Thanks very much. These drills are great for me to work on my own to improve my game.

Like
---
coach clevenger says:
8/30/2010 at 4:47:49 PM


good drill but instead of dribbling out, I added an outlet passer! So shoot your three pointer and/or make your lay up, get your rebound and then pass to the outlet and then run up the the half court and repeat the same thing on the other end.

Like
---
leonard says:
8/16/2010 at 10:13:06 AM


the drills is fantastis but can i get a regular updates in my mail.4 love d drills

Like
---
Juri says:
6/10/2010 at 1:41:08 PM


That's great drill to add absolutely to my website http://tipsanddrills.com/basketball

Like
---
(Censored) says:
2/24/2010 at 7:52:33 PM


Errr... You're drill is a little confusing and frankly it's very un-helpfull. I guess my jump shots might be a little better.... *cough*

Like
---
Chris Rebmann says:
10/22/2009 at 2:33:20 PM


Great drill, very helpful! Thanks

Like
---
Ross says:
4/25/2009 at 8:07:05 PM


Great drill, very helpful

Like
---
jim says:
4/21/2009 at 10:59:35 AM


uhm i rather take off a 100 % then a 100%-- I am good at shooting 3 pointer,lay-up,free throw, shooting anywhere and the best is defence

Like
---
jaime says:
4/17/2009 at 2:17:12 PM


i like the move but it needs a lil bit action or something in it


Like
---
andrew says:
4/5/2009 at 11:40:51 PM


Its anice move but it needs more info to explain

Like
---
kaylah says:
12/26/2008 at 7:15:47 PM


Wow this will really help getbas good as all the other boys on mybtem since I'm thenonly girl thanks a lot.

Like
---
wilson says:
10/27/2008 at 8:12:27 AM


Simple, good drill but effective.

Like
---
bhagat says:
10/3/2008 at 11:32:49 AM


very good drill ,
thanx

Like
---
alde says:
9/30/2008 at 8:21:29 AM


thank for giving tips...

Like
---
mario maiung says:
9/30/2008 at 4:21:36 AM


very helpful. thanx

Like
---
yanes says:
9/29/2008 at 7:10:46 AM


nice drill, easy but effective....

Like
---
Carl Saglimben says:
9/28/2008 at 1:42:54 PM


Your drill is easily set-up , easily understood and should pay huige dividends for he shooter....

Like
---
nelson says:
9/25/2008 at 7:30:21 PM


wow, its really a great help especially for those beginners coaches

Like
---
ED says:
9/25/2008 at 6:33:36 PM


This drill will improve individual shooting skill and team offense.

Like
---
Basketball player says:
9/25/2008 at 3:27:08 PM


Thanks...
With this drill I''ll shoot better than Reggie Miller, and dribble like Iverson

Like
---
Wayne says:
9/25/2008 at 12:37:51 PM


Great Drill for all ages, for boys and girls

Like
---
jay says:
9/25/2008 at 11:44:18 AM


excellent drill guys , thanks!

Like
---
mr.bently says:
9/25/2008 at 10:21:17 AM


good drill but it sounds a little complicated?!?!?!

Like
---
benz says:
9/25/2008 at 8:57:48 AM


thanks for a new drill, it's great...

Like
---
Moss says:
9/25/2008 at 6:35:36 AM


wonderful drill

Like
---
badi says:
9/25/2008 at 6:21:59 AM


You guys are the best! THANKS!

Like
---
ender says:
9/25/2008 at 5:55:02 AM


very useful drıll. you can do lots of thıng.thanks

Like
---
antony says:
9/25/2008 at 4:31:27 AM


thank you

Like
---
lloyd says:
9/25/2008 at 3:25:08 AM


great drill for shooting and beating the buzzer

Like
---
Bingo says:
9/11/2008 at 3:35:27 AM


I like this drill as both as coach and player

Like
---
vhenz says:
8/1/2008 at 9:29:15 PM


wow good drill....


Like
---