Improve Getting Open and Scoring With The 1 on 1 Multi-Spot Game
Improve your ability to get open, shoot, use proper footwork, make lay ups, drive to the basket, make moves on the perimeter, and finish in the paint. This drill will also improve your conditioning, stamina, and finishing from all angles on both sides of the court.
In the video clip from 30 Competitive Game-Like Skill Development Drills, Jeff teaches the drill.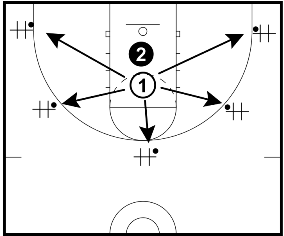 Five chairs on the perimeter outside the three point line. Each chair has a ball.
The offensive and defensive players begin in the lane, defense behind the offense.
Offense can use misdirection and go for any chair to pick up a "live" ball and try to score.
After the offense either scores the ball or is stopped by the defense, both offense and defense start from the lane again and offense picks another chair. This pattern continues until they have picked up all five balls.
Variations
Use a third or fourth player to rebound the ball and place the ball back on each chair. Continue the drill for a set amount of time (30 seconds). This makes the drill faster paced, more dynamic, and a better conditioner.
Points of Emphasis
Focus on sound perimeter moves.
Use change of speed and change of direction to get open.
If you're open, shoot the ball.
Related Pages and Helpful Resources:

30 Competitive Game-Like Skill Development Drills
Improve Your Ability To Finish At The Rim With The Corner Finishing Drill
The Missing Link To Player Development
Competitive One on One Fast Break Drills - 1v1 Attack

What do you think? Let us know by leaving your comments, suggestions, and questions...
Comments
Most Likes First
Oldest First
Newest First
---
LAKERS FOR LIFE says:
2/24/2021 at 8:59:07 PM


I am a seventh grader and is already getting scholarships does anybody have some legit hard drills I could use? And information for how to handle scholarships.

Like
---
Malacai says:
4/19/2020 at 5:17:48 PM


I am a player in 7th grade and I am hoping that my future career is Pro basketball player do you have any tips for the game.

Like
1 reply
---
Ken says:
12/12/2012 at 7:45:25 PM


I think that the time you allot for each one depends on how much time you have available for practice.

During our 2 hour practices we had two 10 minute shooting segments.... divide that time with how many drills you are going to use that day.

3 drills, I would give them 3 minutes utilizing 6 baskets from both sides - but I would probably only use 2 drills @ 5 minutes and change the drills each day.

Like
---
gabriel says:
12/12/2012 at 6:46:02 PM


thanks for all what you do to enable players to improve themselves.please i would that you give the time of each exercise.

Like
---