The Perfect Basketball System For A Football School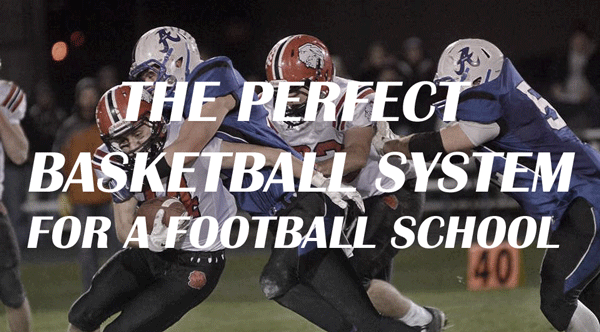 Coaching at a football school can provide some challenges for basketball coaches.
Scheduling conflicts can make it difficult to get your kids to practices, especially if football is their number one priority.
Football players might quit basketball to focus on football; thus, decreasing your number of quality basketball players.
Having one or two basketball players get injured during the football season can be a big detriment to your basketball program. This problem is compounded if you have a participation issue like mentioned previously.
So how can you turn these potential issues to benefiting your basketball program?
One... if you have basketball players that participate in the football program, they can greatly benefit from a great athletic development program provided by the football program. This makes your life easier.
However, I believe there is something that will have a bigger impact....a perfect basketball system that will benefit both the basketball and football programs.
Let me explain...
Football programs typically produce athletes. Athleticism is very important in basketball. As a coach, you can actually make good use of exceptional athletes with average basketball skills.
Typically, football coaches want offseason programs that make football players faster, quicker, and in better condition. The right basketball system can improve all of these things and benefit your football program.
I believe an uptempo basketball system would be a perfect basketball system for this situation.
Here's why...
Football players can be great defensive players in the game of basketball.

As mentioned earlier, football players are great athletes. A pressure defense can capitalize on their strength, athleticism, and aggressive nature... as you long as you teach how to play defense without fouling. And typically, they will come into basketball season with good conditioning.




A full court system is fun and can make your team deeper.

If your system is fun to play, you'll get more football players wanting to participate. Also, injuries won't hurt the team as much if you have depth.

More participants also leads to the next point...



Wear down your opponents.

When you have more football players participating (#2 above), the easier it is to wear down your opponent and break away at the end of the game.

You would be amazed at how often this happens. Last year, my dad assisted the varsity team at my alma mater. They used Keith Haske's Uptempo Basketball System - Pressure Defense, Pressure Offense.

I would talk to him weekly about the games. 90% of the time, they would simply wear down their opponents mentally and physically. And in the 2nd half, they would go off on a ten or twenty point spurt that would give them a victory. And that was typically the difference between winning and losing.



Football players don't have to be extremely skilled in basketball to produce a positive effect.

If they can simply play great defense, execute easy passes, and have some basic dribbling and finishing skills, they can be highly effective.

If you supplement your skilled basketball players with a bunch of very athletic players with average skills, you can be extremely effective with a full court uptempo system.




It's easy to convince the football coaches that the system will benefit their program... because it will.

My brother Jeff and my dad Dennis got the privilege of coaching an All Pro offensive lineman named Marshall Yanda who currently plays for the Baltimore Ravens. After his sophomore or junior year of high school, he was thinking of quitting basketball to focus on football.

College coaches who were recruiting Marshall encouraged him to keep playing basketball. They told Marshall that basketball was great for developing athleticism and conditioning for the sport of football.

Pete Carroll of the Seattle Seahawks and Nick Saban of Alabama have said similar things.
Now don't get me wrong... if you have a system that produces great basketball teams, there is probably little reason to deviate from your plan.
But if you're looking for something that might help you capitalize on your football program, I would seriously consider this idea.
If you're looking for a good system to install, check out: Keith Haske's Uptempo Basketball System - Pressure Defense, Pressure Offense.
Comments
Most Likes First
Oldest First
Newest First
---
Mike Kincaid says:
5/23/2017 at 8:23:58 PM


I used the Grinnell College "system basketball " philosophy. Uptempo, press fullcourt, and sub 5 at a time every 2 minutes!

Like
---