Keith Haske's Uptempo Basketball System - Pressure Defense, Pressure Offense
Dear Basketball Coach,
In this video set, you learn Keith Haske's uptempo defensive and offensive system that has helped him win over 650 games, reach the state championship 5 times with both boys and girls, and compile a 239-78 record (.753 win percentage) in his last 13 seasons.
It's a fun and fast-paced uptempo system that players love and wins games!


Benefits of Coach Haske's Uptempo System
Here are a few benefits of the Keith Haske Uptempo System...
1) Develops Depth
Coach Haske believes their system develops depth. After running the system for more than 15 years at 3 different schools, he always has deep teams. He believes that is because of "the system" and the way they practice.
2) Fun for Coaches, Players and Fans
Players and fans love the uptempo pace and intensity. The system draws large crowds and excitement. Lots of kids get to play. And parents rarely complain.
It's an intense and exciting style of play!
3) Unique - Difficult for Opponents to Prepare for
The system is unique. You don't see a lot of other teams run this and it requires other teams to use different preparation against you.
One of the biggest benefits to the pressure defense is that it looks different to the opponent each time down the floor, yet it's simple. The rules allow for this.
4) Wears Opponents Down
The constant tempo and pressure wears teams down. It's difficult for any team (good or bad) to stay disciplined for the entire game.
Keith Haske's teams are usually their best toward the end of game. They almost always make a big run in the 2nd half.
5) Flexible - Works Regardless of Your Personnel
As long as you have players that will work hard... you can succeed with this system.
You don't need size or a great amount of skill. Of course those things help! But it's a flexible system that works with small teams, tall teams, or almost any talent level.
6) Easy to Teach
The rules makes the system easy to learn. Middle school teams can easily learn the system and succeed.
7) High Scoring
The system creates pace, tempo, and gets you easy baskets. Coach Haske's teams usually average 80 points per game. Their highest season average was 90 points per game!
8) It Wins Games
Bottom line is the system gets results. It has worked with boys and girls and at 3 different schools.
It works against bad teams and good teams. Good teams might not turn it over as much, but they take quick shots and go faster than they want to. As a result, their shooting percentage suffers. Opponents get gassed and wear down.
It's fun, exciting, players love it, practices are fun, and it wins games! What more could you want?


Here's What You'll Get in this Video & eBook Package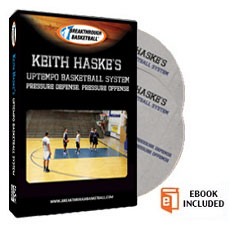 Video 1
Chapter 1 - Introduction to Keith Haske's Uptempo System
Coach Haske gives you an overview of his system, the philosophy behind it, and why it has worked so well for him.
Chapter 2 - Uptempo Pressure Defense
The uptempo system starts with a full court pressure defense. It's a hybrid defense combining both zone and man-to-man principles.
The press is based on "rules" that make it easy to learn and allow the defense to look different each time down the court...
This is one of the biggest benefits of the press -- opponents have trouble preparing and handling the pressure because it looks different each time down the court.
Most presses are somewhat predictable and players learn where traps will occur and what will happen. The Haske press is very unpredictable, very difficult to prepare for, and difficult to play against.
A few things you'll learn in this chapter include:
Overview of the press and whiteboard explanation
8 build up drills to teach the press
Step by step process to teach and implement the press
Trapping fundamentals
5 ways to get more deflections and create tempo
Keys to the press and mistakes to avoid
When and where to trap (timing)
Chapter 3 - 5 on 5 and Press Alignment Rules
Now that basic rules and concepts have been taught, coach Haske shows the press in a full court 5 on 5 setting.
You learn the initial press alignments and responsibilities when the ball is entered. You'll learn how to defend all types of press break entries (including 4 across, 3 up, 2 up, and 1 up).
You'll also see the press in live full court action.
Chapter 4 - Blue, White, and Gold Press
There are 3 different presses -- blue, white, and gold. They are very simple to learn because they all follow the same rules -- but the initial set up looks different. This makes your opponent think you have 3 completely different presses and also allows you to dictate the tempo.
By changing from blue, white, and gold press during the game.... you can dictate the tempo, keep the offense guessing, and cause more turnovers.
Chapter 5 - Pressure Defense - Handling Situations
In this chapter, you'll learn how to handle various situations when pressing...
How to defend "1 up" press breaker
How to defend and handle great point guards
How to defend clear outs
How to handle uptempo teams
How to handle teams that delay and slow things down
How to handle the reversal pass
You'll learn how to handle almost any situation and turn it into your advantage.
Chapter 6 - Half Court Uptempo Defense
The press falls back into half court man defense -- however the pressure and tempo remains high!
Coach Haske wants to maintain the pressure and tempo at all times. So they utilize sound man to man principles while pressuring and occasionally trapping in the half court. They try to eliminate ball reversals and force the opponent out of their comfort zone while maintaining an uptempo pace.
In this chapter, Coach Haske goes over his key teaching points and philosophy for half court man to man defense.


Video 2
Chapter 7 - Pressure Defense - Whiteboard Review
In this chapter, Coach Haske reviews the rotations and key elements to the press on the whiteboard.
Chapter 8 - Pressure Defense Q & A
In this chapter, Coach Haske answers a few common questions about the press.
Chapter 9 - Pressure Offense: Transition
On the offensive end, Coach Haske maintains the uptempo pressure. They are in a constant attack mentality while taking good shots and playing fundamentally sound.
They use a unique fast break and half court system that gives them good looks at the basket early in the possession.
It's a high scoring system. At the varsity level, Keith Haske teams usually average 80 points per game. Their highest season average was 90 points per game!
One of the best things about the system is that it develops depth and players lacking skill can contribute. As long as players are willing to work hard, they can contribute to the team.
In this chapter, you will learn:
The keys to their transition offense
How to quickly enter the ball
How to immediately initiate the offense without delay (constant attack mode)
5 simple quick hitters to run out of transition (without delay)
How to run and attack off missed baskets
Rebounding out of transition
Chapter 10 - Transition Offense: Quick Hitters
In this chapter, you'll learn 7 quick hitters you can run out of your half court or transition offense.
Chapter 11 - Half Court Motion Offense
Coach Haske runs a simple motion offense that is based on good spacing, ball movement, and getting the ball inside via the post or dribble drive.
You will learn:
How to improve players' decision making
How to improve ball movement and get more reversals
How to get post players open
Keys to good offense
The basic rules for their motion offense
Chapter 12 - Offense Drills
This section gives you 7 breakdown drills for teaching motion offense and skills. This includes post drills, guard drills, and screening drills.
Chapter 13 - Zone Offense
Learn how Coach Haske attacks all types of zones including the 2-3, 1-2-2, and 1-3-1. He demonstrates their zone offense and gives you a few quick hitters for attacking the zone.
Chapter 14 - Final Thoughts


32 Page Supplemental eBook
For your convenience, we have documented the rules, responsibilities, philosophy and drills included in the videos. We also documented a step-by-step process for you to implement the defense.


About Coach Keith Haske
Some of Coach Haske's accomplishments include:
30+ seasons of basketball coaching experience, both boys and girls
Over 650 career wins
5 State Championship appearances with both boys and girls
7 Final Four appearances at state finals
Regarded as one of the most successful basketball coaches in Northern Michigan history
Took his Traverse City St. Francis High School team to the Michigan State Finals in just his second season
Compiled a 239-78 record (a .753 win percentage) in 13 seasons at Charlevoix


Who Should Consider the System?
Middle school, high school, and college coaches can take something from this system. A high level travel team could also use this system.
Coach Haske has successfully implemented the system at the middle school and high school level for both boys and girls.
In fact, the first time Keith Haske coached a girls team, he implemented the system with the freshman, JV, and varsity. The program went 60-0 for the year!!! They didn't lose a game until reaching the state championship where they lost to a very talented team out of Detroit.


What's the Investment?
The price for the 240 minute video and 32 page eBook is $69.
Don't Decide Now
(60-Day Unconditional Money-Back Guarantee)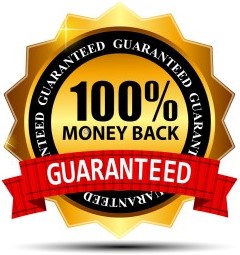 Keith Haske's Uptempo System is backed by our 60-day unconditional money back guarantee.
So take the next 60 days to go through all the videos and try them out with your team.
If you don't feel like this system is the right fit for you, just email us for a full refund.
No questions asked. No hassle. No worries.


Click the "Join Now" button below to gain immediate access to Keith Haske's Uptempo System.
Once you click the "Join Now" button, you'll be taken to the "My Cart" page to review your order.
From there, simply click "Proceed to Checkout" and you'll be taken to our Secure Payment page.
Just enter your contact and billing information to complete your purchase, and we'll email you all access instructions within a few minutes so you can dig into the videos!
To your future success!
Joe and Jeff Haefner
Click Here to immediately claim your copy.
Customer Reviews
Most Helpful First
Newest First
---

Justin Quarles from Gilbert, AZ says:


3/8/2014

at 9:01:24 PM


Very impressed with this video this is one of the first system my girls got the hang of right away. Practices are a lot more competitive now because of this whole system I can't wait to use this is some games this season

This review is helpful
1 person found this review helpful.
---

SCRnRCoach says:


3/9/2014

at 4:42:34 PM


This is a great DVD pack. Coach Haske does a great job of breaking down his entire system. The defensive package alone has more than enough information to make it a worthwhile purchase. I would have bought the offensive package separately if they were sold that way. There is tons of info here, and if any coach is considering make a move to an uptempo system, look no further than this set. It is geared for the high school level where many other types of systems that are similar are built around having several shooters in the line-up, Coach Haske utilizes a slightly different approach that focuses on getting the ball to the basket.

This review is helpful
1 person found this review helpful.
---

Mark Gunkel from thorne bay, AK says:


4/6/2020

at 5:57:36 PM


I am a high school boys varsity coach in Alaska. I purchased these videos 4 years ago, my first year coaching varsity ball, and immediately implemented everything. Our team had been performing poorly and won only one game the previous season. We had young kids and they bought into the uptempo system and loved to run it. We immediately started turning heads and giving teams much more competition. That first year we won two regular season games and went into the Regional Tournament seeded 7 out of 8 teams and finished 3rd. The next year we won more games, last year we went 15-1 regular season, won the regional tournament for the first time in the history of our school, and took 4th in State. This year we went undefeated in regular season, won the regional championship game by 30 points and were favored to win State before the virus cancelled the State Tournament.

Everywhere I go people are talking about that fast Thorne Bay Team and what a pleasure it is to watch them. The boys love to run. The love to play this way, everyone - even opposing fans - love to watch us. I've risen to local hero status.

I was selected 1A Boys Coach of the Year this year for the State of Alaska.

Hats off to Coach Haskins for this system - believe it, trust it and go all in. In time it will pay off big.

Feel free to email with any questions on how we implemented it. Mark Gunkel mlgunkel@gmail.com

This review is helpful
1 person found this review helpful.
---

Coach R from Hixson, TN says:


6/4/2020

at 12:21:03 PM


I bought these videos a couple years ago, and I watch a ton of basketball videos. As far as impact towards what I'm trying to accomplish w/ my kids, I would put these at the head of the class. Coach Haske's principles, although beautifully simplistic, are covered in extraordinary detail, from work-up drills to 5-on-5 action. Beyond his mastery of the match-up zone press, there is much more to glean, to include his transition offense w/ secondary actions and his half-court mindset.

I like these so much, that if he did any other videos, I'd buy them immediately with no questions asked.

This review is helpful
1 person found this review helpful.
---

Bruce Determann from Glidden, IA says:


3/2/2014

at 5:45:11 PM


This dvd set was very well put together. The instruction is thorough and works with a progression of drills that will make this much easier to implement at any age level.

This review is helpful
---

Tyler Whitcomb from Grandville, MI says:


3/7/2014

at 8:14:36 PM


What a great DVD! Very detailed and easy to follow. I live in Michigan and have heard about Coach Haske and his system of basketball for a while now and when I saw this video it was a no-brainer to buy. I was again very impressed with this video and impressed with another Breakthrough Basketball video.

This review is helpful
---

Colton St. Peter from Dillon, CO says:


3/9/2014

at 1:39:10 PM


As the newly appointed head-coach for the high school girls program, my assistant and I were looking to implement a high-intensity, up-tempo type of playing style on both the offensive and defensive ends where the players essentially run the game.

We very much like the full court press and the variations that force the opponents to prepare for different looks, while our players can continue to practice the same defensive rules.

The DVD is very detailed with a nice progression through the drills and a great explanation by Coach Haske. Considering he uses 12-14 players in his games, it gives the players great incentive to work hard through the practices, even if they are end of the bench players as they are almost guaranteed playing time. I was able to by the set on sale for $34, though in hindsight, even the regular price of $59 is a great deal.

This review is helpful
---

Daniel Freeman from Charlotte, NC says:


3/9/2014

at 2:14:09 PM


I wish that he had gone over his defensive stances and the reasons for his particular stances and did he have different stances for certain ares of the court.. i really enjoyed his demeanor and his way of explaining the reasons for doing what he did. Well worth the money. Thanks for putting the dvd on sale.

This review is helpful
---

Dustin Sullivan says:


3/10/2014

at 9:44:01 AM


Very well done and very much worth the money. I would have like more on the half court defense as their was very little there and I would have like more on the movements of their guards in their half court motion. This is being picky though as the dvd is about transition and pressing and those areas are full of content and very good content at that!

This review is helpful
---

JJ Stiles says:


3/10/2014

at 5:16:51 PM


I loved it! It makes me think that all of my other coaching DVDs are nothing compared to this one! If you are going to become a rookie coach, like myself, this is an easy system to start with. I think you will win a lot of games. For high school coaches, I would recommend telling your feeder schools to use this system. Even though this is a girls system, I think it will work for boys too.

From an up and coming coach

This review is helpful
---

Jimmy S says:


3/11/2014

at 12:37:37 PM


The DVD set was put together very well. I love this complete system and what it brings to the table. I appreciate the rules that are within the system and everything/everybody has a purpose. Every player can contribute to the team's success!! If you are looking for an uptempo system this is it!

This review is helpful
---

Heath H from Cherokee, IA says:


10/21/2014

at 2:38:43 PM


Very well put together DVD set!

Has anyone implemented this system fully?

This review is helpful
---

Bill Darroca from Fishers, IN says:


10/22/2014

at 3:42:41 PM


The first basketball DVD that greatly exceeded my expectations. Coach Haske answers all the nagging questions that are usually omitted in other DVDs when explaining a system. Breakthough really nailed this one.


This review is helpful
---

Ryan From Eagle Grove, IA from Eagle Grove, IA says:


11/13/2014

at 3:01:14 PM


I have really enjoyed learning about this uptempo system. I am fully implementing the system this season with my boys team.(Varsity, JV, and Freshmen) Time will tell how it works for us but I can tell that my boys will enjoy it. Hopefully that translates into wins.

This review is helpful
---

Travis from Frostburg, MD says:


12/16/2014

at 1:27:42 PM


Great System! Great DVD! Implemented with my high school girls team this year, and have seen immediate results. DVD details very good progression drills to teach the system.

This review is helpful
---

Patrick from Valley, NS says:


12/26/2014

at 11:13:21 PM


I still have yet to receive this product so I am hoping it will arrive at some point and I can give an actual review as requested

This review is helpful
---

Ted Ferreira from Toronto, ON says:


12/29/2014

at 9:38:37 AM


Lots of detail in the video. Love the way Coach Haske breaks down the sections of the presss. Excellent break down drills and love the "Rules".

This review is helpful
---

Mike from Omaha, NE says:


12/29/2014

at 10:30:04 AM


I really like the offense in this system. I've been looking for a better way to incorporate our post players into a motion offense and this is definitely the best approach I've seen. It is simple enough to teach to our 5th grade team while having the option to expand as they improve. We have adopted some of the press concepts now and plan to fully implement before next year. Great DVD!

This review is helpful
---

Jon from ayer, MA says:


12/31/2014

at 7:15:26 AM


I coach a team of 7-12 grade boys team and have been running an uptempo and pressing system but Now have a system to refine and define my system and the pressing drills are going to be very helpful. Thanks for great information.


This review is helpful
---

Lee from Seattle, WA says:


1/14/2015

at 11:32:56 AM


Like that it seems simple to implement

Fundamental rules that can be applied so there is no confusion

This review is helpful
---

Darren from Townsville, QLD says:


10/27/2015

at 1:47:32 AM


Good to find a press system that is easy to follow and is developed around simple rules for kids to follow.

Looking forward to implementing it.

This review is helpful
---

Jesse says:


11/3/2015

at 12:48:59 PM


Good video; however, I don''t like the video if you don''t have athletic bigs. Some good drills. I like using the offense with variations of dribble drive.

This review is helpful
---

William Hambric from OGDEN, UT says:


11/6/2015

at 11:43:36 AM


I really like his DVD. I am leaning more about the game and we are going to put this in this season to our program. This is my second season has the head girl's coach. Coach Haske's program is helping me see how to be a better coach.

This review is helpful
---

Bruins1 says:


12/8/2015

at 12:28:29 AM


The DVD is superb, as is Coach Haske's explanation for developing the system and its appropriateness for nearly every level. I am using it for the first time this week, so we'll see how it works live, but in practice the full court press generates a lot of turnovers.

This review is helpful
---

T O'Berry from Homerville, GA says:


2/5/2016

at 8:34:22 AM


Good DVD for the money. I recommend it for coaches who want to improve their offense.

This review is helpful
---

Tim from Gray, ME says:


3/1/2016

at 11:09:52 PM


I enjoyed Coach Haske's methodical instruction of how he builds his teams press. Liked the drills and terms he uses build to 5v5 very quickly. Worth the money

This review is helpful
---

Jeff from Piermont , NH says:


4/2/2016

at 8:43:21 AM


Alot of helpful drills that will make your team or player better

This review is helpful
---

Robert from Fond du Lac, WI says:


4/11/2016

at 1:33:47 PM


Coach Haske does a great job of laying out the blueprint to implement his system. However, I would have liked more information in the DVD on his offensive philosophy to create his uptempo system. But defensively, he does a great job. The DVD is worth the money.

This review is helpful
---

Steve says:


7/31/2016

at 9:55:47 AM


Excellent info. Walks you thru installing this info. Explains in very simple terms.

This review is helpful
---

Tim from Rochester Hills, MI says:


10/22/2016

at 8:09:06 AM


I'm a high school coach in Michigan with a small but very quick team. I am looking forward to installing this system to help make our program more competitive.

This review is helpful
---

Tiffany from La Mesa, CA says:


11/10/2016

at 10:16:15 AM


I found this DVD pack to be useful as a blueprint for installing an uptempo system. Coach Haske does a great job of teaching an overview of his system in progressions.

This review is helpful
---

Morrie Cook from Barwon Heads, Vic says:


11/11/2016

at 1:53:06 AM


Excellent stuff and a great way to play basketball.

The drills were helpful in terms of breaking down the total concept.

Players appeared to have high levels of personal skill which made me wonder how the coach would approach things if he had a team with numerous skill deficiencies.

This review is helpful
---

Phil says:


11/11/2016

at 10:06:02 AM


Really enjoyed this DVD. Had a lot of great information and was presented very well. I plan to use many ideas with my high school program.

This review is helpful
---

Shaka says:


11/23/2016

at 3:08:00 PM


Great video

This review is helpful
---

Jon says:


3/12/2017

at 3:49:05 PM


I am very pleased with these videos. Coach Haske does a nice job of breaking down the press into drills that simulate real game speed. I have been able to take my current offensive and defensive philosophies and make adjustments to closer emulate this system. On another note, the customer service from Breakthrough Basketball has been wonderful. I had a damaged case in shipping and the company quickly had a new case to me.

This review is helpful
---

Keith henman from Charmouth, None says:


5/25/2017

at 4:31:13 AM


This is just excellent. I've have quite a collection of Books DVD's and downloads of this type of pressure. Best I've seen. Congratulations Coach and Breakthrough basketball. A job well done.

This review is helpful
---

Dan Sullivan from Verona, KY says:


6/8/2017

at 7:39:44 AM


I purchased this product because I was looking for something that would fit my team for this year. It is exactly what I needed. Love the ideas. Very workable, and it makes sense. The adjustments are not especially difficult and I think it will be a very fun way to play. I am looking forward to fully implementing this work.

This review is helpful
---

Coach J from San Jose, CA says:


6/14/2018

at 12:07:57 AM


This product is an excellent. Progressions and breakdowns are easy to follow and make sense. Concepts are easy to adapt to your team's repertoire. I look forward to utilizing our depth and boosting our scoring while running the system! Our JV girls team picked it up pretty quickly.

This review is helpful
---

Gregory from Abbot, ME says:


11/24/2018

at 3:54:50 PM


The defensive system is a true system with effective breakdown drills. The offensive system is much less comprehensive. I suspect that if you play uptempo on d, the fast pace offense may fall into place somewhat. I am trying this defensive system this year. Regardless of the outcome, I'd say it was worth the money. Of course I'd buy many more products like this if they were more reasonably priced like say 20 each. Or I'd consider a subscription service to all videos. I digress, I'm happy with my purchase.

This review is helpful
---

Andy Flynn from Mcleansville, NC says:


12/10/2018

at 10:51:12 AM


The DVD and system is very easy to understand. I only implemented just a few parts of the system in our practice and the girls love it. I heard some of them say it was the best practice of the year. I'm still learning it myself. I think the best part of this purchase is the support I have received from Jeff Haefner. He has been so gracious in answering my questions and giving me pointers on making it even easier to transition my team. I will say, it did help tremendously that my girls had a good understanding of man to man defense. That is very important. I would recommend this to anyone that wants to increase their depth and have more fun within the team.

This review is helpful
---

Todd Kellison says:


6/9/2019

at 9:16:06 AM


I really like the defensive style that coach Haske has implemented with his teams. I am a 5th and 6th grade girls basketball coach and I plan on teaching our kids this defensive system as time allows. I am a more defensive minded coach and almost exclusively play man to man which is why I love this defensive system. It is based on man to man principles with proper rotations and help side defense in the full court and trap, trap, trap when opportunities are right! Pressure defense, force turnovers and get easier offensive opportunities! That's a formula I like!

This review is helpful
---

Darren from Wimberley, TX says:


10/1/2019

at 9:58:07 AM


Great video with plenty of explanation about theory and details about application. Helped convince me that we can be much more aggressive on both ends of the floor.

This review is helpful
---

Kp says:


10/7/2019

at 8:01:47 AM


I ordered it on September 19 and it's October 7...still haven't received it...so I'm disappointed in the service.

This review is helpful
---

mike jaramillo from Chimayo, NM says:


7/20/2020

at 1:41:39 PM


I like Keith Haske's simple explanation of his uptempo style of basketball. I got many ideas that I plan to use this season. Thanks again.

This review is helpful
---

Mario Javier Delgado Jr from Edinburg, TX says:


8/7/2020

at 3:15:55 PM


Personally enjoyed the video, it was very interesting and thoroughly explained. I most appreciated was the drills to help develop the players for the uptempo system...I haven't put this any into practice due to COVID-19 at the moment BUT I am definitely excited to implement this uptempo system when basketball resumes, whether this year or next.

This review is helpful
---

BJ Aldridge from francesville, IN says:


10/12/2020

at 7:55:55 AM


I have been looking for a very long time to find a product like this one! Coach Haske does a phenomenal job of explaining in great detail while keeping it very simplistic. He takes the time to make sure that everything is covered and explained using written, verbal and visual examples. I really enjoyed the video and will be installing this system with my team.

This review is helpful
---

Barry Miller from New Providence, PA says:


10/22/2020

at 9:16:51 AM


So far so good, i do not have a team yet and i like to work around my teams strengths first rather than try to force them to do things they are not good at. this will give me the drills to make them better and faster which is what i was looking for.

This review is helpful
---

Preston Wilson from Birmingham, AL says:


2/2/2021

at 12:44:54 PM


Undefeated season!!! Opponents can barely figure out if we are in a man press or zone press. If you dribble you run into a trap, if you passes it's stolen, and if you beat it the first the second half your best 5 are worn out. I hate seeing the frustration across the court, and I normal pull out when up 30 and try to play the bench but they all really play even minutes and receive the same training. 15 happy parents, 15 happy students athletes, and 12 wins.

This review is helpful
---