1-2-1-1 Diamond Press Drill: Half Court Overload
Here is a simple drill to help you improve your 1-2-1-1 diamond press.
This drill reinforces the importance of covering more ground on the press by adding an extra offensive player. If your team can guard six players in practice, they can certainly guard five in the game.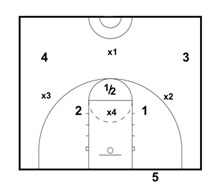 The safety is taken out for this drill. There is an extra offensive player at the free-throw line. Play stops when the ball crosses half-court or when the defense forces a turnover.
In this drill, be sure to emphasize the fundamental components of your 1-2-1-1 defense. Communication, anticipation, and fundamentals will be critical in order to run this overload drill effectively.
What do you think? Let us know by leaving your comments, suggestions, and questions...
Comments
Most Likes First
Oldest First
Newest First
---
BIG TINO says:
11/20/2013 at 3:38:40 AM


true that diamond press makes defense covering more playing ground,press the other team and causes turning over.you can also run fast to the opponent basket,but it improves more players.so you need goods ones,let's emphasyze fundamentals and physical condition

Like
---
Big sky says:
9/17/2013 at 4:44:51 AM


Great Easy drills for the players to understand I love the concept

Like
---