The Defensive Drop Step Is Dead -
Do This Instead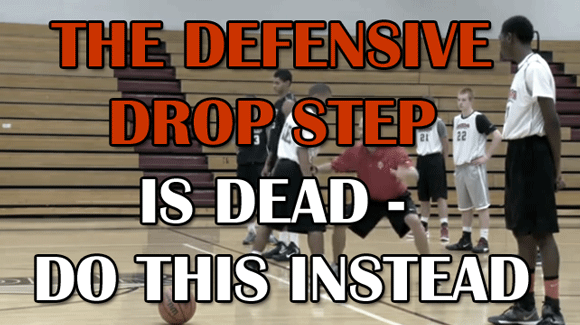 In the video clip below from the Man To Man Defense Video, Jim Huber presents an alternative to the traditional defensive drop step.
We believe that this alternative will make you a better on-ball defender. You will be able to change directions more quickly and keep the offensive player in front of you.
Here are some key points from the video for the Quick Turn:
Keep your shoulders square to the defender when you reposition your feet.

Keep your shoulders and hips level - Minimal bobbing.

Don't jump up - it should just be a quick turn of the feet with your feet leaving the ground minimally.
How The Pivot In The Defensive Drop Step Can Make You Slower
One issue not addressed in the video about the defensive drop step is the pivot foot. We believe that a pivot should only be used on the offensive side of the ball when it is required to avoid a traveling violation.
Why?
When you pivot, it creates friction against the ground.
Does friction make you quicker or slower? Naturally, friction slows you down. When on the basketball floor, you want to transition quickly.
The repositioning of the feet in the quick turn creates a plyometric effect which helps you explode in the opposite direction.
Also, if you study great on-ball defenders, you will notice that they use "quick turns" during the game rather than the traditional defensive drop step.
Learn How To Develop Your Defense From The Ground Up
If you are serious about learning how to develop a great man to man defense from the ground up, be sure to check out Jim Huber's Man to Man Defense Video. It shows you step-by-step exactly how he develops his man to man defense.
Jim has had success at many levels utilizing the defensive drills and principles taught in the DVD. In 2013, he led the Nike Elite Youth Basketball League in defensive points per game. This league features the top high school players in the country and many future NBA players such as LeBron James, Kobe Bryant, Carmelo Anthony, Derrick Rose, Anthony Davis, Jabari Parker, Andrew Wiggins, and many more.
Related Resources:
Why You Should Not Step Slide On Defense
Jim Huber's Man To Man Defense
What do you think? Let us know by leaving your comments, suggestions, and questions...
Comments
Most Likes First
Oldest First
Newest First
---
Aaron says:
12/3/2015 at 1:59:35 PM


Whatever works for the individual in order to gain a competitive advantage, I say. It''''s a different approach to obtaining position. Two disadvantages of using the quick (jump) turn are: (1) two feet are leaving the floor which means that you can''''t changed direction in mid-air despite it''''s only an inch from the ground and (2) it takes more energy to jump turn versus a drop step. Like I said before, whatever works for the individual since everyone has different abilities.

Like
1 reply
---
Joe Haefner says:
12/3/2015 at 2:52:42 PM


I agree that you should do what's right for the individual and there is hardly ever a hard, fast rule for all.

However, I do have a different viewpoint on these two statements from studying video of basketball and other sports. And also from consulting with athletic development experts who know a lot more than I do.

"(1) two feet are leaving the floor which means that you can''''t changed direction in mid-air despite it''''s only an inch from the ground and"

In order to explode in the other direction, you need to have your feet pointing straight ahead. If your back foot is pointing in the opposite direction of your slide due to the pivot, you will have little force. Try doing this yourself, you will quickly see what I'm talking about.

So either way, you have to turn your feet straight ahead.

One way, you can pivot which causes friction as is slower.

Or you can quickly turn your feet without the pivot.


"(2) it takes more energy to jump turn versus a drop step. Like I said before, whatever works for the individual since everyone has different abilities."

In the article, we state...
Don't jump up - it should just be a quick turn of the feet with your feet leaving the ground minimally.

This is not a jump, but more respositioning of the feet.

It's actually easier to produce force when you do a quick turn and re-position the feet. Thus, making it easier and less energy.

Also, the slight plyometric effect produces a rubber-band effect that allows you to propel sideways with less effort.

If you anchor your back foot, you will be much slower.



Like
1 reply
---
Brandon says:
12/3/2015 at 5:16:23 PM


The key for my team was one the beginning phrases "when the offensive player gets a step on you". In which case he or she is already committed to driving that direction and thus you only need to quickly change in one direction. When you initially try this you'll notice things about a pivot you never realized. When players pivot they always seem to be playing from behind and there is a pause after completing pivot before first step. I've notice since teaching this not only is the pause gone but the aggressive nature of the move alone seems to inspire a faster step out of it. Last thing I noticed without the swooping motion of the backside arm the hands also seem more in tune with feet and are in a better position to attack or disrupt. Any way it works great for my team I encourage giving it a try.

Like
---
---
---
Brandon says:
12/3/2015 at 9:28:39 AM


Do this!! After 6 years of coaching youth basketball and having to compromise my interior defense and teams ability to be in good position to rebound because of compensating for our inability to stop even just above average point guards from penetration one on one. After 2 weeks of practicing this method our on the ball defense has improved dramatically making every other aspect of our defense improve which of course equals more fun and more wins. I've just purchased Mr. Huber's full man to man system and gonna start implementing it tonight. Thanks a million!

Like
---
Chris says:
12/3/2015 at 9:01:56 AM


I can see this taking some time to get used to as kids will most likely be out of position and end up reaching to keep their man in front of them or be off balance and end up falling.

Like
1 reply
---
Joe Haefner says:
12/3/2015 at 9:19:06 AM


Actually, we found this to be more natural for players. If you study movement during games of all sports, this is a natural movement pattern.

At the same time, we like to break down the skill to drill and become better, so you don't experience the issues you mentioned.

Like
---
---