Site Search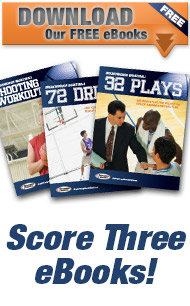 Free Newsletter
Get our free monthly newsletter with new drills, plays, scoring tips & coaching strategies... Signup for our newsletter
Q & A Forum
Experienced coaches are ready to answer your basketball questions! Visit our forum


Subscribe for FREE and Get 3 eBooks…
Just for subscribing to our free newsletter you'll get these 3 eBooks for free…
72 Basketball Drills & Coaching Tips – 136 page eBook.
21 Basketball Tips & Tricks for Players – 20 page eBook.
32 Winning Basketball Plays – 96 page eBook.
Plus you'll get ALL updates to this website delivered to your inbox for free. Over 100,000 other coaches, players, & parents have already subscribed.
We will never send you spam or share your email address, guaranteed!
Close
Coaching Basketball - Off Season Strategy & Planning
Here are some articles on off season strategy & planning...
Basketball Season Is Over - 15 Surefire Coaching Tips to Make Next Season More Successful!
How To Prepare Offseason Coaching Meetings
Off Season Shooting Trick: This is When You Improve Your Team's Shooting Percentage
Offseason Motivation & Developing Passion For Youth Basketball Players
Offseason Tips For Players
7 Tips For Developing Offseason Workouts
Can Summer Basketball Lead To Injuries, Emotional Burnout, and Diminishing Skills?
How Do You Handle The Heartache Of A Season-Ending Loss?
Preseason Coaching Tips
Chapter 1 - Putting Together Your Play Book (Choosing Your Offense & Defense)
Chapter 2 - Build Your Master Practice Schedule
Chapter 3 - Creating Practice Plans
Chapter 4 - Developing A Pre-Season Workout Program
Chapter 5 - Time Management Tips: How Do You Find Time To Teach Everything?
Chapter 6 - Getting Your Players Off To A Good Start and Excited For The New Season