Site Search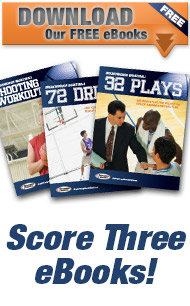 Q & A Forum
Experienced coaches are ready to answer your basketball questions! Visit our forum
Do You Check Stats at Half Time?
- By Jeff Haefner
I was watching the Bulls get crushed by the Celtics in a play off game and had to wonder if the coach knew how many turnovers they committed.
The Bulls had 18 turnovers at half and that was the difference in the game. The coach should have known that turnovers were killing the team after the first quarter. He should have shared the numbers with the team and demanded changes.
I don't know if Coach Del Negro said anything to his team. Maybe he did but I doubt it. I do know that the next game the Bulls committed only 8 turnovers in the first 3 quarters and they won! I give them credit for making the adjustments for the next game. But in first game (when they got crushed), they failed to make the adjustments.
Do you
check stats
at the quarter and/or half time?
Your team might be committing more turnovers than you think. Or the offensive rebounds might be having a bigger impact than you think. Statistics give you clear insight into aspects of the game that you might overlook.
I suggest that you consider the following stats at quarter and/or half:
Defensive Rebounding %
Offensive Rebounding %
Turnovers
Shooting %
Fouls (whole team and which players are in foul trouble)
Free throw attempts – both sides
What stats do you check? Leave your comments below...
Coaching Resources
Basketball Statistics - Using Stats
Breatkhrough Stats App - Track Stats on Your iPad
How To Win at the End - Volume 1
- Over 35 situational end of game plays.
Comments
Most Likes First
Oldest First
Newest First
---
CoachSchills says:
7/14/2015 at 10:05:41 AM


I started using halftime stats this past season about 6 games in. Was fortunate to have a few parents who were former youth coaches. Created my own template and gave them a clipboard. Players responded well to the information because it was more than me just "telling" them, it was 3rd party accurate.

We tracked offensive, defensive rebounds for both teams, free throws, turnovers, second chance points, and assists.

With live stats, in particular when things were not going well, the team responded with better focus on those key areas if they were out of balance or not where the teams goals and expectations were. Players would talk to each other about these team stats and they helped coach and motivate each other on the floor.

Provided that I have a willing person, will always have these stats available.

High School - Sub Varsity Head Coach

Like
1 person liked this.
---