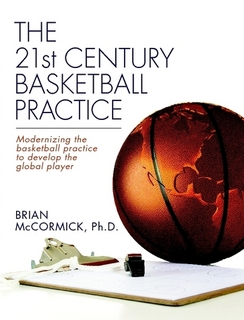 See All Reviews
Write a Review
The 21st Century Basketball Practice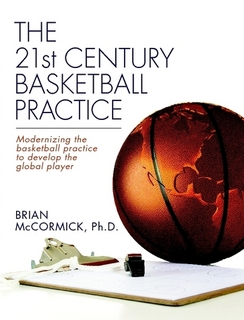 $19.99
In Stock
60 Day Money-Back Guarantee
The 21st Century Basketball Practice (Paperback, 91 Pages)
By Brian T. McCormick, PhD
New and Improved Approach to Basketball Practice
In this book, you will learn a new and perhaps a better approach to conduct practices.
You'll get 26 dynamic practice drills for player improvement, daily practice template, annual practice plan schedule, and a warm up routine.
If you visit gyms across the country, you'll see that basketball practices have changed very little over the last 30 years. However the game and the culture of basketball has changed considerably.
Brian McCormick gives you a new and fresh outlook on how to run your practices for today's player and today's game.
Every coach spends a lot of time in practice. And it's common knowledge that PRACTICES are where you improve and develop a great team.
So it only makes sense for coaches to continually look at ways to improve your practices. This book helps you do that.
You may not agree with all the ideas in this book. But we guarantee this book will give you numerous ideas to utilize, help you refine your practices, and make your practices better.


Research Based Methods
The 21st Century Basketball Practice is based on practical experience and scientific research aimed to create the best learning environment for youth basketball players.
This book's purpose is not to encourage everyone to coach the same. The goal is to encourage readers to examine their coaching in an effort to improve the productivity of their practice.


Who Should Consider this Book?
This is a book that we HIGHLY recommend to all coaches from the beginner youth to the professional level.


How the Book Will Help You
In the 21st Century Basketball Practice, you will learn how to…
· Get more out of your players
· Keep practices fun
· Improve your players IQ
· How to motivate players
· How to run more efficient practices
· How to keep players challenged and in their "sweet spot" so they maximize development
· How to utilize dynamic teaching methods that better transfer to games
· How to incorporate small sided games
· What to do and what to say at practice
· When to get rid of the "my-way-or-the-highway" approach
· Why common drills create fake fundamentals
· How to create active listeners
And last but not least…. the biggest benefit is that your practices will transfer improvement to your games more effectively!


Table of Contents
Here's what you'll fine in the 91 page paperback book…
Introduction
The 21st Century Player – The Global Player
The 21st Century Practice
Questions for Reflection
Chapter 1 - The Practice Environment
Learning Environment
Coach's Response to Mistakes
Mistakes and Learning
Conclusion
Questions for Reflection
Chapter 2 - Basketball: A Dynamic System
Dynamic Systems Theory (DST) in Basketball
Teaching with the Dynamic Systems Approach
Conclusion
Questions for Reflection
Chapter 3 - Skill Development
Fundamentals
Improving Performance
Fundamentals and Games
Conclusion
Questions for Reflection
Chapter 4 - Practice Design
Block Practice Versus Random Practice
Contextual Interference
Representative Task Design
Three Categories of Drills
The 1-Second Advantage
Creating Meaningful Drills
Conclusion
Questions for Reflection
Chapter 5 - The Practice Plan
Recovery and Acquisition
Planning the Practice
Conclusion
Practice Plan Template

Team Meeting
Initial Activity
Practice Activities
Final Activity
Sample Practice Plan (Freshman Boys)

Competitive Cauldron

Implementation
Positives
Negatives
Future Ideas

Conclusion
Questions for Reflection
Chapter 6 - Instruction and Demonstrations
External and Internal Focus of Attention
Explicit Versus Implicit
Questioning
Demonstrations
Conclusion
Questions for Reflection
Chapter 7 - Feedback
Types of Feedback
Feedback Traps
Conclusions
Questions for Reflection
Appendix I - 26 Dynamic Practice Drills For Player Improvement
Appendix II – Dynamic Warm Up Routine
Customer Reviews
Most Helpful First
Newest First
---

Paul from Racine, WI says:


2/4/2015

at 11:23:57 PM


Packed full of ideas that can help you improve the way you approach practice and develop young players. Many of the coaching concepts and practice drills will resonate with breakthrough basketball readers. I like McCormick's cerebral style.

The book gets stronger with each chapter, and I would highly recommend.

This review is helpful
---

Dan Sullivan from Verona, KY says:


3/6/2015

at 2:21:34 PM


Overall, I would say that I was very disappointed in this book. It could have been that my expectations were too high, but I thought I would get more out of it. Whenever I read a book, I type my notes (from what I underlined throughout) and save them. My notes ended up being a little over 3 pages. I found the "Competitive Cauldron" to be very interesting, and may be somewhat applicable to my future coaching. I am a 26-year veteran coach, and I always want to stay in touch with new ideas. A lot of this book seemed to be "just play and learn." While I think that might work in some very rare instances, I certainly don't believe that is the usual method. I know I may fall under the "classical / traditional" category as described in the book, but I didn't find enough material to make me switch over completely.


This review is helpful
---

Kenny Williams from Fort Worth, TX says:


7/25/2017

at 11:09:57 AM


The 21st Century Basketball Practice is a must read for the coaches of today. This book is designed to instruct and challenge those entering the profession or those who have spent the majority of their adult careers coaching already. Coach Meyer at his coaching academies at David Lipscomb University in Nashville used to admonish coaches to learn it all, even though you cannot use it all. I highly recommend this book whether you agree with its premise or not: It is designed to challenge why you do what you do and encourage you to do so with a Growth Mindset.

This review is helpful
---