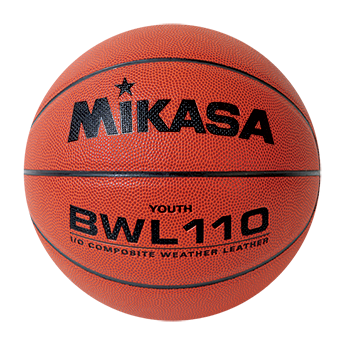 See All Reviews
Write a Review
Mikasa 27.5" Composite Leather Basketball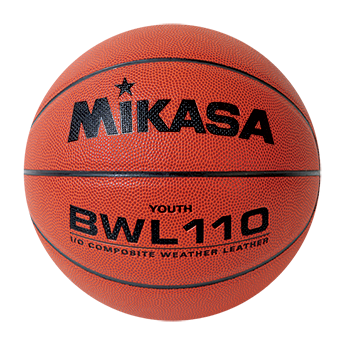 $29.99
In Stock
60 Day Money-Back Guarantee
Size 5 - 27.5"
Weighs 17 ounces
Premium Composite Leather cover
Wide channel
Designed for Indoor and Outdoor Use
1-Year Warranty
Appropriate size for players between ages of 9 and 11 years old.
Product Review and Description by Coach Jeff Haefner
The Mikasa BWLJ110 is 27.5 inches and weighs 17 ounces. It's considered a size 5 youth basketball. We recommend this size to players between the ages of 9 and 11 years old.
The ball has a very nice composite leather cover. It's a step up from the entry level rubber basketballs. The composite leather has a great feel, nice bounce, and excellent quality.
You see a lot of players this age using the heavier size 6 women's basketball or sometimes even the full size 7 men's basketball. However those basketballs are too heavy for 9-11 year olds to shoot with proper form. When using the heavier ball they compensate by dropping their shoulder, hands near their hip, and sometimes thumb (flick) the ball with their guide hand. These bad shooting habits are very difficult to break when they get older.
So we recommend that kids use lighter basketballs as long as possible.
This happens to be the basketball my daughter uses (she's currently in 4th grade). She loves the ball -- and the only gripe I have against this ball is she only wants to use this one now (she doesn't want to use the other ones anymore)!
In summary, this is an excellent size 5 composite leather basketball that we recommend for players between the ages of 9 and 11 years old. If you're looking for something a little more affordable, I recommend the
Mikasa premium rubber basketball
.
Customer Reviews
Most Helpful First
Newest First
---

Dan Sullivan from Verona, KY says:


3/6/2015

at 2:23:22 PM


While I have not used the basketballs yet, I am looking forward to that opportunity when we hold basketball camp this summer. We will also host some open gyms for some of our younger players, and we will put them in use there. Thanks to Jeff and Joe for this recommendation.

This review is helpful
---