Site Search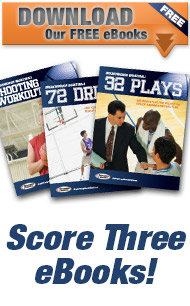 Q & A Forum
Experienced coaches are ready to answer your basketball questions! Visit our forum
Basketball Workout eBook & Audio Course -- How to Develop Effective Basketball Workouts and Outstanding Players!
In this Course You Get 51 Player Development Drills and 9 Sample Workouts, 4 Audio Recordings, and 4 PDF Transcripts
Dear Basketball Coaches and Players,
We have developed a new course to help basketball coaches and players develop effective workouts and improve their skills.
The course includes MP3 audio recordings, development drills, and sample workouts supplied by Don Kelbick. Don is a 30 year veteran coach and an expert when it comes to player development and workouts. He has trained NBA level players like Raja Bell, Joe Johnson, Bruce Bowen, Carlos Arroyo, and many others.

Even though Don works with very high level players, he also works with young players. And this product is meant for coaches and players of all age levels - all the way from youth to the pros.



Don with pro players Rob Hite, Raja Bell, and Guillermo Diaz

This is a NO hype product! And even though Don teaches very unique training strategies, you get very practical and REAL advice from a coach that works with NBA players and knows what it takes to be successful. You won't find any magic pills or false promises in this product. You'll just learn what it REALLY takes and what REALLY works from a coach with 30+ years of real world experience.
Here's what you'll get in the Basketball Workout Course
Component #1 - Player Development Workouts (General Advice)
This component includes a
52 minute audio interview
with Don Kelbick giving general advice on how to develop effective workouts. It also includes a
22 page PDF transcript
of interview.
Here's the table of contents:
Introduction
Evaluating Your Season (Page 3)
Importance of Recovery (Page 4
Offseason Schedule (Page 4)
Why Skills Deteriorate With Too Many Games (Page 5)
The Key To Improving Basketball Skills (Page 5)
How Long a Typical Workout Lasts (Page 6)
More on Offseason Workout Schedule (Page 7)
Breaking Bad Habits, Working on Weaknesses & Maintaining Strengths (Page 8)
The Crucial Elements To Avoiding Burnout (Page 8)
The Importance of Teaching Players & How To Handle Missed Shots (Page 10)
Great Tips on Adjusting a Player's Attitude - How Don Changed His Attitude As a Player (Page 11)
The Difference Between Mixing Skills and Multi-Tasking and Why So Many Players/Trainers Do It Wrong (Page 12)
The Use of Ball Handling Skills To Warm Up - Components of a Workout (Page 13)
The Key To Preventing Boredom in the Workouts (Page 13)
An Example of a Screen Day Workout (Page 14)
Incorporating Passing & Post Play (Page 15)
How To End Every Workout (Page 16)
Why So Many Players Fail With Offseason Workouts (Page 18)
Ballhandling Tips For Youth Players (Page 19)
Top Dribble Moves To Practice (Page 20)
Component #2 - Youth and Middle School Player Development Workouts
This component includes a 60 minute audio interview with Don Kelbick giving general advice on how to develop effective workouts for
youth players
. It also includes a 27 page PDF transcript of interview.
Here's the table of contents:
When You Should Work With Players (Page 4)
The Most Important Things to Consider For Youth Players (Page 5)
Motivating Players & The Tricks Behind Getting Players To Change Their Shots For The Better (Page 5)
The Problem With The 3-Point Shot (Page 6)
Working On The Right Things (Page 7)
My Way or The Highway? (Page 7)
Priorities in Working With Youth Players - Footwork, Shooting, & Ball Handling (Page 8)
Should We Specialize Post & Perimeter Players At A Young Age? No! (Page 8)
Simplifying Footwork (Page 9)
How To Progress Youth Players With Shooting (Page 10)
Do Not Minimize The Importance Of Layups & How To Multi-Task While Practicing Layups (Page 11)
Incorporating Footwork With Shooting & The Importance Of Understanding Terminology (Page 12)
Continued Progression On Shooting (Page 13)
Why You Should Work On Shooting Close To The Basket (Page 14)
More On The 3-Point "Wall" (Page 15)
Warming Up With Ball Handling (Page 16)
More On Footwork & Shooting Progressions & Drills (Page 18)
Teaching Players How To React On The Court & Playing Through Mistakes (Page 19)
The Differences Between Playing For Larry Brown and Mike D'Antoni (Page 20)
"The Longer I Coach, The Less I Coach" - Mikey Brey of Notre Dame (Page 21)
Coaching Is Not About The X's and O's (Page 22)
What Age Should You Start Working With Basketball Players (Page 22)
What Really Ticks Don Off With Youth Coaching (Page 23)
How Many Kids To Workout With (Page 23)
Why It's Important For You To Be A Little Crazy When Working With Youth Players (Page 24)
Summer Basketball And How Kids Play Way Too Many Games (Page 25)
Component #3 - High School Player Development Workouts
This component includes a 57 minutes audio interview with Don Kelbick giving general advice on how to develop effective workouts for
high school players
. It also includes a 21 page PDF transcript of interview.
Here's the table of contents:
Length of Offseason Workouts & When To Stop (Page 3)
Planning Your Offseason To Avoid Burnout & Why The Rest Of the World Caught Up With the U.S. (Page 4)
How To Avoid Driving Kids Out Of The Gym (Page 4)
How Many Times A High School Player Should Workout Per Week (Page 5)
Multi-Tasking and Mixing Skills (Page 6)
Bell-Shaped Workout Curve (Page 7)
Quality versus Quantity - The Importance of a Plan (Page 7)
Made Shots & Attempted Shots - Which One Do You Base Your Workout On & When To Use Each One As a Measuring Stick (Page 8)
What Kind of Shots To Practice With High School Kids? (Page 9)
How To Organize Workouts For The Player Who Practices Twice a Week (Page 12)
Handling Players Involved With Other Sports (Page 12)
Adjustments To a High School Workout (Page 14)
The Use Of Ballhandling To Warm Up (Page 15)
How To Incorporate Footwork & How To Add Variety (Page 16)
Adjusting Your Workouts To Include Different Types of Shots (Page 17)
Why Every Coach Is Different & Why You Need To Adjust Your Coaching Based On Age Level (Page 18)
The Astonishing Story Of a Team Who Played 150 Games - Not A Good Idea!! (Page 18)
How The NBA Simplifies & High School Overcomplicates Offenses (Page 20)
Component #4 - College and Pro Player Development Workouts
This component includes a 51 minute audio interview with Don Kelbick. The first 30 minutes covers Don's advice on how to develop effective workouts for
college and pro players
. The remaining portion of the interview covers general questions for all levels. It also includes a 27 page PDF transcript of interview.
Here's the table of contents:
Difference In Working With Youth & Pro Players (Page 3)
Going Hard - Differences Between Youth & Pro Players (Page 4)
Contact - Are You Creating It or Avoiding It? (Page 6)
Building the Mentality & Drills Specifically For Strength & Intensity (Page 7)
How To Create Variety In Workouts (Page 10)
Warm Up Drill That Takes 140 Shots! (Page 11)
Mixing Shooting and Ball Handling and How Not To Do It (Page 13)
Post Players Versus Wing Players (Page 13)
Simplifying Basketball For All Levels (Page 14)
Teaching Youth Players - The Overload Philosophy (Page 15)
Why Being A Perfectionist May Be a Bad Thing (Page 17)
Stop A Player When He Does Something Right? (Page 18)
Correcting A Consistent Mistake (Page 20)
Progressing Youth Players With Ballhandling (Page 22)
Integrating Combination Dribble Moves (Page 24)
Why Don Does Not Believe In Teaching Jump Stops When Shooting (Page 25)
Component #5 - 62 Page eBook with 51 Player Development Drills and 9 Sample Workouts
This eBook includes 51 player development drills that Don uses in his workouts. All the drills include visual diagrams with simple instructions next to each diagram.
The eBook also includes 9 sample workouts to give you some ideas on how to structure good workouts.
Using the Audio Recordings in this Product
Unlike many of our other products, most of the information comes from audio. The audio is provided in MP3 format so you can listen on your computer, Ipod, in your car, while going for a walk, and so on.
That's the nice thing about audio. You can turn time that is normally unproductive (like driving in the car) into productive time learning about basketball. That's our favorite thing about audio. You can learn almost anywhere and you can listen over and over again.
We just wanted to give everyone a heads up because this is a different way to learn and devour the information. You simply listen.
Is this Course Designed for the Off Season?
Yes, this basketball workout course works perfectly for the off season - but it can be used any time of year. In fact, the advice in this course should be applied during the
off season
and
during the season
.
You see, this course is all about developing better players that are highly skilled. These skills will improve a team's defense and offense. That's why it's important to develop players with workouts and drills all year round.
For most players, the majority of their skill development is done in the off season. You know what they say, "Teams are made from November to March -- players are made from April to September!" However, good coaches develop skills and fundamentals during the season too.
So in reality, you should apply the drills and workout ideas in this course all-year-round.
Will the Workouts Help Point Guards, Post Players, and Perimeter Players?
Yes, this is one of the most unique aspects of Don's workouts. He conducts workouts so they benefit players in all positions. He has a unique way to simplify the footwork and teach the skills so they are universal for all positions. You will essentially be learning the same techniques that he teaches professional NBA players.
Should Youth Players Use these Workouts? What Age of Player should be using this Course?
As you can see from the "components" listed above, we provide audio about each specific age level - youth, middle school, high school, college, and pro.
There are certainly differences at each age level. However, the core of what Don teaches does not change. He teaches the exact same footwork to NBA players and 8 year old youth players. The big difference is the intensity, rate at which they learn, and capacity for work.
All age levels will benefit from these workouts and training drills.
How Much Does it Cost?
The price for the entire package (which includes an eBook with 51 drills & 9 sample workouts, 4 MP3 audio interviews for each age level, and 4 PDF transcripts of each interview) is
$19.95.
60 Day Money Back Guarantee
Just like any reputable book store or retail business, we have a 100% money back guarantee too.
If for any reason, your purchase is not what you expected, just
send us a message
and we'll give you a full refund. No questions asked.
"Claim Your Copy Now"
If you'd like to order by telephone, call us at 1-866-846-7892 (toll free).
If you have any questions, don't hesitate to
contact us
.
Sincerely,
Jeff Haefner
Joe Haefner
Breakthrough Basketball, LLC.
Customer Reviews
Most Helpful First
Newest First
---

Leroy Jordan from Swaynsboro, GA says:


6/12/2009

at 1:32:54 PM


As a head coach for over 20 years at the same highschool you begin to teach players who parents that you coached and sometime it is good and bad, the bad part is some of the parents think you are now out of touch with the game, I have no douth that i am out of touch but this type of program has given me the insurance that i needed it is good stuff a lot of good ideas and new drills has helped me greatly thanks

This review is helpful
---

gary fraser from melbourne, victoria says:


6/15/2009

at 6:26:27 AM


there is something in there for all coaches at all levels the amount of information there is nothing short of a classic.again another quality product from breakthrough basketball. will go over it several times more and glean the parts i dont know and brushup on the rest.what i cant understand is how you can justify such a cheap price for such a gem of a product.
gary fraser.
melbourne.
victoria.
australia.

This review is helpful
---

Stefan says:


6/15/2009

at 7:35:15 AM


Hello,
your new e-book on off-season workout is (as I expected) great.
Unfortunately, I already knew many exercises like the ones by Kevin Sutton.
It would be great if you could provide pictures or a video for the stretching exercises (with basketball).
Thank you for the great work you do, you're the best homepage on basketball exercises!

This review is helpful
---

Eran from macapa, amapa says:


6/15/2009

at 9:06:32 AM


As usuall the ebook is clear and helpful.
Like Stefan, i also believe that some short videos would have helped to better visualize the important points of each exercise, although i understand that this would have raised the price of the product.
Thank you for another great product.

This review is helpful
---

TJ says:


6/15/2009

at 9:31:25 AM


I'm always looking to find information on how to make all my clients better basketball players. When a product is produced with information and drills from a skill development coach that works with pro players I become very interested. A lot of the information from the audio and transcripts reassured me that I am doing things the right way. As for the drills I am always looking for new drills to keep my clients interested and away from boredom.

This review is helpful
---

ulovsports says:


6/15/2009

at 10:40:01 AM


good book. Would like more video's because sometimes its hard to get effect of drill off reading on paper.

This review is helpful
---

Jay from Springbrook Twp., PA says:


6/15/2009

at 3:24:58 PM


I can't give a fair analysis yet because I have not rerviewed everything. But, what I have seen so far is very good. I have implemented a number of things from this website and they are working fine. I have been coaching for 28 years and I do find new things here. As for Leroy Jordan. Leroy please keep in mind that parents know everything. Most have no clue what a walk or double dribble is. They think they are the basketball gods. Also, Schools are a funny situation. Alot of time a school will hire a clueless coach because they are a teacher. Very few schools have a real coach.
So, you just keep plugging away and keep educating yourself. In America everyone expects instantaneous miracles. Players take time to develop and if parents can't understand that, it's just to bad. A big problem with school teams today is that there is too much parent involvement. Personally I don't have parent issues to deal with. I would just tell them to take their kids elswhere. But it is a issue all over the country. This website has alot of good information and products available for coaches at all levels. After I get through the info I recently got I will be back.
Leroy, you hit a button. don't get frustrated just keep coaching. Be a student of the game and it will all work out.

This review is helpful
---

Coach Jason Thomas NC Eagles Nat. Champs 09 from Pittsboro, NC says:


7/6/2009

at 11:19:07 AM


Great stuff we use a lot of the drills in our workouts and it has paid off we took the title at the usssa Nat.Championship for the 09 season. Thanks for all you do to help us teach the game of basketball,and become champions!!!!

This review is helpful
---

Jeff from Winona, MN says:


7/6/2009

at 11:49:06 AM


Well Done. I always feel that if I can get 1-2 good ideas from a clinic, DVD, book, or what you've done here, it's worth the investment. Covers every level and it has credibility due to the expertise and experience of Mr. Kelbick. I hope that at sometime, he'll consider putting these workouts into a visual package. As for Breakthrough Basketball, I look forward to your e-mails. You guys "get it" when it comes to youth basketball!!! I've been involved in this game for 45 years as a player and coach from 3rd graders to Division 1 athletes, and at the youth level, it's about FUN, FUNDAMENTALS, and beginning to learn "how to play" the game.

This review is helpful
---

dirk verhamme says from Kortrijk, west-flanders says:


7/6/2009

at 4:02:09 PM


I order the book and I' m still reading some cpaters but from the audio I can 't reach it. I can't hear anything. Always when I go to a clinic I hope to pick up 1 or 2 drills who are better than the ones I use. I was expecting the same with your book and ....
I was lucky because I found 4 new drills who seems better of different then mine. So I try to use them already in the coming month of august.


This review is helpful
---

Bernard from Welkenraedt, Belgium says:


7/12/2009

at 7:22:52 AM


Thank you for all you are doing to teach bestbasketball. Even if english is not my language, I can say those tips are helpfull for me and my players. I feel already excited being on court next month and trying to run some of your drills.

This review is helpful
---

ivan says:


7/28/2009

at 1:35:23 PM


Don shared good ideas. However the audio information overlaps very often and it is not a clear frontier between what and how it should be teach in the different levels. I know that Don said the workouts are the same for every level, but the book was advertised as a workout for every level, and I don't really see that reflected in the final product. Anyway, I believe you are doing a great job and Don is a great teacher.

This review is helpful
---

harold says:


8/5/2009

at 7:00:34 AM


It is agreat piece of information/
Woujd be better if live action could supplem,ent jt.

This review is helpful
---

Gina Andre-Monte from Rochester, NY says:


11/24/2009

at 8:21:53 AM


The material has been useful for my Training business. It's great to have more footwork and shooting drills to add to my workout sessions with my clients. I would like to see a video of someone performing the pivots and counters to be clear on how to instruct a drop step pivot into a inside pivot counter. Lastly, thank you for such a reasonable price for specific, ready to use material.

This review is helpful
---

Alvis says:


11/24/2009

at 10:06:29 AM


The book has a lot of great information. It is always great to have more shooting and footwork drills. I wish that there was live video of the clinic to go along with the audio, but nevertheless the material is very, very informative, and useful.

This review is helpful
---