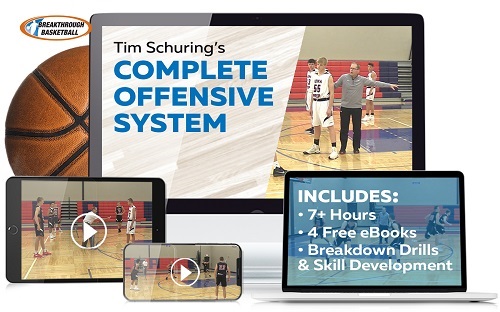 See All Reviews
Write a Review
Tim Schuring's Complete Offensive System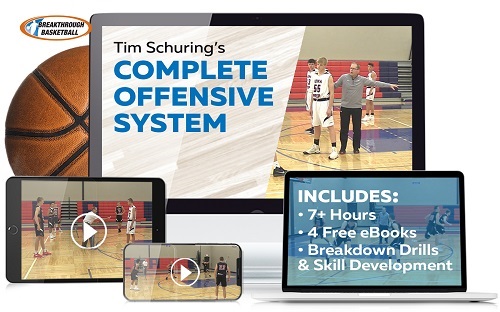 In Stock
60 Day Money-Back Guarantee
5 DVDs (7.5 hours) and 4 eBooks

You will be emailed access instructions and passwords upon order confirmation.
Tim Schuring's Complete Offensive System -- 5 DVDs and 4 eBooks
Transition, Secondary Break, Motion, Quick Hitters, SLOBs, BLOBs, Press Breaker -- A Complete and Seamless System With All the Details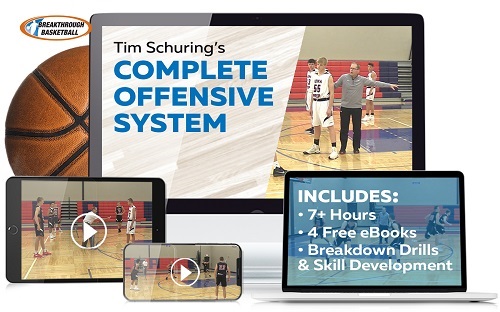 This video and eBook set gives you a complete offensive system -- with nothing left out. It's rare that you can see an entire system and how it all fits together. Each aspect of the offense is covered in detail. Coach Schuring shares numerous tips and techniques that have worked extremely well over the years.
If you're a veteran coach you'll pick up dozens of coaching nuggets and ideas. If you're a beginner coach, you get a complete blue print from beginning to end. We think coaches at all levels will appreciate this video set.
Why We Love This Offensive System and Video Package
It works at all levels - proven success from 3rd grade to college. Coach Schuring first used the system with great success at the college level. Later he adjusted the system for the youth level and has utilized it with 3rd through 12th grade teams. The video shows you how to make simple adjustments so it can be used at any grade level.


It's incredible for player development. The system prepares athletes for the next level -- it teaches them how to play. The motion offense is based on simplicity and universal concepts. It allows you to focus on skills and player development. The universal concepts prepare players for ANY offense they might run in the future.


It's a "complete" offensive system. You get every detail of the offense and how it seamlessly works together staring with fast break, secondary break, flowing into motion, motion offense, zone offense, adjustments, half court quick hitters, BLOBs, SLOBs, and press breaker. You get to see all the pieces of an offensive system and how they fit together.


It covers all the important details to make the offense successful. We often say... "it's not what offense you run, it's HOW you run it". Coach Schuring shares all the details of HOW to run the transition, motion, and all the plays successfully.


It's simple yet can grow with your team. You can implement the system in a couple practices. Then you can stop there or continue to build and add more. The system allow for years of growth or you can keep it incredibly simple.


It's flexible. You can use this with any type of team. Coach Schuring has used the same system with hundreds of teams in his club program, at high school level, and at the college level. It's proven to work and adapts to your situation, regardless of your personnel.


It includes all the step by step implementation guides. You'll learn exactly how to implement this entire offensive system (step-by-step) -- or you can implement "pieces" of it into your current program.


It's a great youth, high school, and college system. We highly recommend this system for youth and high school coaches. It's something you can start at the 3rd grade level and build it all the way into high school or college.


About Coach Tim Schuring
Tim Schuring's coaching credentials includes:
Owner/Director of TNT5 Basketball Development & Iowa Prep. 75% of Iowa Prep alumni have moved on to play collegiate athletics.
Over 25 years as Head and Assistant Coach at high school and collegiate levels.
1989-90, Blakesburg High School, 21-2 record, sub-state and conference champions, state tournament appearance.
1990 IBCA District Coach of The Year.
1991-92, Seymore High School, 19-3 record, conference champions.
1998-02, University of Saint Mary. Took over a program in 1998 that had not seen a winning season in 10 years. In 98-99 season had 7 wins, 99-2000 season 19 wins, and 01-02 season went 25-7. Athletic Conference Champions, NAIA National Tournament round of 16 appearance.
Led the KCAC in highest points per game
KCAC Co-coach of the year.
2010-14, Luther College, schools best four year run in history. 2010-11 IIAC Conference Champs. NCAA DIII National Tournament Appearance - 1st round win. 2012-13 IIAC Conference Champs.
2012 Inductee into Saint Mary College Athletics Hall of Fame.
Here's What You'll Get in this Video & eBook Package:
DVD 1 & 2 - Transition Offense
Chapter 1 - Transition Offense Intro
In this chapter, Coach Schuring gives an overview of the transition and his "3 Keys" to make the transition offense successful.
Chapter 2 - Primary Break
Some of what you'll learn includes:
The 5 fast break positions
How to assign players to the right position
How to trigger the break off made and missed shots
Tips to get the ball down the court faster and beat the defense
How to rebound and avoid players leaking out too early
6 primary break options and how to execute each option
Key teaching points of the primary break and scoring options
You'll learn exactly how to run a primary break, how to run lanes effectively, and how to get high percentage scoring opportunities during the first 3-5 seconds of your fast break possession.
Chapter 3 - Primary Break Counters
Next you learn how to counter defenses that deny the inbound pass to your point guard. Coach Schuring uses a few simple counters and shares clever techniques to gain a numbers advantage in the transition attack.
Chapter 4 - Secondary Break
In this chapter you learn the 4 secondary break options. If none of the primary break options are available, you flow right into these secondary break options. The secondary options are signaled by the pass or point guard movement.
Coach Schuring goes into detail covering every screen, cut, and spacing options for best scoring opportunities. The action happens quickly and opposing teams are often susceptible to the quick hitting secondary actions covered in this chapter.
Chapter 5 - Secondary Break Counters
In this chapter you learn more advanced counters for high school and college teams. As you score in your primary and secondary break, defenses will inevitably make adjustments to try and stop your secondary break.
You'll learn how to counter a variety of defenses situations including:
How to counter switching screens
How to counter sagging weakside defenders
How to counter hedging of ball screens
How to counter and attack zone defenses (with simple adjustments)
Coach Schuring goes into detail covering all the counters for each secondary break action.
Chapter 6 - Transitioning into Your Offense
In this chapter you learn how to flow into your half court offense from your transition. You learn how to flow into the following offensive formations:
3 out 2 in
4 out 1 in
5 out (open post)
Chapter 7 - Transition Channels
In this chapter you learn the importance of spacing in your transition offense and the importance of working the sides of the channels when running the floor.
Chapter 8 - Transition Offense Drills
Coaching Schuring gives you 7 transition offense drills that he uses to develop the offense. The drills will help you:
Teach and build the transition offense
Improve execution
Improve passing skills
Improve conditioning
Develop counters based on the defensive positioning
Run the court full speed
Improve decision making
Identify scoring opportunities
The 7 drills are presented in order -- so you get a step-by-step drill progression for building your offense and then making improvement during the season.
Chapter 9 - Transition Adjustments for Youth to High School
Coaching Schuring shows you how to simplify and adjust the transition offense for youth teams:
3rd - 4th grade adjustments
5th - 6th grade adjustments
7th - 8th grade adjustments
Chapter 10 - Transition Questions and Answers
Coach Schuring answers some of the common questions about the transition offense. Some of what you'll learn includes:
How the transition works for both fast and slow footed teams
The advantage when the shot clock is used
How to counter the most commonly used defensive tactics intended to slow down your transition
How the transition benefits youth players
How much a youth or high school coach can expect to implement with limited practice time
Step by step implementation tips
Why you should consider using the transition system and how it creates excitement in the program
Getting over the mental aspects of running every possession
How much practice time to devote to the system
Coach Schuring closes with ideas for you to either borrow pieces of the offense or use the entire system with your program.
171 minutes of video, 39 page eBook
In the first two DVDs you get 171 minutes of instructional video. You also get a 39 page eBook that includes written instructions, diagrams, and explanations of the transition offense.
DVD 3 & 4 - Motion Offense
Chapter 11 - Motion Offense Introduction
In this introduction you will learn:
7 advantages to motion offense
4 keys to a high scoring motion offense
How to assign player positions
Chapter 12 - Principles of Motion
In this chapter you learn all the core principles that make the motion work:
Spacing and guidelines for open alignment (5 out)
Spacing and guidelines for closed alignment (4 out, 1 in)
Motion offense rules (this is heart of your motion that makes it work)
Demonstration of the whole (5v0) showing you how all the rules and pieces fit together
Chapter 13 - Building the Motion
Next you get all the important details to make the motion offense effective. You also get a step-by-step guide to building your motion offense.
11 drills for building your motion offense
The fundamental details of how to cut properly: basket cuts, curl cuts, back cuts, and blast cuts
The fundamentals details of how to screen properly: away screens, ball screens, flex screens, and brush screens
How to teach your players to use screens and cuts effectively
How to create more ball movement and reversals
How to create separation on cuts
How to read the defense
When to look for certain cuts and screens
How to get open on perimeter
How to trigger motion offense and get the ball entered
How to improve your screening
You get all the details of how to teach and use cuts and screens. These details are what make your motion highly effective.
You also get a step by step progression of drills that allow you to teach players and build the motion offense.
Chapter 14 - Motion Counters (vs Man)
In this chapter you learn how to counter several man to man defensive tactics...
How to handle defenses that switch screens
How to counter defenses that hard-hedge the ball screen
How to counter defenses that deny entry passes
Chapter 15 - Zone Offense Adjustments
In this chapter you learn how to make a few very simple adjustments to attack zone defenses.
You learn how to attack the 2-3 and the 1-3-1 zone defense.
The adjustments are based on your core motion rules. It's a very simple and effective way to attack zones using your same base offense.
You'll see the offense run live against both 2-3 and 1-3-1 zone defenses. You'll see exactly how to teach zone offense to your players.
Chapter 16 - Motion Adjustments for 3rd & 4th Grade
In this chapter you learn how to teach the motion offense to youth teams -- 3rd and 4th grade.
This is a simplified version of the motion making it easier for young players to learn. Coach Schuring has been using these adjustments with great success for many years in his youth club program.
Chapter 17 - Motion Adjustments for 5th & 6th Grade
In this chapter you learn how to teach the motion offense to 5th and 6th grade youth teams.
Chapter 18 - Motion Adjustments for 7th & 8th Grade
In this chapter you learn how to teach the motion offense to 7th and 8th grade youth teams.
Chapter 19 - Common Pitfalls of Motion
In this chapter Coach Schuring addresses a few common issues that can bog down your motion. You learn how to combat:
Stillness... how to fix both a lack of player movement and slow player movement
Ball watching... how to get players to see the court (instead of ball watching) and react to the defense effectively
Too many perimeter cuts... how to get players attacking the basket and getting the ball inside
Chapter 20 - Motion - Questions & Answers
This chapter gives you answers to common questions about the motion. Some of the answers include:
How to add more structure to the motion
How to prevent motion-stoppers (players that dribble on every catch)
How to handle pressure defenses that deny entry passes
How to implement the motion in progression steps and an expected timeline
How to define roles for players
DVD 5 - Quick Hitter Plays, SLOBs, BLOBs, and Press Breaker
Chapter 21 - Quick Hitters
In this chapter Coach Schuring gives you 6 quick hitters basketball plays. He shares his tactics to disguise the plays and make it harder for teams to scout your plays.
You can use these plays to complement your motion offense, get your best players shots in the right spots, and give your opponent a different look.
Coaching Schuring goes into detail covering the important coaching points of each play, timing, and gives you numerous quick hitter scoring tips.
Chapter 22 - BLOB Plays
Next you get 3 of Tim Schuring's favorite baseline out of bounds (BLOB) plays. You'll learn how to disguise the plays and how to score in inbounds play situations.
As always, you get detailed pointers and tips to execute each play effectively.
Chapter 23 - SLOB Plays
In this chapter you get 2 sideline out of bounds plays (SLOBs). The plays are designed to give you scoring options during your sideline inbounds situations.
Chapter 24 - Press Breaker
The final pieces of his offensive system is the press breaker. Coach Schuring shows you all the details of how they handle full court pressure and how this press break offense fits into the rest of his system. He covers the following situations:
Press Breaker Vs Full Court Man Denial
Press Breaker Vs Full Court Zone Press
Press Breaker Vs 3/4 Court Zone Press
Press Breaker Vs Straight Man
Chapter 25 - Closing Thoughts
Coach Schuring gives you some final thoughts on how you can utilize this system -- whether you take pieces to add to your own system or use the entire system from beginning to end.
Summary of What's Included
Here's a recap of what you get with Tim Schuring's Complete Offensive System:
DVD 1 (86 minutes) - Transition Offense Part I
DVD 2 (85 minutes) - Transition Offense Part II
DVD 3 (94 minutes) - Motion Offense Part I
DVD 4 (85 minutes) - Motion Offense Part II
DVD 5 (96 minutes) - Quick Hitters, SLOBs, BLOBs & Press Breaker
eBook 1 (39 pages) - Transition Offense
eBook 2 (33 pages) - Motion Offense
eBook 3 (25 pages) - Quick Hitters, SLOBs & BLOBs
eBook 4 (16 pages) - Press Breaker
That's a total of 7.4 hours of video and 113 pages of content.
Who Should Consider this eBook & DVD Set?
We recommend this DVD for all levels... from 10 year olds all the way to the college and pro levels. Coach Schuring has used this same offensive system with his college teams, high school teams, and his club program (5th grade to 12th grade).
For youth teams, we recommend this system to coaches that will work with a team for more than one year. As an example, if you coach a 4th grade team and will work with them for only one year, this product is probably over-kill for you. But if you will work with the team more than one year, then this is a highly recommended system that will grow with you and be a great investment.
Instant Access
In addition to receiving the DVDs, you get immediate access to the eBooks and streaming videos.
After completing your order, you'll get access to a password protected area where you can watch the videos and download the eBook. The streaming videos require high-speed internet and can be viewed on any computer or tablet connected to the internet.
60 Day Money Back Guarantee
If for any reason, your purchase is not what you expected, just send us a message and we'll give you a full refund. No questions asked.
"Claim Your Copy Now"
If you'd like to order by telephone, call us at 1-866-846-7892 (toll free).
If you have any questions, don't hesitate to contact us.
Customer Reviews
Most Helpful First
Newest First
---

Coach K from Flushing, MI says:


10/13/2018

at 8:37:44 AM


Very comprehensive system. As an owner of multiple breakthrough DVD products I thought I would go ahead and do my review in categories in comparison to other dvds.

TRANSITION:

Schuring does a good job with the little details of the transition offense. He emphasizes the importance of getting out and running early, the importance of the 5 running hard, inbounder and PG roles in the offense. He even includes some counters for teams that try to shut down the break which work nicely. Unlike Kelbick he includes secondary break options which can be nice additions.

Kelbick does the better job of teaching fast break attack mentality. His transition is more clean into a half court offense, where as Schuring states sometimes its better to have things a bit 'muddy' as you transition in. I also prefer Kelbick's break down drills for teaching fast break mentality.

Haske's break is great if you have a dominant point guard that can break people down and you run a 3 out 2 in offense (you have to adjust the break on your own to run other alignments). He also includes secondary break triggers that rolls into his half court offense. Again probably better to use him if you have a more experienced break team.

Overall I would recommend Kelbick if you are just introducing the break for your team not a whole program. Schuring is great if you have some more experienced players or you are a varsity coach wanting to establish a program wide break.

MOTION OFFENSE:

Schuring is a more systematic coach. There are more rules to his motion offense than other breakthrough motion products. If you want more defined rules for your offense this is a good product. Again if you are a varsity coach looking to establish program wide rules for your offense regardless of age, this is a great product to start with and then adjust to your preferences. Schuring's attention to detail is apparent as he covers each grade level and several counters that you can use against different defensive schemes.

Kelbick is more conceptual and freelance in his style of teaching the motion. I align more to his style of coaching (giving players less to think about on offense), so I prefer this DVD for teaching the motion. I also like Kelbick's 1 cut entries into the motion, whereas Schuring uses more traditional methods to start the motion. Also I prefer Kelbick's break down drills of the offense (although I do like Schurings 3 on 0 motion break down drills better). However, there are some good considerations here that you could probably use in Kelbick's system (e.g. two second rule for the offense).

QUICK HITTERS, SLOBS, BLOBS, AND PRESS BREAKER

Simply excellent. This could be a standalone product. I will say his SLOBS and BLOBS are more targeted towards high school level play, as many of the primary options involve freeing up an outside shooter. The plays seem effective and has great considerations to avoid getting scouted. The press breaker is simple yet effective. If you are a coach that enjoys staggered screens, it is important to know he tends to favor those actions in his sets. Overall, even if you don't use everything out of this DVD, there are some valuable concepts for selecting sets in your offense.

OVERALL:

Great product, even if you don't use everything out of it. If I were a new varsity coach, I would recommend this product for a view on how to implement a system - even if you don't use what he uses, you will gain some ideas how to scaffold your systems in the different grade levels. If you are a coach that needs more control over your transition and motion offense, I would say this product is more for you than Kelbick's.

This review is helpful
5 people found this review helpful.
---

Coach E from Springfield, IL says:


1/26/2018

at 10:09:33 PM


Excellent concepts. I have coached several junior high teams but never coached a group below 5th grade. I currently have a group of 3rd grade boys that I hope to coach through their junior high years. Having never coached this young of a group before and I was a little lost trying to figure out what to teach other than a ton of fundamentals. I love the way Tim broke down the offense for younger grades. I started this last week in practice with my team and the kids caught on quickly to the system. It''s taking away some of the "muddy" basketball that Tim talks about at the youth level. Looking forward to watching these boys continue to build from this and just see how far it will take our team!

This review is helpful
2 people found this review helpful.
---

Harold says:


5/2/2018

at 11:45:02 AM


I have numerous Breakthrough videos in my library, and appreciate the pairing of the Ebooks along with the DVDs when reviewing the material and preparing my lesson plans. Having access to streaming in Coach Schuring's system is a plus and will enable the coach to show the drill to the players during practice to demonstrate the desired movements.

This package is quite comprehensive and I also think it is suited to a new or inexperienced coach that will be able to work with the team over a period of time, and has several practices during the week. A community program with only an hour per week might find the system overwhelming.

Coach Schuring has provided a template to adjust his system for players in the lower grades, but it would have been nice if a segment showing younger players could have been included.

I did take away a few tips that I will add to my lesson plans next season.

This review is helpful
2 people found this review helpful.
---

Steve from Fort Collins, CO says:


1/25/2018

at 4:47:54 PM


I would give this set of DVD's a fair review at best. I bought the set because I am the program director for a club program and I was hoping to implement an offense or some parts of an offense throughout the club (3rd grade through high school). Although there were some good takeaways, the set does does not have a lot of new and fresh ideas. This may be good for someone new to coaching, but there are no unique concepts that most experienced coaches likely already know.

This review is helpful
1 person found this review helpful.
---

marvin latham from gainesville, GA says:


9/24/2018

at 8:46:02 PM


i do like the information on the DVD but the streaming to be honest is terrible

This review is helpful
1 person found this review helpful.
---

Robert Maronde from Grafton, WI says:


11/30/2018

at 1:45:59 PM


Excellent videos. Well thought out and presented. Usable at any level. One of the top video series I've viewed.

This review is helpful
1 person found this review helpful.
---

Phil Schroeder says:


5/8/2019

at 10:03:02 AM


Excellent and easy to understand system. It's a system that can be used at any level and is a fun way to play and coach.

This review is helpful
---

Carlos from JUNCOS, None says:


5/20/2019

at 6:42:06 PM


one of the best complete offensive system i ever see. well explained it.

This review is helpful
---