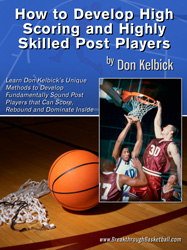 See All Reviews
Write a Review
Developing Post Players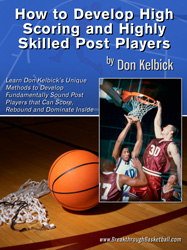 $19.00
In Stock
60 Day Money-Back Guarantee
How to Develop Highly Skilled and High Scoring Post Players (Digital Download - eBook)

You will be emailed access instructions and passwords upon order confirmation.
"Pro Coach Reveals Simplified Process to Develop Post and Perimeter Players"
Discover How to Accelerate the Learning Process and Develop High Scoring and Highly Skilled Post Players
Dear Basketball Coach,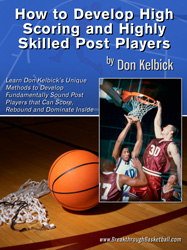 This book was written by Don Kelbick and we think you're going to love it because it offers very unique and effective development methods for all coaches…
If you have ever tried to teach "moves" to a post player, you'll appreciate the methods shared in this ebook. They greatly simplify and speed up the learning process for post and perimeter players.


Post Player Development Simplified and Accelerated
Instead of teaching 20 or more post moves, you'll learn how the pros teach only 5 movements and 3 shots. That's it.
Believe it or not, many of the pros use a much simpler method to teach post moves. And this method works extremely well at all levels - from youth players to the professional level.
How else will this ebook help you simplify and accelerate the teaching process? Here's a quick summary…
You'll learn a simplified (and more effective) way to teach footwork.

You'll learn a simplified (and more effective) way to teach post moves.

You'll learn a simplified (and more effective) way for post players to get open.

You'll learn a simplified (and more effective) way to feed the post.

You'll learn a simplified (and more effective) way for post players to receive the ball where they want it.

You'll learn a simplified (and more effective) way to teach post players how to react and make their move. (And it's not checking the defense by turning your head.)

You'll learn an easier (and more effective) way to teach skill and develop habits.
Since Don's player development methods make things easier to learn, players can pick up the concepts much faster. As a result, their learning and development accelerates.
Many times coaches paralyze players with TOO many moves and make them think too much. The opposite is true with Don's player development methods. Players only learn a few simple movements. They quickly learn how to react without thinking.
The foundation is simple and can be picked up quickly. The players have no limits on how far they can grow and develop.


Post Play Should be Taught to ALL Positions at ALL Levels (Youth and Up)
In all of Don Kelbick's years working with players, whether they are youth, high school, college or professional players, he always starts in the post. He has had tremendous success using this method. It works because the footwork, positioning and mentality of post play is beneficial for all players, of any age and any position.
In addition, post play should be taught at all levels of the game. Much has been said and written about big players who are very skilled because when they were younger and smaller they were developed as guards. In turn, they retain those skills as they go through growth spurts (Kevin Garnett).
And let's look at the other side of the coin. When players are young, you don't know what the finished product will be. The tallest player on your 12-year-old team might wind up as the smallest player on their high school team. The reverse is also possible. However, the teaching and learning process should not discriminate for size.


Footwork Simplified and Explained in Detail
If you've been involved with basketball for any amount of time, you should already know that footwork is arguably the most important skill for coaches to teach and players to learn. However, most coaches don't really know what that means.
This ebook is a must read just for the footwork concepts alone!
If you've ever wanted to learn what footwork is and how to teach it effectively, then you need this ebook. Even though the ebook was written for post players, the footwork concepts apply to all positions. Don teaches the exact same way.
You will learn exactly how to teach footwork to all levels and all types of players. The explanation and illustrations of footwork in this ebook are exceptional. It's described in a very simple way. Even though this ebook is about post play, this is something that ALL coaches should understand.
Just read the reviews from other coaches at the bottom of this page.
Don's terminology greatly simplifies the process of teaching footwork to all your players. It's the same no matter what position you play. It's stupidly simple and I don't understand why everyone doesn't teach it this way. I guess most coaches just aren't aware of this method. We weren't!


Teaching Post Play is No Longer an Option, It's a Necessity
The game of basketball has changed. 30 years ago most offenses operated in a triangle formation. The post player would receive the ball with their back to the basket and pass or make their move from there.
Today the motion and spread offenses have taken over. You see the flex, swing, 2-3, 4-1, and various offenses where many of the players are interchangeable. As a result, the bigger taller players have moved farther away from the basket. And all players (including the small ones) are catching the ball in or near the paint.
If more players are going to post up or catch the ball in the post area, coaches must find time to train those individuals on post play.
Teaching post play for ALL positions is no longer an option, it's a necessity.


What's included in the ebook?
Here's a quick summary of what you'll get out of the ebook...
How to teach and improve footwork (the easy way)


Interesting and unique ways to feed the post


How to develop post players that react and score with relative ease


How to quickly get your players comfortable in the post


How to quickly improve your player's confidence


How to improve decision making


How to improve their ability to get the ball


How to improve positioning


How to incorporate post development drills into your practices and workouts


How to use the dribble properly


Who you should teach


How to teach post play (step by step)


How to get post players open so they can receive the ball


Teaching philosophy and the reasoning behind all the concepts


25 Post and Player Development Drills
In the ebook you'll find 25 post development drills that are explained in detail and visually represented with diagrams.

One of the interesting things about these drills is that they work for all positions. They are intended for post players but they improve skills for players at all positions.
You'll get 25 very flexible post development drills that can be adapted to any situation or age level. You'll also learn how to incorporate those drills into your practices and workouts.


Here's the table of contents and first 16 pages of the ebook:
If you have questions about what's included, just
let us know
.
60 Day Money Back Guarantee
Just like any reputable bookstore or retail business, we have a 100% money back guarantee too.
If for any reason, your purchase is not what you expected, just
send us a message
and we'll give you a full refund. No questions asked.
"Claim Your Copy Now"
If you'd like to order by telephone, call us at 1-866-846-7892 (toll free).
If you have any questions, don't hesitate to
contact us
.
Customer Reviews
Most Helpful First
Newest First
---

Dan Lemens from Green Bay, WI says:


10/16/2009

at 12:02:39 PM


Great book, I thought it was well thought out, easy to follow, with plenty of detail if you want to adopt the teaching method and rational. I thought the mulitple drills were great. As a high school bball coach, I think its overlooked how creative you need to be to get your players to do the same thing over and over yet not get bored. We cant use them all with time constraints, but we will defintely be adding some to our practice plans.

This review is helpful
1 person found this review helpful.
---

Coach Melissa GB says:


10/16/2009

at 1:58:30 PM


The book was very thorough and easy to read. The diagrams were clear and concise. I definitely learned and believe I will be able to do a much better job developing my posts in the future, which I feel has been a weaker area as far as coaching goes for me. I am excited to see a couple young, raw post players I have develop into real threats offensively using the tools I got from this book. I would definitely recommend it for coaches at any level.

This review is helpful
1 person found this review helpful.
---

Donnie McPhee from Fredericton, NB says:


10/19/2009

at 9:27:22 PM


An excellent overview and easy to follow guide that any coach can use to help improve foot work of post and perimeter players alike.

I loved the fact that it focused on post players but made it revelent to all ball players.

A great peice of work

This review is helpful
1 person found this review helpful.
---

Ken Sartini from Arlington Heights, IL says:


10/16/2009

at 8:30:38 AM


As I sat here reading Don Kelbick's eBook on Post Play I was thinking, "Where was this when I was coaching?" I really wasn't a good teacher of post play. We taught the Drop Step and Sikma Move with a counter. I hired an assistant who was an excellent defensive coach (which was always my emphasis) and he was good with the post players also.

This book is great for the Novice coach as well as the more "seasoned" ones. I was always a firm believer of the KISS method and Don's approach to FOOTWORK is as a good as any I have seen. The explanation is clear and concise making it easy for coaches at any level of play. His explanations of POST PLAY are amazingly simple to understand and implement. Don talks about our success or lack of success at various levels of play. His approach to the basics of playing the game and the development of Post Players is excellent.

IF I would known of this approach when I was coaching, I know that I would have done a much better job with my post players. I definitely recommend this book to any coach who is serious about helping his Post Players become more complete basketball players.

This review is helpful
1 person found this review helpful.
---

Tony says:


10/21/2009

at 10:23:00 AM


I really enjoyed you book. The things I liked were the consistency of communication . The terminology was accurate and clear. The use of footwork and not shots was a revelation for me. I like that concept. The book is full of useful drills that I may incorporate into my program.

This review is helpful
1 person found this review helpful.
---

Mike T. from Fairview Park, OH says:


10/31/2009

at 5:57:58 PM


A very useful tool! The terminology, steps, drills and diagrams will be very useful in practice.

This review is helpful
1 person found this review helpful.
---

Jean-pierre MAKART, Belgium from fexhe-le-haut-clocher, None says:


11/3/2009

at 4:33:25 AM


I really like the way to teach the post move when you talk about 3 pivots , 2 counters and 3 shots thus 8 things present an unlimited number of ressources for a post player. I never seen as it before. Great.

Very good book.

This review is helpful
1 person found this review helpful.
---

Steve Kelly from Lake Forest, CA says:


11/3/2009

at 12:52:52 PM


Excellent as are all of your materials. It seems you read my mind and know what I am thinking about in developing my players. I have been wanting to work on post play with my youth players and your book is providing a great foundation with its explanation, steps to success, and drills.

Breakthrough Basketball has been my best resource in developing my youth teams.

This review is helpful
1 person found this review helpful.
---

Kevin from Arlington, MA says:


11/4/2009

at 10:33:17 AM


I greatly appreciated the book's emphasis on footwork to make & control space, only wanting to read more about strategies & tactics to do the same from _above_ the waist. i.e., while it only passively mentions boxing (sport) strategies, it's a great way to introduce the ultimate issues of controlling ball space and getting that shot off against tight pressure. I am certainly glad I bought and read the book, though, and intend to consult it in the weeks to come.

This review is helpful
1 person found this review helpful.
---

Coach D says:


10/18/2009

at 10:05:15 AM


I truly enjoyed the book. I coach high school girls, I will implement your ball positioning drills this year teaching the kids how to cut down the angles. Very basic but sometimes overlooked.

This review is helpful
---

Mike says:


10/19/2009

at 5:42:00 PM


This book could not have come at a better time for me, I am coaching 7th and 8th grade girls with several other coaches, and I was put in charge of the post players. This book has made it very simple for me to not only coach my girls, but teach them about post play in general. It has also made me look good to my peers. Thank you for this blessing.

This review is helpful
---

Pat Rady says:


10/19/2009

at 6:08:14 PM


It is a great tool to add to any serious minded basketball coach. One can take this book and develop good post moves for his players. Your detail in this book is extremely clear and precise. Your drills were very good and explained well. I have not purchased any item from you that has not been beneficial. I would go 4 1/2 stars but could not, thus, I give you a 5.

This review is helpful
---

Kim Bourgeois says:


10/19/2009

at 8:40:29 PM


This book is allowing us to develop that elusive post player that has been missing as a serious threat in our program. The concise guide has given us a repertoire of drills and advice that should translate into a serious improvement in our program. Congratulations on yet another resource in my coaching library.

This review is helpful
---

Mark Richards says:


10/20/2009

at 2:42:06 AM


'I'm a new coach and I am putting together as much info as I can. The lay out is good and the info provided is great. When my season starts again, i'm looking forward to putting many things into my practice sessions.

This review is helpful
---

Carlos Daniel says:


10/20/2009

at 3:32:33 AM


An excellent book with an attractive layout.
I really like the progression and the footwork proposed.
A book that is definitely a reference and a working tool.


This review is helpful
---

Willie Bryant from Palmerston North, Manawatu says:


10/20/2009

at 4:59:21 AM


I did not buy this one but now having seen the first 16 pages I will purchase as soon as I can.

I will use this for my girls team for the 2010 season.

Thanks for the opportunity.

This review is helpful
---

Mark Majewski from Erie, PA says:


10/20/2009

at 7:45:13 AM


Excellent resource.
Well put together, easy to follow.

This review is helpful
---

David Harrison says:


10/20/2009

at 9:35:00 AM


Hey guys,

Once again you guys have put out a great training tool. The post play
footwork diagrams are great. I would recommend all of your e-books to
any coaches that really want there players to excel (except the coaches
in my division :) ) Thanx.

This review is helpful
---

Alex Deborja says:


10/20/2009

at 9:36:58 AM


Hello. After reading Don Kelbick's "How to Develop High Scoring and Highly Skilled Post Players" I came away very impressed on the fine details and nuances of playing and defending the post. Don explains it in a very simplistic yet thorough manner that everyone can understand. The diagrams used to illustrate the various pivot moves were really effective. I would have like to see that same diagrams used for illustrating other areas such as getting open, receiving the ball, sealing and defending the post. It might seem repetitious but I find that visual aides really bring home the importance of the move being taught. The drills were also very helpful and carefully put together to ensure every post moves are covered and worked on. Overall, I found the ebook to be top notch and would make a fine addition to any coach looking to expand their knowledge in this topic.

This review is helpful
---

Coach C says:


10/20/2009

at 9:50:55 AM


I am glad I bought it. I coach our Jr. high team, but I am also in charge of our elementary teams (boys and girls). It seems every year I am bringing in a new coach with little or no experience. The information from the Post Play gives me the ability to relate how to play the post and utilize drills for the post that these coaches can understand, plus it's a great refresher for me.

Coach C


This review is helpful
---

Filip Vandermeersch says:


10/19/2009

at 11:43:15 AM


very good e-book, easy to use in practices.

This review is helpful
---

Richard says:


10/19/2009

at 12:30:35 PM


I just needed a basic book on post play and this one fits the bill!! Tx Guys

This review is helpful
---

James says:


10/20/2009

at 12:47:58 PM


The book was well written through and clearly laid out.

This review is helpful
---

ben says:


10/20/2009

at 1:07:20 PM


great book. easy to use

This review is helpful
---

Rob Newton,Melbourne Australia says:


10/21/2009

at 6:01:38 AM


Great for the beginner, be it player or coach.
My son is new to b'ball and at 12 doesn't get much post play coaching, this has helped me coach him and is easy for him to understand. highly recommend it.

This review is helpful
---

BARBIEUX ANDRE from Cuesmes (MONS), None says:


10/27/2009

at 5:00:39 AM


(Very bad english ... sorry!)

I've many e-books from Breakthrough Basketball.
They are formidable !
It's for me a very good tool for my practices!
Thank you very much !
Coach André Barbieux, from Belgium


This review is helpful
---

Pat says:


10/27/2009

at 7:46:39 AM


Progress made easy. I really like the concept of teaching footwork/rotate rather than moves. It's going to be interresting how the players respond

This review is helpful
---

Chris Scott from Albuquerque, NM says:


10/27/2009

at 11:01:25 AM


Great book! In the mist of a rebuilding year for our team, I was able to grab a lot of information from this book that will help me teach my younger plays the concepts of post play. The flow of the book was great as well.

This review is helpful
---

Jim McGannon from Spring Lake, MI says:


10/17/2009

at 12:54:18 PM


Like Don enunciates in this book, I too am a believer in footwork being perhaps the most important skill in the game. I can not tell you how impressed I am with the content and organization of this book. It is thorough, it is easy to read and understand.
Coach Jim McGannon
http://mybasketballbasics.com

This review is helpful
---

Jim Walsh from North Branford, CT says:


11/3/2009

at 8:20:48 AM


I really like the simplicity of the book. It breaks things down in simple terms.I will be using many of the drills shown, some mirror the ones I use now with some deviations. Many teams try to run an offense without a post, which I think is a mistake.

This review is helpful
---

Angela says:


11/3/2009

at 8:22:04 AM


I am still reading this book but it has been amazing for me. I am coaching 8th grade girls basketball for the first time & some of these pivots the girls have never even thought through before. Looking to be very useful technique. I am a new coach & am looking for useful tools this is most definitely one of the best for post and all around play I have found & will use again.

Thank you
Angela

This review is helpful
---

Andy from HONG KONG, None says:


11/3/2009

at 9:58:15 AM


I am working with those things, especially those footworks, they are just so amazing.
We know those footworks, but the way to teach my students make them more and more easy to use when they are on court.
This is one of my most useful stuff that help our team, i am sure that!!

This review is helpful
---

Sue Morris from Auckland New Zealand, None says:


11/3/2009

at 10:26:59 AM


It's off season for us in New Zealand at the moment but I am really enjoying reading the material and finding it really helpful for the off season preparation I'm doing.

Cheers

This review is helpful
---

Will from los alamitos, CA says:


11/3/2009

at 10:51:27 AM


Coming from a non-basketball guy, I thought it was great. Great explanations, which were easy to understand. On a couple of the moves, and the sealing off a defender, I wish I could of watched a couple of videos. Overall, well worth the money.

This review is helpful
---

Wayne from Clifton, VA says:


11/3/2009

at 11:59:25 AM


Mon or Wed 7pm

This review is helpful
---

Armando Valadez from el paso, TX says:


11/3/2009

at 12:01:30 PM


I LIKED IT ALOT! SPECIALLY HOW ALL THE MATERIAL COVERED IN THIS BOOK IS SIMPLIFIED; BELIEVE OT OR NOT I THOUGHT AN"OLD DOG NEW TRICKS"; I SHARED IT WITH A COUPLE OF TALL GUYS FROM OUR 40 AND OVER TEAM AND THEY PICKED UP ON IT RIGHT AWAY; CAN'T WAIT TO TRY IT ON OUR YOUTH GROUP!

This review is helpful
---

Tony Rocco from TENMILE, OR says:


11/3/2009

at 1:21:05 PM


Great Book! Very simple and precise. Easiest way i've seen to teach post play. I Will definitely use these techniques for my girls this year. A must have for new...and old coaches.

This review is helpful
---

Albert D. Schade, Jr. from Mohrsville, PA says:


11/3/2009

at 3:11:11 PM


This book will be a welcome addition to our basketball library for the school. Some very good ideas and good drills for post players. Picked out a few for this years workouts.

This review is helpful
---

Si Chapin from Evansville, WI says:


11/3/2009

at 4:03:59 PM


I really enjoyed reading the book. We have practice on Thur. evenings so that would not be a good time for me.
Si Chapin

This review is helpful
---

Trevor Kimber from Woronora Heights, None says:


11/3/2009

at 4:52:19 PM


Have read half the book and already I can tell this is going to help all my players. Have been teaching post moves for a few years now but this has opened up my eyes to teaching the post better.
Trevor

This review is helpful
---

Penny Anderson from Melfort, SK says:


11/3/2009

at 5:40:46 PM


Haven't had toime to go through same yet. Looks good what I have glanced at so far.

This review is helpful
---

steve naile says:


11/3/2009

at 7:24:33 PM


Clear, concise, ready to use. Well worth the money and compared to other similar "products" inexpensive.

This review is helpful
---

Rob C from Macleod, Victoria, Australia, None says:


11/5/2009

at 10:16:00 PM


Great value and simple to follow. It clearly demonstrates the why's and how's to teach good footwork, starting with basic movements and adding to these as the kids devolop. The drills provided are fantastic and limited only to your imagination. Thank you.

This review is helpful
---

BRIAN BUNN from Beaverton, OR says:


11/6/2009

at 1:07:14 PM


I really enjoyed the simplicity of the book and the drills that are used in practice. The questions and answers in the back were of great value, using the chairs to put your post player in the correct spot is genius. I have always disregarded chairs in the past but will use them from now on.
After reading the book I watched Kobe Bryant use these same techniques on the floor. He is one of the greats at pivotting and counters to get his man out of position before he puts the ball on the floor. Many times Kobe just pivots two or three times and gets an easy wide open jump shot from 15' or step through in the paint. I have watched three NBA games since then and he is the only one incorporating these moves into his game, no wonder he is in the top 3 in scoring every year.


This review is helpful
---

Michel Godbout from Laval, QC says:


11/7/2009

at 10:26:20 AM


I have read 3/4 of the book and it is very interesting. I like the 3 basic moves and their couter. It is simple and good for developping sound footwork for young kids (12-13 year old). The only thing that needs improvement is the number of photos in the book. I think it needs more of them to get a better visual understanding of post development.

This review is helpful
---

Brian Morgan from clearfield, PA says:


11/16/2009

at 1:30:00 PM


I enjoyed the book very much. I am coaching a 9th grade girls team this winter with a 6'2" girl with a size 16 men's shoe! I will definitely incorperate some of the things from this book into my practices! I would love to see a video of some of these techniques to really understand what it should look like. Thanks.

This review is helpful
---

IVAN says:


11/18/2009

at 12:38:30 PM


REALLY GOOD BOOK. I WOULD LIKE IT TO BE COMPLEMENTED WITH SOME VIDEO CLIPS OF THE DIFFERENT OPTIONS, SPECIALLY WITH THE COUNTERS MOVES.

THANKS.

This review is helpful
---

MJT from Fairview Park, OH says:


11/22/2009

at 2:00:26 PM


Excellent eBook, and excellent videos! Your site and your products have been very useful for me as a coach. I've been able to successfully incorporate your drills and techniques into my practices, and they have become a cornerstone to developing my team's fundamentals.

This review is helpful
---

Ross Cronshaw from Whanganui, None says:


4/28/2010

at 3:43:40 AM


Great book, very simple and easy to understand. Coach Kelbick breaks down some great post footwork into easy to teach steps, also stands up for the big guys out there. Drills are good, systematic with obvious progressions.

This review is helpful
---

Matt from O Fallon, MO says:


3/14/2016

at 9:14:38 AM


This book is great! I am a youth basketball coach and have 2 kids who are middle school/elementary school age. I've been using the drills with my middle schooler and am already seeing results. Coach Kelbick's emphasis on proper footwork, which is built off variations of 3 base moves and counter moves simplifies things for the player and coach. There is a long section of drills to work on with players. If post players would put in the time and effort on the fundamentals and drills in the book, I believe they would greatly improve their all-around game. I would highly recommend the book.

This review is helpful
---

Reggie Lee from COLUMBUS, OH says:


12/1/2019

at 11:15:58 PM


This is an awesome book for any coach at any level. I highly recommend this book for coaches working with post players for the first time. While I am not new to coaching it made me realize that sometime we can try to do too much too soon and in doing so we miss the simple things and techniques that can lead to better understanding by our student athletes. I have thirty five years coaching experience and feel I am never too old to learn. Love this book.

This review is helpful
---