Highly-Effective Team Practice Drills
That Develop Skills & High IQ Habits
That Get Into the DNA Of Your Athletes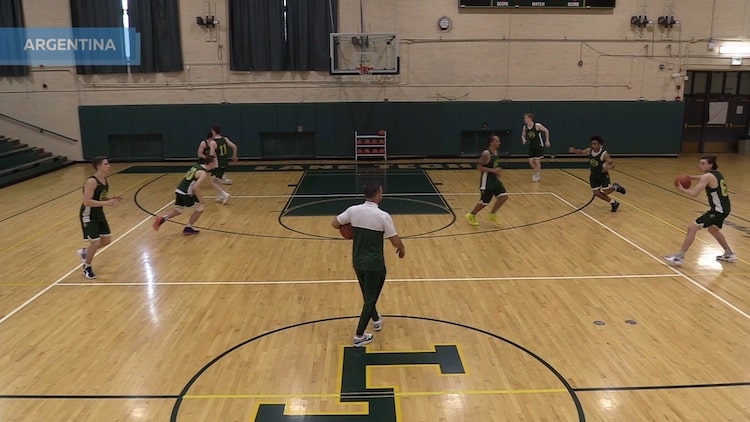 Hey Coach,
When a lot of coaches first start out, they create a list that contains hundreds of drills.
On the surface, these drills tend to look really cool and creative.
And many of those coaches keep those randomly curated drills to refer back to them throughout their coaching career.
But let me tell you what great coaches do...
Great coaches use fewer and fewer drills as their career progresses.
And here's why...
They find out that some drills aren't effective because they don't translate into skill development or better gameplay.
While other drills, which may not even look that fancy, cool, or sexy...actually get their players great results.
In other words, players tend to walk away a little bit better from the time you've all spent together... because you've spent time figuring out what works and what doesn't.
And those are the kind of drills that I have assembled inside of this training.
I'll share details about them in just a moment.
First, an introduction is in order...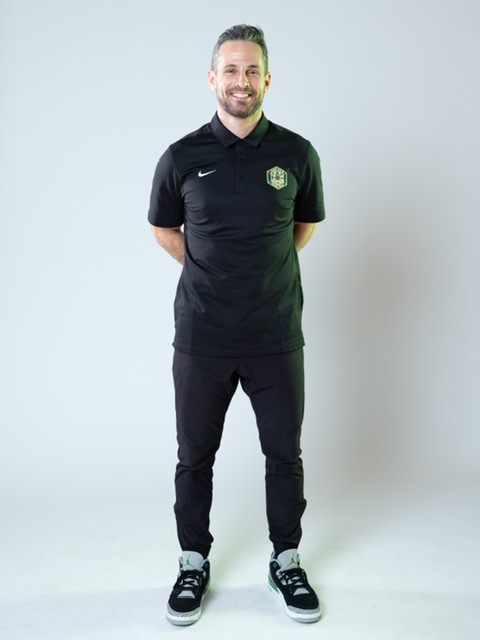 Hi,
I'm Coach Nick LoGalbo.
I've spent time as a USA Basketball Junior Nationals Coach.
I'm a 3-time FIBA Cup Gold Medal winner.
In addition to that, I'm currently the head basketball coach at Lane Tech Prep High School in Chicago, Illinois.
And I'm also the Chicago Glow Basketball School Founder where we develop inner-city youth into upstanding men and great athletes.
While I'm not sure how things are in your neck of the woods...
...I'm sure you can imagine how ultra-competitive things are in the Chicago area!
After all, we've had our fair share of NBA legends- e.g. Isaiah Thomas, Doc Rivers, Tim Hardaway, Dwayne Wade, Derrick Rose, Anthony Davis, Patrick Beverley, and many more!
And while you may not find yourself coaching elite-level talent...
...you can certainly find yourself going up against it.
Often!
More times than not, I tend to find myself coaching against a lot of very athletic and talented teams.
So, I feel that the players on my teams have to be smarter, tougher, and more disciplined than our opponents.
It's usually the only way we stand a chance to be competitive and respected.
Since I've enjoyed a good degree of success in this area over the years, I guess it's safe to say that I've learned a few things about player development.
Here's what I've come to realize about practices...
If you want players to get the most out of them, you've got to make sure that they're running highly effective drills that translate to better habits, shooting, and decision-making... as often as possible.
The drills that I've assembled in this program can help your players do that!
Make no mistake, these drills aren't necessarily fancy or sexy.
But they are...
...the same exact drills that I use with my high school teams and USA basketball teams.
And I strongly believe they're the reason why I've enjoyed gold medal victories on several occasions.
The great coaches I know who enjoy year-after-year success tend to embrace this mindset about drills.
The Secret To Practice Drills
That Lead To Better Habits and Smarter Play On Game Day
There are 4 things that I believe you should do within most of your practice drills:
1 - Explain Purpose & Meaning - The drills are done to achieve a particular goal that occurs during actual gameplay.
And most importantly, you'll be able to clearly explain the psychology behind each drill to your players. If they understand when they use it and why they use it...it will lead to better buy-in and development.
2 - Emphasize Proper Skill Habits - Enable players to cut down on turnovers, use correct foot placement, ball placement, hand placement, etc. All of these things enable them to be better 1v1 players.
3 - Teach Proper Decision-Making and IQ For Offensive Concepts - Within some of these skill drills, you add layers to each drill that teach players to play the right way. How to roll or pop off a pick and roll, how to slide to an open spot off dribble penetration, how to move in transition, how to cut after a post move and proper footwork and body position to set a smothering screen.
4 - Instill Communication Skills Once you've established those things, you start separating from the pack with great communication skills. I'll show you what to emphasize and how to emphasize it within the drills.
When a player consistently practices drills with a coach who emphasizes these elements it literally forces that person to get a little bit better each day.
I also believe this has been a key to my success...
I have my players practice these drills throughout the entire season.
Yes, repetition of these drills, even without the consistent presence of defenders, is that important to our success!
Now let me be clear here on...
Who This Is NOT For:
If you're a coach who uses game-based drills or small-sided games 90% to 100% of your practice, these are not those drills. These particular drills help players work on the foundation that leads to those types of drills.
I prefer to use them every day as they have helped my players improve incrementally each and every day.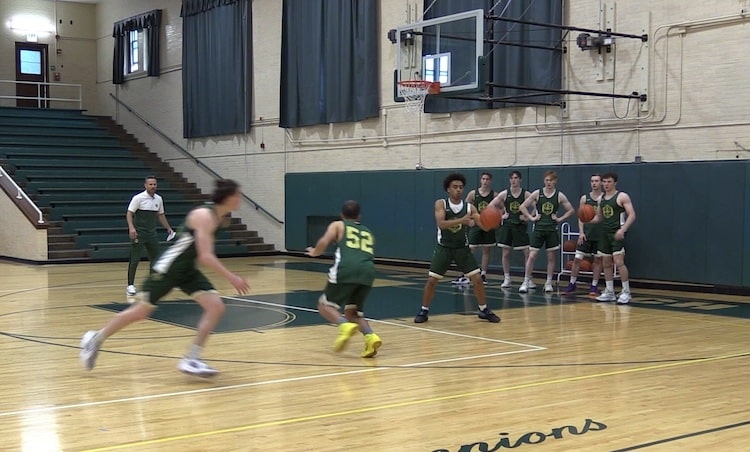 Nick LoGalbo Coaches For USA Basketball
And These Are The 8 Areas Of Player Development
That His Team Pursues
Keep in mind that these areas of development have been assembled by a collective of brilliant minds in the basketball community... proven winners that get results!
So, they are embraced at the highest levels.
But keep in mind that the drills within each of these areas can be modified to fit different age groups and skill levels.
Ball Handling & Dribbling
Footwork & Body Control
Passing & Receiving
Rebounding
Screening
Shooting
Team Offensive Concepts
Team Defensive Concepts
These secrets and USA Basketball's areas of development work in tandem to create...
...unbreakable habits that work themselves into the DNA of each player.
Imagine a team of players that tend to wind up...in the right place...at the right time...with the ability to instinctively make the right decision.
And they're doing these things so often, that they keep you punching the air in excitement.
That's certainly what I experience.
And you might be able to experience the same fist-pumping excitement too!
Without further delay, here's what you're going to find inside...
Skill Development Practice Drills

How To Coach Elite Habits And Build Basketball IQ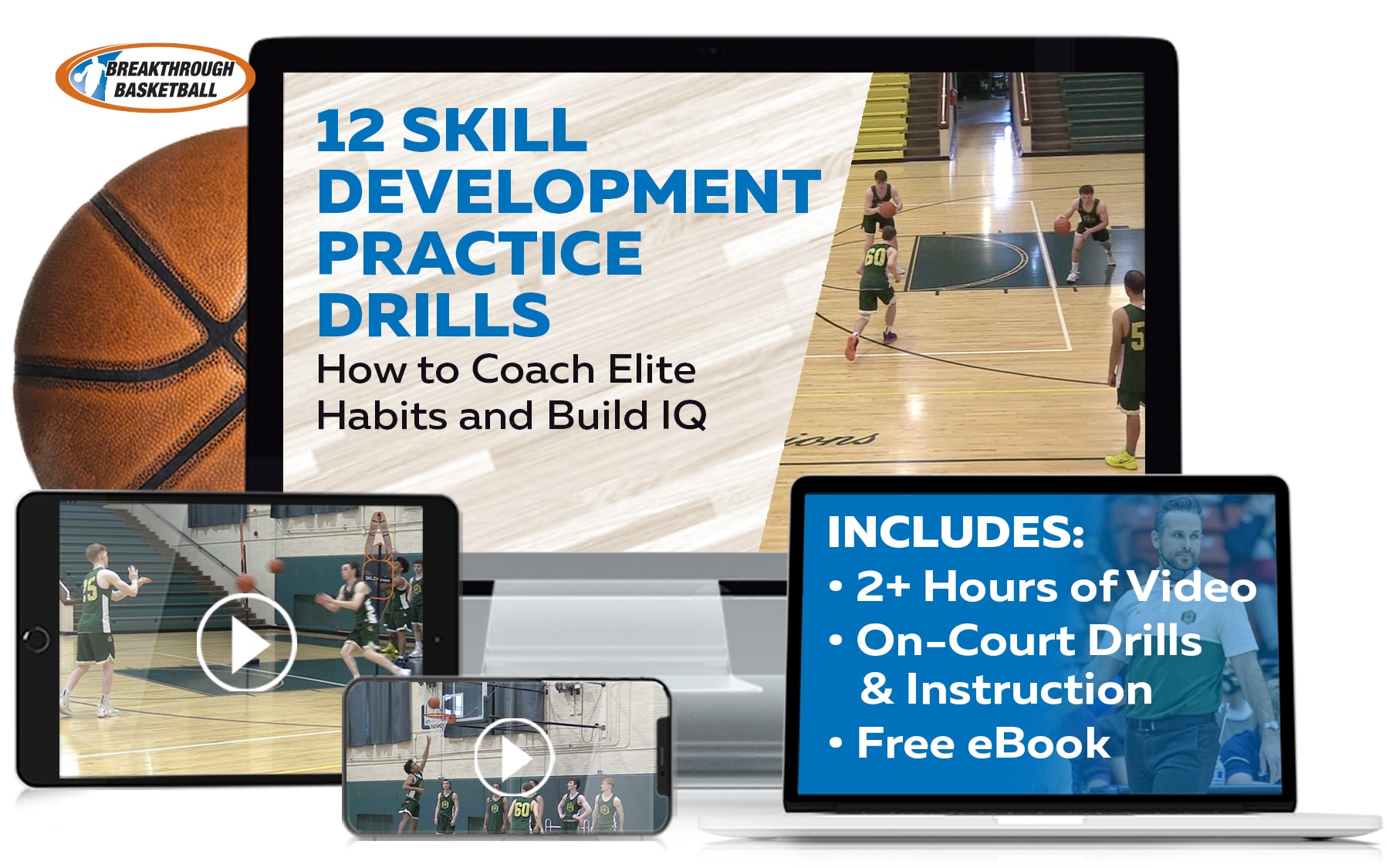 Chapter 1: Intro to Coach Logalbo
Discover a few things about the coach so you know why his advice is worthwhile to follow.
Chapter 2: Intro to High IQ Basketball
Discover why this style of practice translates into better play on game day on the offensive and defensive sides of the court
The layers and components that make up High IQ Training
The one thing that must take place in a player's mind to make high IQ basketball evident
How often players need to practice these skills for development
What it takes to be tougher and smarter than the competition
How to get players to buy into your culture
Overview of the USA Basketball player development model & the 8 skills that build high-IQ players
Why adding mental layers are a key piece to player development
Chapter 3: Skill Development and High IQ Drills
Argentina
Discover the 3 things that make this drill more effective than regular passing drills
The different ways to run the drill that creates organized chaos
The layers you can leave out when teaching young kids
Why it's a great drill to use for pre-game warm-up
How to execute this drill to improve conditioning
IQ Shooting
How to execute the Drift action with punctures and communication
How to execute the Drift & 1 More action off dribble penetration
How to execute an NBA-style Middle Drive With Lift Action
4 Man Shooting
Discover why it's great for creating effective floor spacing
The 4 positional opportunities offensive players must exploit every time someone drives the baseline
The most important words you can have as a coach to develop IQ
How to develop a mentality to make more "Dagger 3s"
Communication Overload
How to relocate and score off middle dribble drives
Why this drill improves focus and mental toughness
A highly effective action for the slot dribble drive
A dribble drive "Read" drill that improves IQ
Wildcat Finishing
2 ways to attack screens
Why they vary their finishing move on each repetition
How to add defenders to force the offensive player to make reads
Line Drills
Essential line drills that improve footwork, dribbling, triple-threat moves, and passing - Learned from Coach Don Showalter that are used at USA Basketball clinics and youth camps
How to use triple-threat footwork & moves to win the battle of the first step
Drills that build IQ by teaching players how to read defenders
How to properly coach mistakes and create a culture of excellence
Why players don't need a lot of moves to be effective (and what you should teach instead!)
Box Drills
6 moves to score off the catch
Why each team should have "DNA drills" that are practiced during the season and off-season
How to add defenders to improve their reads during game-time
Competitive King Of The Hill Box Drills to keep things high energy
Chair Drills
What players must do when help defense is reacting early or late
Use dummy defenders to help players develop tools that they can use in game situations
6-Point Defense Drill
The physically and mentally demanding 6 Point Defense Drill from Duke Basketball Camps
How this develops winning defensive habits against common offensive actions
Ends with a difficult 1v1 scenario that really challenges the defensive player
Chapter 4 - Peer Pressure Drills
The 22 Point Peer Pressure Drill forces players to execute at a high level while focusing on the details
The 35 Point Scoring Peer Pressure Drill that trains players to sprint the floor while staying mentally engaged (helps reduce travel violations)
The 45 Second Peer Pressure Drill that improves your scoring off of your fast break actions
Chapter 5: Communication Circle
How to properly debrief and end each practice on a positive note
How to encourage players to become more thoughtful and better people
Talk about the pros and cons of the day's practice and what to expect next
Get Instant Lifetime Access to this Program for just $49
60-Day Money Back Guarantee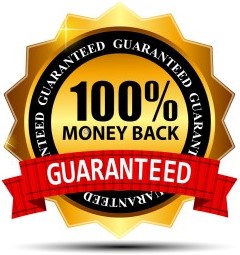 We absolutely guarantee that you're going to enjoy causing chaos for opponents with this offensive approach. That's why we're willing to let you try it risk-free for 60 days.
In other words, if you dig into this offensive system and decide that it isn't right for you in that time frame, you'll get a complete refund.
Get Instant Lifetime Access to this Program for just $49
Frequently Asked Questions
Don't you need defenders on the court at all times to increase basketball IQ?

It depends on your philosophy. Some coaches prefer to use small-sided games and drills with live defenders for almost all of their practice.

Other coaches believe that you need a balance of drills with and without defenders. When you remove additional stressors such as defenders, the athlete's ability to learn improves. So you start to develop the habits for high IQ decision-making without defenders. Then you put them in situations where they have to apply those habits in live situations against defenders.

Ultimately, Coach LoGalbo prefers to use both types of drills. While there are some drills with defenders utilized in this program, the majority of the drills are without defenders.

What types of coaches are these drills good for?

These drills can be used by high school coaches, college/pro coaches, and youth coaches.

What are the keys to building high-IQ players?

It's not mindless repetition. It involves getting in reps while adding mental and physical layers that translate into better play on game day quickly. Basketball players should be practicing in this fashion whether a real-life defender is present or not to get a better understanding as to why they're doing what they do.