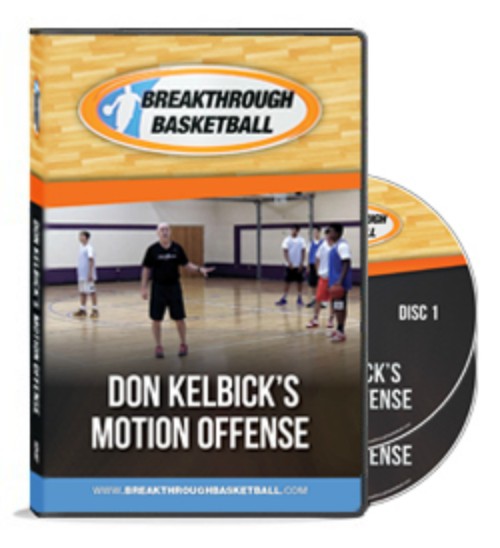 See All Reviews
Write a Review
Don Kelbick Motion Offense DVDs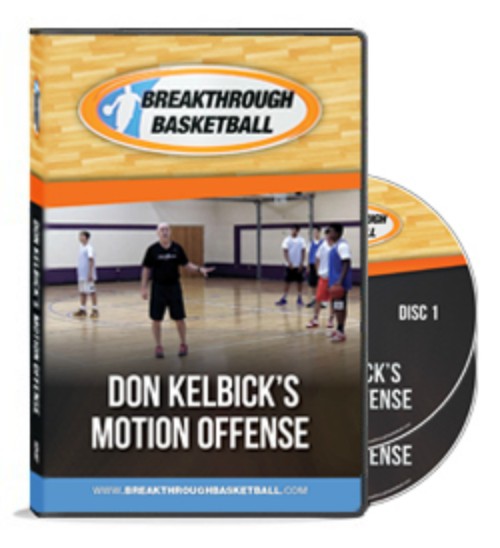 $79.00
In Stock
60 Day Money-Back Guarantee
2 DVDs (200 minutes) and 54 page eBook
You will be emailed access instructions and passwords upon order confirmation.
Don Kelbick's Motion Offense -- DVD 2-Pack & Supplemental eBook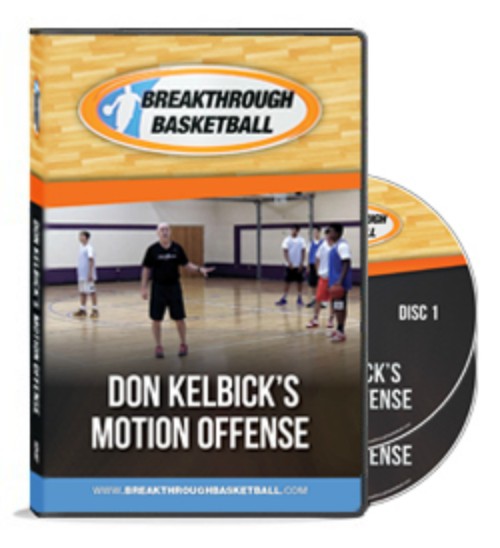 Don Kelbick's motion offense is a comprehensive guide to help you implement a successful motion offense for your basketball team...
By using the principles and drills in these DVDs and eBook, you will improve your team's spacing, movement, passing, shot selection, and overall offensive fluidity!
This DVD and complimentary eBook help to break down the principles of the motion offense so that you can effectively teach it without overcomplicating things.
Don Kelbick has been studying the motion offense for over 30 years, and experienced outstanding success running the offense at all levels. He has found that the offense is easy to teach, acceptable by players, and extremely versatile.
This DVD and eBook combo offers a unique, yet simple approach to teaching the motion offense, and you should be able to see results with your team in no time.
The beauty of Don Kelbick's Motion Offense is that it can be used by youth coaches all the way up to the professional level.
What You'll Get in the DVD 2-Pack and eBook
Chapter 1 - Introduction
Coach Kelbick gives you an introduction and explains:
What is the motion offense
The advantages of the motion offense
Elements and key components of the motion offense
Defining cuts and screens
Implementing the motion offense for your team
Chapter 2 - Two Player Drills
In this Chapter, Don Kelbick explains why he likes to start with a 2-man game when implementing the motion offense. He explains how this helps to identify cuts and scoring opportunities within the offense.
The two-player drills that Don Kelbick shows you in this chapter help to illustrate that everybody's movements create opportunities for somebody else. He does an excellent job of highlighting several of the different cuts and screens that are available to players in a motion offense.
Chapter 3 - Three Player Drills
In this chapter, Don Kelbick explains that once your players are comfortable with the cuts and screens in the two-man game, you can add another offensive player and put them in as many situations as possible as a three-man unit.
Just as he did in chapter two, Don explains screens, cuts, and rolls that can be used when running three-player drills. Players learn to self-organize, hustle, and communicate throughout the drills.
Some of the drills Don Kelbick highlights in this chapter are:
3 vs. 0 Dummy Offense
3 vs. 3 Live
Continuous 3 vs. 3
Chapter 4 - Four Player Drills
Don explains that adding a fourth player adds new situations that were not possible in the three-player drills.
In the video, Don highlights the restrictions he puts on his team when they are doing four-player drills so that they can gain the knowledge they need to make decisions on the court.
The video also highlights 4 vs. 4 live situations that continue to help players identify scoring opportunities from their movements and screens.
Chapter 5 - Common Situations
Don Kelbick explains that there are dozens of common situations that may repeat themselves in your motion offense. It is important for you to identify which situations your players will encounter the most often, and drill those repeatedly during your implementation.
Chapter 6 - 5 on 4 Implementation Drills
Spacing is much easier with only three or four offensive players on the floor than it is with five. So Don Kelbick adds his fifth offensive player before adding his fifth defensive player so that the offense can explore their options as a five-man unit.
Since these implementation drills are in a 5-on-4 setting, he restricts one of the offensive players. Some of the restrictions highlighted in the video are:
High Post is unguarded but cannot score
Low Post is unguarded but cannot score (and may not vacate the lane)
Open Post -2 Post Touches Before a Shot
Open Post - 5 Passes Before a Jump Shot
Chapter 7 - 5 Player Drills
The next step highlighted in the video to implementing your motion offense is to play 5-on-5 live. When Don Kelbick highlights 5-on-5 play, he demands that the players continue to follow the three rules of motion offense with emphasis on doing what they do best.
In this chapter you'll see a variety of restrictions and techniques to:
Improve spacing
Improve ball movement and get more reversals
Improve shot selection
Improve situational awareness
Isolate and improve specific screens, cuts, and motion actions
Get better shots and improve shooting percentage
Chapter 8 - Entries into the Motion Offense - Dribble Movements
This chapter includes possible actions when the ball is dribbled at a player on the wing. And how this can be used as a simple entry option.
Just like when you were first implementing the principles of your motion offense, this video highlights how you should go back to starting with 2-player drills and work your way up to 5-on-5.
Chapter 9 - Entries into the Motion Offense - Alignments and Early Actions
In this chapter, we highlight how to get into your motion offense and some early actions you can run. There is no limitation on the number of different alignments you can use to get into your motion offense.
Don Kelbick recommends utilizing alignments that dictate certain cuts and screens that will be most successful for your team.
In this section of the video, Don Kelbick demonstrates how various alignments are used to create certain actions that lead to early opportunities.
Chapter 10 - Entries into the Motion Offense - Quick Hitters
This chapter highlights the beauty of the motion offense and how it allows you to run some of your favorite quick hitters, but if you don't get a shot opportunity, your team is able to immediately transition into your motion offense.
In the video, the following progression is used for each set play:
5v0 Dummy Offense - Score on the Quick Hitter
5v0 Dummy Offense - Run the Quick Hitter into Motion Offense
Live 5v5 - Begin with the Quick Hitter
If the shot is not available on the initial action, the players immediately go into motion.
Chapter 11 - Adjustments vs. 2-3 Zone
A common misconception with the motion offense is that it can only be run against a man-to-man defense, which Don Kelbick explains couldn't be farther from the truth.
As Don highlights in the video, the adjustments a player must make when running motion against a 2-3 zone are more mental than they are physical.
The video emphasizes the basic adjustments that should be made when playing against a 2-3 zone.
It is explained that zone offense is best learned against live defense as players will make adjustments depending on where defenders are located. Don also continues to use control mechanisms such as "Four Reversals Before a Jump Shot" to encourage the offense to explore their options.
Chapter 12 - Adjustments vs. 1-3-1 Zone
In this chapter, Don Kelbick highlights the adjustments you should make to your motion offense when playing against a 1-3-1 zone.
The keys to playing against a 1-3-1 zone are the same as playing against a 2-3 zone. The indecision points may be located in different areas, but the principles that govern player movement remain the same.
Don explains four basic adjustments your team should make to your motion offense when playing against a 1-3-1 zone.
Chapter 13 - Adjustments vs. a Trapping Zone
Don Kelbick explains that a motion offense is incredibly effective against traps. One of the problems he sees in breaking traps is that once a team breaks the pressure, they often bring the ball back out to reset the offense. Unwittingly, this gives the defense a chance to reset as well, often giving them a second opportunity to attack the basketball.
He recommends going straight into your motion offense once the trap is broken.
You'll want someone one pass away that provides another outlet to move the ball out of the trap. Once the ball is out of the trap, look to attack immediately, or reverse the ball quickly as you flow right into the motion offense.
Chapter 14 - Transition into Motion Offense
The beauty of the motion offense is that it provides a seamless transition from your break into your half court offense. You do not have to pull the ball out to reset the offense.
Your transition offense can act as an entry into your motion offense. Once your break ends, your players will automatically flow into your motion offense and put pressure on the defense.
This DVD highlights several different transition actions into motion.
There are countless ways to organize your transition offense. If you like to run more elaborate secondary options, you can do that as well. Once your secondary action is complete, players immediately make a motion cut to get into the offense.
Chapter 15 - Individual Skill Development
Since motion offense is a skill-based offense, skill development must be a priority for anything you do inside the motion offense. Don Kelbick recommends that at least half of your practice time is focused on fundamentals and improving skills.
As you will find running the motion, it does not matter how good your players become at cutting and screening unless they are able to finish the shots that the offense creates.
These drills demonstrate how to take pieces of the motion and break down individual movements into quickly repeatable movements that yield high repetitions even for players who are working out on their own.
Chapter 16 - Frequently Asked Questions
At the end of the DVD, Coach Don Kelbick answers frequently asked questions about the motion offense. These questions include:
How has the implementation of your motion offense evolved over the years?
What are the advantages of running dummy offense?
How did you determine the three rules that govern the motion offense?
Do you have any preferences when it comes to various offensive alignments for your motion offense?
How do you incorporate skill development into your practices?
How do you adjust your motion offense to work with younger players?
How do you use various restrictions to govern the motion offense in practices and games?
What are the advantages of using Designated Shooter?
Chapter 17 - Closing Thoughts
To close things out, Don Kelbick gives you his closing thoughts on the motion offense. He explains that none of the players in the video knew each other before making the DVD, yet you can see the progress the players made right before your eyes throughout the DVDs.
Running a motion offense is also a long-term situation. You have to understand the players are going to make errors. They are going to make mistakes. They are going to freeze - they are not going to understand at times. That is all part of the learning process.
The game rewards those who commit to its underlying principles of spacing, ball movement, and decision making. Embrace the process of improvement, and just keep teaching.
54 Page Supplemental eBook
For your convenience, we have documented some of the key concepts, drills, implementation steps, and common questions from the Don Kelbick's Motion Offense DVDs.
The PDF eBook is 54 pages.
About Coach Don Kelbick
Some of Don Kelbick's credentials include:
Has provided individual training for more than 14 different NBA players, 50 European and professional players, and hundreds of college basketball players.
Over 35 years of basketball coaching experience at the high school, Division I college, and professional levels.
Served 14 years as a head coach and 10 years as Division I assistant including stops at Hofstra University, Marist College, Keene State College, and Florida International University.
Developed dozens of basketball DVDs and books.
In addition to coaching, has scouted for NBA teams, including the Knicks and the Hawks, and served as general manager in the USBL.
Traveled to over 20 different countries training players and teaching basketball.
Conducted over 1000 basketball clinics and camps training players of all age levels.
Don Kelbick is a long time contributor to Breakthrough Basketball developing dozens of articles, products, and providing ongoing consultation for the site. He also runs the Attack and Counter Skill Development Camps which are offered nationwide.

Don currently lives in Miami Florida training players and running the Drillz N Skillz Basketball Academy.
Who Should Consider this eBook & DVD Set?
This product is appropriate for all coaches at all levels. Beginner coaches will be able to soak up all of the teaching points of the motion offense, while veteran coaches will get new ideas, concepts and drills to improve their motion offense.
The motion offense is highly effective for any level of team, and you're able to learn the principles and implementation techniques from NBA skills trainer Don Kelbick!
We highly recommend this product for all coaches.
Sample Video Clip
Instant Access
In addition to receiving the 2 DVDs, you get immediate access to the eBook and streaming video.
After completing your order, you'll get access to a password protected area where you can watch all the videos via online streaming. You can also download the eBook.
The streaming videos requires high speed internet and can be viewed on any computer or tablet connected to the internet.
60 Day Money Back Guarantee
Just like any reputable bookstore or retail business, we have a 100% money back guarantee too.
If for any reason, your purchase is not what you expected, just send us a message and we'll give you a full refund. No questions asked.
"Claim Your Copy Now"
If you'd like to order by telephone, call us at 1-866-846-7892 (toll free).
If you have any questions, don't hesitate to contact us.
Customer Reviews
Most Helpful First
Newest First
---

Todd Rosenthal from New york, NY says:


12/24/2017

at 4:37:46 PM


I own Don's Attack & Counter and was looking for the continuity between all that excellent footwork stuff and the team offense. This is it! Fantastic video. Love the freedom, simplicity, reliance on player development while still giving the coach opportunities to affect team offense. Also love that kids can play from day 1 and it builds on what they know, rather than creating a situation where a coach is waiting for the team to "get it" over time, as is the case with more structured offenses.

My only question: I've seen Don teach the FLEX offense in a lot of videos and wonder where that comes in? I'm a middle school coach (up to 8th grade) and haven't taught the flex but actually thought this video would contain it. Happy that it is what it is (much more freeform) but wondering if Don would recommend the flex in addition or not at all for 7/8th graders...?

This review is helpful
2 people found this review helpful.
---

Leonard says:


8/29/2016

at 9:43:38 PM


REALLY good stuff here. I love the way he breaks down most situations. The only reason I took a star off was that there's so much here to teach and implement, it would be nice if a sample practice schedule was included on how Coach implements his teachings into practice. For example, if I only have a 2 hour practice, how much time does he devote to skill development, how much to offense and play and how much to defense, rebounding, situational etc.

This review is helpful
1 person found this review helpful.
---

Barry says:


8/31/2016

at 2:28:46 AM


I have a new 5th/6th grade team. I have been struggling for about 4/5 months to get the kids to understand and run a 4 out 1 in motion offense. I saw this, purchased it and have implemented it in 1 practice so far. The kids have responded better to this one practice then they have in 4 months. I'm excited about what's to come after more. They were super happy about the easy shots they were getting as well. I wish I had this months ago.

This review is helpful
1 person found this review helpful.
---

Jon from Charlotte, NC says:


1/3/2018

at 2:52:29 PM


Overall, I think this is a quality product but (as a user of many Breakthrough Basketball materials) found this usability of this DVD set less applicable for coaches of all ages.

I'd recommend this for a new coach who wants to learn comprehensively about what the motion offense is (i.e. what are the types of cuts and screens and how to implement them) or coaches at roughly the 7th grade or older whose players have the mental capacity to learn and implement many different cuts and screens...maybe younger groups if they have substantial practice time in a season.

I am neither of those groups (a coach of a couple U12 teams) and my kids are very solid basketball players but don't have an ability to grasp and implement numerous screens and cuts. I also get more than an hour of practice a week for only 10 weeks, so if I can get them to pick (on the ball) and do an occasional off-ball screen I'm happy and trying to practice UCLA, flare etc etc. screens isn't a good use of practice time when they won't be able to remember that during the game.

So, I would not recommend this for a coach who is in a situation similar to mine as described in the above paragraph. It would've been much better if there were more age or progression based concepts.

This review is helpful
1 person found this review helpful.
---

Justin from gilbert, AZ says:


9/12/2016

at 11:43:44 PM


I found this product so helpful. I struggled teaching offense and now with the drills it helps so much. We implemented screen away and all the options off of it and got a lot of scoring of off it.

This review is helpful
---

Rae Drake Jr. from Marquette, MI says:


9/13/2016

at 8:18:39 AM


I like the way Coach Kelbick simplifies the teaching process. I believe there is no greater compliment. I would recommend this DVD to coaches at any level.

This review is helpful
---

Rick from Burdett, KS says:


9/29/2016

at 9:00:38 AM


Coach Kelbick makes teaching this motion offense very easy for coaches by breaking the offense down into 2,3,4, and 5 man drills with and without defense. This dvd is perfect for any coach looking for a man or zone offense that doesn't have a set pattern.

This review is helpful
---

G Harter from Concord, VA says:


11/30/2016

at 8:04:03 PM


When I first reviewed this, I have to admit that I was a little disappointed as it seemed light on information. Also, I was expecting his "rules of the motion offense" to be more complicated. Having implemented this now for about 4 weeks with my team, I know realize the brilliance of his approach - simple but effective. My team is able to have more scoring opportunities with his approach and I am not yelling plays throughout the game. It also got me to relax more as the players made mistakes since they could easily recover from them which in turned helped the players relax and focus more on making good decisions in the game. He also breaks it down into manageable parts so that it does not get complicated. I would recommend this DVD.

This review is helpful
---

Joel Reinhart from tampa, FL says:


1/23/2017

at 1:48:10 PM


Excellent video! I've been looking for a zone offense that uses alot of motion yet keeps it simple. My 5th grade bball team picked it up easily within 20 minutes. I can't wait to try it out in a game soon!

This review is helpful
---

Alonzo Weatherly from Hayward, CA says:


3/7/2017

at 11:27:56 PM


My ten-year-old son has been playing basketball for about 2 years now and his current AAU team runs a motion offense. I purchased the DVD set as a means of educating the both of us. I definitely like how Kelbick breaks the offense down. I believe this DVD set will serve my son well if he takes advantage of it.

This review is helpful
---

Justin K Kickertz says:


3/14/2017

at 5:19:31 PM


Well thought out and informative material. Improved both my players and my coaching technique.

This review is helpful
---

Derrick Shambo from Hays, MT says:


1/7/2018

at 3:01:54 PM


I love it! I started to implement the motion offense in practice the day after I received it and could already see a big difference in our movement and proper screen setting. I let my team watch the video and for some they picked it up a lot quicker when they were able to visually see how the offense should be ran. It's almost mid season and for some it's just now starting to click, by tournament time we'll be a lot more advanced and we'll definatley be a tough team to gaurd by then!

This review is helpful
---

S Barrett from Urbana, OH says:


7/13/2018

at 11:50:25 PM


Fantastic video on Motion Offense. It is everything you need to run an efficient offense.


This review is helpful
---

Vman from Indianapolis, IN says:


11/20/2018

at 11:46:23 PM


Nice DVD... slow enough to capture concepts..

This review is helpful
---

Caterina from N. Iraklio Attikis, None says:


1/3/2019

at 7:33:04 AM


Very nice video, easy to understand and very simple to teach.

This review is helpful
---

Caleb from Claremore, OK says:


4/3/2019

at 3:53:28 PM


Really liked this series. I coach 9-10yr old boys and this really changed the way I coached. Went from not winning a game last season to 8-3 (losses were early in the season before the boys really grasped the concept) this season starting from square one teaching rules (only 3) as suggested in the DVDs. I was really proud of the fact that we had multiple games where every player scored at least once and other games where all but one or two would score. It wasn't just one or two kids doing everything. Towards the end of the season, our games were only close when our shots weren't falling. The great thing is that I've barely implemented the cuts and screens so there's a lot more potential there as we move up in age.

This review is helpful
---