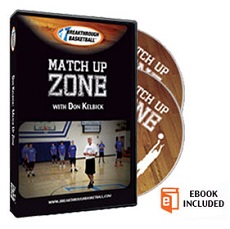 See All Reviews
Write a Review
Don Kelbick's Match Up Zone Defense - Streaming Video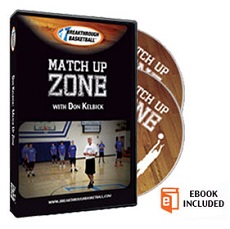 $69.00
In Stock
60 Day Money-Back Guarantee
Online Streaming Video (188 minutes) and 37 page eBook
You will be emailed access instructions and passwords upon order confirmation.
Don Kelbick's Match Up Zone Defense - Video and eBook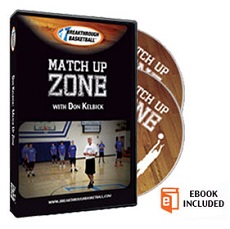 In this video set, you get a comprehensive guide for implementing Don Kelbick's Match Up Zone Defense. Coach Don Kelbick provides a thorough, step-by-step process to build the fundamentals and philosophy of this defense into your team.
Don Kelbick is a long time contributor to BreakthroughBasketball.com developing dozens of articles, DVDs, and eBooks for the site. He has over 35 years of basketball coaching experience at the high school, division I college, and professional levels. He has also provided individual training for more than 14 different NBA players, 50 European and professional players, and hundreds of college basketball players.
What You'll Get in this Video & eBook Package
The video includes:
Chapter 1 - Introduction
Goals and Principles of Defense
Why It's Effective
Who Should Consider this Defense
Chapter 2 - Drills to Build the Match-Up
In this chapter, Coach Kelbick shows you exactly how he builds his match-up defense. You'll see him build the defense with high school players that have never played this defense before. He starts with man to man principles and builds the defense step by step. You see on film how quickly he builds the defense with this group of players. This chapter includes:
Introduction to Man to Man Development
On the Ball Defensive Drill Series
Zig Zig without a Ball Drill
Defensive Reaction Drill
Off the Ball Defensive Drill Series
Shell Drill without a Ball
Coach Kelbick demonstrates a very unique way to teach man to man defense without a ball or any offense. This saves time because you don't have to worry about the offense passing at the wrong time, dribbling out of bounds, deflections, and so on. This method can be used in pre-season as a conditioning program, or in-season as your method to build the defense.
Chapter 3 - Teaching the Half Court Match-Up
Once man to man principles are taught, Coach Kelbick begins to teach the rules and responsibilities of the match up. The chapter includes...
Match Up Zone Responsibilities
Playing the Dribble
Playing the Pass
Playing Cutters
Chapter 4 - Team Defense Drills
In this chapter, you see how Don brings everything together. You'll see his method of teaching, correcting, and building the defense.
4 on 3 drill
4 on 4 drill
5 on 4 drill
5 on 5 drill
Chapter 5 - Defending Common Sets and Situations
In this chapter, Coach Kelbick shows you how to defend the following situations with the match up...
1-2-2 offensive set
2-3 offensive set
1-3-1 offensive set
2-1-2 offensive set
1-4 high offensive set
1-4 low offensive set
Chapter 6 - Trapping and Extending the Match Up Zone
In this chapter, Coach Kelbick walks you through the trapping, half court, and 3/4 court pressing options out of the match-up zone.
All of the responsibilities and rules of the match-up stay the same when you extend the defense. This makes it easy to teach and implement. There is NO live footage of the press in action. However, Don walks the players through the rules, responsibilities, and teaching points of the traps and full court press.
Chapter 7 - Making Adjustments
In this Chapter, Don shows how you to make adjustments to the match up and how to handle common challenges you'll face. Some of the adjustments include...
Shutting Down Shooters
Chasing Great Scorers
Handling Screens When Chasing
Chasing Two Great Scorers
Stopping Dominant Post Players
Defending Inbounds Plays
Defending Specific Cuts
Chapter 8 - Questions and Answers
In this chapter, Don answers several common questions about the match up and pulls everything together.
Approx running time is 188 minutes.
37 Page Supplemental eBook
For your convenience, we have documented the rules, responsibilities, philosophy and drills included in the Match Up Zone video. We also documented a step-by-step process for you to implement the defense.
How is Don Kelbick's Match Up Zone Defense Unique?
A match up zone is based on rules, which can differ from coach to coach. Some match up zones look more like a typical zone, where others look closer to a man to man defense.
Don Kelbick's match-up zone is governed by a set of rules and leaves interpretation of those rules to the players. Many of the rules in a match-up zone mirror man-to-man principals. Weak side help, denying cutters to the ball, cutting off the baseline, no dribble penetration, all principles of my man-to-man defense, are cornerstones of this match-up-zone.
Coach Kelbick's defensive rules simplify the teaching process and lessen the time you need to spend getting players to memorize situations. This defense is easier to learn than the other match-up zones we have seen. Some match-up zones require hours of repetition and break-down drills to get players to memorize each scenario and know what to do. This match-up has less structure and is based on rules and teaching players universal defensive fundamentals.
The core of the defense is based on taking away lay ups. That is a primary emphasis of the defense, even when extending to a full court press.
The defense is very flexible and can be modified to fit your needs and personnel. You can press out of the defense, pack things in, chase shooters, or modify positions for certain players.
The other big advantage to this video is that Don covers man to man principles in detail so you have everything you need to implement the defense. He shows a unique way to teach man defense without using a ball and how you can teach man to man defense during your pre-season conditioning. So when you step on the floor for the first day of practice, players already know the defense! Since there is no ball and it's "conditioning", coaches in some states can get this done before season even starts.
Why is This Defense So Effective?
This match up zone is very difficult for your opponents to prepare for because it's almost impossible for them to simulate the defense in practice.
Many times your opponents will run a zone offense because they think they are facing zone. And the defense starts acting like man. Then they start running their man offense because they think it's a man. And your defense starts looking more like zone bumping all screens and keeping the bigs down low.
This match-up defense is difficult to identify, prepare for, and play against. It morphs to what ever it sees offensively, diminishes the effectiveness of screens, takes away lay ups, puts pressure on the ball, takes away gaps, and forces the offense to do things they are not comfortable with. This defense is very tough to prepare for and you won't play against a defense like this often, if ever.
Who Should Consider this Match Up Zone?
This is not a "change up" defense. This is something you run as your primary defense. The more you run it, the better it gets. Youth teams should be teaching man to man defense. This match up zone is for advanced teams, not for youth teams.
Watch This Preview and Sample Video
60 Day Money Back Guarantee
Just like any reputable bookstore or retail business, we have a 100% money back guarantee too.
If for any reason, your purchase is not what you expected, just send us a message and we'll give you a full refund. No questions asked.
"Claim Your Copy Now"
If you'd like to order by telephone, call us at 1-866-846-7892 (toll free).
If you have any questions, don't hesitate to contact us.
Customer Reviews
Most Helpful First
Newest First
---

walt Szp from St. cCatharines, ON says:


12/30/2012

at 8:26:09 AM


Good progression of drills and explained clearly. Should help our team by disrupting offensive schemes of opponents--this zone is not used by any teams in our league. Looking forward to developing this with our team and coaches.

This review is helpful
2 people found this review helpful.
---

KHall from Knoxville, TN says:


1/11/2013

at 10:51:34 AM


I really love and respect what Jeff, Joe, and Coach Kelbick do. This DVD was good if you are learning the basic stuff. It was not the best DVD for me, but could be for others if you have no idea of a match up zone. Breakthrough is great, so my review does not mean there is nothing to learn from the DVD's. It just was not the best for me. Thanks for all you do guys!

This review is helpful
1 person found this review helpful.
---

Robin Sallie from framingham, MA says:


1/11/2013

at 10:43:52 AM


My entire career I have been a firm believer of man to man defense and only man to man defense for youth players. Don Kelbick's Match Up Zone Defense has changed my mind. I am teaching it to my 6th girl's grade travel team (which is made up of just 2 sixth graders, 4 fifth graders and 2 fourth graders.)

We are the only team in our division which is not made up entirely of 6th graders, are the only team that includes 50% of the players who have never played organized basketball before and are the only team with less than 10 players. No one expected us to be competitive. We don't run any plays, do any pressing and everyone plays every position. Everyone gets equal playing time, has a chance to start and has a chance to close games. My fellow coached think I am crazy for not just playing my best 5 or 6 players the entire game. They are looking to win the division and the play offs. I am looking to develop these players to start with my 10 year old as freshmen in high school in 4 years.

She is our equalizer. She averages 20 minutes, 22 points and 20 rebounds a game. It is sort of like having LeBron James on your Jr. College Team. Our record is 3-2. We have 7 more games in our season before the play offs.

We will see the two teams who beat us - one by 6 points and one by 1 point - again. We have two teams whom we have not yet played this week and next. Both lost badly to the teams that lost badly to us. I plan to give my weaker players extra playing time during those games. Once we have a little defense and a press break we will be okay against the teams who beat us.

I am preparing for them to throw two and three players at my kid every time that she touches the ball. We play a lot of practice "games" with the six grade boys team from our town having them trap her and run a triangle and two with both players on her. She is getting to be amazing at breaking the traps and / or finding the open girl. My other players cannot yet shoot and have serious defects handling the passes but I am looking 4 years out. As long as they are staying in Don's version of the triple threat "Shoot, shoot, shoot!" I am happy with their play. A great game for us, win or not, is when four or more players get a bucket.

I spent the entire first have of the season just teaching these players how to walk and dribble at the same time. I seriously spend 95% of our limited practice time on individual skills and 5% on team spacing. We spend a lot of time doing the foot work drills that Don taught me when he was here last year for a clinic. The foot work drills with chairs are perfect for kids who can't pass and can't catch a pass. We will move on to a little catch and shoot. However, our main diet is lay ups.

We are running the Read and React Motion as our offense. Defense has literally just been "Know whom you have and stay between them and the basket." We were three games into our season before I even introduced an inbounds play - a very simple stack that I've adjusted to fit every inbound situation. Before the play offs - which everyone makes - I'll add a simple press break, most likely Joe's 1-4 "line."

This week, and going forward, we will be spending 20 percent of our practice time on the Match Up Zone defense. I am teaching it as whole - parts - whole and using the man to man conditioning pieces as our warm up. I had been using dribbling drills as our warm up. I'll need to keep a few minutes of dribbling. My goal by the end of the season is for everyone to be able to dribble with either hand.

I just wanted to tell you that I love the defense and don't think of it as a zone. Zones are dead static things. This Match Up is a great yen to the yang of the Read and React. By the time my girls make high school their basketball IQ and skill set will be amazing on both ends of the floor. Here is a short click of us in action. http://youtu.be/oY9Qd4zKklg

This review is helpful
---

Jeff Fox from Wilson, NC says:


5/3/2013

at 11:02:01 AM


Match Up Zone DVDs were excellent. As a coach the concepts were easy to pick up on and commit to memory so they could be transferred to the kids. When a drill or concept is going to be repeated it may be good to show it once or twice then skip forward. Did that well toward the end but not so much in the earlier part.

Some visual aides super-imposed on the video would be helpful as well. A bit of diagramming while the drills were run. Especially with the 4 on 3, 4 on 4,.etc. Some breakdown would be good visually.

This is all nit picky....the series was really outstanding and Coach Don is easy to learn from. Just how he carries himself gives that impression that he has spent a lot of time on the bench scribbling on a coach's board.

This review is helpful
---

cody miller says:


12/13/2013

at 3:14:57 PM


I enjoyed and learned a lot from the video. I didn't have any knowledge of the match up zone before this. I found very easy to understand. Thanks guys!

This review is helpful
---

ben from superior, WI says:


8/14/2014

at 12:01:57 AM


very easy concepts...love the progressions in the drills!

This review is helpful
---

valter from cermenate, None says:


8/25/2015

at 8:25:17 AM


a very good product , with detailed explanations , and covering almost every possible situation .
I would have preferred more space in coverage's rules of pick & roll and penetrations .

This review is helpful
---

Dan from Minneapolis, MN says:


10/27/2015

at 9:18:35 AM


Thanks for a great website. It's an invaluable resource!

I really like the progression of drills and terminology to build the defense in these videos. Whether you use the match-up zone or man-to-man, there are valuable fundamental concepts taught here.

I had an issue with one of the streaming videos and the Breakthrough Basketball team was responsive and helpful.

One small question, for a relatively new coach of middle schoolers. Among the match-up zone rules are two related to cutters: 1) cutters going away from the ball, let them go. 2) cut off cutters coming to the ball.

What is the rule for cutters to the basket? We don't want to let them score (or score layups), but they aren't cutting to the ball. How do we teach defensive responsibility for this scenario?

This review is helpful
---

Jeff from Piermont , NH says:


4/2/2016

at 8:33:19 AM


Really like the match up zone coach does a great job teaching it.

This review is helpful
---

Chris Challender from Greenville, NC says:


8/17/2016

at 4:27:05 PM


This is a very good instructional video if you planning on implementing the Match Up Zone. Up to this point I couldn't grasp the details, even after watching some of the other videos by different college coaches. Kelbick explanations and drills convinced me to change to the Match-Up this coming season from our Pack Line man to man. The concepts that Coach Kelbick teaches are very similar and it should be an easy transition. This will help Keep my undersized guards on the perimeter and my "bigs" close to the basket and still pressure the ball and deny penetration.
Thank you Don.

This review is helpful
---

Joel Wolf from Concord, OH says:


8/15/2018

at 6:22:32 AM


I was on the bubble all summer about changing to the Match Up Zone defense. Decided to purchase this video to help me make my decision. Decision made, I'm in. Great explanation of how and why it works. Can't wait to get started.

This review is helpful
---

Susan Barry from Savannah, GA says:


11/19/2018

at 1:05:05 PM


This was very helpful for learning a matchup zone and also for drills to teach just regular man to man defensive skills. Very beneficial.

This review is helpful
---

Phil says:


3/29/2019

at 8:08:10 PM


Lots of good information on the match up zone as well as basic man to man drills.

This review is helpful
---

Bob Maronde from Grafton, WI says:


4/30/2020

at 11:03:17 PM


Excellent video. Very thorough and detailed. Best presentation of the match up zone I've watched.

This review is helpful
---