The proven answer to tough defenses
Dismantle Stingy Defenses With the Versatile Princeton
Offense Attack
Successfully used for decades by coaches from youth leagues all the way to the Pros:
Outsmart stronger, faster, more athletic teams
Feast on layups and open 3s
Push opposing defenses out of their comfort zone
Control the tempo to your favor
Win more games (even without great athletes)
Dear Coach,
Have you ever played a team that had an answer for everything you threw at them on defense?
No matter how hard your players defended, the opponent still got open shots and layups.
Not because they were stronger, faster or more athletic...
But because they executed to perfection.


I want YOUR TEAM to be that team this year.
Beautiful spacing that opens up lanes for cutting and easy layups
Reading the defense to relentlessly attack its weak points
Versatile against any defense your opponent throws at you
A nightmare for opposing coaches to prepare for
All 5 players working seamlessly together
And I believe the Princeton Offense is one of the fastest, most reliable ways to get there.
But there are a lot of misconceptions about Princeton....
Ones that keep coaches from ever fully realizing the raw power behind this legendary offense.
Weíre going to look at each of these together today to see if and how Princeton will transform your teamís offense and place in the standings.
Iíll also be offering you my full step-by-step program towards the end of this letter...
But donít skip ahead quite yet...
Because what youíll learn in the next couple minutes will make you a better offensive coach, I guarantee it.
But we should probably start with an introduction...


Coach Aaron Jennings here.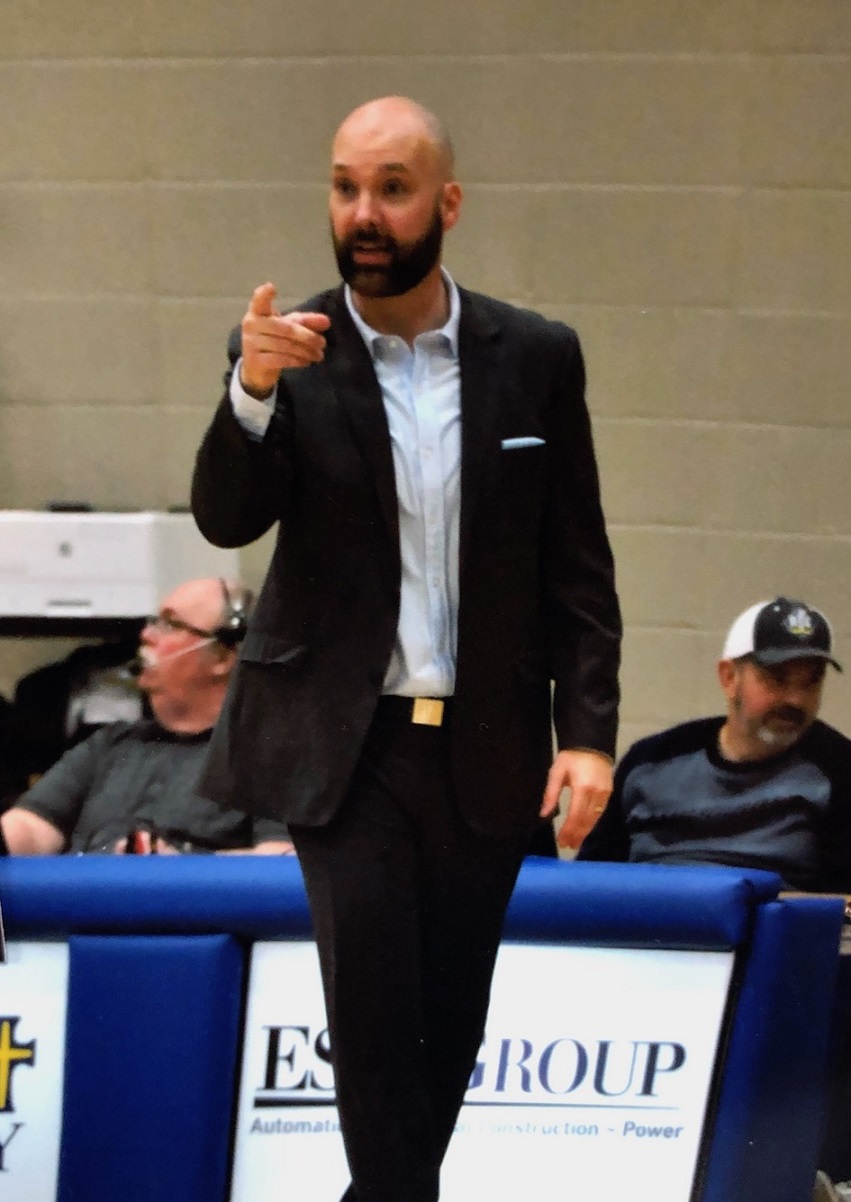 Hi there! Iím Coach Jennings.
Iíve spent the last 12 years as Head Basketball Coach at Mount Mercy University (7 years with the Womenís team and 5 years with the Menís team who I currently coach).
In my younger years, I played D-I ball (and ran the Princeton Offense) at Northwestern University under Bill Carmody (í00 to í03)...
Carmody served as assistant to the legendary Pete Carril (Princeton Head Coach for 30 years and modern-day originator of the Princeton Offense).
So I learned from the man who was as close as you can get to the "horseís mouth".
And now Iíve ran the Princeton Offense in each of my 12 years at Mount Mercy with great success, including:
Led NAIA Division I in 3pt FG made and attempted (í18-í19)
National Championship Appearance in Quarterfinals
Menís team averaged over 81PPG last 5 seasons
5 players averaging double figures on the same team
And just as importantly, my players absolutely LOVE running this offense.
Itís fun to play, fun to watch and fun to coach.


Why Switch To Princeton?
When I speak to coaches who are considering implementing Princeton, they typically bring up the same handful of challenges with their current offense...
Predictable sets make them too easy to scout (and shut down)
Disengagement from players who donít touch the ball very often
Players not moving without the ball
Ball getting stuck on one side of the floor
Few if any players who can consistently create their own shot
These are all symptoms of playing into the hands of the defense...
Doing what they want your team to do.
But to become a versatile offensive team, you need to take back control...
And you do this with an offensive system that relies on reading and reacting rather than robotically running through the same motions.


The Princeton Offense Crash Course
Princeton is an offensive approach based heavily on:
Perpetual motion
Player spacing
Backdoor cuts
Screens on and off the ball
Getting all 5 players involved
When itís run properly your offense lives on a steady diet of layups and open 3s.
Princeton operates out of 3 "actions": Point Series, Chin Series and Low Series
The central idea in each series is reading the defense and defender to exploit weaknesses.
And the backdoor cut is at the core of almost every read...
Either as the action or as the THREAT of action.


Want To Throw Defenses Into Disarray?
(And Create a Ton of Quality Shots)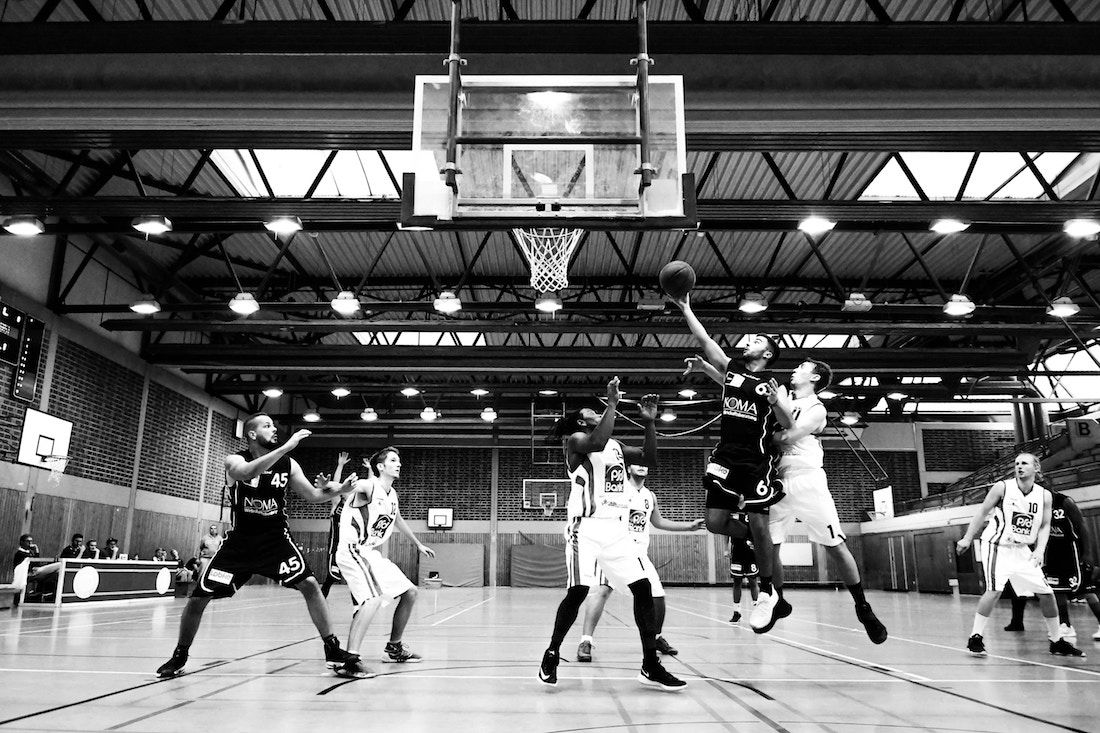 Photo by Max Winkler on Unsplash
Start backdooring...
Again and again. Multiple times on every possession.
After a few backdoor layups, youíll see the cracks start to show up...
Coaches calling timeout, defenders arguing with each other, opposing fans shaking their heads.
Do you know what almost always happens next?
Overcorrection.
You better believe that the opposing coaches often threaten to bench the next guy that gets backdoored.
So the defenders sag and stop pressuring the ball handler and perimeter pass...
Then what?


Test Your Hoops IQ

After a layup, do you know one of the most efficient shots in basketball?
An open 3-point shot (assuming itís a decent shooter)..
With the defense sagging to protect against the backdoor, youíre now getting consistently open 3s.
But thatís only part of the beauty...
Because remember, most teams prefer to defend aggressively up on the ball.
So when they sag down to stop the back door, theyíre out of their comfort zone.
This isnít what they practiced and itís not what theyíre used to seeing...
And thatís after just ONE wrinkle of Princeton...
Do you see how this strategy puts you back in control?


Youíre playing chess, theyíre playing checkers.
Sound too good to be true?
Check out this video from the 1996 NCAA Tournament.
Defending champ UCLA was playing unranked Princeton in Round 1 of March Madness.
Hereís how it went down...
Everybody in the gym knew a backdoor was coming...
Everyone at home knew too because the announcer said to watch out for the backdoor...
UCLAís defense was set...
They had the stronger, faster and more athletic players...
BUT IT STILL WORKED!
The classic piece of Princeton O gave them JUST ENOUGH of an edge against a far more talented team...
Now imagine what it can do for you.
Alright, now letís shift gears into looking at some of the common misconceptions about the Princeton Offense so I can give you my perspective having used it for years.


Will it only work
with super smart players?

Since Princeton depends so much on reading the defense, high IQ players are a big part of the equation.
But it can get a bad rap as an offense only fit for Ivy League brainiacs.
The truth is Basketball IQ is not something players are born with...
Itís something they develop through experience and proper coaching.
Thatís how players start to notice patterns they can use to read and predict the defense.
And unless you have a team full of head-turning athletes...
ANY successful offense you run is going to require high IQ players.
Regardless of where players are starting from a basketball "smarts" standpoint, whatís really essential is you getting them to buy into:
Willingness to learn and be coached
Understanding their teammates tendencies
Unselfish basketball where all teammates are involved
Fast Implementation
When in doubt, start simple.
It does take some time to incorporate every wrinkle of the ENTIRE Princeton Offense...
But itís not an all-or-nothing situation.
Iíve worked with many coaches whoíve successfully incorporated bits and pieces at a time based on what they knew their team could easily pick up.
This is exactly what I do with my daughterís 4th grade team when we run parts of Princeton.
You can even run some of the Princeton actions as "quick hitter" set plays to keep the defense off balance.
Ultimately, every coach can tailor the complexity to their specific personnel.


The Truth About 3 Point Shooting
One of the greatest benefits of a well-run Princeton Offense is the abundance of open 3-point shots youíll get as the defense protects against the backdoor.
But great shooting is not a requirement to see success.
Let me be clear...
Any offense you run is going to run better if youíve got shooting on the floor.
Shooting draws the defense out and opens up driving, passing and cutting lanes....
And it makes the defense pay for mistakes.
So if your team struggles shooting the ball, making this a focus of your skill development in practice will pay huge dividends...
Regardless of the offense you run.
But there are ways to hide poor shooting within the Princeton Offense.
For example, youíd focus on the Chin Series and attack on the dribble weave.
This creates backdoor situations and options to attack the paint off the flare screen.
Plus, consider that open shots increase your FG %.
Last year, my Mount Mercy squad led D-I NAIA in 3pt FG made and attempted...
And they knocked down 38% of them.
So if your team struggles from deep, simply getting better looks could dramatically improve their shooting.


Arenít Set Offenses Easy For Opponents to Scout?

Valid question.
After using the Princeton Offense as a player and coach for 15+ years, hereís what Iíve found...
If your set offense means players make robotic moves time after time...
And if all theyíre thinking about is "their spot" and their defined next move...
Then yes theyíre predictable and ineffective (unless you have uber-talented players)...
But Princeton is in my opinion the perfect combination of freedom and structure.
Youíre essentially giving players starting positions in the offense to set them up for success...
And letting them attack the weaknesses in the defense based on their own reads.
There are very few "HAVE TOíS" and a whole lot of options.


Not the "Slow It Down" Offense
Itís Often Accused of Being
Look, a lot of teams use Princeton to control the tempo of the game....
Especially when theyíre playing more athletic teams who want to play with pace.
Case in point, Princetonís 43-41 Tournament victory over UCLA which you saw above.
They knew they werenít winning an up-and-down game against that UCLA.
If thatís what's going to give you the edge, then use it to your advantage!
But keep in mind... in the 4 years Iíve coached the Menís team at Mount Mercy, weíve:
Averaged 81+ PPG every season
Had 4 to 5 players per season averaging double figures in points
Gotten out in transition at every opportunity
Iíve incorporated an Uptempo wrinkle into our Princeton that blends seamlessly into the half-court actions we want to run.
Youíll see more detail on that shortly...


The Fork in the Road...
My goal was to give you a clear picture of how and why Princeton works so well...
Not just for me but for coaches at the youth level all the way up to the pros...
If youíve made it this far, Iím going to assume you see the beauty in this offense, too.
So what to do from here?
I donít want to leave you on your own as you try to implement.
I know how powerful this offense can be...
But I also know you have to learn it the right way in order to teach it the right way and see success with your team.
I was lucky to learn from one of Pete Carrilís disciples and now Iím passing that knowledge on to as many coaches as I can...
So Iíve broken down everything you need to know into a simple program...


Introducing…
The Versatile Princeton Offense System with Aaron Jennings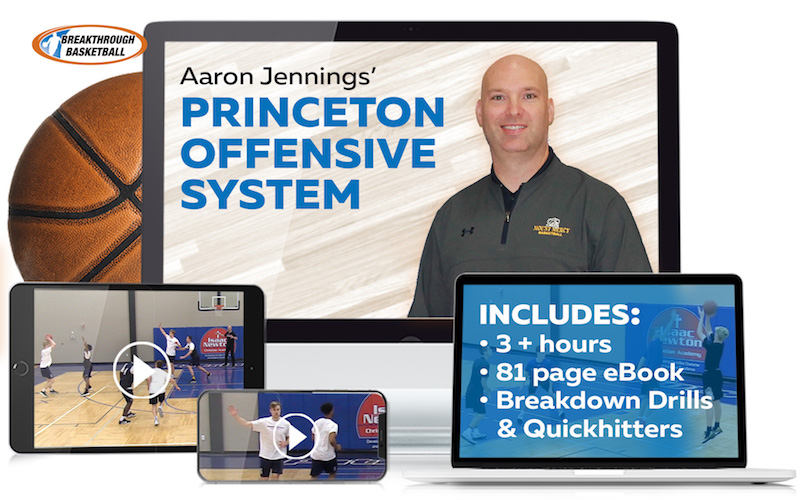 This program is a step-by-step roadmap you can follow to run a highly efficient offense that maximizes the talent on your team and keeps the defense on their toes.
As part of the program, youíre getting:
3+ hours of video training
80-page E-book with complete diagrams of all plays and drills
Over 30 plays and wrinkles to the offense for any goal or to counter any defense (including zone)
15 Princeton-specific skill development drills to prepare your players to capitalize on opportunities within the offense.
This Offensive System is best suited for high school and college teams (age 14 and higher)...
But you can use it with players as young as 7th grade IF your varsity coach runs Princeton and you want to give them a head start.
And not only will you be running a versatile attack that can create quality looks against any defense...
Youíll also get more out of every player on both ends because everyone feels involved on offense.
Outsmart stronger, faster, more athletic teams
Feast on layups and open 3s
Frustrate opposing defenses who always feel one step behind
Control the tempo to your favor
Win more games (even without great athletes)
If you want to level the playing field against powerhouse teams, this is the offense that will do it.
Hereís everything thatís included with the program:
Chapter 1: Introduction
Keys to success with the Princeton Offense
Main goals of the Offense
Chapter 2: Overview of the Princeton Offense
Core concepts and mentalities you and your team must embrace
When and how to use this offense for max success
Chapter 3: Point Series
8 different sets/ plays to run based on different reads
Proper on- and off-ball technique for max success
Chapter 4: Skill Development Drills for Point
5 drills to mimic game speed and game situations so your players execute
Chapter 5: Low Series
3 secondary transition sets/ plays to run based on different reads
Variations to counter different defensive looks
Additional coaching on player technique and coaching approach
Chapter 6: Skill Development Drills for Low
6 drills that make the timing and spacing second nature for your players
Chapter 7: Chin Series
4 sets/ plays to take advantage of tough man-to-man defenses jumping to the basketball
Simple directionals for your players to understand when and how to make the best reads
Chapter 8: Skill Development Drills for Chin
4 drills to get your players ready to capitalize on the looks theyíll get in the Chin series
Chapter 9: Transition Into Low
Seamlessly transition from the fast break into the Low Series
Coaching on how to maintain the advantage before the defense gets set
Chapter 10: Zone Adjustments
Make teams pay for playing zone with these tweaks to each set
Adjustments against 2-3, 1-3-1, and 1-2-2
Chapter 11: Offensive Quick Hitters
Take advantage of mismatches or cheating defenders
"Mouse in the house" post ups to target smaller players down low
Quick layups when the defense is sleeping
Chapter 12: Teaching Progressions and Implementation Tips
Best ways to implement Princeton with your team for the fastest results
How to structure practice drills so they translate to success in your offense
Chapter 13: Frequently Asked Questions
How to handle different looks from the defense
What to do if youíre not a great shooting team
How to coach Princeton from the sideline
Chapter 14: Closing Thoughts


Sneak Peek Inside the Program:
Whatís a Steady Diet of Layups and Open 3s Really Worth?
Maybe the better question is about time...
Because thatís your most precious resource as the season approaches.
How much time would it take for you to dial this in on your own?
How much trial-and-error with no guarantee of success?
Especially when wins and losses are on the line this season.
Some coaches spend years learning the hard way with their team struggling with inconsistency and inefficiency every step of the way.
Years later, they end up looking back wondering "what if" they had better direction on how to improve.
Thereís plenty of amateur information out there...
But do you want to take online instruction from someone with no more than a YouTube degree?
Letís say your time is worth $50 per hour...
And you save 10 hours by simply following my proven Princeton roadmap (in my experience, youíd save more like 30 to 50 hours )...
$50/ hr x 10 hours = $500 in value AT LEAST.
But of course, the full program wonít cost anywhere near that.


Get Instant Lifetime Access to the Entire Princeton Offense Program for just $79
JOIN NOW
Click the "Join Now" button to get immediate access to the Versatile Princeton Offense program
Once you click the "Join Now" button, youíll be taken to the "My Cart" page to review your order.
From there, simply click "Proceed to Checkout" and youíll be taken to our 100% Secure Payment page.
Just enter your contact and billing information to complete your purchase, and weíll email you all access instructions within a few minutes so you can dig into the trainings!


Test Drive the Program Before You Decide
(60-Day Money Back Guarantee)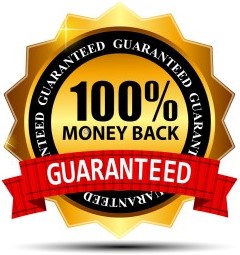 We want to put the ball in your court with this offer.
So take the next 60 days to watch all the videos and implement this with your team.
If you arenít thrilled with the content and certain itís going to make a major difference in your teamís success this year, we insist on giving you a full refund.
No questions. No hassle. No worries.
Just email us for a prompt and courteous refund.


Thereís a reason the Princeton Offense
has stood the test of time.
The Princeton Offense has been working for decades at every level of basketball.
Youíve heard about the legendary college and pro coaches who use it..
But I also run it with my 4th grade daughterís team with a lot of success.
And it works everywhere in between.
Beautiful spacing that opens up lanes for cutting and easy layups
Reading the defense to relentlessly attack its weak points
Versatile against any defense your opponent throws at you
A nightmare for opposing coaches to prepare for
All 5 players working seamlessly together
This program is designed to help you do all of those things and more.
Will it take some work? Of course.
But I believe you will look back at this as the turning point in your coaching career...
When you finally set roots with your signature system...
And became known as the coach your opponents respect, but hate to play against.
My Versatile Princeton Offense program is the blueprint to make that happen.


Click the "Join Now" button below to get Instant Access to The Versatile Princeton Offense With Aaron Jennings.
To your unstoppable offense!
Coach Jennings
Customer Reviews
Average Rating
4
Based on 8 reviews
Review This Product
Rate and review this product to let others know about your experience.
WRITE A REVIEW

Coach Aaron Jennings makes the Princeton Offense easy to teach and learn. It really is a good offense against aggressive defensive teams that over play the passing lanes. It forces defenses to not cheat. We have to work on our shooting from the 3 and perimeter but it forces us to fundamentally work on our passing, cutting, and screening to get good looks. I definitely recommend this program and offense.
This review is helpful

(
0 people
found this review helpful)

Coach Jennings is an excellent teacher. He doesn't scream or shout, he speaks in a controlled, confidant voice. He teaches the point, then has players demonstrate twice, once in a walk-through, then once more in a bit more up-tempo so the student can visualize the play.

I reviewed a dozen or so teaching videos before selecting Jennings and I am not disappointed. I am an amateur rec league 11-12-year-old boys coach who has never played BB but coached last year's team to the league Championship, winning it all and only losing 1 game. I chalk that up to Jenning's instruction.

I don't know the man personally but he did quickly respond to my email too!

Obviously, I highly recommend Coach Jenning's video and it is very well priced.
This review is helpful

(
0 people
found this review helpful)

At this point the video is horrible. It skips and jumps. I will be resetting my internet tomorrow to see if that solves the problem. However if it does not I will be returning the product and asking for my money back.

** Reply from Breakthrough Basketball **

We're sorry about the problems you're having. When this happens, it's almost always an internet provider problem. Or there are a few simple steps you can take to reset your system. Our support staff will contact you to help ASAP.

We also offer both web-based streaming option and a completely separate streaming app that is hosted on a different server and takes your browser out of the equation. You could use that to get up and running immediately as well. In any case, we'll reach out to help you.
This review is helpful

(
0 people
found this review helpful)

I would give a review of the content but I can not because I can not get through the content . The video plays 10 to 20 seconds then buffers. I contacted support they told me it must be the devise I'm playing the video on but I have no problem with all the other videos I have purchased. I gave it one star for the first 5 minutes that took 30 minutes to watch.
This review is helpful

(
0 people
found this review helpful)

Doing drills and plays over the years I have had success but after purchasing this system I changed my games plan and started implementing the chin series. This was amazing we played out cross town rival who usually kills us by 80, they are High division we are low. Well not this time, we lost but only by 11. This system is amazing thank you coach fortenberry
This review is helpful

(
0 people
found this review helpful)

Coach Jennings does a great job of breaking down the different phases of Princeton, we have been using elements of this for the past year and I was able to find some new ideas and wrinkles to the offense. Very well organized video and easy to understand. Well done!
This review is helpful

(
0 people
found this review helpful)

Well done , precise just as Princeton should be. Coach Jennings does a real good job of explaining the system and the advice he give about where to begin depending on the levels of your players.
Coaching High School girls, we would have to simplify each set. There is a lot to remember to run this offense correctly. If I coached a high School boys team again, I would definitely use the Princeton style offense and this video would be a great help.
This review is helpful

(
0 people
found this review helpful)

Goes through the Princeton offense very well. Has a great understanding of the offense and gives you nice counters. Nice job of running through different drills for Point, Chin, and Low.
This review is helpful

(
0 people
found this review helpful)