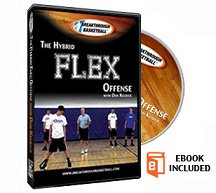 See All Reviews
Write a Review
The Hybrid Flex Offense - Streaming Video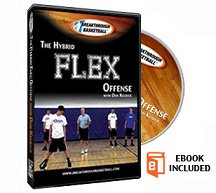 $39.00
In Stock
60 Day Money-Back Guarantee
The Hybrid Flex Offense with Don Kelbick - 80 minute Streaming Video and 41 page eBook
You will be emailed access instructions and passwords upon order confirmation.
Video & eBook - The Hybrid Flex Offense with Don Kelbick
Dear Basketball Coach,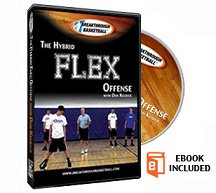 This video teaches you the very popular "base flex offense" and then builds on the traditional base offense by showing you new variations, options, entries, and concepts that turn it into the "Hybrid Flex Offense".
Don has a unique way to teach the flex and he shares the methods and ideas that have worked for him as a high school and college coach. Don gives some great advice on running an effective traditional flex offense. But he takes things to another level by showing you how to add options to the offense making it unpredictable and difficult to guard.
Once you are able to implement the options, the offense can become incredibly effective because players can make reads in the offense throwing the defense off balance. At any time during the base flex, a player can see an opportunity to run an "option" and get a quick score. Players feel empowered, defenses get confused, and your flex continuity offense takes on some "motion" benefits and characteristics.
Who is Don Kelbick?
Some of Don Kelbick's credentials include:
Over 35 years of basketball coaching experience at the high school, division I college, and professional levels.


Has provided individual training for more than 14 different NBA players, 50 European and professional players, and hundreds of college basketball players.


Developed dozens of basketball videos and books.


Inventor of the highly acclaimed Attack & Counter Skill development system.


Traveled to over 20 different countries training players and teaching basketball.


Conducted over 1000 basketball clinics and camps training players of all age levels.


Don Kelbick is a long time contributor to BreakthroughBasketball.com developing dozens of articles, products, and providing ongoing consultation for the site. He also runs the Attack and Counter Skill Development Camps which are offered nationwide. Don currently lives in Miami Florida training players and running the Drillz N Skillz Basketball Academy.
What You'll Get in this Video & eBook Package
The Video includes:
Chapter 1 - Introduction and Core Concepts
Benefits of the flex offense
Overview of the system
Basic philosophy and getting started the right way
Chapter 2 - Base Continuity Pattern
How to teach the base flex offense step-by-step
The scoring opportunities and how to execute each opportunity
Teaching points and the keys to making your base flex offense effective
How to teach spacing
Offensive timing
Setting up screens and executing fundamentals
How to deviate from the offense and maintain continuity
Chapter 3 - Eight Alternate Entries
Learn 8 different entries to initiate the flex offense
How to enter the ball and initiate the offense with minimal resistance
Early scoring opportunities and options for quick scores
Chapter 4 - Pressure Releases
How to handle defensive pressure and denied passes
How to beat defenses that switch on screens
How to maintain proper spacing and keep the ball in the operating zone under intense pressure
What to do when passing options are not available
Chapter 5 - Flex Options
How to teach unique scoring options and variations from the flex offense
5 highly effective scoring options out of the flex continuity
How to get your best players the shots you want
How to read and counter the defense
Chapter 6 - Flex Drills
Drills to improve skills within the offense
How to develop your own drills
Chapter 7 - Closing Thoughts
Answers to common questions
How to deal with common obstacles and challenges when implementing the flex
Keys to make the offense effective
Putting it all together and implementing the offense with your team
Approx running time is 80 minutes.
41 Page Supplemental eBook
For your convenience, we have diagrammed the options, entries, tips, and drills included in the Hybrid Flex Offense Video. We also documented a step-by-step process for you to implement the offense.
Access the PDF eBook from your computer's DVD-ROM drive.
Why Should You Consider the Hybrid Flex Offense?
The Hybrid Flex offense is a very effective offense that is based on a continuity pattern. All 5 players get to play all 5 positions, which is excellent for player development.
You will have great spacing, player movement, and ball movement. With the constant passing, cutting, flex screens, and screen the screener actions, it can be a nightmare for defenses to guard.
With the way that Don teaches the counters and motion principles, it is also highly adaptable. The way that he simplifies the structure and constant flow of the offense, the defense will never know what is coming because when you go to a counter he teaches you how to transition seamlessly back into the continuity. On one possession, you can see flex pattern, counter, counter, flex pattern, flex pattern, flex pattern, counter, flex pattern, counter, and so on. With proper teaching, your offense will execute this perfectly.
To emphasize the strengths of your players, Don will also teach you how to get your ball handlers opportunities to attack the rim, how to get your shooters open shots, and your post players more touches.
Part of the reason this offense is so popular and so effective is because it's based on a screening action that is very difficult to stop, even when you know it's coming.
Then add the fact that there are unlimited options when running the hybrid flex offense, it becomes even harder to stop. If the defense does one thing, there is always a counter and simple way for the offense to react. You can start simple and add options as players get comfortable.
There is no limit to the advancement of this offense. You can start very simple. And then slowly advance with no limits. You probably don't realize it, but this offense is very popular at the college and NBA levels. In 2012, the Bulls, Hawks, Jazz, Magic, and Heat all ran variations of the flex offense. Each team had a unique way to run the offense.
This is another reason why the hybrid flex is so hard to stop, there is no one set way to run it, so you can't really prepare for it. That's tough for coaches and defenses.
This might sound complicated, but I can assure you it's not. It's simple and works at all levels of play (youth to the NBA).
60 Day Money Back Guarantee
Just like any reputable bookstore or retail business, we have a 100% money back guarantee too.
If for any reason, your purchase is not what you expected, just send us a message and we'll give you a full refund. No questions asked.
JOIN NOW
Click the "Join Now" button to get immediate access to Don Kelbick's Hybrid Flex Offense
Once you click the "Join Now" button, you'll be taken to the "My Cart" page to review your order.
From there, simply click "Proceed to Checkout" and you'll be taken to our 100% Secure Payment page.
Just enter your contact and billing information to complete your purchase.
Customer Reviews
Most Helpful First
Newest First
---

Jeff Halseth from Sioux Falls, SD says:


5/23/2012

at 2:41:46 PM


The DVD is very informative and really breaksdown different options in the Flex Offense. I would like to see how it looks in the ebook but have not received it yet!!

This review is helpful
1 person found this review helpful.
---

Coach F. says:


5/23/2012

at 3:30:19 PM


I''m not sure where the word "hybrid" comes from in the title. This is a basic breakdown of the Flex offense. If you are unfamiliar with the Flex, Don does a nice job of explaining it and breaking it into parts. Unfortunately, I was fooled by the title and the write up - it seems like there will be some new "twists" to the offense presented on this DVD....not the case.

This review is helpful
1 person found this review helpful.
---

Dave from Shelton, CT says:


5/23/2012

at 4:18:46 PM


I really enjoyed the DVD. As a youth basketball coach, this was my first exposure to the flex. The continuity that this offense provides is extremely important to me as a coach at this level. It appears that it will be easy to flow into off the initial break. Alltough he did not cover its use against zone defenses, it seems that with a few minor adjustments it would work well against odd man fronts. Since I have very limited practice time, using primarily one offense against man and zone is very beneficial.

This review is helpful
1 person found this review helpful.
---

Coach S from Olathe, KS says:


5/24/2012

at 12:28:00 PM


Here's what I liked, it wasn't a team of ringers that already know the offense, running it perfectly. It was an average group of high school kids, learning on the go from an NBA quality instructor. You could see the lightbulbs going off along the way. I didn't just learn the Flex, I learned a lot about teaching from watching Don. He breaks down the complex and makes it simple.

This review is helpful
1 person found this review helpful.
---

Coach Calabrese Chicago/Elgin Illinois from ELGIN, IL says:


1/12/2013

at 10:16:25 PM


Coach Kelbick,

He did an outstanding job breaking down the flex offense. Coach Kelbick describe how to teach your players on the importance of setting screens , and his and scoring opportunities your players will have. Also how to entry in to the flex form the 1-3-1, 1-2-2 1-4 high ect. Also gives you drills on how to teach your players. Since buying this dvd and facing man to man, We always break down the defense. 7th and 8th grade teams watch out!!!

Easy to teach.
Coaches don't play ZONE DEFENSE IN MIDDLE SCHOOL

This review is helpful
1 person found this review helpful.
---

philbin108 from Longmeadow, MA says:


1/15/2013

at 8:24:01 AM


THe DVD explained a basic flex offense quite well. I liked the opportunity of watching the kids run through it over and over at times. I would have benefited from a diagram prior to each option showing how it differs or what the next step is. At times I found myself taking notes and having to pause the DVD to figure out ocatch up with what was going on off the ball. I did watch the video prior to reading the leaflet as instructed. Maybe I should have done both at once.

This review is helpful
1 person found this review helpful.
---

Jon from Edison, NJ says:


5/23/2012

at 6:50:51 PM


The play is broken down thoroughly with multiple entries. I certainly can add it to my playbook. He only shoes the offense against the man defense but leaves out its usefulness attacking a zone. I think if he would explain how to use that in a zone attack it would make the video much better. One last item, it was advertised to come with an e-book but it was never provided nor instructed on how to retrieve it.

This review is helpful
---

Coach H from Howard, OH says:


5/23/2012

at 2:20:38 PM


I think it is very well done and very thorough. I really like how Don presented this offense, like the spacing and continuity, like the set movement and the options. And I really like how it teaches screens from the very beginning. I did receive the eBook and it is very thorough and explains the offense in detail. This is another great product from Jeff and team. Well done mates!

This review is helpful
---

Chris S says:


6/29/2012

at 5:05:11 PM


I really enjoyed the concepts and teaching on the video. I'm going to to try and run this for my team this fall.

What was perhaps even more impressive (at least in my mind) was when I e-mailed a question, Don e-mailed me back (and Jeff did as well).

Your extra efforts are appreciated--keep up the good work.

This review is helpful
---

Coach J from antioch, IL says:


7/5/2012

at 8:46:55 PM


I have watched the DVD twice already and can't wait to start teaching the flex offense to my 7th grade team. We have run a motion based offense in the past and some of our sets fall right into the flex options. Love the DVD and could not be more happy!

This review is helpful
---

Larry Kaszynski from Oconto, WI says:


1/11/2013

at 3:14:30 PM


I have had used the Flex offense that was put out by another coach and it was not broke down like the way Don did it and the video also included drills to help the athletes understand the way the offense is to be run.

This review is helpful
---

Coach WC from Dalton, GA says:


1/21/2013

at 6:40:30 PM


Good instruction by Don Kelbick. I like the different variations. Will fit nicely with my 8th grade girls talent and style of play. However, I would liked to have seen more live demonstrations with 5 defensive players instead of 3. I received the zone attack ebook but would liked to have seen a live demonstration run against zone defense in the DVD.

This review is helpful
---

Andy Cowie from NEW PLYMOUTH, None says:


1/31/2013

at 6:24:37 PM


This is one of the best descriptive and easy viewing instructional videos I have come across. We too use the flex offense at our school which accommodates players aged 12yrs to 18yrs.
Our coaches will now be able to hold a viewing session prior to the practical session with their teams which suits today's youth.
Many thanks for this opportunity.

Yours in BASKETBALL

Andy Cowie
Francis Douglas Memorial College
Basketball Coordinator

This review is helpful
---

Coach Bynum from Kingsford Heights, IN says:


3/5/2013

at 6:27:36 PM


I think Coach Kelbick did a fantastic job presenting the Flex Offense. The pace of the video, breakdown of the options, and multiple entries makes the offense easy to install. The E-Book, along with the video, makes getting concepts to the players much easier. If you like this video, I definitely recommend purchasing Coach Kelbick's video "Transition Offense and the 4 Second Fast Break". It ties together the transition game flowing into the flex offense. Great combination!

This review is helpful
---

Coach WC from Dalton, GA says:


4/10/2013

at 9:06:06 PM


Had one problem with this offense. Sometimes my players get caught up in the play as the post releases from down screen and forget it's their turn to flex cut as the ball is passed back across the top.Happens too many times. Any suggestions??

This review is helpful
---

Bob Butcher from Deerfield, NY says:


10/24/2013

at 8:25:08 AM


I just wanted to say great job with this video Don Kelbick. I was looking for something with a few different wrinkles in it for the flex and these options like zipper cuts, and curl cuts are awesome. Very well done guys.

This review is helpful
---

JD from Aurora, CO says:


12/12/2013

at 4:34:05 PM


Coach,
This Flex DVD is the best EVER! I have coached for about 8 years now....always looking for ways to improve my teams skill set. I have brought over 12 DVD's in the past year (Paid Big Money) but none could come close to this! If you need an offense that has movement, screens and cutting this is IT! It not only teaches players but it's taught me how to become a better coach.


Thank you and God Bless!!!

This review is helpful
---

Leon from Otego, NY says:


4/11/2016

at 7:01:40 AM


This offense is exactly what I was looking for to run with my jv/varsity level girls. The only thing I wish it did was get into how you would run it against a zone style defense. All the comments I've read have said things like "with a few adjustments you could easily run this against a zone".... that's great, but what type of adjustments exactly. Show me what you're talking about. That is the one thing I feel this dvd/product is lacking.

This review is helpful
---

Jason says:


7/20/2018

at 5:11:07 PM


Great video. Material is presented concisely and clearly; just enough options to make it a complete offense that you could run all season, but simple enough for a middle or high school team to use. The offense looks very complicated when it's being run but is actually relatively simple to learn. Coach K is a great teacher; explains everything clearly and completely. Some interesting wrinkles to differentiate your flex from other offenses. Only cons: A little light on drills and how to teach it to players, and limited use vs zone defense (but it's simple enough that you can figure that out on your own) and if you already know the Flex, other than a few options, this won't be anything new to you. But overall, really useful video.

This review is helpful
---

Mike from Cheshire, CT says:


3/28/2021

at 3:25:43 PM


The video did a great job explaining the flex and providing different entry options and reads. It took three practices for my 8th grade girls Travel team to remember the basic cuts. We put it in the second half of the season and won 8 out of our last nine games and the league tournament. Before implementing this offense we struggled scoring against man to man defense. I would recommend this video and offense to any middle school level team. The offensive pattern allows players to play at all levels of the court and it is complicated enough that middle School level teams could not adjust easily to the offense.

This review is helpful
---