Man to Man Defense with Jim Huber -- Video 4-Pack & eBooks
"The Ultimate Resource for Man to Man Defense"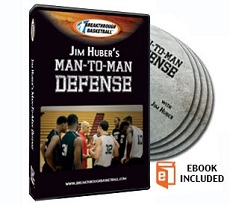 Dear Basketball Coach,
Announcing Jim Huber's Man to Man Defense DVD series and eBooks. This is the ultimate resource for man to man defense. You get...
4 Videos of comprehensive instruction
Step by step teaching progression
2 complimentary eBooks with all the steps, drills, and key teaching points documented for you
Over 50 man to man defense drills
Everything you need to build a dominating man to man defense that shuts down opponents and wins games
This is the most comprehensive man to man defense resource available, by far...
It gives you an extremely thorough and detailed explanation of man to man defense.
Even experienced man to man coaches will find new ideas and approaches that you can implement with your team.
The step-by-step approach and thoughtful organization of the videos makes the resource beneficial for beginner youth coaches, all the way to veteran high school or college coaches.
How to Develop an Elite Man to Man Defense
This product will show you step-by-step how to develop an elite man to man defense. Jim Huber shows you the exact teaching progression he uses every year to pump out elite defensive teams.
We all know that defense gives your team consistency and history proves that championship teams play tough defense...
Besides recruiting players, developing a great defense is the quickest way for you to develop a competitive team. This is why so many coaches emphasize defense. They know that you can develop a great defense a lot quicker than offensive skills. Anyone can play defense.
This video series will help you quickly develop a power-house defense that wins games!
About Jim Huber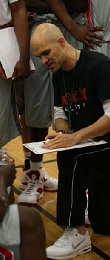 Some of Jim Huber's credentials include:

Over 20 years of basketball coaching experience at the youth, high school, and college levels.
Coached a team to a 1st place finish at the 2013 Nike Global Challenge.
Coached at the Nike Elite 100 Camp which selects the top 100 high school players.
#1 Team Defense at 2013 Nike EYBL which has the top 40 Nike High School teams from North America and consists of 18 regular season games. Qualified for 2013 Nike Peach Jam.
A head coach for Mokan Basketball. Mokan is a direct Nike sponsor program. In 2012 when Coach Huber was Director of Basketball Operations, Mokan reached the Final Four at the Peach Jam, which only selects the top 24 teams from the Nike Elite Youth Basketball League (EYBL).
45 Championships, 13 Runner-up Finishes, and 26 Final Four Finishes at regional and national tournaments since 2004.
42 Collegiate players and 22 at Division 1 level.
Coach Huber is one of the best man to man defense coaches in the country. He has a unique ability to get his players working at an extremely intense level and pump out some of the best defensive teams around.
What You'll Get in this Video and eBook Package
Video #1
Chapter 1 - Introduction
Learn about Jim Huber and why you should listen to him. You'll also get a brief overview of what will be covered in the video series.
Chapter 2 - Goals of Jim Huber's Man To Man Defense
It's important for you to understand the goals of the defense, philosophy, and what it's trying to accomplish. The primary goal of his defense is simple...
"Don't let the opponent score."
This is accomplished by sealing seams and keeping the ball as far from the basket as possible. No lay ups are allowed in this defense and the only shot allowed is a highly contested jump shot on the perimeter.
The defense is highly adaptable for slow teams that need to pack it in or quick teams that can get out and force more turnovers.
You will learn how Coach Huber frustrates opponents by forcing turnovers, forcing them to take tough outside shots, and dictating the shots allowed.
Chapter 3 - Eleven Keys to a Great Man to Man Defense
In this chapter, you will learn Jim Huber's 11 keys to a great defense. These are non-negotiable aspects that must be implemented thoroughly to reach your defensive goals.
These foundational concepts will allow you to be successful and give you a logical framework to build on.
Chapter 4 - How to Build the Defense Step-by-Step
In this chapter, you will learn exactly how to develop a man to man defense step-by-step.
Coach Huber shows you the exact steps by dividing the instruction into "stages". There are 14 total stages.
Youth coaches teaching this for the first time might only complete the first 6 stages. The following year they might get through 8 stages. High school teams will get through all 14 stages.
In each stage, you will learn detailed fundamental concepts for ALL aspects of man to man defense.
Here's a summary of what you'll get in this chapter...
How to Increase Intensity and Effort
Coach Huber's teams are known for intensity, effort, and tough defense. In the video you'll learn...

How to quickly get your players to "buy in" to the system (an important step to develop an elite defense)
How to keep all your players involved so no one is standing around
Flexible practice drills that allow you to work with large or small teams
How to improve player communication
How to hold players accountable and improve performance
How to effectively demand an elite level of performance
On-Ball Defensive Fundamentals, Tips, Strategies and Drills
Here are a few things you'll learn about guarding the ball...

Fundamental aspects of a good defensive stance
Why your feet should be outside your knees
How to improve quickness and play better on-ball defense
How to improve speed with hip-turns, push step, and better movement fundamentals
The exact teaching progression for teaching on-ball defensive fundamentals
Drills to strengthen legs and teach players to "stay in their stance"
How to adjust your defensive stance to increase quickness and move more efficiently
Keys to stopping your defender and staying in front
How to stop dribble penetration
How to force your opponent into a "position of weakness"
Simple ways to lower your opponent's shooting percentage
How to pressure the ball and cause turnovers without getting beat
Ball pressure drills
Defensive Close Outs - Fundamentals and Drills
A few things you'll learn about close-outs include...

5 fundamental keys to effective close-outs
How to close out quickly and contain the ball
How to close out quickly and contest shots (disrupt the shooter)
Drills to improve close outs
The exact teaching progression to teach and develop good close outs
Defensive Rebounding
Securing the rebounding is an important aspect of your defense. In this section you will learn...

Rebounding fundamentals
Keys to defensive rebounding
Simple tips to improve rebounding
Rebounding drills
Teaching progression
Teaching Help Defense - Guarding Players 1 & 2 Passes Away
How to quickly teach help defense to your team and develop good habits
Drills to teach help defense
Fundamental aspects to teaching help defense
How to seal seams and keep ball away from basket
Help and recovery drills
Defensive help rotations - how do it and how to teach it
How to stop the baseline drive
How to get your players working hard and playing aggressive
Shell Drill Progressions and Tactics
How to QUICKLY get players to remember their positioning and understand help responsibilities
Tricks to run shell drill more efficiently
How to get teams playing at an amazing level of intensity
Common recovery mistakes and how to fix them
Shell drill progressions (8 step progression for the shell drill)
How to consistently keep the ball out of the paint
Progression for youth coaches
How to defend cutters
How to get more deflections
Video #2
Chapter 4 (continued)
Developing Your Transition Defense

How to get players consistently sprinting FULL SPEED in transition
How to develop incredible transition defense
How to defend various fast break situations (1 on 2, 3 on 2, etc)
Transition defense priorities and fundamental keys
The EXACT drills and progression to build your transition defense
Hustle Plays & Taking Charges

The proper way to take charges and prevent injuries
6 fundamental key to taking a charge and preventing injuries
Defensive charge drills
Hustle drills (getting 50/50 balls)
Defending the Post

Keys to keeping the ball out of the post area
How to defend the post based on the position of the ball
How to discourage passes into the post
How to defend the lob into the post
Drills to improve post defense
How to play defensive angles in the post
How to shut down dominant post players
Defending Screens

How to defend down screens and back screens
In close 4on4 shell drill
6 keys to defending down screens
How to defend ball screens
How to defend hand offs
How to defend cross screens
5 drills for defending screens
Free Throws & Inbounds Plays

How to defend inbounds plays from under the basket (and stop lay ups)
Tricks to defend the stack set from under the basket
How to defend various inbounds plays from the sideline
Keys to effective free throw rebounding
Video #3
Chapter 5 - Putting It All Together
In this chapter, you will see live play in a 5on5 setting. A few things you'll learn include...

Simple and effective progression you can run before each live scrimmage
Quick and simple way to reinforce positions, rotations, and good defensive habits
How to get players to finish possessions
How to defend a 5-out (open post) offense
How to defend a 4-out 1-in offense
How to defend a 3-out 2-in offense
Practicing live ball screens and hand offs
Different ways to run live defensive drills
Live scrimmage action- with Coach Huber's defensive critiques
Chapter 6 - Adjustments & Situations
In this chapter, Coach Huber covers different adjustments you can make to your defense based on your personnel and your opponent. He also covers certain situations you might face.

How to effectively play a packer/packline defense (pack it in)
Simple drills to practice pack-in style of defense
How to defend quick teams with great penetrators
How to take away any opportunity to get the ball in the lane
Adjustment for poor shooters (laneing poor shooters)
How to defend the inside game and stop great post players
Chapter 7 - Extending Your Defense Full Court
How to extend your man to man defense full court
How to cause turnovers, speed up the tempo, and dictate with full court man to man defense.
Defending the inbounds pass full court
5 full court man to man variations
5 trapping options / when to trap
Keys to a good trap
Keys to run and jump
Chapter 8 - Advanced Defensive Strategies
In this chapter, Coach Huber covers advanced man to man defensive strategies that could give your team the edge. You'll learn...

Advanced strategies to defend down screens
Advanced strategies to defend ball screens
Advanced strategies to defend great scorers
How to defend double stagger screens
Strategies and teaching tips for switching screens
Chapter 9 - Questions & Answers with Jim Huber
Why do you have players close out with both hands up?
Do you allow players to block shots?
What advice do you give coaches that have implemented this system?
What other suggestions would you offer coaches at all levels?
How do you overcome obstacles when you install this defense?
Why does this system work so effectively?
How do you handle teams with short players?
How do you handle teams with slower players?
What adjustments do you make if players are getting in foul trouble?
How do you make your players more aggressive?
What is your philosophy for the man guarding the ball?
What tips do you have for guarding the ball in the post?
What is proper rotation vs 5-out offense?
What is proper rotation vs 4-out 1-in offense?
What is proper rotation vs 3-out 2-in offense?
How to defend common offenses (like the dribble drive motion)?
Video #4
Chapter 10 - 34 Additional Practice Drills
On this video, you will find 34 additional defensive drills that you can use in your practices. These drills will give your players variety and allow you to keep things fresh when teaching defense.
You'll find both multi-purpose drills and drills that allow you to isolate a specific area of your defense -- if there's a specific area you need to work on.
The drills are categorized as follows...

7 On Ball Drills
6 Rebounding Drills
9 Help Defense Drills
4 Multi-purpose Defensive Drills
8 Transition Defense Drills
Total Running Time Approx 371 Minutes
eBook #1 - 82 Page Supplemental eBook
For your convenience, we have documented the step-by-step process, key teaching points, and drills from the first 3 videos.
eBook #2 - 43 Page Supplemental eBook
In this eBook we have diagrammed and documented the 34 drills from video #4.
Neatly Organized for Reference
The entire product is logically organized and indexed for you to continue using for years to come for reference.
For example, when it's time for you to work on screens... just pop in the video, go to the screens section, and quickly get prepared for your practice.
Who Should Consider this eBook & Video Set?
This product is appropriate for all coaches at all levels. Veteran coaches will get new drills and ideas to improve their defense. They'll also get to see first hand how a successful coach like Jim Huber implements his defense step-by-step.
Beginner coaches will learn all the defensive fundamentals they should teach from day 1 of practice to the end of the season.
The defense is highly adaptable to any style or type of team. It works with slow teams and it works with quick teams. You can even change game to game based on your opponent. Coach Huber shows you exactly how you can adjust the defense to fit your needs.
We highly recommend this defense and product for all coaches.
Watch This Sample Video Clip
Instant Access
In addition to receiving the videos, you get immediate access to the eBooks.
After completing your order, you'll get access to a password protected area where you can watch the videos and download the eBooks. The streaming videos require high-speed internet and can be viewed on any computer or tablet connected to the internet.
How Much Does it Cost?
The price for the 371 minute 4-video set, 82 page eBook, and additional 34 page eBook is $99.
Online streaming video is also included with the DVD purchase (accessed in the password protected members area).
Try It Risk-Free With Our
60-Day Money Back Guarantee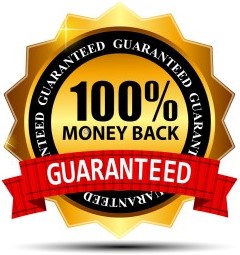 The Man To Man Defense System with Jim Huber comes with a 60-day unconditional money back guarantee.
Watch all the videos, use the drills in your practices and see how it transforms your defense.
If at any point you don't think it's right for you or your team, just send us an email for a prompt and courteous refund.
No questions asked. No explanation needed.
We're taking all the risk so that you can join today with confidence that this program is everything you hoped for and more.
Get Access to Jim Huber's Man To Man Defense System For Just $99
Best,
Jeff and Joe Haefner
Founders, Breakthrough Basketball
Customer Reviews
Most Helpful First
Newest First
---

Reginald Lee from COLUMBUS, OH says:


11/26/2020

at 10:52:07 PM


Excellent DVD. If you're new to coaching this defensive clinic is for you. If you're a veteran coach this video is great for ensuring that you're covering the fundamentals. In addition, I saw new drills which I can add to enhance learning.

This review is helpful
---

Todd M from Foothills MD, AB says:


9/16/2020

at 11:47:50 PM


Awesome breakdown of man to man defense. Great for all levels!! Highly recommend!

This review is helpful
---

Jon says:


9/8/2020

at 4:04:57 PM


I really liked this program a lot. I was struggling to find ways to 'build' a strong defense and Jim Huber does a great job in these videos starting with the key fundamentals needed for a foundation and building from there.

This review is helpful
---

Alan N from Elkhorn, NE says:


4/19/2020

at 4:03:09 PM


Really like the step by step approach to building your defense. Easy to apply to various age groups and ability levels. I felt the drills for each step were good to reinforce what was being taught. If I was trying to learn a systematic approach to build a man to man defense, this is where I would start.


This review is helpful
---

Rik Williams from San Diego, CA says:


3/20/2020

at 3:02:37 PM


Jim Huber's M2M Defense video was the first Breakthrough Basketball Product that I purchased and I can't say enough about how much it helped me as a second year coach. This video is not only information from a defensive perspective, but watching Coach Huber instruct the players himself was equally helpful. I used what I learned from this video series almost exactly and watched my team transform on the defensive end throughout the year. My players had FUN playing defense by the end of the year and took pride in their accomplishments on that end of the floor. If you need advice on M2M defense end and how to coach it as well, purchase this product. It is well worth the price.

This review is helpful
---

David from Honolulu, HI says:


5/12/2019

at 4:23:28 PM


Excellent build up and break down of defensive skills and concepts. Coach Huber explains his ideas in detailed fashion and his demand of perfect execution is appreciated. I'd recommend this DVD series to any coach wanting to build a strong defensive foundation.

This review is helpful
---

Coach Phil says:


2/8/2019

at 3:29:30 PM


Fantastic DVD. I am excited to use the building blocks presented here to take our HS girls to the next level and really shut opponents down. I like how Coach Huber starts from the ground up, presenting easy to run drills, while also showing what accountability looks like throughout the teaching series. Great DVD!

This review is helpful
---

Coach Medose says:


1/3/2019

at 1:25:47 PM


This is a must have for any coach who wants to have a team that plays tough fundamental man to man defense. As a former player and now a coach this video demonstrate the absolute details that have been forgotten or those I just do through building habits as a young player. Coach Huber's style demonstrates how to hold kids accountable and why!! I will use this resource as a cornerstone to my coaching philosophy. I would recommend this to anyone. It can be watched and used at the youth level as well High School Varsity!!

This review is helpful
---

David from Bartlesville, OK says:


8/15/2018

at 7:48:59 PM


Great Defensive DVD!! Can't wait to apply the ideas and drills this season!!!

This review is helpful
---

Luke says:


2/15/2018

at 3:27:24 PM


Jim Huber does an excellent job with this DVD. He shows the whole, then breaks it down with drills. This DVD is great for any coach from elementary school to college. It's pressure defense with squared stance ball pressure, players in the gaps, forcing sideline with great help side. This is not a version of the Packline Defense. However he does go over a couple of adjustments to run it as a pack. Best overall defensive DVD I have seen and I have alot!!!

This review is helpful
---

Coach S from Houston Texas from Houston, TX says:


2/4/2018

at 12:23:41 PM


BEST Coaching DVD I've purchased. Does a phenomenal job of breaking down the entire defensive concept. Easy to understand and implement into any program. A must have if you are serious about being a good/great defensive team.

This review is helpful
---

John Hogue from Clovis, CA says:


11/20/2017

at 11:13:37 PM


I met Jim Huber in the summer of 2016 at an Elite Guard camp at St. Luis university that my son Kevin Hogue attended. I was impressed with his knowledge and wisdom of the game. He teaches the game well and is very motivating and inspirational to the players. He earned credibility by me from watching him teach, which in turn led me to buy his DVD on defense. His DVD did not disappoint. I was very happy with it and have already been able to incorporate many drills and concepts with the current I am coaching.

Keep up the good work Jim!

This review is helpful
---

Coach Chad from Albuquerque, NM says:


10/15/2017

at 10:13:51 PM


I have been coaching for 10 years and am starting to build a pretty good DVD library. This DVD is my #1 video for teaching defense. Jim Huber does a fantastic job building the defense with a step by step process, which makes this video superior to all others I have seen. This video has helped my coaching background and philosophy immensely. I run the "man in the hole" drill every time we practice.

Thanks Jim! 5 stars (would give more if I could :o)

This review is helpful
---

Coach S says:


8/26/2017

at 12:56:20 PM


Nice system to install and work on Man to Man Defense. Easy to understand and use.

This review is helpful
---

Pearse O' Dwyer from Dunshaughlin, None says:


4/26/2017

at 6:30:09 AM


Jim Huber's enthusiasm is infectious a super way to teach man to man defence the amount of detail makes this great value

This review is helpful
---

Coach O from Atlanta, GA says:


2/20/2017

at 12:57:08 PM


I don't buy many DVDs but this one is worth it. I especially love how he teaches one and two passes away. Excellent step by step system.

This review is helpful
---

Nebraska20 says:


2/1/2017

at 8:41:24 AM


Great defensive man to man defense DVD. If you want your team to play great defense this is what you want to watch. Easy to understand and implement. 5 stars

This review is helpful
---

Jeffrey Wallin from Ladysmith, WI says:


12/25/2016

at 7:53:41 AM


I am a 5th grade girls coach, and have been coaching the same team since they were in 3rd grade. I have purchased a number of videos, but I wish I would have seen this video before I started coaching this group of girls. Finally, someone has laid out the step by step guide that a beginning coach can understand. Even though it is mid season already, I am going back and teaching these foundation building blocks as seen in the videos. This is a really really really great Shell man to man defense tutorial.



This review is helpful
1 person found this review helpful.
---

G Harter from Concord, VA says:


11/30/2016

at 7:50:02 PM


This is really all you need to develop a reasonable man to man defense for youth basketball. The four CDs are full of information and drills that can be used for many age levels. I also like the way he breaks the man to man down into much easier and understandable steps and is consistent throughout the DVD. I have purchased other man to man DVDs from other sources and this is by far the best and most applicable to youth basketball. I would recommend this.

This review is helpful
---

T.H. Reynolds from Saratoga Springs, NY says:


3/4/2016

at 5:34:08 PM


Awesome DVD! Everything is there for you to implement a great man-2-man defense. The bonus is that Huber teaches you how to make players accountable.

This review is helpful
---

Dustin Barnes from St.Petersburg, FL says:


2/1/2016

at 1:42:30 PM


Without a doubt the most detailed and well thought out Man to Man Defense DVD out there. Every area is covered and if you want to improve your individual and team defense this is definitely a must have.

This review is helpful
---

António Moreira from Portugal from Senhora da Hora, None says:


1/5/2016

at 7:30:40 AM


fantastic, will help me a lot to train my "lazy players". They will love to practice.

This review is helpful
---

Darren Douglas from Augusta, GA says:


12/31/2015

at 11:22:45 PM


Awesome tool for building a great defense!! Very detailed and covers everything. I wonder on getting digital access so I can reference from my phone.

This review is helpful
---

Jeff Mercer from Newaygo, MI says:


12/19/2015

at 9:37:13 PM


I am happy with the teaching and quality advice provided by Jim Huber. I feel like I received a very good value. The videos are good quality and the ebooks that were included provide supplemental drills and instruction. I am very happy with my purchase and will continue to look to the folks at Breakthrough Basketball for quality instructional materials. Thank you!

This review is helpful
---

Ken from Overland Park, KS says:


12/19/2015

at 8:29:40 AM


Watching Jim communicate with his players and require them to follow directions or pay the consequences was most helpful.

This review is helpful
---

Phil from Mundaring, WA says:


12/17/2015

at 6:35:56 PM


Just started watching the first DVD, and I am really excited about the potential for taking our school squads to the next level of basketball. Exactly what I was hoping for in this instructional set.
I really appreciate the work done by the Breakthrough Basketball crew.


This review is helpful
---

Stacey from Montgomery, AL says:


2/1/2015

at 7:46:01 PM


One of the best DVDs for coaching and teaching Man Defense to players and coaches alike. Great job with details on the building process and the coaching nuggets are on point. Any coach can benefit from this presentation from Coach Huber!

This review is helpful
---

Melanie from Clallam Bay, WA says:


11/26/2014

at 12:01:53 PM


This is a helpful product on breaking down defense. I have gotten a lot of information on how to break down each part of defense for athletes and believe it will be very helpful to them.

This review is helpful
---

Brady from Heavener , OK says:


11/25/2014

at 5:03:50 AM


This DVD set is a very useful addition to any coaches library. The breakdowns are good for elementary through High School. Love Coach Huber's enthusiasm during the drills!!!!

This review is helpful
---

J. Malcom Smith from Waldorf, MD says:


11/24/2014

at 7:04:25 AM


Coach Huber illustrates how to build your man to man defense by incorporating drills and principles that develop the individual player as well as your team. Players can't 'hide' with these drills! I have incorporated some of his buildup drills into my practice plans for the 6th graders I am coaching. I don't believe in playing a lot of zone, at this age, and I need to get the kids to buy into defense and rebounding. I appreciate that Coach Huber was cognizant of the plight of youth coaches in teaching defense. Very helpful!

This review is helpful
---

Chuck says:


11/22/2014

at 11:59:50 PM


great DVD gives excellent way to work on and build man to man defense.

This review is helpful
---

Joe Kaz from Alton, TX says:


3/13/2014

at 1:12:41 PM


Wow! This DVD resource is absolutely excellent!! The fact that it lays out step by step how to teach players Man to Man Defense is so helpful! You simply follow the instructions and use the drills as shown and it works wonders! My 8th Grade Boys team went undefeated winning the District Championship with only allowing an average of 20 points a game because of our awesome Man to Man defense! Thank you so much for this excellent resource!

This review is helpful
2 people found this review helpful.
---

Rae Drake Jr. from Marquette, MI says:


1/12/2014

at 6:17:40 PM


I really love the detail. I will be glad to recommend this DVD to my colleagues.

This review is helpful
---

J from Loganville, GA says:


12/31/2013

at 11:09:24 AM


Being a first year coach and having to learn a great deal about basketball myself, let alone teach my athletes, I've found these series of DVD's a great resource. Insights that will help me ramp up what I teach my athletes. I have a long way to go, but will rely on this set of DVD's to help me springboard into a successful year. Thank you.

This review is helpful
---

John Elli from Morgantown, WV says:


12/27/2013

at 9:25:55 PM


A very good DVD to teach the basics of a man to man defense. The drills were explained and easy to follow, This would be a must a must for any youth coach wanting to teach a man to man defense.

This review is helpful
---

Matt M from Syracuse, NE says:


12/27/2013

at 3:37:07 PM


Best DVD I've found on how to build a championship level defense step by step. Very thorough presentation with step-by-step instruction throughout. Great explanation on why things are done a certain way - exactly what I was hoping for when I purchased it.

This review is helpful
---

Jared Duxfield from Taipei, None says:


7/28/2013

at 10:54:30 PM


I've watched the first DVD and it was helpful. Not having played competitive basketball myself, I'm learning how to teach defense well.
However, I can't find the link to the e-book which was promised and I've written an email asking for it with no reply. If you fix that situation, I can write another review.

This review is helpful
---

Warren Bynum Sr. from Kingsford Heights, IN says:


7/28/2013

at 6:24:44 PM


Excellent DVD! Coach Huber did a fantastic presentation of his m2m system. The breakdown drills and stages makes this easy to implement in practice. The ebooks enhances the dvd's and make this the most comprehensive dvd I have purchased on defense. Definitely worth the money!

This review is helpful
---

Bob Maronde from Grafton, WI says:


7/17/2013

at 7:10:43 PM


An outstanding comprehensive presentation of man to man defense. Usable at any level for inexperienced and experienced coaches alike. Only negative is the "on and off the line" terminology. Easily misinterpreted. Why not use the more common phrase "on and up the line." This video series is an excellence purchase for any coach or basketball program.

This review is helpful
---

Doug, Alberta from Clive, AB says:


6/3/2013

at 8:42:29 PM


Great DVD. A very thorough and comprehensive DVD on building a man to man defense. I thought Coach Huber did an excellent job on explaining not only how to coach defense, but how to coach. Things like immediate correction and holding players accountable. Excellent value.

This review is helpful
2 people found this review helpful.
---

Aaron from Oxford, OH says:


5/27/2013

at 3:39:20 PM


This DVD and ebook is awesome! As a new coach working with youth basketball, I wanted something that I could use from the ground up. It covers the basics of man to man as well as includes advanced situations. The program is more than just explaining what man to man defense is, rather it is much more involved than I could have even imagined. The DVD keeps your attention and the ebook helps to reinforce the concepts. Worth every penny.

This review is helpful
2 people found this review helpful.
---