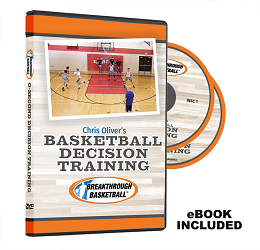 See All Reviews
Write a Review
Basketball Decision Training with Chris Oliver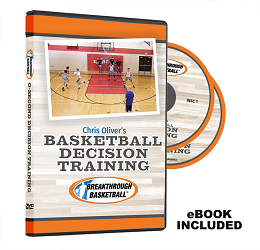 $79.00
In Stock
60 Day Money-Back Guarantee
2 DVDs (185 minutes) and 61 page eBook
You will be emailed access instructions and passwords upon order confirmation.
Basketball Decision Training with Chris Oliver -- 2 Videos and eBook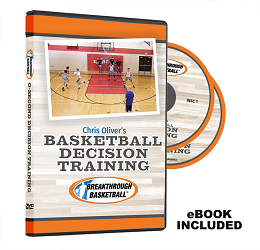 Basketball Decision Training (BDT) is a cutting-edge player development program that combines skills and mind training. Players practice in a game-like environment which improves their skill retention and transfers to confidence and better game performance.
The videos cover critical skills including shooting, ball handling, footwork and more. Coach Oliver shows how to apply these in both 1-on-1 and 3-on-3 situations.
Zero-seconds training complements BDT. It teaches players how to quickly and decisively execute offensive play with no pause on the catch. As soon as a player's feet hit the ground, they are immediately into their shot, pass, or drive.
The unique, fun approach in these videos mixes various drills to challenge players' skills, adding layers to training so that they never practice in their comfort zone.
Coach Oliver also covers 15 unique shooting drills in the Dynamic Form Shooting section. These progressions replicate the training habits of NBA stars Jimmy Butler and Dirk Nowitzki.
The eBook contains detailed explanations and teaching points for implementing DBT, drills, and supplemental material from the videos. (No need to take notes while you watch!)
What's Included on the Videos
Chapter 1: Introduction
In this chapter, Coach Oliver introduces his unique player development system. It features randomized practices, a games-based approach, zero-seconds concept, and basketball decision training. He will apply it to shooting, ball pick-up, footwork, and competitive 1-1 and 3-on-3 situations. Since it's endlessly variable, players will never practice in their comfort zone.
Chapter 2: Mixed Drills
In this chapter, Coach Oliver introduces foundational concepts in games-based training:
"Fight for your feet" - getting your feet set on the ground to shoot the ball as quickly as possible
Using rhythm to help players understand the timing of a sequence or move
Adding layers to drills in order to keep challenging players as they train
Randomized workouts
Chapter 3: Fight for your Feet
In this chapter, Coach Oliver goes into more depth on "fight for your feet." He explains the 1-2-3 shooting positions and how this consistent technique improves your shooting percentages.
Chapter 4: Dribble Attack Series
In this chapter, you'll learn offensive skills in drills and combinations. Coach Oliver emphasizes that there is one threat, not a triple threat. If you're open, shoot the ball. If not, get the ball to the ground and figure it out. He also introduces a new, more effective, approach to ball rips.
Chapter 5: Basketball Decision Training
In this chapter, you'll learn about Basketball Decision Training (BDT) in detail. You'll practice skills and make decisions simultaneously - just like you would in a game. This helps with retention and will transfer to your game performance.
Chapter 6: Dynamic Form Shooting - 15 Drills
In this chapter, you'll learn 15 dynamic movement shooting drills. You learn how to add one-foot jumps and other dynamic movements to a traditional form shot. This will help you improve your balance, coordination, and core stability. Better balance and stability during shots leads to a higher shooting percentage. You'll also learn the characteristics of great shooters and how you can achieve them.
Chapter 7: Building Your Individual Workout
In this chapter, you'll learn how to use and sequence drills, get tips for building your workout, and learn how to create your own mixed drills.
Chapter 8: Competitive situations 1-on-1
In this chapter, Coach Oliver combines 0-second skills and drills in a 1-on-1 environment. It includes 5 different drills with dozens of variations. You also learn decision cues and teaching commands to add complexity to the workout.
Chapter 9: Competitive Situations 3-on-3
Competitive 3-on-3 drills allow players to compete in a live setting and further enhance the fundamental skills and decision training concepts.
Coach Oliver gives you a variety of constraints to emphasize skills in 3-on-3 drills and competitive situations.
Chapter 10: Coaching Philosophy
Coach Oliver goes into more detail about his coaching philosophy, why it works, and why coaches and players love it.
Chapter 11: FAQs
Chapter 12: Concluding Thoughts
What NBA & College Coaches Are Saying
I have already incorporated so many of the BDT teachings into my skill development work. Talk about 'athlete satisfaction', each one of the players I implemented the BDT concepts with loved the drills. They are engaged and focused throughout the work. They also feel a sense of accomplishment through a very limited number of shots so the work can be very efficient.
- Charles Klask, Detroit Pistons, Assistant Coach
I have respected Chris Oliver via his online sharing of important basketball concepts. But I was blown away by the rationale and evidence supporting his Basketball Decision Training. I am looking forward to diving into a much more detailed understanding of Chris' approach. As coaches, we talk about decision making, but do very little to train it.
- Dave Paulsen, George Mason, Head Coach
Chris Oliver has an impressive and insightful way to see the game and the only thing better than his ability to see it is his ability to teach it to others. He's increasing his reach to others all the time and we are all better for it. He's taking a player's proactive approach to another level.
- Tom Crean, Indiana University, Former Head Coach
About Coach Oliver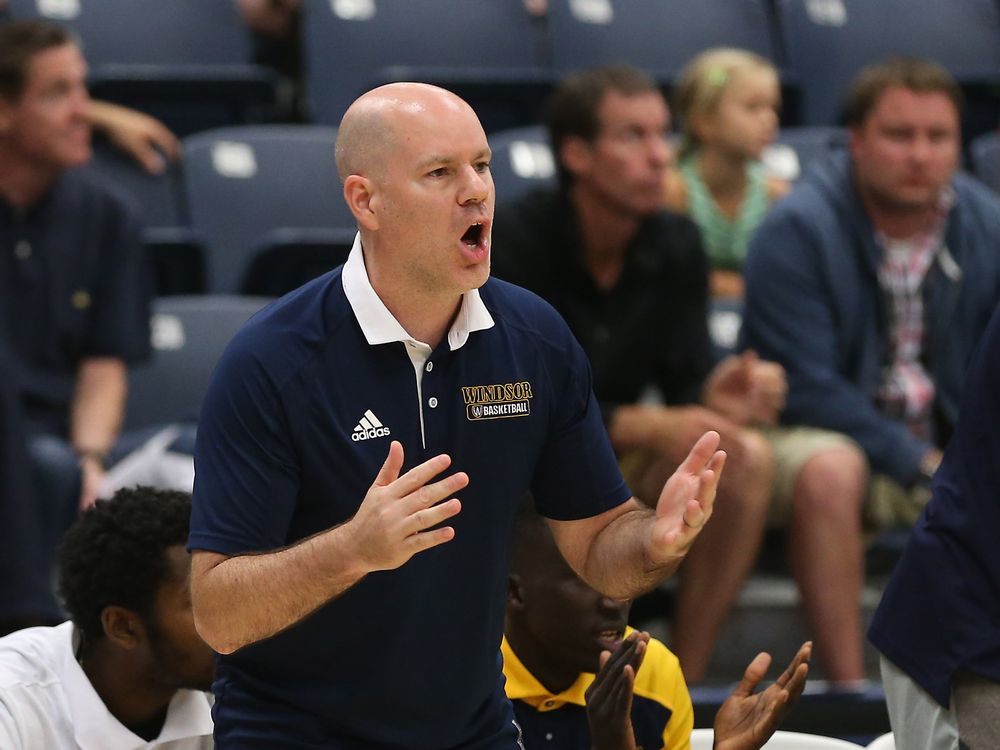 Chris Oliver has coached basketball for more than 20 years. He's been the Head Men's Basketball Coach at the University of Windsor since 2005.
A three-time OUA (Ontario University Athletics) Men's Basketball Coach of the Year, he has chalked up an impressive 168-69 record in conference play and has captured six OUA West regular season titles, two OUA West playoff titles, a Wilson Cup Ontario Championship, and earned three berths to the CIS (Canadian Interuniversity Sports) National Championships. Twelve of his former players continued their careers at the professional level in leagues around the world.
His Windsor teams have beaten four NCAA Division-I teams while competing against programs like the University of Kentucky, Ohio State University, and Virginia Tech University.
Coach Oliver has been honored with numerous coaching awards including the Fox 40 OUA Coach of the Year Award, the OUA Men's Basketball Coach of the Year Award, and the Gino Fracas Award as the University of Windsor Coach of the Year.
Coach Oliver helps coaches improve player development, transfer from practice to games, and decision-making. He is passionate about sharing the game and stimulating the development of coaches around the world.
Prior to arriving in Windsor, Coach Oliver served as the head coach at Queen's University and an assistant coach at McMaster University and the University of Victoria. Prior to coaching at the university level, he won an OFSAA Provincial Championship at Hamilton St. Mary's and coached boys and girls teams at the high school, club, provincial, and AAU levels.
Coach Oliver graduated with a Bachelor of Kinesiology from McMaster University, a Bachelor of Education degree from Brock University, and a Master's in Physical Education and Coaching Studies from the University of Victoria. He is also an NCCP Level Four coach.
Who Should Consider this eBook & DVD Set?
Basketball Decision Training (BDT) is based on a combination of skills and mind training. It can be easily adapted to various ages and skill levels, from middle school through college.
The unique drills incorporate variable training which simulates actual game play - skills aren't practiced in isolation. This boosts players' confidence and makes training more fun for players and coaches.
BDT is perfect for coaches who want to:
Coach players in a game-like environment
Engage players more fully in practice
Help their players take ownership of their learning process, how they play and the decisions they make in a game
Players who want:
A game-like environment
Challenging drills they can do on their own or with others
Practice making the quick decisions required in actual game play
Drills that allow them to add variety and levels so they never practice within their comfort zone
Instant Access
In addition to receiving the DVDs, you get immediate access to the eBooks and streaming videos.
After completing your order, you'll get access to a password protected area where you can watch the videos and download the eBook. The streaming videos require high-speed internet and can be viewed on any computer or tablet connected to the internet.
60 Day Money Back Guarantee
If for any reason, your purchase is not what you expected, just send us a message and we'll give you a full refund. No questions asked.
"Claim Your Copy Now"
If you'd like to order by telephone, call us at 1-866-846-7892 (toll free).
Customer Reviews
Average Rating
3.4
Based on 5 reviews
Review This Product
Rate and review this product to let others know about your experience.
WRITE A REVIEW

I teach in an international school in South America and all of my girls are very late to basketball. This has given me some solid drills and approaches to both individual and team skills. Very much appreciated (and I am only partially through the materials)
This review is helpful

(0 people found this review helpful)

Not up to the same quality of other videos I've ordered from Breakthrough. The Decision Training title was deceptive. Not a great deal of situations covered and the decisions covered were quite obvious. Cannot recommend this video.
This review is helpful

(0 people found this review helpful)

First tape two stars Second tape three stars
This review is helpful

(0 people found this review helpful)

Great resource to help me teach decision making
thanks
This review is helpful

(0 people found this review helpful)

Really only picked up on a few things that are not already used in current drills one way or another. The decision training was the only new concept. Also the 3 on 3 attack with decision training was good, The decision trainig part I had seen in zero second training on you tube for free. This video went a little farther into it but not much. For the information received from the video should have been a 19.99 or 29.99 cost video due to lake of new or not already available in zero second decisoin training on the net.

Thanks

Dalton
This review is helpful

(0 people found this review helpful)