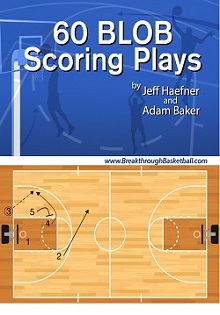 See All Reviews
Write a Review
60 BLOB Scoring Plays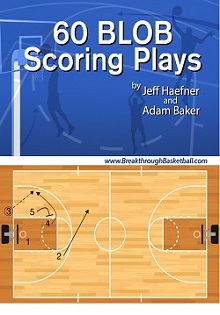 $19.00
In Stock
60 Day Money-Back Guarantee
60 Baseline Out of Bounds Scoring Plays (Digital Download - eBook)
You will be emailed access instructions and passwords upon order confirmation.
NEW eBook: 60 Baseline Out of Bounds (BLOB) Scoring Plays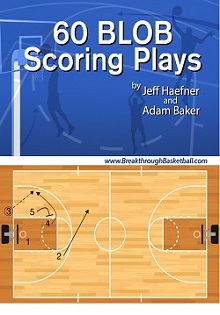 The baseline out of bounds play (BLOB) is a play that happens quite often in a game -- so it's something you'll want to be good at...
By being really good at both executing and defending BLOB plays, it can literally result in a 16 point swing in a game!
We're excited to announce our new eBook that gives you a variety of ways to attack and score from baseline out of bounds plays.
The plays in this eBook are about more than just getting the ball inbounds. The plays in this eBook are "scoring" plays. The purpose of each play is to SCORE.
We have compiled the best plays and advice we could find to help you score more points and get the advantage in BLOB situations.
The eBook is logically organized and packed with a variety of plays -- so that no matter what type of team you have, it will give you new and better ways to score off inbounds plays...
The eBook provides you with...
20 Box Plays


17 Stack Plays


17 Line Plays


11 Various Set Plays


8 End-Out Options for Any Set


Many of the plays work against both man and zone defense. This type of play is priceless because if you run it after a time-out or at the end of the game, it still works even if your opponent decides to switch defenses. How often do you see coaches switching defenses after time-outs to throw off the play you just drew up?
There are 27 plays that work against zone, 50 plays that work against man-to-man defense, and 14 plays that include end-out options.
You'll find a mix of plays that give you lay ups, post ups, misdirection, 3pt shots, jump shots, and high percentage options.
Contents
Here's what you'll find in the 92 page eBook:
Part 1 - Winning with Special Teams
Part 2 - Fundamental Execution Tips
Part 3 - Choosing BLOB Plays
Part 4 - Calling & Disguising Plays
Part 5 - Why You Should Use End-Outs (And How to Use Them)
Part 6 - How to Defend Baseline Inbounds Plays
Part 7 - Tweaking Your Plays to Work Against Zone
Box Formations25
Arrow
Corner
Cross Screen
Bulldog
Switch
Diagonal
Fake Diagonal
Sky
Pick And Roll
Load
Double
43
Box Bait
Curl
Lane
Clear
Reverse
Zoom
Up
Devil
Stack Formations
High Low
Cats
Champ
Frame
Strike
Out
End
Magic
Ace
Phenom
Wolfpack
Fire
Frank
Fish
Chess
State
Draw
Line Formations
Lob
Badger
Angle
Far
Big
Wall
Cut
Show
Night
Day
Seal
Base
Slam
Blue
Home
Husky
Net
Various Formations
X
Sneaky
Red
Spartan
Quick
Beat
Rim
Finish
Mid
Rocket
Row
60 Day Money Back Guarantee
Just like any reputable bookstore or retail business, we have a 100% money back guarantee too.

If for any reason, your purchase is not what you expected, just send us a message and we'll give you a full refund. No questions asked.
"Claim Your Copy Now"
If you'd like to order by telephone, call us at 1-866-846-7892 (toll free).
If you have any questions, don't hesitate to contact us.
Customer Reviews
Average Rating
5
Based on 9 reviews
Review This Product
Rate and review this product to let others know about your experience.
WRITE A REVIEW

The explanations given for each BLOB.
This review is helpful

(
0 people
found this review helpful)

I have purchased several products from Breakthrough Basketball including DVD's and downloadable books.

None of the products have let me down to date and the 60 BLOB playbook was no different. I found it very helpful and with the large array of plays contained in the book I was able to select several to suit my teams style.

Keep the quality products coming Breakthrough Basketball.


This review is helpful

(
0 people
found this review helpful)

Very thorough. Covers a lot of different sets and options.
This review is helpful

(
0 people
found this review helpful)

Loved it, especially the sortable Excel file. Very helpful !
I was looking to run all our BLOBs from one formation and the Excel file made it so easy !!
Great scoring plays and a lot of really other good thoughts & tips about Out of Bounds situations
This review is helpful

(
0 people
found this review helpful)

This is just what i need to continue as a middle school coach, love all the plays and the defensive concepts, this takes my team and me to another level understanding and play on the court.
This review is helpful

(
0 people
found this review helpful)

this was exacly what im looking for
This review is helpful

(
0 people
found this review helpful)

I hadn't bought anything from this site before and saw this was on sale. So it was more of a test for me than anything else.

I'm really impressed.

I do a lot of documentation in my line of work and this is a very well presented document with thorough attention to detail. It has been put together with the reader in mind and goes beyond the 60 BLOBs by also providing valuable information about why BLOBs are so important and other considerations.

As a coach, I was looking for fresh ideas on running BLOBs that would engage the interest my players, this document certainly provides that, so I'm off now to implement them!

For me, at the end of the day I'm after value for money and this certainly delivers on that front, even if it wasn't on sale I would now quite happily pay the full price for it.
This review is helpful

(
0 people
found this review helpful)

Found some great ones but just as important found out lot of ideas that fit my system.

Great product as usual Breakthrough Basketball, A+
This review is helpful

(
1 person
found this review helpful)

Enjoyed it very much and helpful.
This review is helpful

(
0 people
found this review helpful)